Happy Hearts Indonesia Joins Hand with Prestige and Wanda House of Jewels for a charity photo shoot with 12 empowered women, the happy hearts angels, who have helped rebuild schools in East Nusa Tenggara. With the help from Fen Soong from Axioo photography and Bubah Alfian — along with the stories shared by these 12 ladies — we hope to inspire more people to lend a hand in ensuring that as many children as possible are assured of a safe and resilient environment where they can gain a proper education.
CHEN IK CEN – Equal Opportunity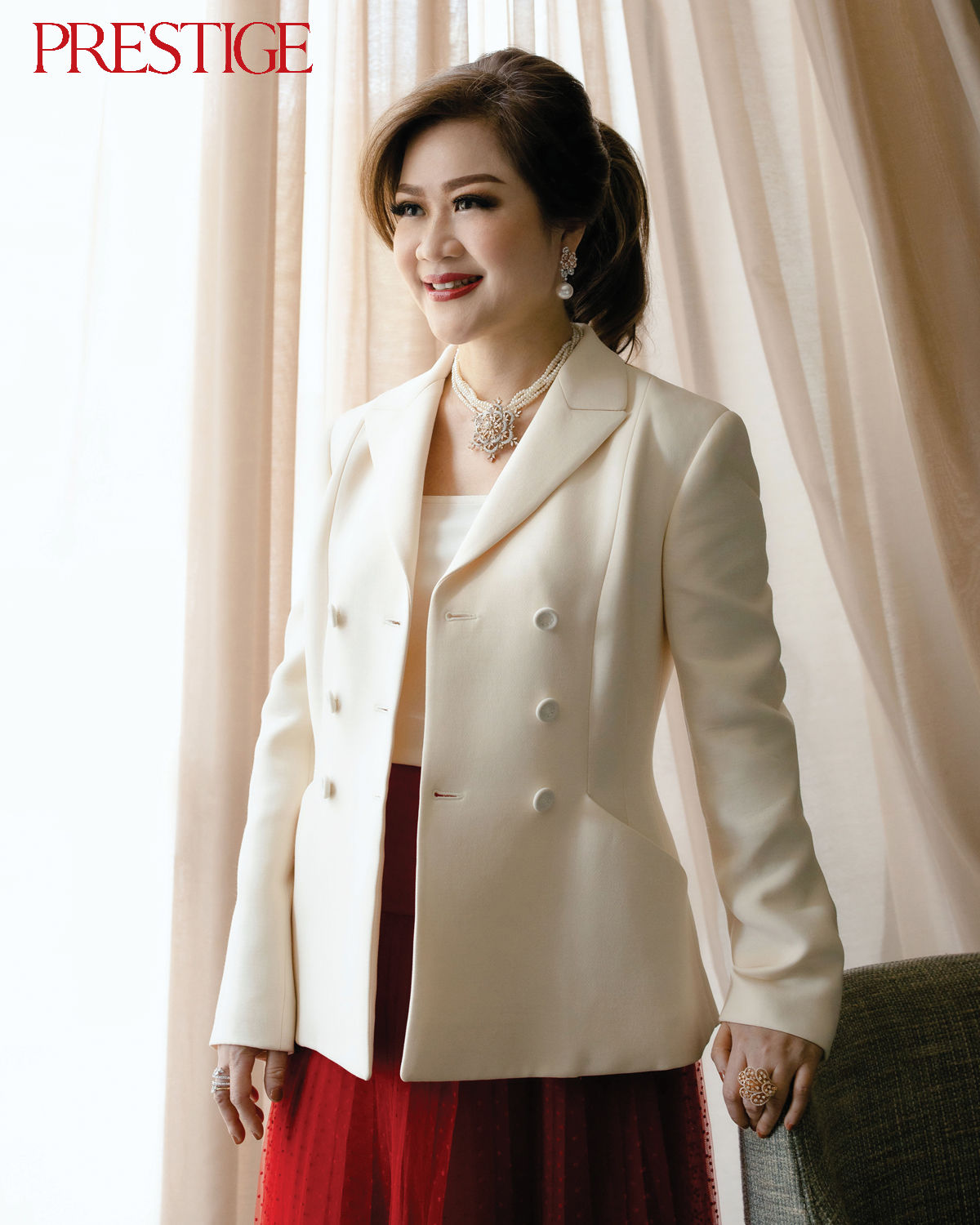 dr. Chen Ik Cen, M.Biomed (AAM) is the owner of an anti-aging and aesthetic clinic, dr. Chen Aesthetic, located in West Jakarta. Despite her busy work days, she is ever mindful of her social responsibilities, which motivates her to give back to her community, especially for especially women and children. "I'm very grateful for this opportunity with Happy Hearts Indonesia to help rebuild schools for these children so that they have access to proper education," she remarks. "I see that Happy Hearts Indonesia has a well- rounded and great vision and mission to help these children in need.
"There's still a big gap in Indonesia as not everyone has the same opportunity when it comes to education. Even access to it can be pretty difficult in rural areas, not to mention that every child's need is different and unique. So how can we help them develop? Education is the root of their future. If we can help them with their education, we are also helping this nation's future."
OUTFIT DIOR
JEWELLERY WANDA HOUSE OF JEWELS
ERIKA SANTOSO – Confidence in Knowledge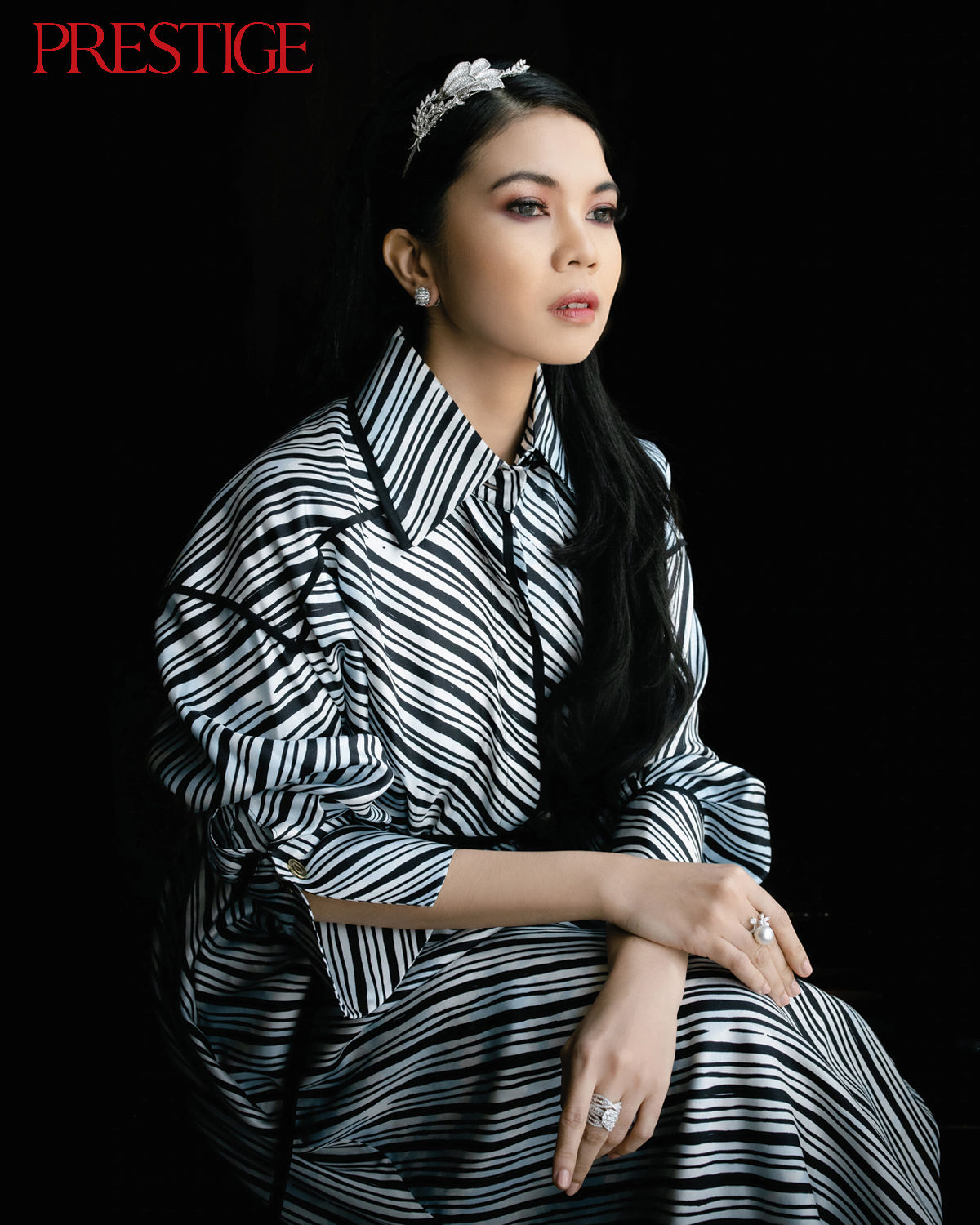 Erika Santoso is the woman behind the success of ADA Swalayan, a supermarket and department store based in Semarang, Central Java. Being the only child in her family she took charge of the family-owned business in 2008 after her father passed away. Besides taking care of her business, she is also a mother, and during the lockdown she has been busy at home caring for her family and her kids' online classes. For Erika, education is imperative for the younger generation, as it gives them the confidence they need for the future. "My wish for them is so they can have the proper infrastructure and support in their education, especially for those in rural areas that has difficult access," she says in conclusion. "I hope that they can get the right education so they can broaden their knowledge, thereby settling them for a better future while also helping their families."
OUTFIT FENDI
JEWELLERY WANDA HOUSE OF JEWELS
MEILINE TENARDI – A Heart That Gives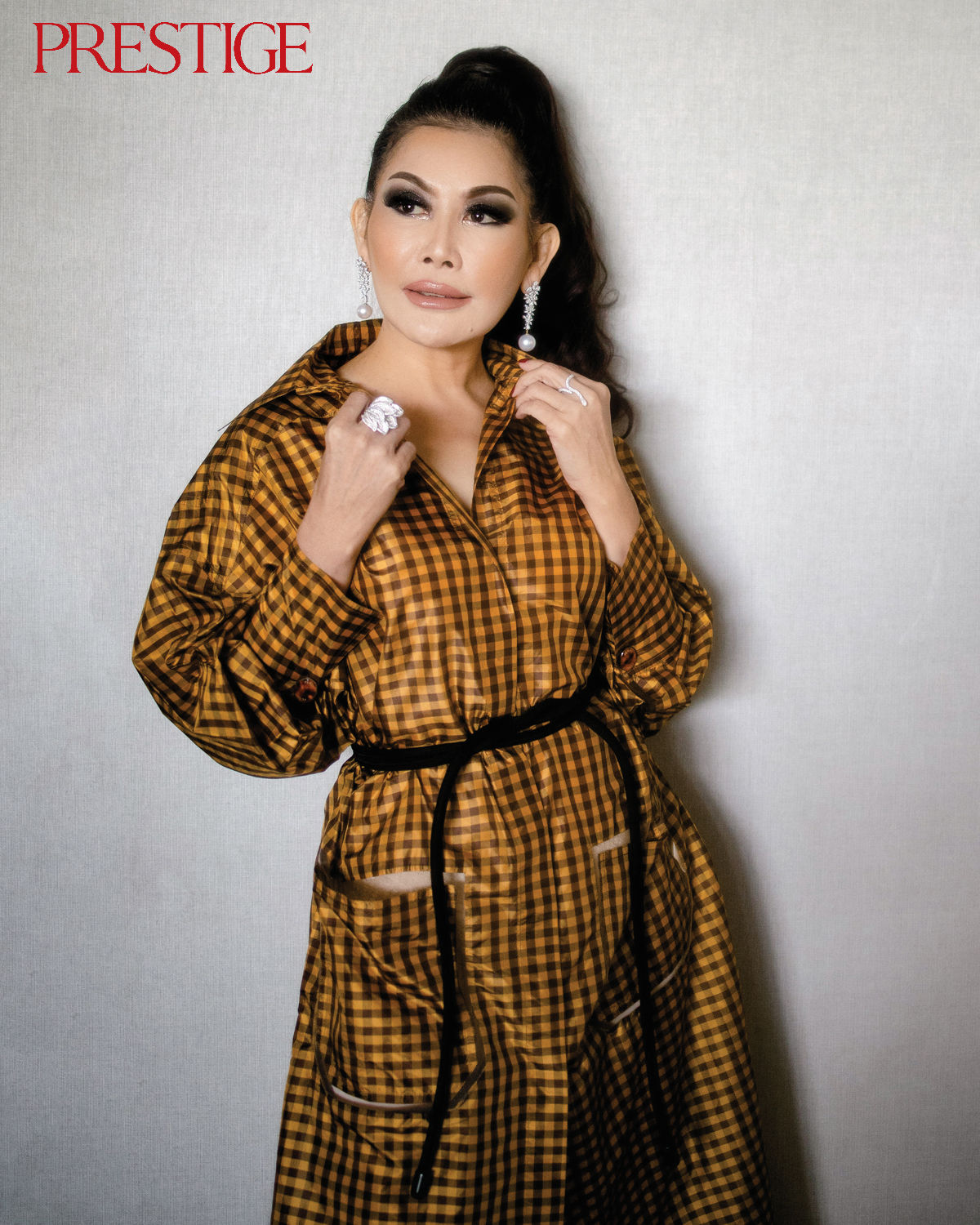 "My best friend Wanda Ponika was the first to share this issue with me," Meiline Tenardi recalls. "Then, the moment she sent me the photos of the school that we built, it just warms my heart. It reminds me that if we still have the ability to give, to share, then why do we hesitate? There's always the beauty in giving no matter how big or small it is. "I always admire how the children in the eastern part of Indonesia grow resilient despite the limitations they face. And I think it's our responsibility as fellow Indonesians to give them more attention. Participating in this school building project and taking part in providing better education is one of the ways to help making education accessible for everyone. Nothing makes me happier than seeing them going to school in high spirits, safe and able to achieve as much as possible." Then she adds: "I deeply wish one day to see one of them become a prominent figure of this country."
OUTFIT FENDI
JEWELLERY WANDA HOUSE OF JEWELS
SUSANTI TIO – Conjuring Up Smiles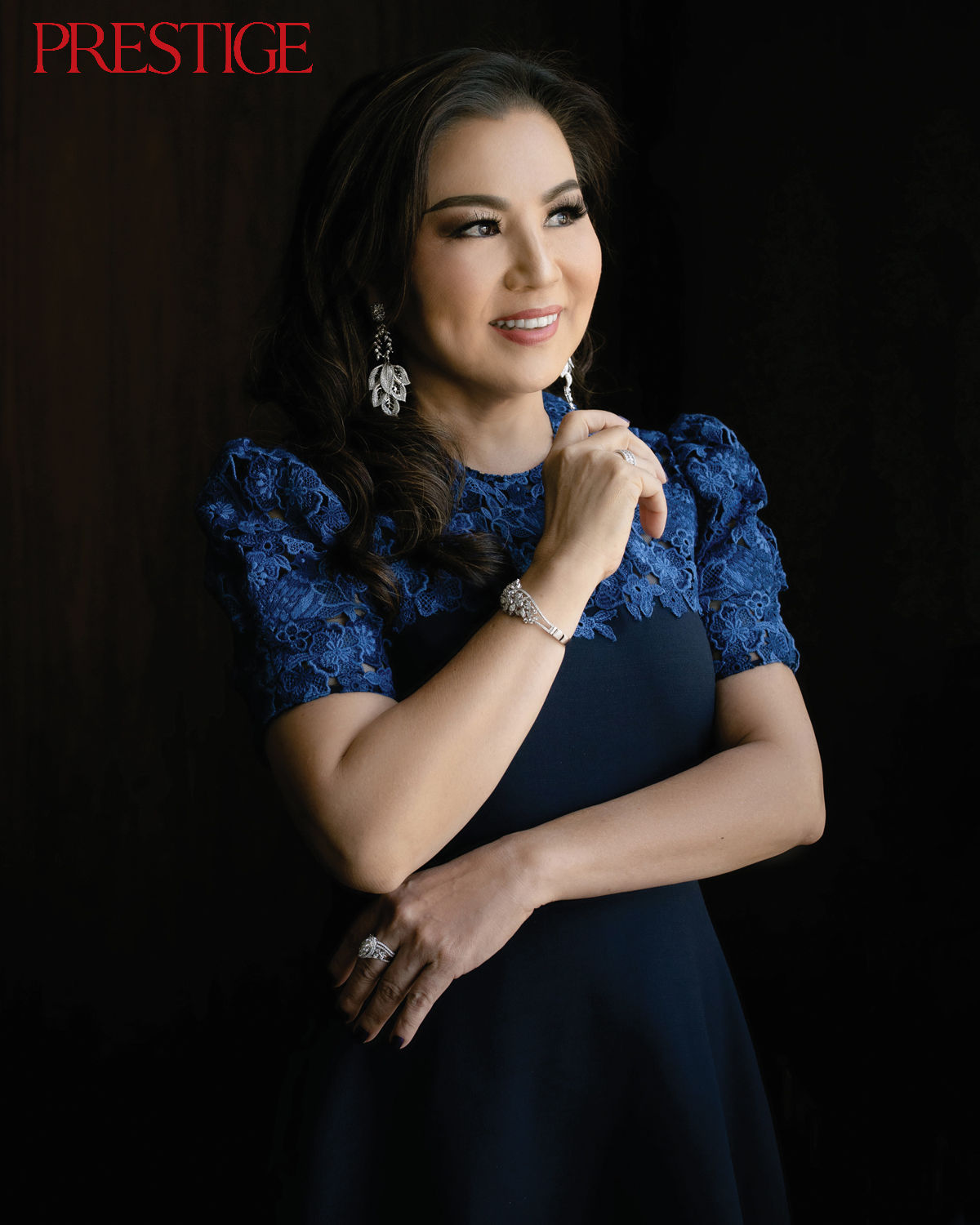 Giving back is one thing that Susanti Tio is truly passionate about. She often visits rural areas for business and she likes to connect with local communities and try to help them as much as she can. So, this isn't the first time she helped to rebuild school facilities. And for her, seeing the smiles on the faces of the children she ended up helping is the biggest reward. "The other day someone from Happy Hearts Indonesia sent me the video of the children and the rebuilt school," she reminisces. "It was such an amazing feeling to see them smile again and see the impact that we have in their life." She expresses her hopes and wishes for the children: "I chose to work with Happy Hearts Indonesia because they have a clear vision and you can see real and tangible impact. These children need the right education and a safe place to go to school. Education is an investment for their future so that they can have a better life."
OUTFIT VALENTINO
JEWELLERY WANDA HOUSE OF JEWELS
AGUSTINA EKA PUTRI – A Better Human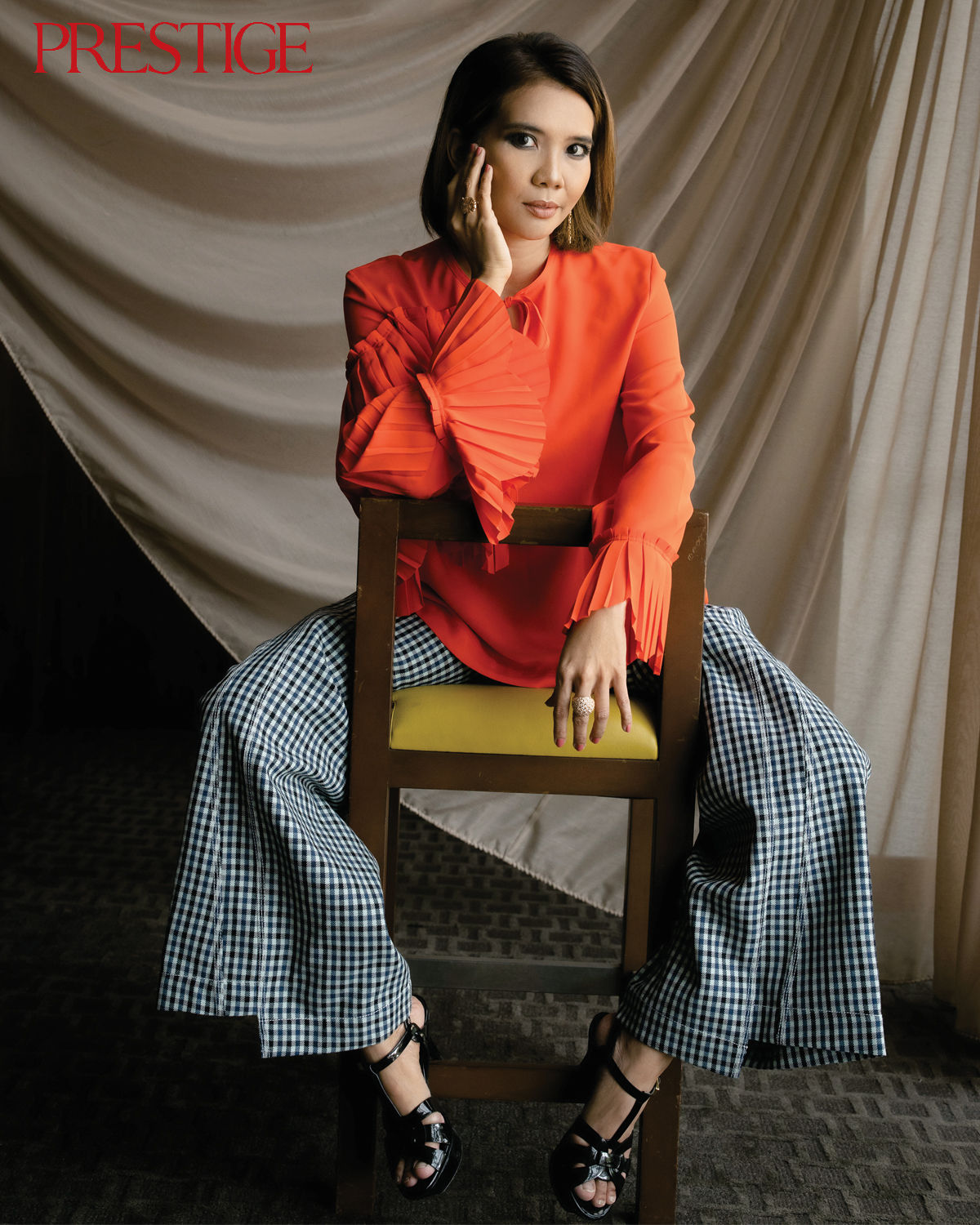 Aside from being a mother, Agustina Eka Putri also manages an agrobusiness company. Since she was young, she grew up in a place where sharing and helping others are given the utmost importance. So, when she was offered to join the charity to rebuild schools for the Early Childhood Education Program in rural areas with Happy Hearts Indonesia, she immediately agreed. "Thinking about how difficult it is for these kids to get access to education makes me want to do it even more," she says of her participation. "Happy Hearts Indonesia is a really wonderful foundation that has been doing charity for children for a long time. Also, they often do fundraising so they can have more people involved to help these causes. They have rebuilt a lot of schools all over Indonesia. I'm very happy to be a part of them."
Looking ahead, she hopes that more children "can get access to better education facilities and infrastructure, so they can become better human beings not only for their sake, but also their families, communities and the country."
OUTFIT LANVIN
JEWELLERY WANDA HOUSE OF JEWELS
GABY SYERLY IRAWAN – Our Nation's Future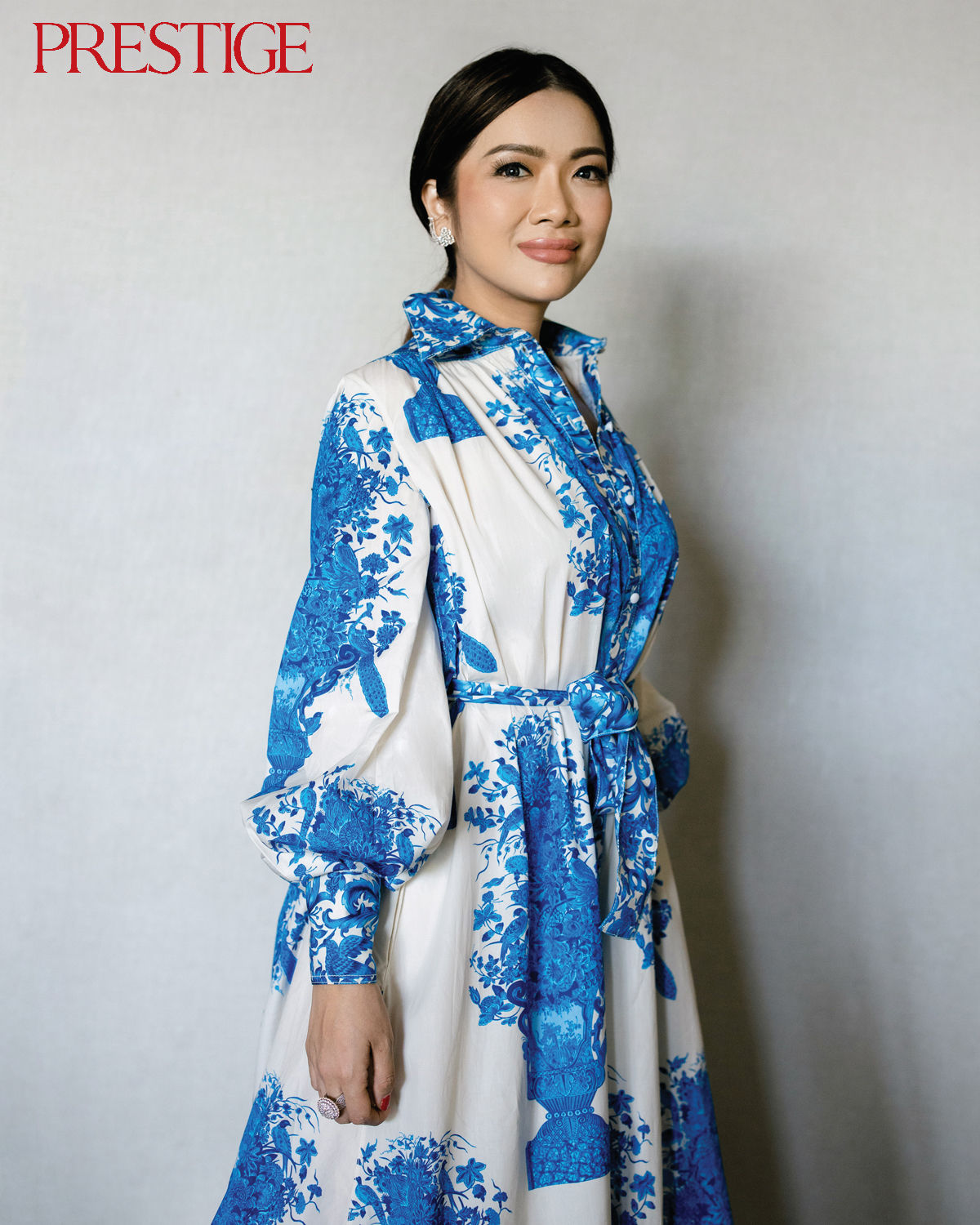 dr. Gaby Syerly Irawan, M.Biomed (AAM) is the founder of Youth & Beauty Clinic, an anti-aging, slimming and wellness centre with two locations in South and Central Jakarta. This year would be her second year participating in Happy Hearts Indonesia's humanitarian activities. She was interested to join after learning about the foundation's work in Flores, East Nusa Tenggara. For her, joining Happy Hearts Indonesia and doing charity work come naturally as she was already passionate about philanthropy and had found her calling to help others, especially women and children. dr. Gaby thinks that children are the key to our nation's future and we need to take care of their health, support their education and instil moral values in their hearts. "I think God has given us more blessings and privileges so we can extend them to those in need," she points out. "Beyond academic matters, character building and moral values are also for their education, as they are the future of this nation – the ones who will bring this nation forward."
OUTFIT VALENTINO
JEWELLERY WANDA HOUSE OF JEWELS
JILL CLAUDIA – Bringing Hope and Light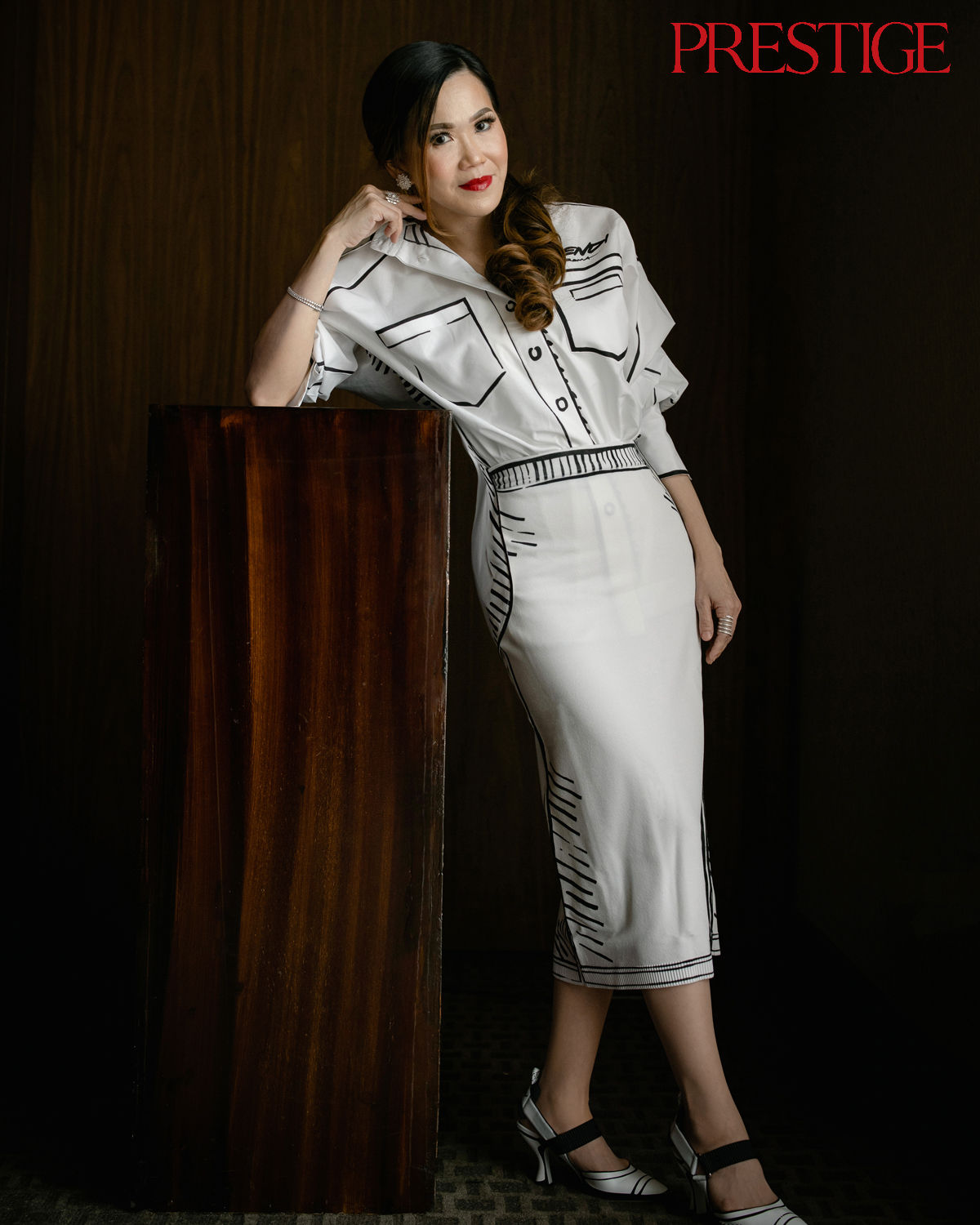 "It's all about giving hope and light," says Jill Claudia about why she participated in the Happy Hearts Indonesia campaign. "I realised there's nothing perfect in this country and there's still lack of equality in terms of education. Well, it's a fundamental thing yet we're still struggling to provide education at the same standards for every child in this country. Since the future is in the hands of the next generation, through good education I believe Indonesia can head towards a brighter future."
Then she adds: "Those thoughts drove me to take part in the development of future generations, even if it's something as small as helping to provide for their school. I saw that Happy Hearts Indonesia vision and mission are aligned with mine in terms of providing broader opportunities for children, especially in remote areas, to get access to education. It's such a wonderful opportunity and I want to thank Wanda Ponika who asked me become part of Happy Hearts' helping hands."
OUTFIT FENDI
JEWELLERY WANDA HOUSE OF JEWELS
VERNICA MARTIEN – Guiding Hands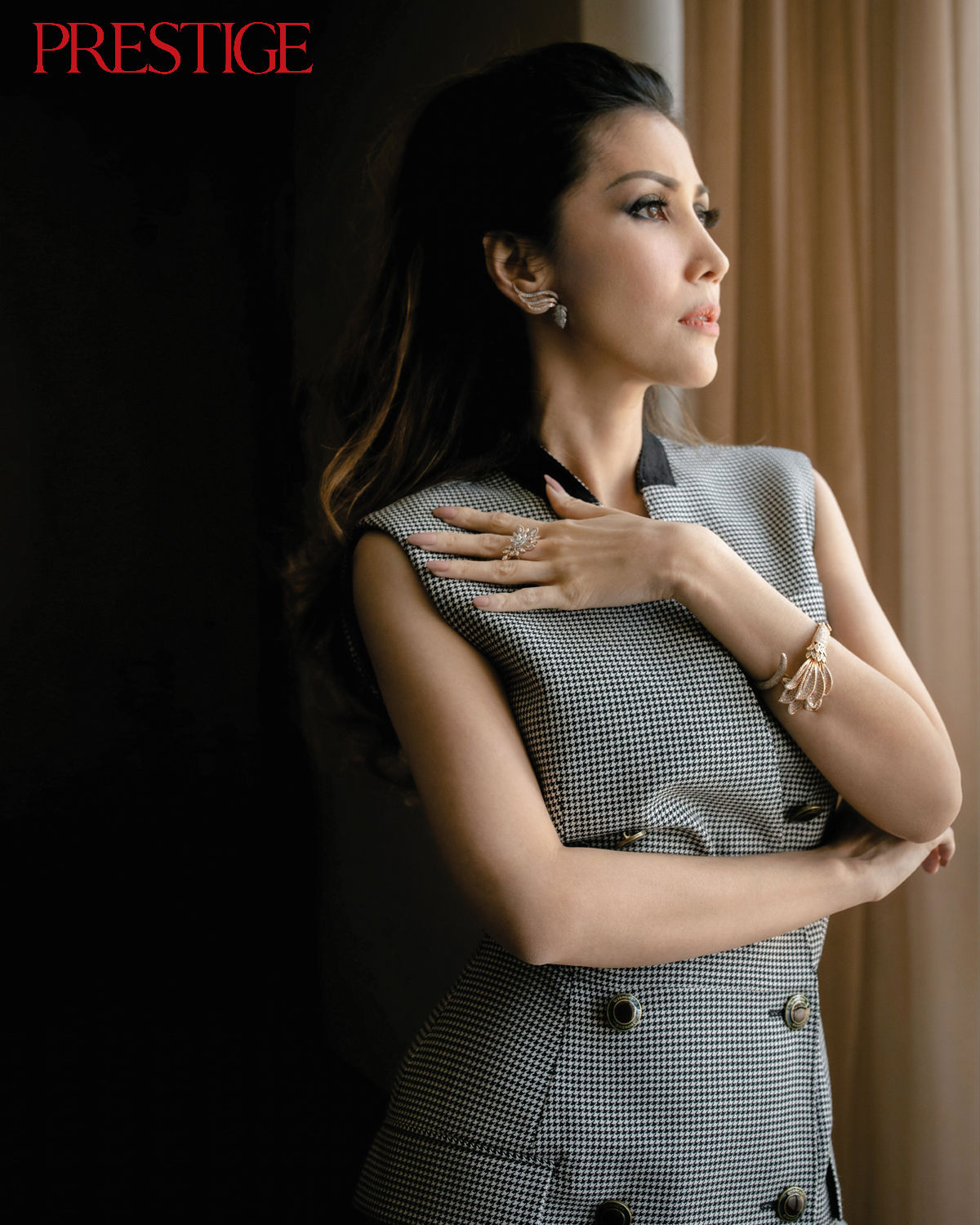 For Vernica Martien, children are a nation's biggest assets. She expressed that it's our responsibility as the current generation to provide the fundamental needs of the next – and education is one of those fundamentals. "Like Nelson Mandela said, education is the most powerful weapon which you can use to change the world," she intones. "It is the key to the future and by giving them access to equal standards for their learning environment, we are actually investing in the nation's continuous growth.
"That's why I'm very intrigued with how Happy Hearts Indonesia carried out their mission in supporting children's education in remote places in Indonesia. I must say I'm grateful to be an extension of God's hands to bring hope to children through this campaign. As a mother, I wanted to see more children grow up not just with proper education but also becoming highly spirited persons who are always hungry to learn and aspired to become changemakers in their communities."
OUTFIT GIVENCHY
JEWELLERY WANDA HOUSE OF JEWELS
MARIA DJUANA – Growing Stronger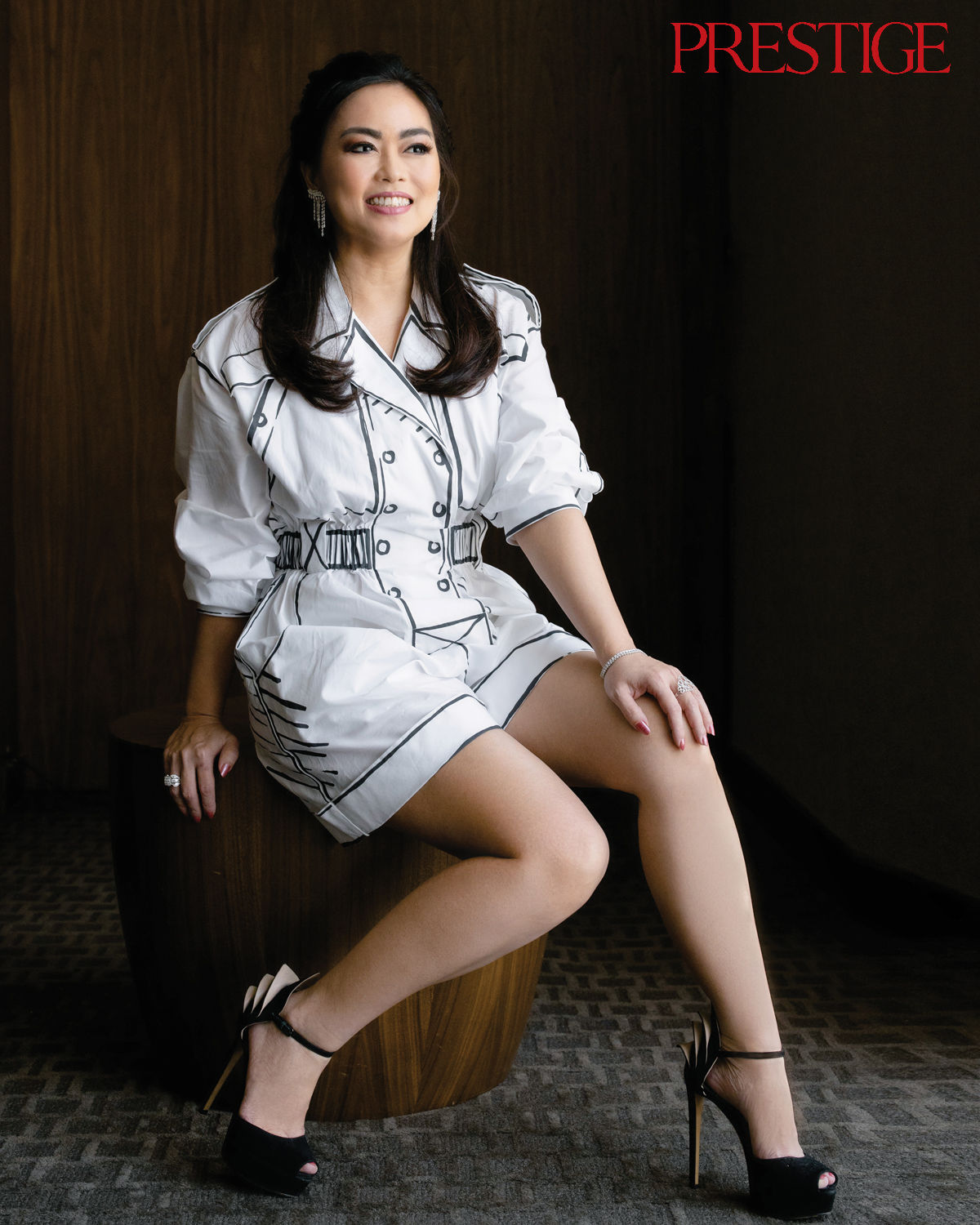 Ever since she was teenager, Maria Djuana has always been drawn to social activities, starting with joining a school organization to help nearby communities. Years after that, before she got married, she and her now-husband participated in helping under-developed villages in rural areas to have access to food, clean water and other facilities needed. "Since the Large-Scale Social Restriction policy was implemented by the government, my family and I have been staying at home, focusing on their health and safety," Djuana says. "But, starting June this year, I have been wanting to do something good for the people, so I discussed the opportunity of helping rebuild schools with my husband and children." Then one of her friends asked her to participate in rebuilding schools in the eastern part of Indonesia. She never hesitated. "I want our children to be able to compete with those from more advanced countries. We have the potential to move forward and grow strong with our culture and tradition as well," she states. "If we add proper education to the equation, we are going to be an even greater nation in the future."
OUTFIT FENDI JEWELLERY WANDA HOUSE OF JEWELS
DINA LESTARI – Creating a Better Future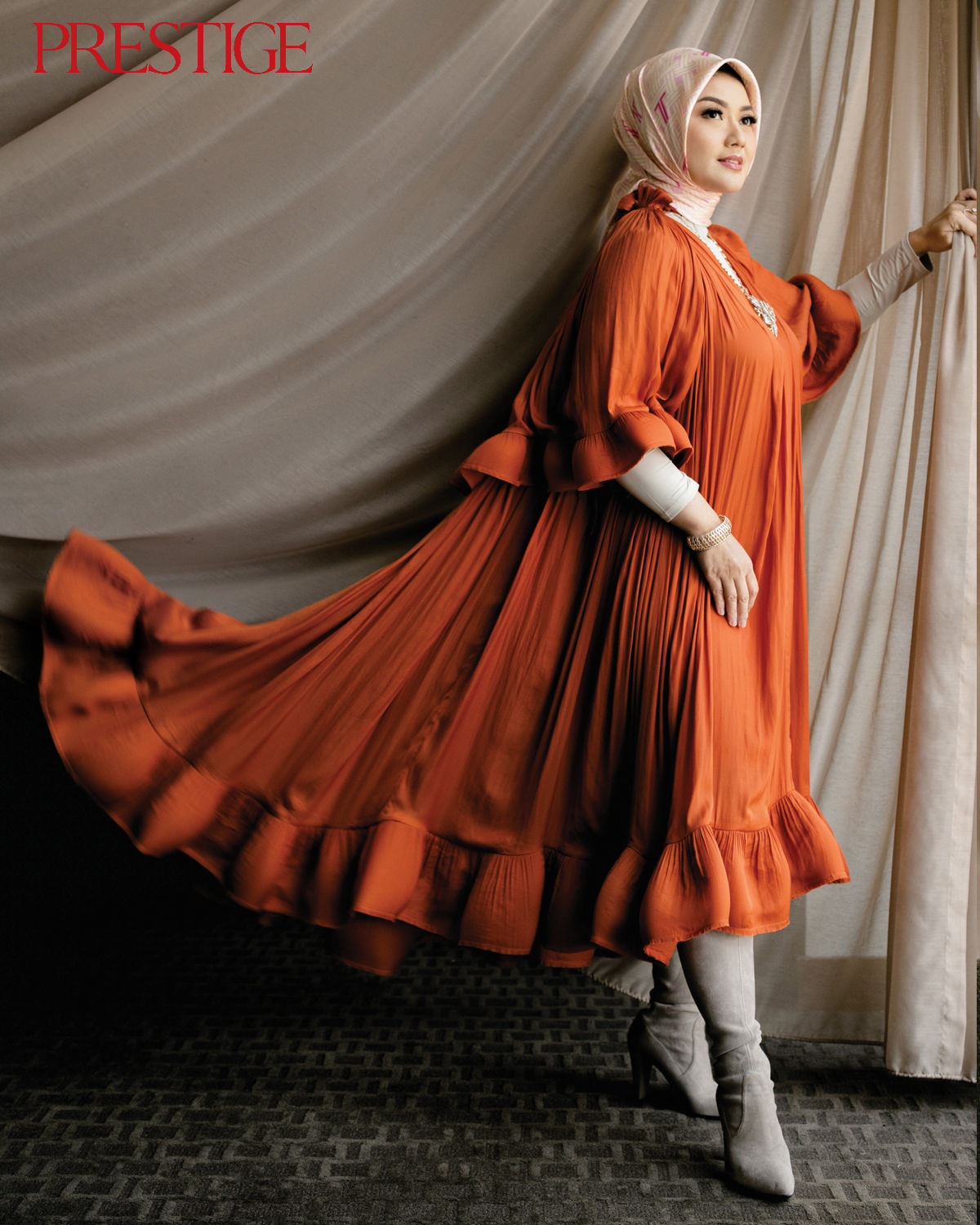 "Currently I'm still running my business, D'Glam salon and Glamour Nail Salon. But ever since the pandemic hit the country, I spend most of my time staying at home and exploring my old hobby, which is cooking," says entrepreneur Dina Lestari. "Later, together with my best friend Ivo Rajasa, we established an online catering service called Dirasaa." Also, in these trying times, the lack of access to education, especially in remote areas, touched her heart and motivated her to participate in creating change. "There are still many children who have to spend hours walking to go to school. Driven by that concern, together with several friends, I wanted to help build school facilities. Luckily, I met with Happy Hearts Indonesia that is passionate about education and development in remote areas, from Sabang to Merauke."
Then she adds: "Actually, aside from the actual buildings which are physical in nature, children everywhere also need a proper education curriculum to help them create a better future, not just for themselves but for our beloved country."
OUTFIT LANVIN
JEWELLERY WANDA HOUSE OF JEWELS
ENI JOESOEF – Hopes for Our Future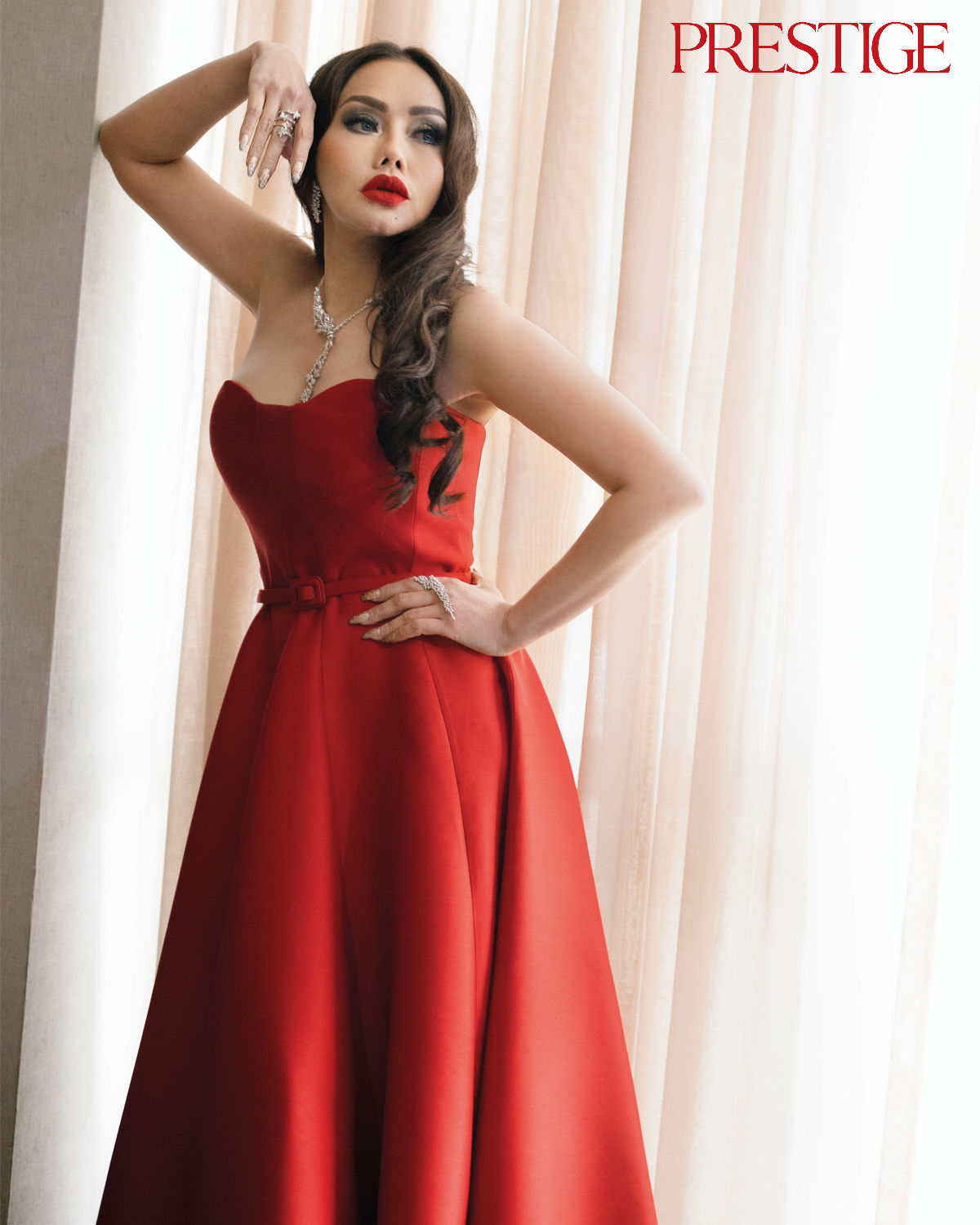 Fashion designer Eni Joesoef's first visit to East Nusa Tenggara back in the early 1980s was an eye-opener for her. It was back when her father, who's a doctor, was placed there to help people in the regions of Paga, Nita and Ende in East Nusa Tenggara. She knew what it was like to go to school in conditions that were far from ideal. When her help was called for, Joesoef did not hesitate as she was determined to help children in need get what they deserve: proper education and the proper facilities and infrastructure to support it. "I witnessed with my own eyes how terrible the schools there were, and even today they still need a lot of help. I'm very happy and honoured to be able to help Happy Hearts Indonesia to rebuild schools in East Nusa Tenggara." About her hopes for the children, she says: "Education is the key for our nation to go forward. These children are our hopes for the future and deserve proper education."

OUTFIT DIOR
JEWELLERY WANDA HOUSE OF JEWELS
EVELYN GRACE PNG – Building Communities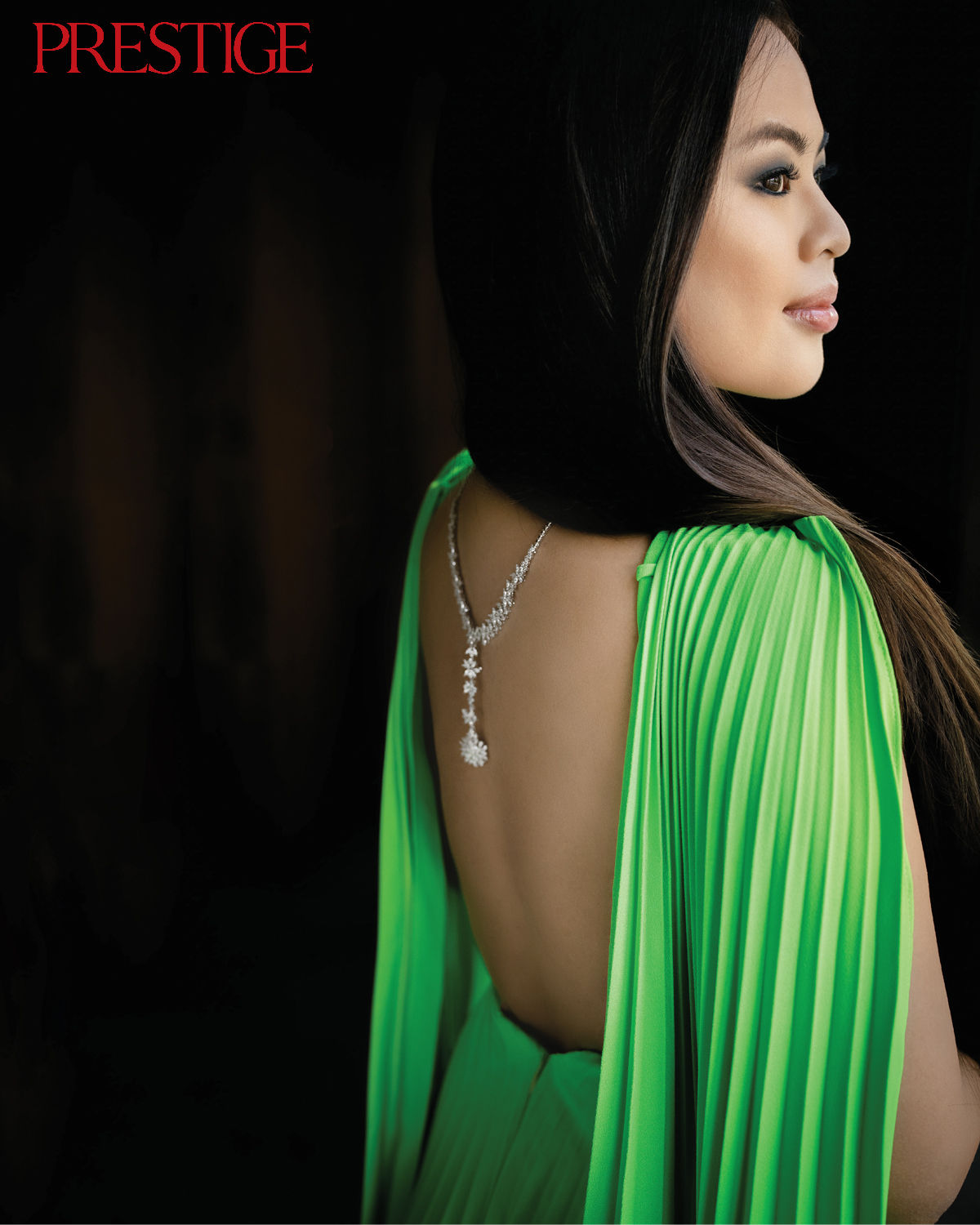 Evelyn Grace Png is the founder of Sunflower Ventures Asia, an impact investing office and incubator for social and environmental-driven start-ups. Growing up, she joined philanthropic communities that organised events, provided teaching or help build homes. When it comes to philanthropy, she aspires to follow in her mother's footstep as she has always admired her compassion for others. Having lived in London, Singapore and Shanghai in the last 10 years, she has discovered her core values. As she has returned to Jakarta, she aims to give back to the community with hopes of impacting Indonesia in a positive way.
She is also passionate in supporting the education sector as she believes that by providing children with access to better learning environments, we are investing in the continuous growth of Indonesia. In other words, the key to a better future is empowering young, fast-learning minds. "My hope is that children get to grow up with access to happy, inspired and safe learning environments," she intones. "I especially hope that the children helped by Happy Hearts Indonesia will grow up with ambition, and to one day become proactive in helping grow their own communities, each with a success story to tell."
OUTFIT VALENTINO
JEWELLERY WANDA HOUSE OF JEWELS
PHOTOGRAPHER FEN SOONG / AXIOO
STYLING SHARON ISKANDAR / AXIOO
PROJECT COORDINATOR: PETER ZEWET
MAKEUP & HAIR FOR ERIKA SANTOSO, MEILINE TENARDI, AGUSTINA EKA PUTRI, VERNICA MARTIEN,
MARIA DJUANA & EVELYN GRACE PNG:
BUBAH ALFIAN & TEAM (62 812) 8744 6465
ASSISTANT STYLISTS: LINTANG HUTAMI & SAFINA HARYS
SHOT ON LOCATION:
THE RESIDENCE ONFIVE
GRAND HYATT INDONESIA
JALAN M. H. THAMRIN KAV. 28-30, JAKARTA PHONE: (62 21) 2992 1234
SPECIAL THANKS TO:
TIME INTERNATIONAL & PLAZA INDONESIA
DIOR IS IN PLAZA INDONESIA & PLAZA SENAYAN FENDI IS IN PLAZA INDONESIA
GIVENCHY IS IN PLAZA INDONESIA
LANVIN IS IN PLAZA INDONESIA
VALENTINO IS IN PLAZA INDONESIA
WANDA HOUSE OF JEWELS IS IN PLAZA INDONESIA