The co-founder and Chief Technology Officer of HappyFresh Group provides some in-depth insight into the platform and its core technology
Fajar Budiprasetyo, co-founder and the Chief Technology Officer of HappyFresh Group – Southeast Asia's leading online grocery company – started the business together with several of his friends after a series of weekly grocery shopping trips with his wife. This made him think if the routine could be simplified, thereby allowing for more quality time at home with his family.
"I remember like it was yesterday," Fajar recalls excitedly about HappyFresh's journey. "My life has been full of coincidences; significantly more than most people, I think. Case in point, my previous startup before HappyFresh was built at the right time, around 2008. The timing was perfect, because at the time there were basically very few startups. We already got the first funding, but it was quite hard when we wanted to secure the second. So, I thought about what kinds of opportunities I should pursue after this, and I found that online grocery was quite interesting."
He continues: "Suddenly, out of nowhere, my old friend invited me to lunch. We got to talking and, coincidentally, he also saw the same potential in online grocery shopping and he wanted to explore further. I was intrigued and I had shared my pain points about it to him. Long story short, we started to build HappyFresh with 12 people, six founders and six developers for the app, at the end of 2014. And the rest, as they say, is history."
Highlights of our exclusive interview:
First of all, can you introduce us to your platform, HappyFresh?
HappyFresh is an online grocery platform that allows people to shop products from major grocery stores around the city at the tap of a button. We operate our own delivery fleet and staff that pick fresh groceries from partnering supermarkets. The company was founded in 2014 and has operations in Indonesia, Malaysia, and Thailand.
Put simply, the user or customer who wants to buy their daily or weekly essentials can find it in our platform. All you have to do is open our app, pick the supermarket that you want or that is near to your home or apartment, select the products that you need, pay for them and they will arrive at your doorstep within one hour.
At the beginning, how did you identify the correct target market for your product? Were you able to get product feedback before launching?
HappyFresh isn't my first startup. I learned lots of things from my previous journey and applied it here. At the beginning, when we wanted to launch, we needed to find some kind of validation. So, the six of us basically did our own research and asked our potential customers regarding this particular service. Will it help them if we launch it? Stuff like that. We basically made a case study, gathered data, pain points, user experience, and we combined all of that before we launched the app.
Was there a moment that made you think you were onto something big with HappyFresh?
There have been some moments. First, when we launched the apps and we managed to get our first partner, Ranch Market and Farmers Market. When we successfully convinced them, it was a big moment for me. And I have seen that this is something that they need in the future. Moreover, when we launched, market adoption was great. We were pioneers, because back in 2014, services similar to ours weren't available yet. This was also proof that the problem that we tried to solve was actually a real problem.
What can you tell us about the changes and developments your company has undergone since its inception?
In terms of product development, I can say that how we see the problem and how we solve it has matured significantly. In the beginning, we had a certain reference, and we try to compare ourselves with it until the first six months. But, as we continued to grow and mature, and a lot of new talent joined us, we started to get a better understanding about what the market wants. We talked to our users about their experience, what they wanted, and tried to shape that information into our target market.
How would you describe the level of awareness and interest for services like HappyFresh among Indonesians?
Due to the pandemic, our user adoption has grown significantly. Before the pandemic, we predicted that we will achieve this growth in terms of level of awareness and interest in the next two or three years. But the pandemic basically accelerated our growth many times over. Our business relevance has also grown.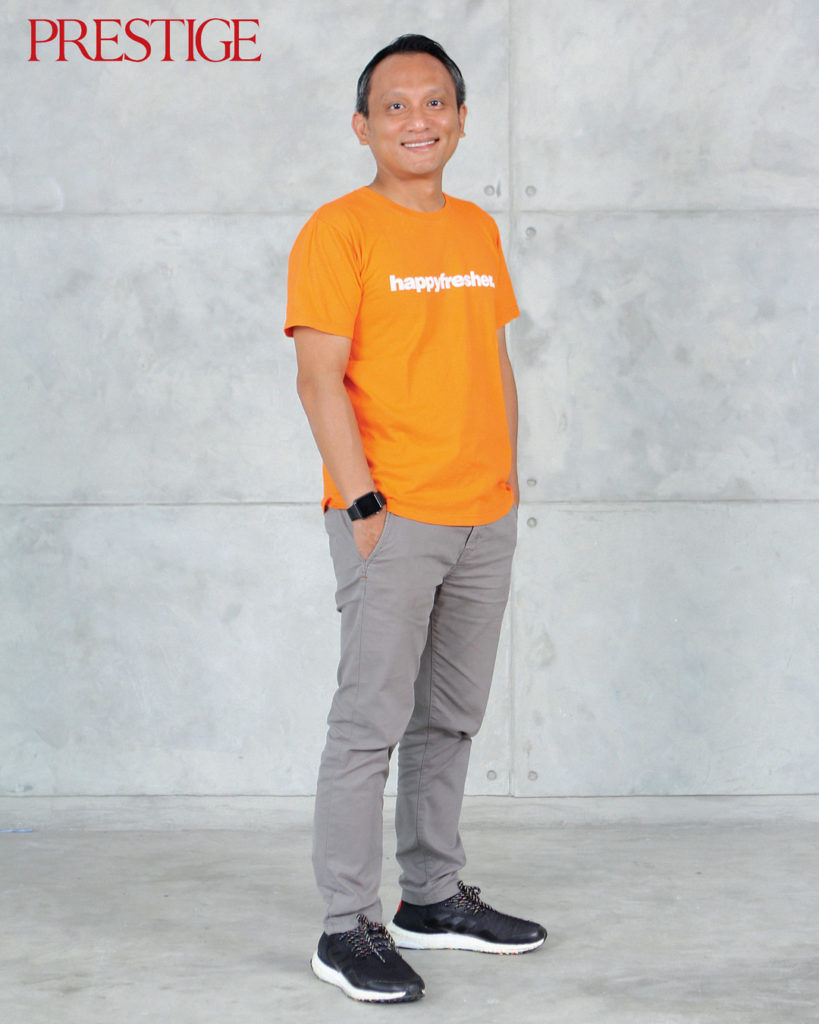 On the flip side, how would you describe the relationship between HappyFresh and more traditional retail avenues for groceries? How does HappyFresh complement, supplant or co-exist with offline options?
From the beginning, when we launched our business, we never considered them to be our competitors. They're our partners. We need them and vice versa. It's a mutual relationship. From their perspective, I see that they also never considered us as a competitor. They saw us as a partner, an additional channel that enabled their entry into the digital world.
When it comes to HappyFresh's core technology, what is it that gives the platform an edge? What gives HappyFresh an advantage over similar services?
Can you imagine a grocery store where you can receive personal recommendations and offers the moment you step in the store? Where checkout takes seconds and all you have to do is pay for it and just wait? In short, that's the core of our service offerings: Fresh groceries to your doorstep, picked for you by a professional as well as personal shopper, and delivered to your doorstep within one hour.
More importantly, we trained our personal shoppers, and they are dedicated to shop for the very best products in any supermarket. Based on our experience and knowledge accumulated over more than six years, the delivery part is a simple problem to solve. We know the complexity of the shopping part, namely selection. Few people understand just how complex it is. It's like grocery shopping not for yourself, but for other people. So, our personal shoppers shop as fast as possible and as accurate as possible. Because the quality of product, its freshness, and the speed of delivery are what our customers demand from us.
From a business perspective, how has HappyFresh adapted to the ongoing pandemic?
Like I mentioned earlier about user adoption, it is about how we utlizied the opportunity presented by current conditions. In other words, making the best of this unfortunate situation. We also operate as safe as possible, particularly our drivers and personal shoppers who are our front-liners. Safety is paramount for them.
On that note, what challenges and opportunities do you see for HappyFresh right now?
In terms of challenges, nothing has changed yet. Because the world of online grocery itself is still new, and adoption will take some time. I believe it's about time that everything starts heading online, whether it's in five- or ten-years' time. The question right now is, can we, as a service provider, accelerate adoption rates? If so, how? How do we create an app that knows our customers so using it becomes effortless? That, for me, is the challenge.
Speaking of which, what are your thoughts on technology in general and where it's headed in the next five to ten years?
Technology has become an integral part of everyday life. It has spoiled us and enabled new levels of convenience at home, in the office, and nearly everywhere else. In the future, autonomous technology will be the key direction, whether it's in the transportation industry, food delivery or anything. Particularly in Indonesia, I think it's going to be more about agriculture, as in how technology will increase agriculture productivity, and how the producers will get much closer to consumers.
Last but not least, looking forward, what's next for you and for HappyFresh?
We still have a lot of work to do. We want to serve the majority of households in Southeast Asia. We want to be in everyone's top of mind when you need groceries.