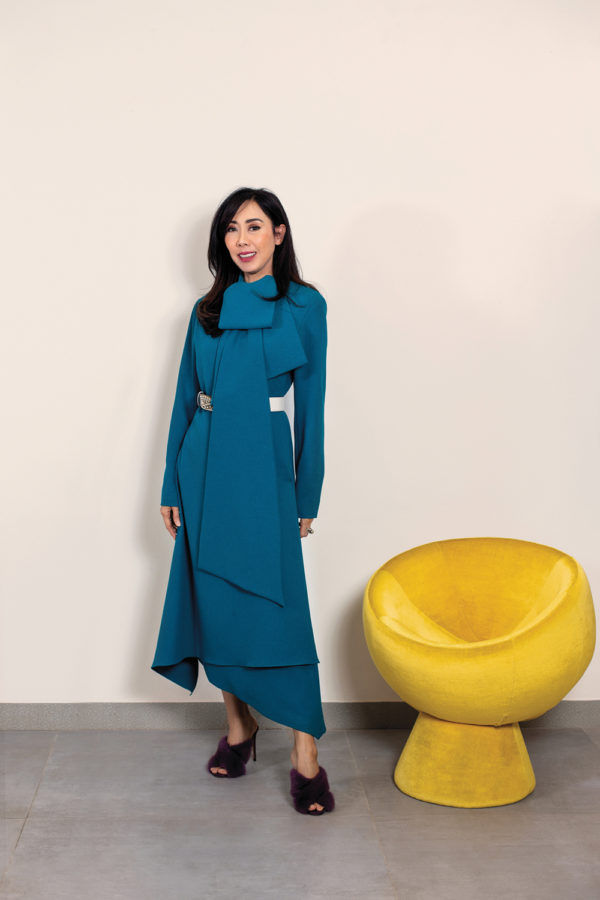 Esti Nurjadin
Chairwoman of Indonesia Heart Foundation (YJI) and Owner of D Gallerie
"We chose the 27 artists and designers who are donating their works to the Show Your He(art) project based on their reputation, their stories, their track records and their willingness to give back to the heart health community," declares Esti Nurjadin, Chairwoman of Yayasan Jantung Indonesia (YJI).
The owner of D Gallerie is telling Prestige about the 40th anniversary programme of YJI, a non-profit institution focusing on raising knowledge and awareness of the importance of promoting heart health and preventing cardiovascular diseases. Since it was established, the foundation has been an important pioneer of promoting healthy lifestyle choices in Indonesia.
The artists and fashion designers that Esti and her colleagues selected for this project were asked to create art pieces on the theme of the heart "as an organ that keeps us running every day." Their works will go into an exhibition and then be auctioned to raise funds for the YJI's operations and programmes. Through this event, Esti hopes to secure more funding for YJI, so that the foundation can continue its work on raising more awareness about the different types of cardiovascular diseases, and to continue campaigning for healthier lifestyle choices.
Because her husband had had bypass surgery at the age of 42, Esti felt she had an obligation to pass on information to help others. This was the reason Esti accepted the opportunity to lead the foundation, as she told Prestige in 2018. "The cause that we are working for at YJI is near and dear to me," Esti explains. "I have an emotional attachment to the foundation."
Asked to join YJI by its former Chairwoman, Mia Hanafiah, Esti has been involved with the foundation since 2008. She started as a volunteer, helping out as new projects and events came along. She subsequently became an officer in the Communication Department and then moved into the Funds Development Department. In 2018, when Mia decided to pass the baton to a new generation of heart health advocates, Esti was picked to succeed her as Chairwoman.
"We have collaborated before with many industries and public figures to reach out to bigger audiences," Esti notes of her leadership of YJI. "To mark the 40th anniversary milestone, we decided to collaborate with highly talented artists and designers to create special pieces, each of them an expression of empathy and emotions. Their works will be auctioned to raise funds for YJI to support our programmes: promotive, preventive and also curative, including operations for children born with heart diseases.
"This year, we are doing a virtual exhibition on YJI's website [www.inaheart.or.id] which is launched on November 9. Also, for the first time we have presented Heart Awards, our most prestigious awards programme, to individuals or institution who have helped YJI grow during the past 40 years."
Not stopping there, YJI also plans to publish a book that "tells our history from a humble beginning, followed by health lifestyle messages and presents the beautiful art and fashion pieces in such an arrangement that can be used for raising awareness about the importance of prevention of cardiovascular diseases," Esti says. The book will tell the stories of how the various artists collaborated with YJI and the processes in making the artworks they donated to the foundation.
Esti's work for public health causes extends to serving as President of Non-Communicable Disease Alliance Indonesia in 2021-22 and as a Board Member of the World Heart Federation in 2020-22. YJI has been taking up most of her time lately. The foundation now has 28 active branches throughout Indonesia. "We have curative and rehabilitative programmes for heart patients, as well as promotive and preventive programs for the youth and millennials," Esti points out.
To mark its 40th year, the foundation will push forward with a plan to become a Centre of Excellence for heart and cardiovascular health. Esti elaborates: "This idea was initiated by our Pembina, Prof. Dr. dr. Dede Kusuma SpJp and Mr Oetojo Usman. They want us to be the centre for research and data in cardiovascular health in Indonesia. Of course, we can't work alone in this without the helping hands of our partners, Perhimpunan Dokter Spesialis Kardiovaskular Indonesia (PERKI) and Departemen Kardiologi Fakultas Kedokteran Universitas Indonesia (FKUI)."
Esti concludes: "We aspire to obtain more funding for research in cardiovascular health, and hope to help the government lower the numbers of patients suffering from this catastrophic disease. Of all diseases, cardiovascular is the biggest public health burden in Indonesia. Starting this year, we have added R&D programmes as part of our strategic plan. Because research is the future, we think the future of medicine is prevention. We hope that YJI can become the nation's data centre for everything cardiovascular, so that people can refer to us regarding their heart health, and we can help the government's efforts to tackle the public health problems caused by cardiovascular diseases."
---