On Friday evening, Prestige strolled around the Kebun Jeruk area, to report live from the opening night of three solo presentations in Museum Macan at AKR Tower Level M.
Lee Mingwei's Engaging Presentations
We were welcomed by the presentation of Lee Mingwei, "The Mending Project". What we love from his presentations, he specifically dedicated his artworks to interact more with the audience. In the Mending Project, visitors can bring their clothes that need to be fixed. One person will wait and sits at a table as a part of the presentation against a wall filled with colourful spools of thread, engaging with visitors as he or she repairs the garment. The repaired clothes are then displayed on the table, connected to the spools on the wall. At the end of the exhibition, they can be retrieved by the owners. What's cool is that the colour of the thread is deliberately in contrast to the fabric, to celebrate the repair, as a memento of the encounter.
He also presents "The Dining Project", where strangers are invited through a lottery system to attend a private, one-on-one dinner prepared by a host in the museum. Why would Mingwei do this lottery? As what the normal people would have when they're having dinner, food becomes a catalyst and medium of trust and intimacy between two strangers. Something that today's generation will value much for its realness, rather than the instant networking apps that offer a long-distance communication. Moreover, he presents "the Letter Writing Project" in a mixed media interactive installation, with writing papers and envelopes provided as the visitors are allowed to have their secret letter "posted" in the booth. Something that we missed from the good old days! Arahmaiani's Works from 1980's
As a globetrotter for a cause, this Indonesian artist, Arahmaiani, presents her notable artworks throughout her highlighted life moments as an artist. She called the presentations, "The Past Has Not Passed."
Arahmaiani surveyed pivotal moments of Indonesian and international politics, that made her as of one the key female voices in the developing contemporary art scene of Southeast Asia during the 1990s.
In 1987 Arahmaiani stated, "If necessary, I can extend my canvases as wide as possible to become life itself and replace brush and paint with elements of daily life."
We were welcomed with her "Flag Project" installation. Created from 2006-2010, "Flag Project" is a community-based project, initially developed by Arahmaiani with Amumarta pesantren (Islamic boarding school) after a major earthquake hit Yogyakarta in 2006 and expanded to other communities across the world from different cultural, linguistic, and social thought, and hope in a form of text sewn on a flag. For this project, the artist has worked with communities in Indonesia, Japan, Australia, China, and Singapore in developing this work. For her first flag, Arahmaiani created one flag with the word "akal" (literally translates to "mind") in Javanese text. She would then hold a discussion or workshop with the communities to list other keywords that they think are important. (Please share to us which word you have in mind as the most important and meaningful word to you by leaving us a comment in our instagram, @prestigeindonesia).
In another installation, Arahmaiani also presents "I LOVE YOU" letters in arabic letters. This work illustrates the artist's ongoing interest, particularly after the 9/11 attacks, to promote a peaceful image of Islam.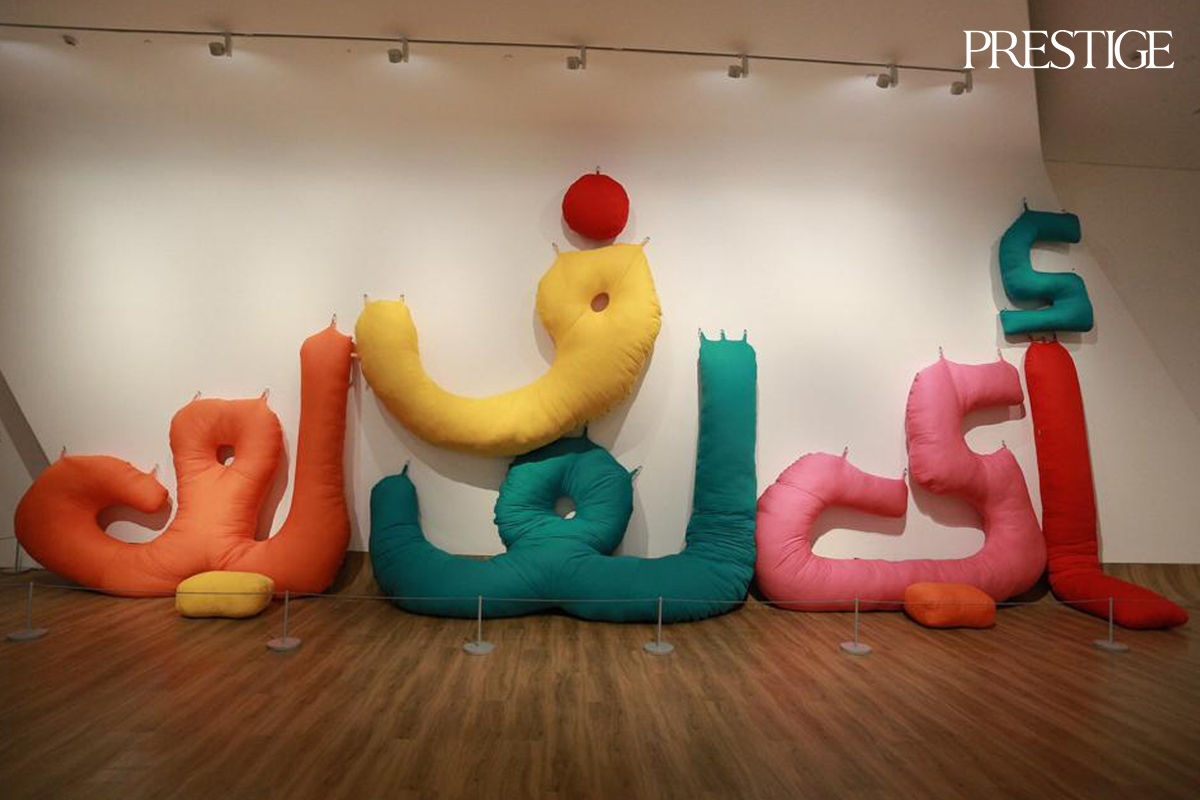 ON KAWARA: One Million Years
Museum Macan will be the first art gallery in Indonesia to present On Kawara's reading with a theme of "One Million Years" (1993-now). For this presentation, male and female volunteers will alternately read out dates from Kawara's multi-volume collection which comprises "One Million Years" (Past), and "One Million Years" (Future).
For this presentation, stay tuned to @prestigeindonesia for the live report of the reading with our Prestige friends! See more photos from the opening night in the gallery.