Inspired by the classic American home, Michelle Shang and her team at MOIE created a charming setup for a dinner table and an entire apartment unit.
There is something inherently charming in the classic depiction of family meals in American homes. Michelle Shang from Moie finds this image particularly inspiring. "I tried to create a table setting that replicates how it feels in a classic American home," she explains. "In America, when we invite friends over, it's something that's truly personal. So, the table is not set for each person like how it's done for formal dining. So, the plates are stacked until it's time to eat; then we pass them around. This feels very personal."
For this informal dining set, MOIE uses a tableware collection called Illusion, designed by Barbara Barry for Haviland. It combines sleek designs with feminine touches and is made using Fine Limoges porcelain imported from France.
As the theme of the setting is all about creating a cosy and homey atmosphere, the food should reflect the same idea. On that note, Michelle suggests the inclusion of things like homemade bread or homegrown fruit. "Maybe baked fish with white wine," she adds, noting that light meals would work best while heavy, festive dishes wouldn't really fit.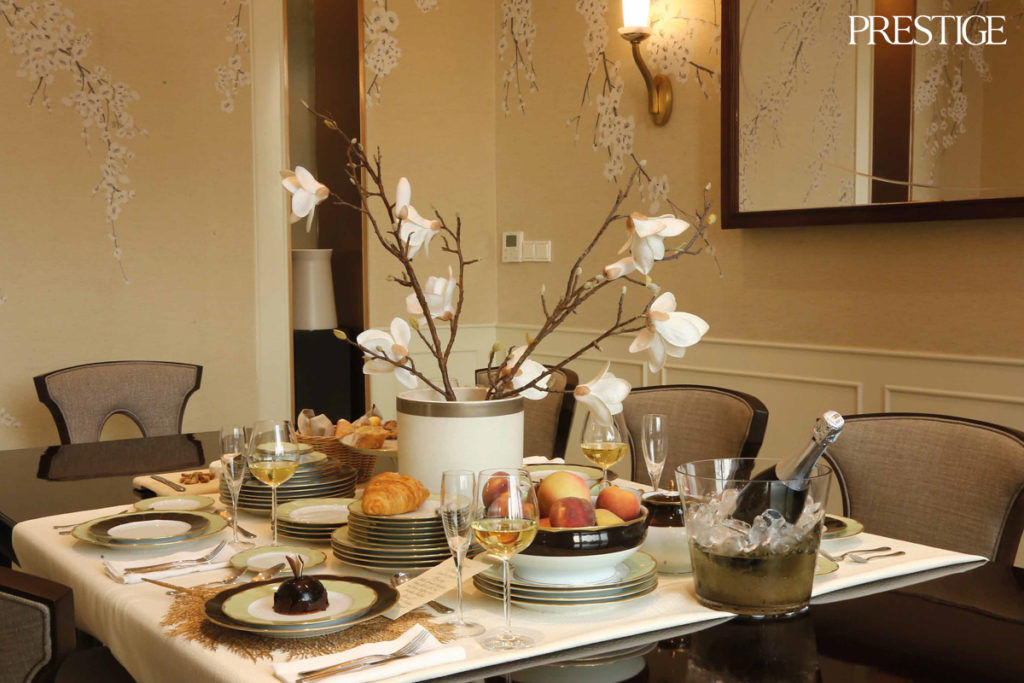 For the centrepiece of the table, Michelle has picked a vase of magnolias. "Magnolias symbolise beauty and are timeless," she points out. "They don't attract too much attention the way roses do and, while they only bloom at certain times, they smell so nice." As a final flourish, the wall of the dining area is covered with a hand-painted chinoiserie wallpaper from Sekata Living featuring a cherry blossoms motif.
Moving away from the dining room, Michelle extends the theme to design of the entire apartment unit – which in this case was located at the Regent Residence at Mangkulu hur City in Central Jakarta. "Nowadays, the trend is to decorate apartment units in a contemporary style," Michelle elaborates.
"But I feel like it's been a while since we had a show unit that has a classical theme with a modern twist to it." To that end, MOIE has designed a simple interior featuring only one colour tone complemented by various fabrics with different textures, including linen and silk, further enhanced by warm brass accents.
Next is the living room, which is open to the kitchen and where a Scarlett Chair becomes the major highlight. The master bedroom, meanwhile, becomes a sanctuary from the hustle and bustle of city life featuring calming tones of blue and sand reminiscent of a beach. A Lady Desk – also designed by Barbara Barry – sits in front of the unit's large window overlooking Jakarta's skyline.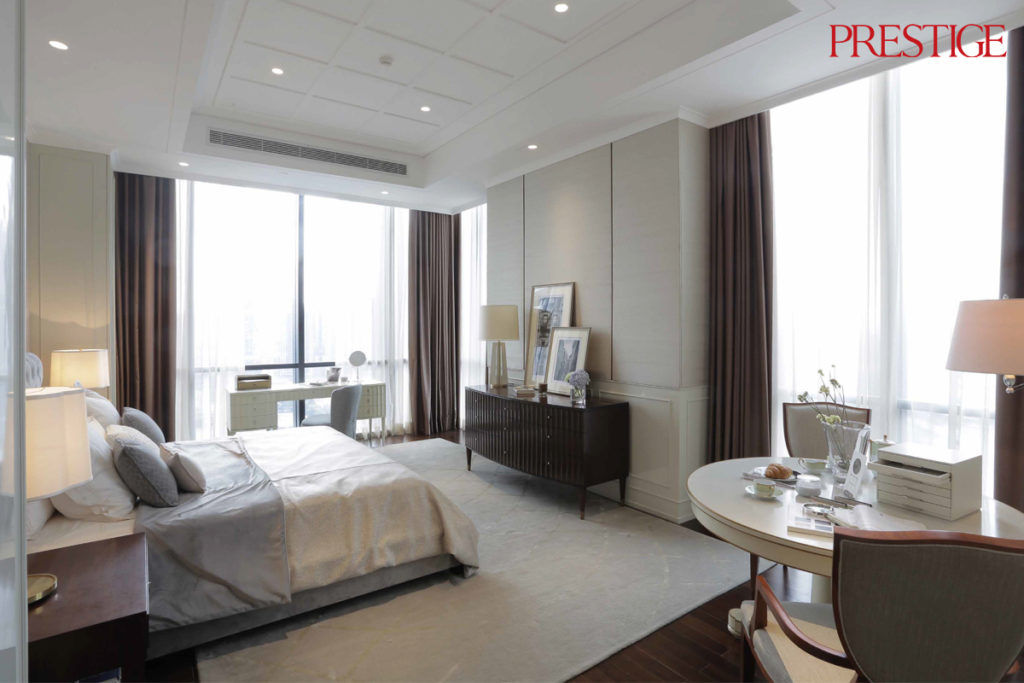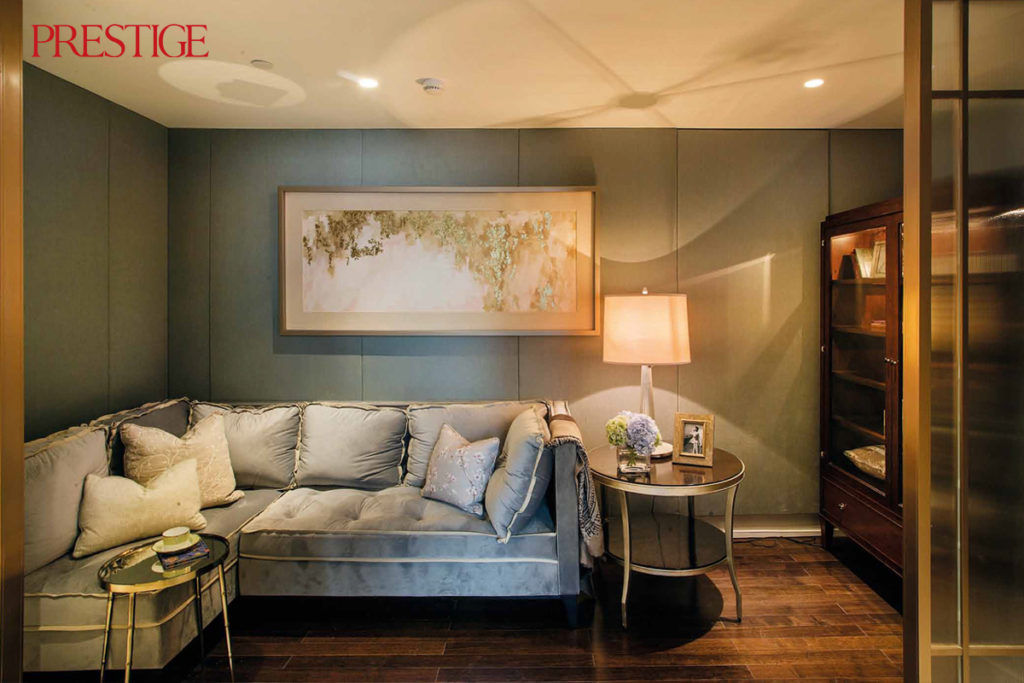 Moie then turns the second bedroom into a study in the style of a New York apartment.
For this one, Michelle was inspired by visits to her aunt in uptown New York whose house had a library, picture frames everywhere and the exact same dark teal walls as the study room she designed here. The room is then completed with a Wall Street wing chair by Barbara Barry and Moie Living's Sebastian sofa. The third bedroom is reserved for overnight guests and is decorated in mostly neutral colours with a touch of dark green and shades of gold.
Last but not least is a little nook in the foyer corridor featuring Moie Living's Brittany sofa. "This is actually my favourite spot in the entire unit," says Michelle. "That's where I imagine I'll enjoy my me-time, perhaps have my coffee in the morning." Indeed, that little corner showcased MOIE's penchant for effective use of space and cosy living.