Bryan Girsang from Ros.tudio presents a table setting inspired by the Bronze Giant Leaves from Alexander Lamont with warm and welcoming vibes
"In decorating thus table, I was inspired by tropical leaves cast in permanent bronze," interior stylist Bryan Girsang explains, referring to the Bronze Giant Leaves by Alexander Lamont. "Living in a tropical climate always gives me endless inspiration. Looking where we live here in Indonesia, everything is very vibrant, colourful, with a lot of textures that we can explore and apply to tables." Colour wise, the founder of Ros.tudio chose brown as the main palette of the setting. "For me, warm tones provide a homey feeling and ensure that guests feel welcome. I want to pursue something casual where people can gather around but also remain elegant. That's why I'm choosing Clematis and Nutan flowers for this setting."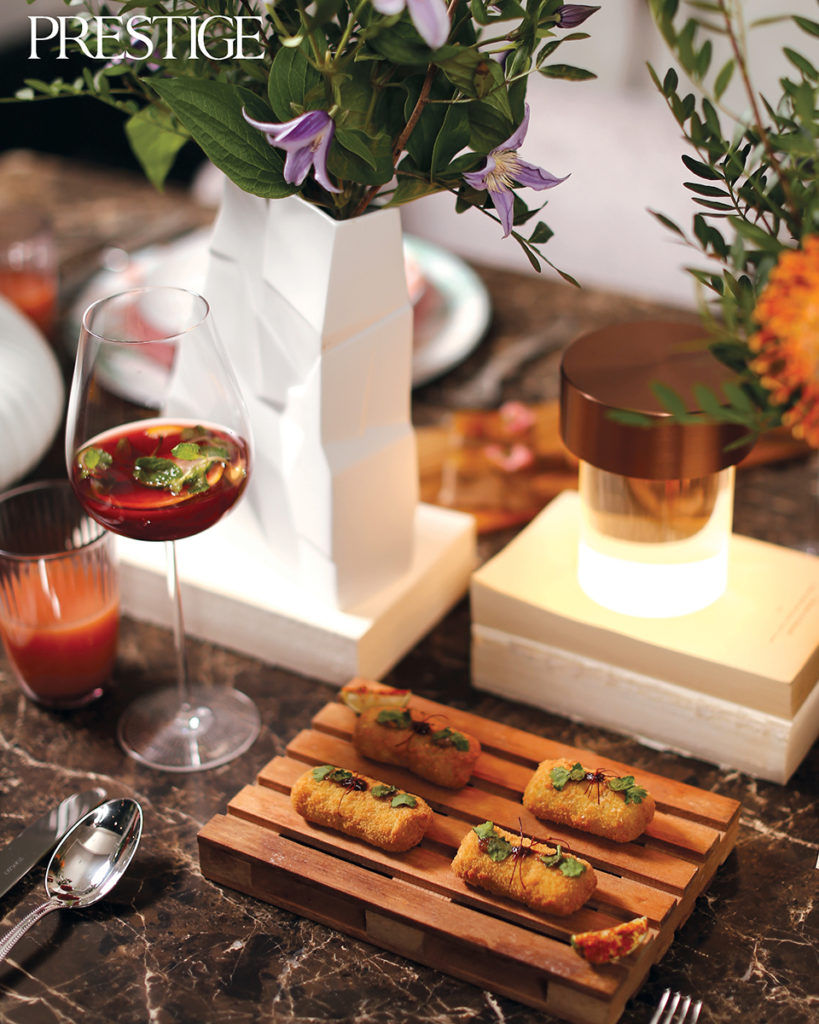 What makes this setting particularly interesting is how Bryan invites people to channel their creativity when decorating their tables. "This set was made so as not to intimidate people who are trying for the first time. The arrangement is not too organized because there's no perfection in a first effort and it's totally fine. I used items that can be easily found in the house like books as the base for the Matrix Collection vases from Vista Alegre and the table lamps from Flos to make it look taller, and, surprisingly, it works!" Then he continues: "For the flowers, I just chose them this morning as an example that we can use the flowers we have in the house and arrange it by ourself. It doesn't have to be extravagant."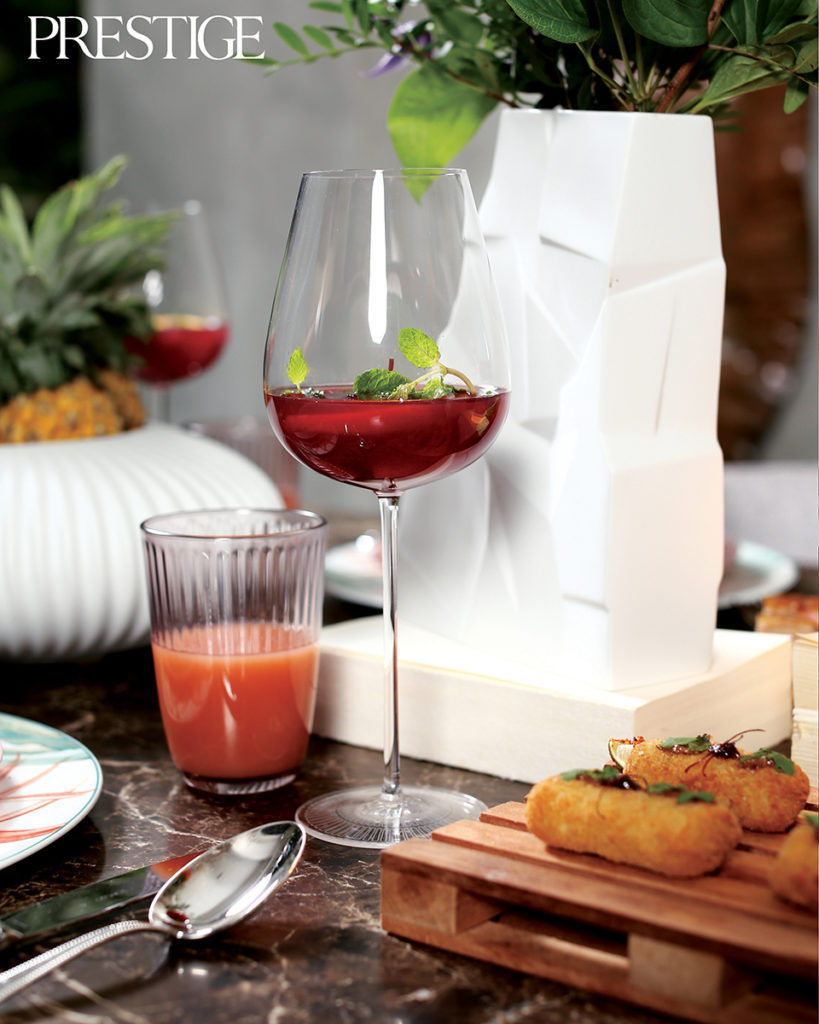 This informal setting, which can be applied for brunches and cocktails with close friends and family, centres around the Spello Dining table and Elsa Dining Chair from Flexform. Designed by Gabriele e Oscar Buratti Design, the table comes veneered in Canaletto walnut, ash, or ebony, and is also available with various marble tops. The dining chairs, designed by Samuel Accoceberry, are crafted with generously padded shell that provides unrivalled ergonomic comfort. Various creations from Vista Alegre then become the centrepieces. There are architectural vases from the Matrix Collection, a fruit stand from the Fiji Collection, a fruit bowl from the Solitaire Collection, and also a table lamp from Flos.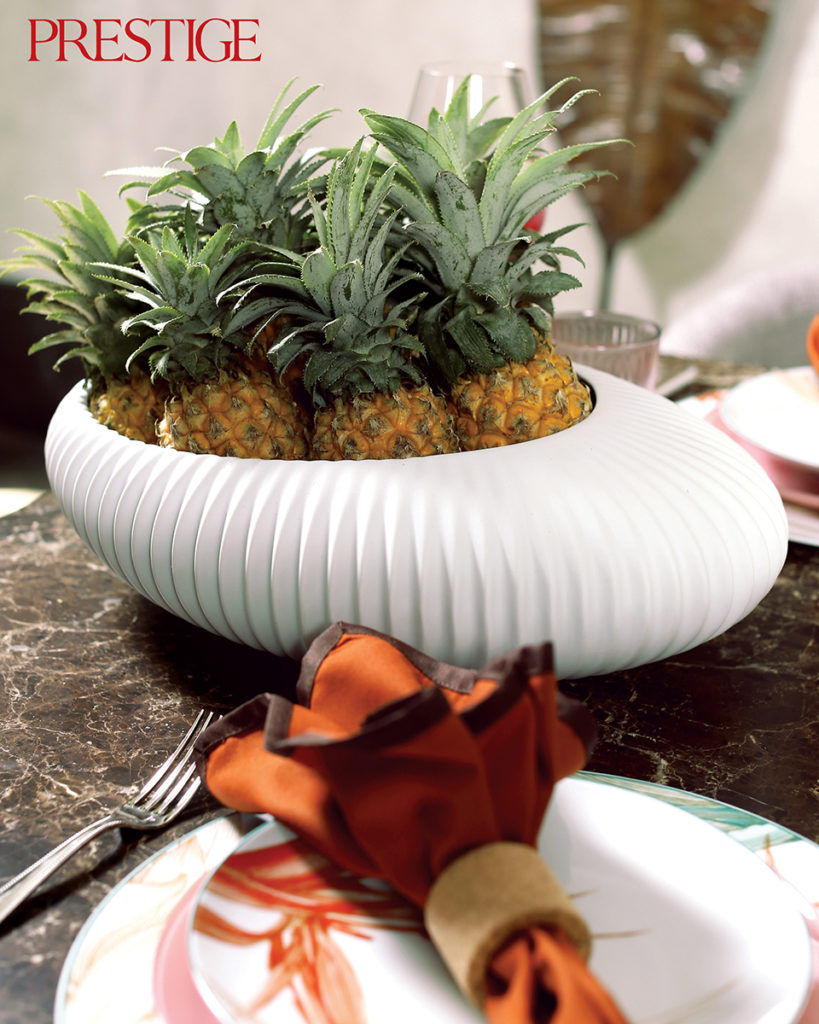 Spanish tapas and various canapés were served on plates from Vista Alegre's Fiji Collection, accompanied by wine glasses from the Ornaments Collection. The Fiji collection retraces the colours of sunsets in the Caribbean islands while the Ornament collection has a classical design inspired by the ceiling medallion crown moulding from the palace in Ilavo, in Portugal. The silverware comes from the Continhas collection by Topazio.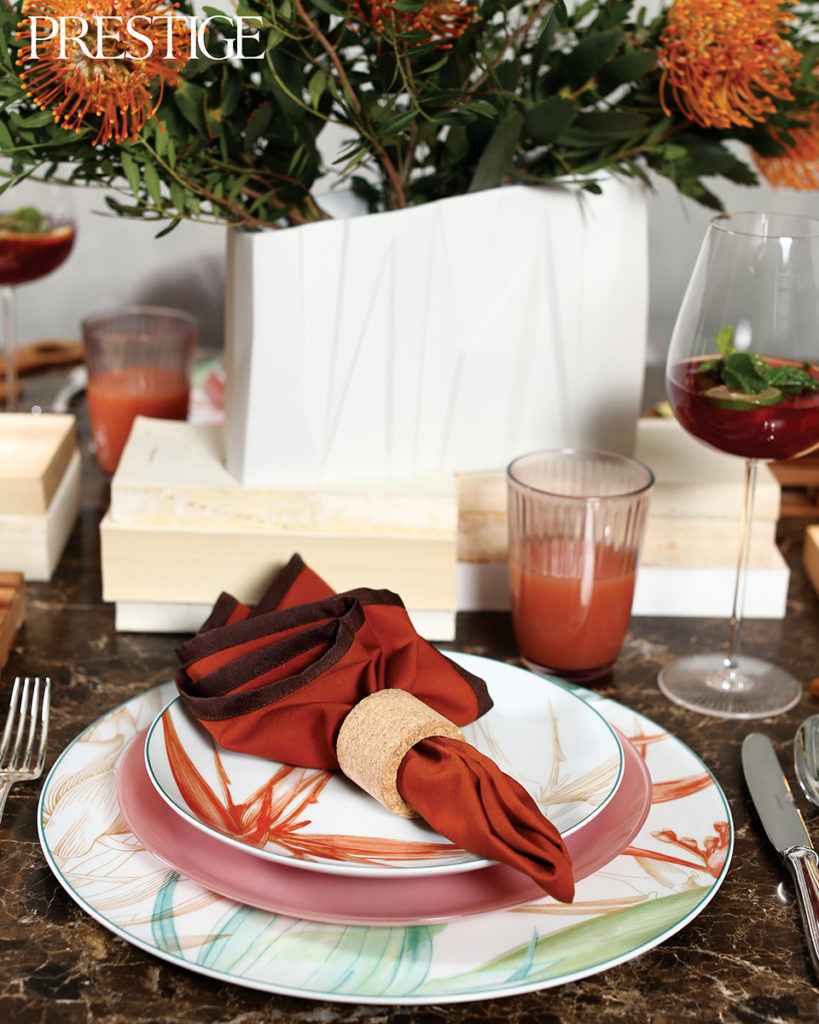 On the sides of the dining room, Icaro Bookshelves from Flexform – featuring a combination of cowhide and wood – showcased various collectible items and memorabilia. It is a powerful decorative style made using an elegant solid wood structure and crafted following fine Italian cabinetmaking traditions. For sure, it compliments the exquisite Mantle Boxes and Fuma Bowls from Alexander Lamont, as well as the Lampadina table lamp from Flos.