Born in Bali and steeped in the archipelago's heritage of rich flavours, Spice Islands Distilling Co. is Indonesia's very first authentic craft spirits distillery
As the world rediscovers the joys of travel, wanderlust seems to compel many restless souls to return to Bali. While many are obviously eager to rediscover the timeless charms of the island of the gods, there is also no shortage of newer venues, attractions, and establishments to come across for the first time. Establishments such as Spice Islands Distilling Co., Indonesia's very first authentic craft spirits distillery, located in Gianyar.
See, for the longest time, Indonesia has been without a proper distillery. Sure, there has been attempts to make whisky and other spirits using neutral alcohol bases and artificial flavouring, but the results are of extremely low quality, and that's putting it mildly.
Spice Islands started about four years ago when the team behind it saw the growing popularity of international craft spirits and how the trend was taking seed in Indonesia. At the time, Singapore already had two craft distilleries and Bangkok had one. It was high time that Indonesia joined the club. Fast forward three years and Spice Islands Distilling Co. established the archipelago's first working distillery.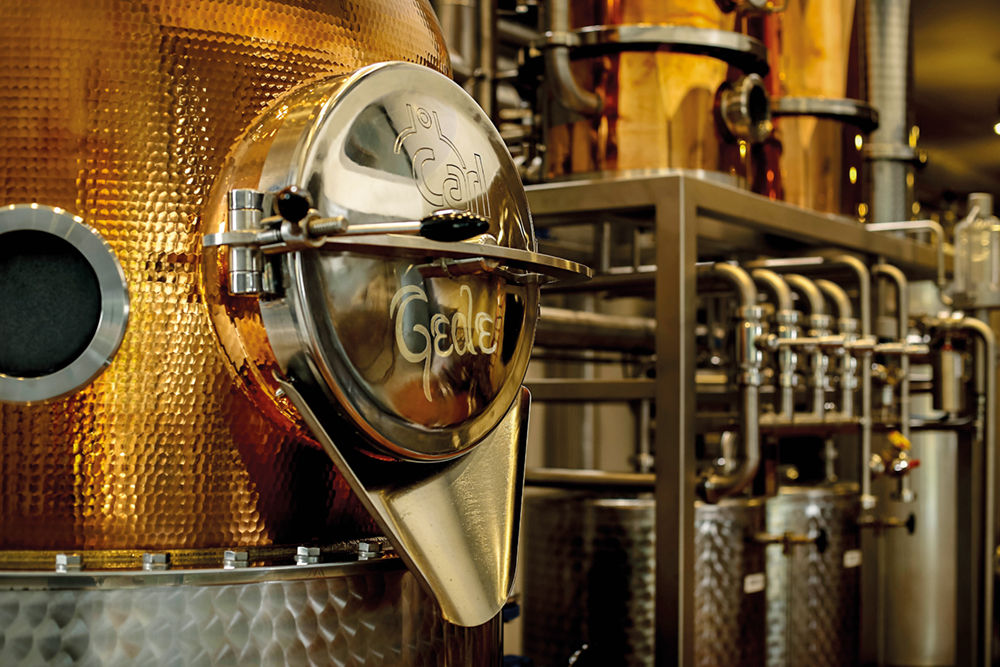 What sets Spice Islands apart from previous attempts of producing spirits in the country is that it actually focuses on creating premium drinks using only the finest local materials while keeping the product as natural as possible. To that end, the distillery sticks to authentic production methods and avoids flavoured ingredients.
And speaking of flavour, Spice Islands has already made quite a name for itself by, as incorporated in the company's mission statement, "sharing Indonesia's unique and wonderful flavours with the world." The Indonesian archipelago was once known as the spice islands – and it technically still is, what with the nation being home to around 10 percent of the world's flowering plants. Interestingly, one of the distinctions that come with this fact is that Indonesia is a distiller's dream. The endless array of botanicals means that gin distillers are spoilt for choice, abundant sugar cane is great for rum, and the coffee – deemed among the best in the world – means superior coffee liqueur.
A great case in point of this concept made real is East Indies Archipelago Dry Gin (eastindiesgin.com), launched back in December 2021. On the one hand, it's unmistakably gin since it contains traditional botanicals such as juniper, angelica route and coriander. On the other, this particular gin has an unmistakably Indonesian twist in the form of kecombrang (torch ginger flowers), andaliman (also known as Batak pepper), and kemangi (or lemon basil). The result is a distinctive and smooth Indonesian gin that won a gold medal at the 2022 World Spirit Awards held in Austria.
Even before that, however, the company's debut product also made waves. Called the Nusantara Cold Brew (nusantaracoldbrew.com), Spice Islands' craft coffee liqueur – Indonesia's first, by the way – features hand-selected Arabica beans from Aceh Gayo, Toraja, Java, and Kintamani's finest plantations. It's remarkably rich and deep, with only half the sugar content of its mass-produced rivals but 10 times the coffee. Certainly, the judges at the International Wine & Spirits Competition think highly of Nusantara Cold Brew, and awarded the coffee liqueur with a bronze award at the 2022 edition of the event.
So far, Spice Islands Distilling Co. has only launched these two products, but there are new ideas currently in the pipeline, from new gins to a new rum brand to be called Maluku Rum (visit malukurum.com for a peek of what's to come). The latter sounds particularly intriguing, as it will include two styles, one distilled from high quality molasses and the other from freshly pressed sugar cane.
Most importantly, finding Spice Islands' gin and coffee liqueur – and later on the rum – has become increasingly easier as they can be found in top bars and lounges across Jakarta and Bali, as well as in establishments found in Surabaya, Semarang, Medan and Solo. Curious connoisseurs can also find the East Indies Archipelago Dry Gin and Nusantara Cold Brew at many major spirit stores both online and offline.
On a final note, Spice Islands Distilling Co. was established to "raise Indonesian spirits" – and it certainly has done so in more ways than one. For example, the company is currently running community programs to help coffee growers and arak producers in Bali, which is still among the regions hit hardest by the pandemic. And on a broader scale, it has now raised the bar high for Indonesian craft spirits and showed the world just how great Indonesian flavours can be.