What's not to love about the 1980s? It was a time of excess, extravagance and experimentation. We've seen glimpses of its revival on the runways this Fall/Winter season: Over proportioned shoulder pads at Saint Laurent and Balmain; logomania prints at Gucci and Versace; power- suiting at Moschino and Gareth Pugh and lots of shiny Studio 54 glamour over at Halpern and Attico. But those references are nothing compared to the glittering tribute Bvlgari is making with its latest Wild Pop collection, a high jewellery extravaganza rife with musical references, Pop Art motifs and audacious 1980s references.
"The 1980s was the epitome of beauty and creativity. When it came to jewellery, it was when Bvlgari was exceptionally creative. This creativity was also present in other industries such as in the movie business, art, music and fashion. That's why we decided to celebrate that decade," explains creative director Lucia Silvestri.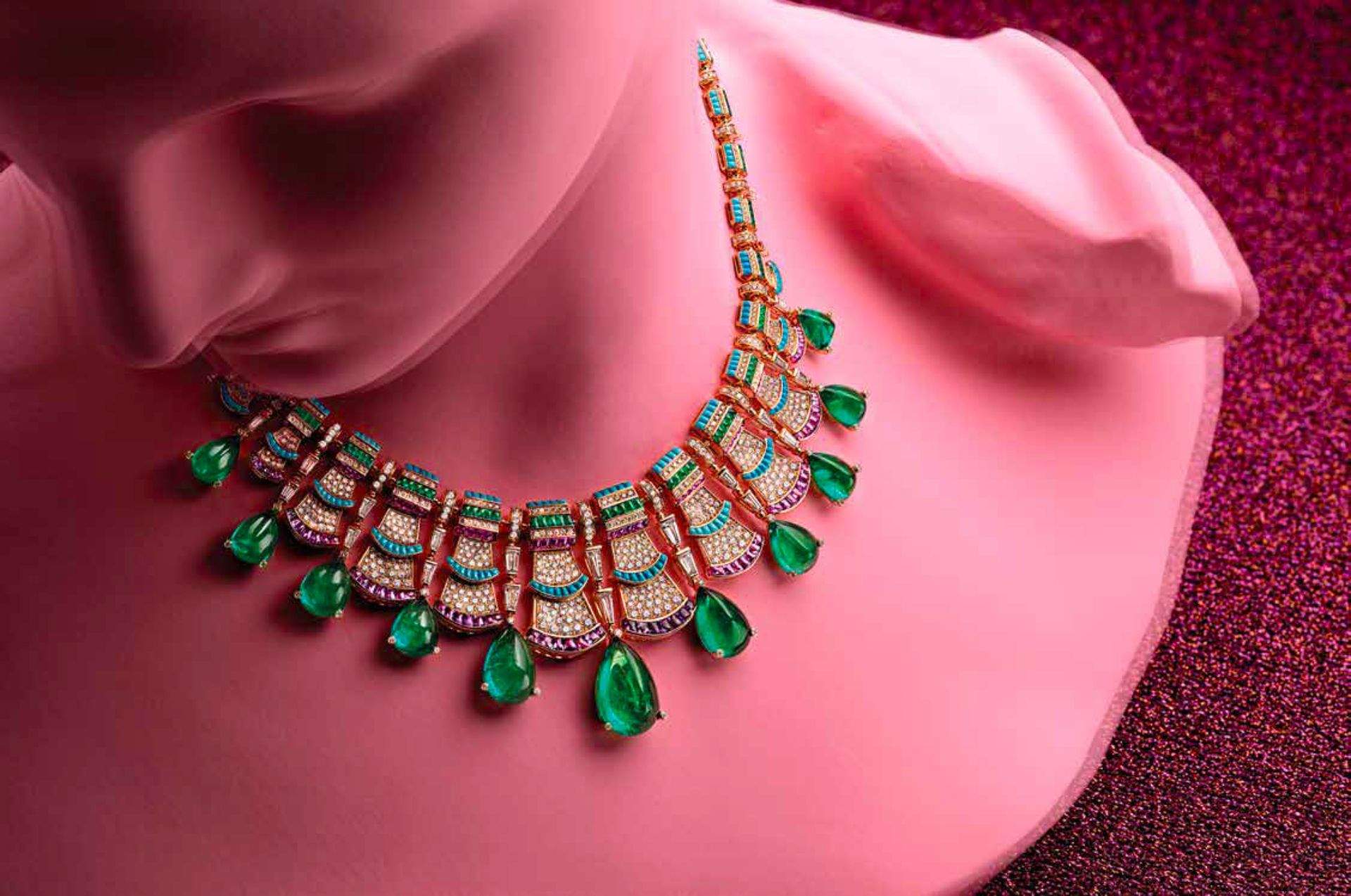 Indeed, the 1980s was a defining moment for Bvlgari: It developed a look that was voluminous, colourful and incredibly stylised, especially with the introduction of the Parentesi emblem and its brand logo as design motifs. Existing collections such as the chunky Tubogas and the Monete pieces became even more popular, coveted by the decade's tastemakers, who wanted to match their big buoyant hairdos and striking outfits with bold jewellery choices.
But it was not just an era's charm that spurred the creation of the 80-pieces Wild Pop collection; there's also Andy Warhol to thank. The inimitable leading figure in the Pop Art movement met Nicola Bulgari (grandson of founder Sotirios Bulgari) when he was living in New York City in the 1980s. Both men struck a friendship and Warhol found Bulgari's designs very vogue; in a famous quote immortalised by the House, Warhol referred to the Bvlgari store in Rome as "the most important museum of contemporary art".
SEE ALSO: Ryan Su and Adrian Chan's Pop Art obsession
That powerful statement remained ingrained in Silvestri's mind for a long time. Inspired by this dialogue between Warhol and the brand, she paid a visit to the Andy Warhol Foundation for the Visual Arts in New York City. "I discovered sketches Andy Warhol made that were inspired by Bvlgari and it was such a great experience," she shares.
The Pop Flowers, Pop Love, Butterflies, Eggs and Sam the Cat sets are examples of direct references made to Andy Warhol and the Pop Art movement: Pop Flowers shows a bracelet composed of gem-set flowers set repeatedly on 14 mother of pearl square panels, while Pop Heart is composed of a magnificent 53.80-ct heart-cut cabochon tanzanite. The tribute to both Warhol as well as Nicola's time in the Big Apple. A geometric design proposed in rose gold and adorned with mother of pearl and diamonds, recalls the motif of a crown – specifically, the one worn by the Statue of Liberty – used by Warhol in one of his silk screens. In the Supreme Diamond Light bracelet, Manhattan's impressive skyline is interpreted through the vivid pairing of onyx and white diamonds, while a sparkling marquise-cut diamond is used as the centrestone.
As an ardent fan of 1980s pop culture and someone who began her career at Bvlgari in the 1980s working directly under the Bulgari brothers, it is within this decade that Silvestri found the inspiration needed to truly hit the creative jackpot. Drawing influences from Dynasty and Miami Vice to Madonna and hot rollers, she fashioned a collection that is fun, memorable and most certainly, wild.
A set of pearl jewellery for example, set with alternating Tahitian and South Sea pearls interspersed with diamond-set cone-shaped links, is an ode to Madonna's infamous cone bras. "I love Madonna," Silvestri gushes. "It was easy to for me to be inspired by her because I love her. She's my idol," she continues. In another set made with rose gold with emeralds and rubies, mother of pearl lightning bolts run amok the jewellery pieces, a tribute to the late David Bowie's iconic lighting bolt from his Aladdin Sane album cover.
As she worked on the collection to the tunes of some 1980s hits blaring in her mind, music inevitably played an important role in her creative vision. In fact, one of the collection's most complicated designs is a vinyl record inspired necklace called Play It Again. Hung on a triple-row diamond set collier are three vinyl records arranged on different levels, with each one complete with its own gem-set tonearms and headshells. That's not all: Each vinyl is made of a thin slice of onyx hand carved with lines that mimic the spiral grooves on an actual vinyl. And, to top it all off, each one is mobile and can be rotated, complete with a sizable gemstone set in the middle, the largest being a 5-ct diamond. "This was really diffucult to make and presented an incredible challenge. It took something like seven months for us to finally produce it!" says Silvestri.
Other stunning tributes to music include sets like Synthesizer and Pop Mics. "When you see the Synthesizer jewels, you feel as if you could play them," she says of the diamond and onyx set. The Pop Mics set, comprising a necklace, bracelet and brooch, is perfect for the karaoke queen as each is composed of miniature microphones made of specially cut amethysts, peridots, rubellites and aquamarines set on diamonds and onyx.
Keeping true to its name, the Wild Pop collection is not without a few brow raising designs for some tongue in cheek humour. There's Happy Leaves, composed of jewellery featuring pave diamond and emerald marijuana leaves, as well as Curls My Love, a bracelet composed of diamond and emerald set tubular components inspired by none other than hot rollers, a quintessential necessity for a lady in the 1980s. Made of gold and titanium, Silvestri shares that the use of this lightweight metal represents a new chapter for Bvlgari in high jewellery manufacturing as prior to this, it has only been used in Bvlgari watches. "The result is something that is very light and feels very comfortable," she says.
Lastly, no high jewellery is complete without its headliners — two unique and ultra precious multi-million dollar necklaces adorned with large and rare sapphires. The first one shows off a 55-ct cushion-cut sapphire in the most mesmerising shade of blue while the second piece, a favourite of both Silvestri and CEO Jean Christophe Babin, is named Queen of Pop. Presented in platinum, it is a modern representation of the 1980s jewellery silhouette with its structured collier style diamond-set frame. Composed of diamonds, round and buff-top sapphires and ten fancy-cut mint tourmalines, the focus is a 24.82-ct cushion- shaped Sri Lankan sapphire.
'You have to dare," recalls Silvestri of the most important lesson she learned from the Bulgari brothers. And that she was, gutsily pulling from different sources a myriad of inspiration for Wild Pop, a boundary-pushing high jewellery collection that while at times hits you unexpectedly, remains in its essence, quintessentially Bvlgari.
SEE ALSO: Bvlgari celebrates a century of feminine jewellery watches