The Sex and the City (SATC) reboot, And Just Like That … brings a fresh dose of fashion extravaganza, with Sarah Jessica Parker's (SJP) character, Carrie Bradshaw, showing she is as stylish now as she was in her 30s.
Kristin Davis as Charlotte York Goldenblatt and Cynthia Nixon as Miranda Hobbes, too, have carried forward their SATC looks, sporting several fashion statement pieces that have caught the attention of the global audience.
Though SATC costume designer Patricia Field couldn't be a part of the reboot as her hands were full designing wardrobe for Lily Collins for Emily In Paris season 2, the reins of And Just Like That … have been adeptly held by designer duo Molly Rogers and Danny Santiago.
"I wasn't able to be in New York doing that and be in Paris doing Emily in Paris," Field told WWD but had recommended Rogers who had worked closely with her during the filming of SATC.
Just like Sex and the City had continuously set various fashion trends and boosted several fashion designers, like Manolo Blahnik, the new saga is on the way to do the same.
Characters can be seen wearing bold and quirky prints, layered outfits, boho-chic styles, fun accessories, designer handbags and much more. With a dedicated Instagram page to showcase major looks and behind-the-scenes photos of this much-awaited revival, And Just Like That … has got us all wanting to try the many styles.
Check out these looks from And Just Like That … and see how you can recreate them
Carrie Bradshaw's Fendi baguette and tulle skirt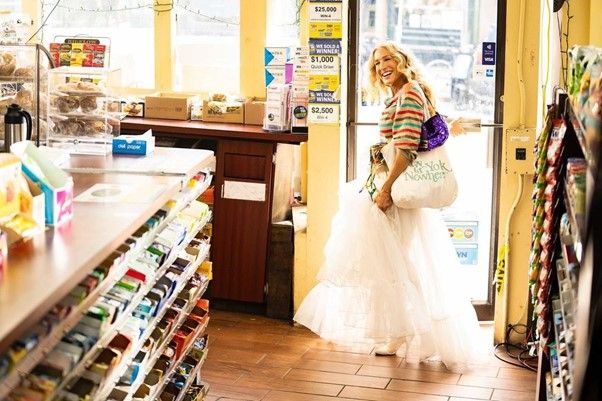 Carrie is reunited with her famous purple sequin Fendi baguette, which was memorably stolen by a mugger in the third season of SATC.
Parker turned it into a statement piece and since then, luxury fashion house Fendi has launched several looks and variants of the bag. Although, we continue to dig the old classic.
Trust the designers to use the baguette and create a look that is glamorous yet breezy. Parker is seen carrying the baguette along with a bouncy, layered, white tulle skirt in the fourth episode titled "Some of my best friends."
This is an instant reminder of Carrie's white tulle skirt from the opening credits of the original series. The look compliments her persona, with every item standing out and yet gives the entire ensemble a balanced look.
Parker in a body-hugging evening dress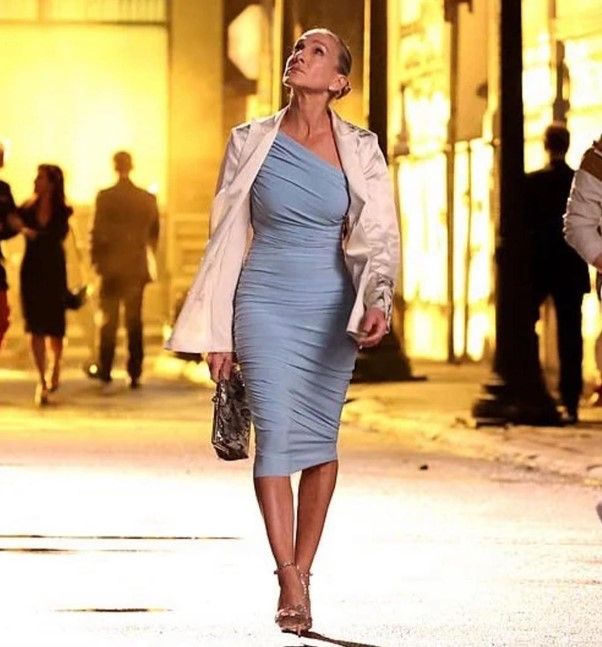 And Just Like That … had us all wide-eyed at the fashionable moments of Sarah Jessica Parker.
Carrie wears this stylish Norma Kamali evening dress that flaunts her toned body in episode 7 "Sex And The Widow." Since then, the photos have given major fashion goals to her fans.
She looks graceful and chic in the asymmetric dress, which is paired with a beige jacket.
Miranda's classic jumpsuit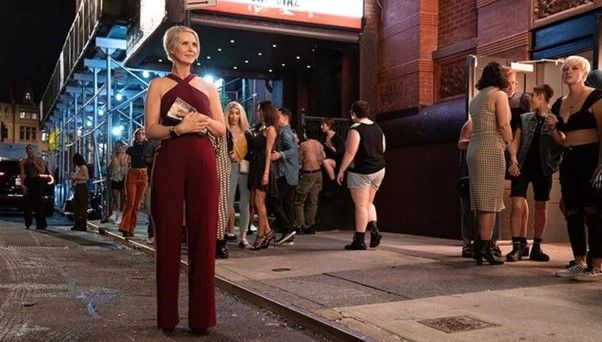 Miranda has a style and fashion choice that is unique to herself. The look appeared in the third episode of the series titled "When in Rome."
The ultimate boss lady that she is, when Miranda appeared in this red halter neck jumpsuit by Likely, paired with YSL studded leather platform sandals and Soko "Capped Quill" dangle earrings, we knew this look is here to stay and rule.
Charlotte in a breezy daywear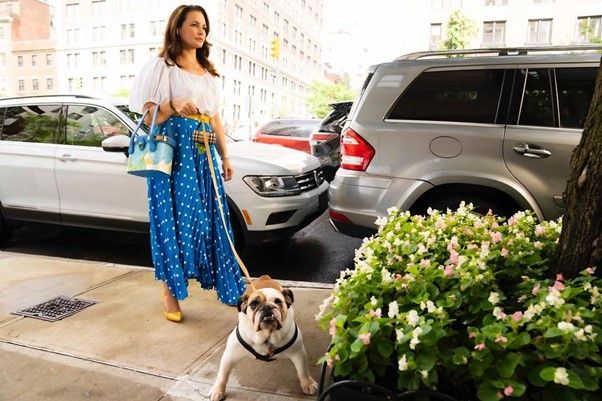 Clothes worn during the day for a fun outing with friends must be comfortable along with being fashionable. Rogers and Santiago played around with this idea and created this look for Charlotte in the third episode, "When in Rome".
She dresses up in an asymmetric Balenciaga blue polka-dotted midi crepe skirt and a Stella McCartney white puff-sleeved top to take her dog for a walk on the streets of New York.
Outfits like this tell us why And Just Like That … is becoming one of the internet's go-to fashion inspirations.
Davis in knitted wrap top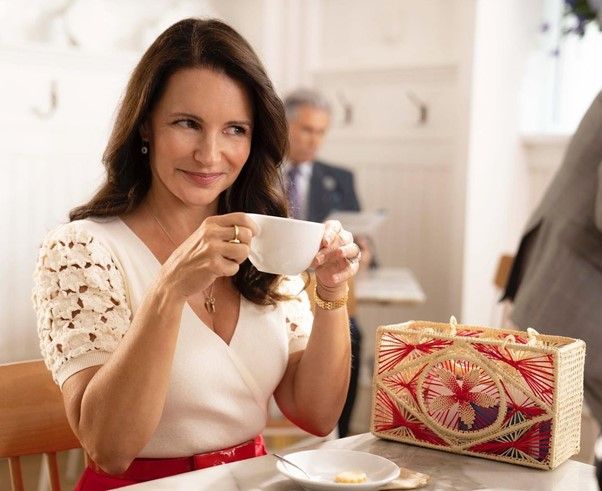 Continuing her high-street fashion looks, Charlotte donned this pretty cotton knitted top with a red skirt and a belt. She wore this light outfit for a brunch scene with Nicole Ari Parker's Lisa Todd Wexley in the fourth episode.
The cotton top, paired with a gold pendant and diamond-studded earrings, makes the entire ensemble as cheerful and stylish as it looks.
Parker in boho-chic dress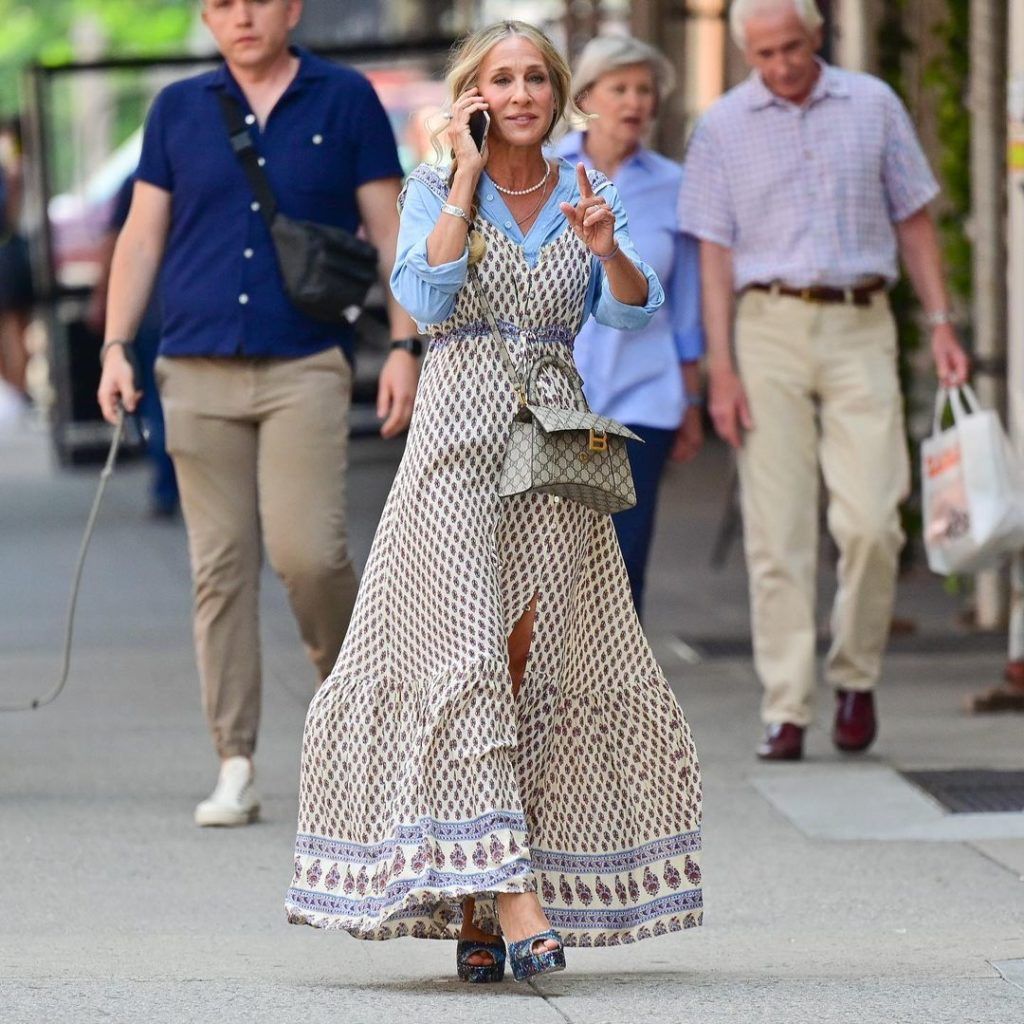 What caused a whirlwind of speculation was this boho maxi dress Carrie wore with a blue shirt with a picture of a cat on the back while filming on 27 July, last year. The look was completed by a long, messy side braid. Talk of being funky yet casual.
Photos of SJP's appearance went viral and caught the attention of keen onlookers who wanted to know all the details. After much investigation and fashion detectives going to lengths to figure out which label the dress belonged to, there were conjectures that Parker wore Forever 21.
However, putting all doubts to rest, the show's costume designers confirmed to Page Six that the otherwise assumed to be a USD 5 dress is a "personal archive of second-hand finds." The look appears in the scene where Carrie confronts Natasha, Mr Big's ex-wife.
Carrie Bradshaw in blue and orange ombre dress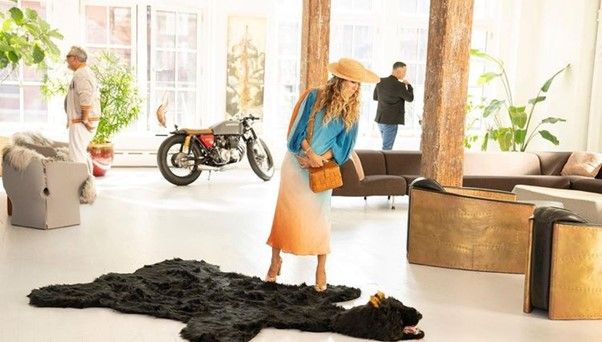 Sarah Jessica Parker looked stunning in this vintage Judy Hornby's silk blue and orange ombre dress. Ms Bradshaw completed the look with a pair of Miu Miu python platform heels from SATC season 5, along with a flat-brimmed Esenshel hat.
The look from the fourth episode, where Seema Patel catches up with Carrie as the two attend open houses, grab drinks and swipe Tinder, caught our attention and was simply gorgeous.
(Main and Featured Image Credit: © 2021 – HBO Max/IMDb)
This story first appeared in Prestige Online – Malaysia