Maison Cartier unveils a new Clash [Un]limited jewellery collection that breaks all the rules along with the collection's new ambassador
For centuries, French luxury company Cartier has created many collections with designs that are instantly recognizable amongst the Maison's registers. Take, for example, the Tank, Trinity, Juste un Clou, Santos, Love, Panthère and Ballon Bleu – all of them timeless, still modern as ever and loved throughout the decades. One uncompromising feature throughout all of them clean and precise lines. 2021, however, is the year for Cartier to show off its rebellious sides with the new Clash
[Un]limited Jewellery Collection.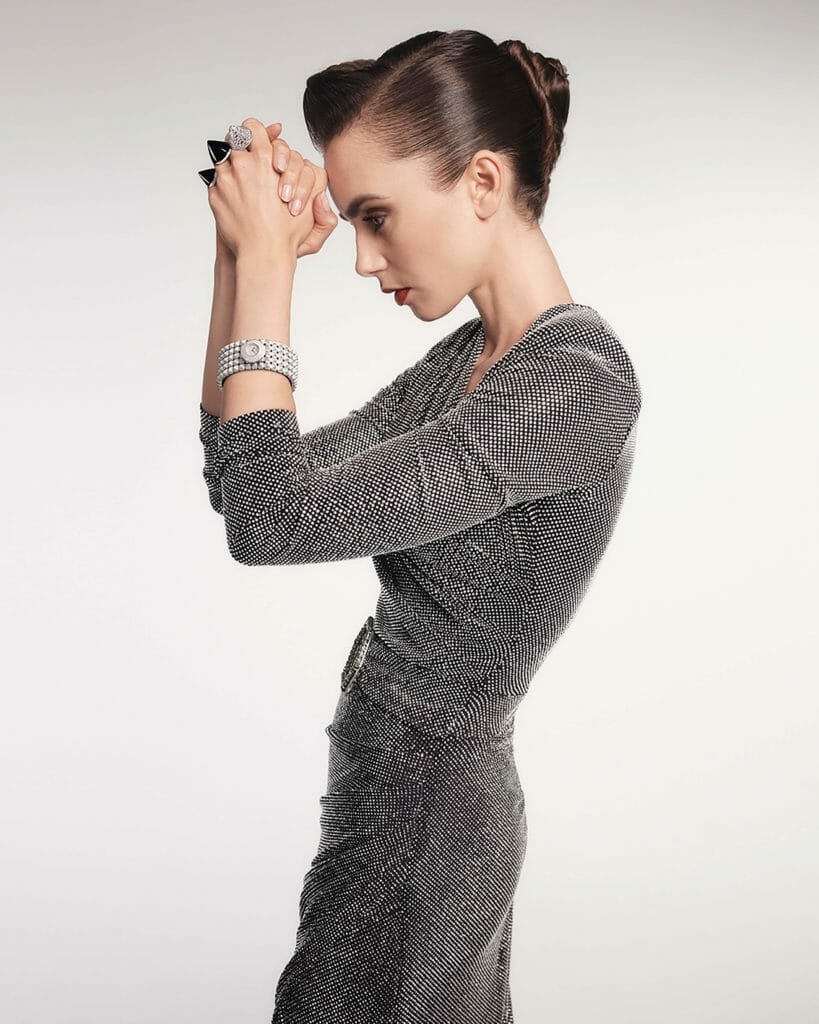 Rebel with a Cause
The latest Clash de Cartier jewellery pieces quite literally rebel against classic forms with their exaggerated volumes, intense black, oversized studs and bold wearing options, making them more mesmerising than ever. If anything, their geometric lines combined with inflated volumes reinvent the Clash de Cartier identity with jewellery pieces that echo and amplify the clash of two opposing attitudes. Furthermore, this collection explores all kinds of possibilities with a novel approach to diamonds, onyx and amethyst.
The five most mesmerising pieces definitely highlight the collection today are arguably the rose gold mesh bracelet, a totally reversible diamond and onyx picot bracelet, an XXL two-finger picot ring, and a bracelet covered in amethyst studs or the traditional tennis line with upside-down diamonds. With excessive, spiky and voluminous pieces, the Maison showcases a radical approach to precious jewellery in white and in black, occasionally punctuated with hints of purple. Both innovative and surprising, these pieces certainly push craftsmanship to the extreme.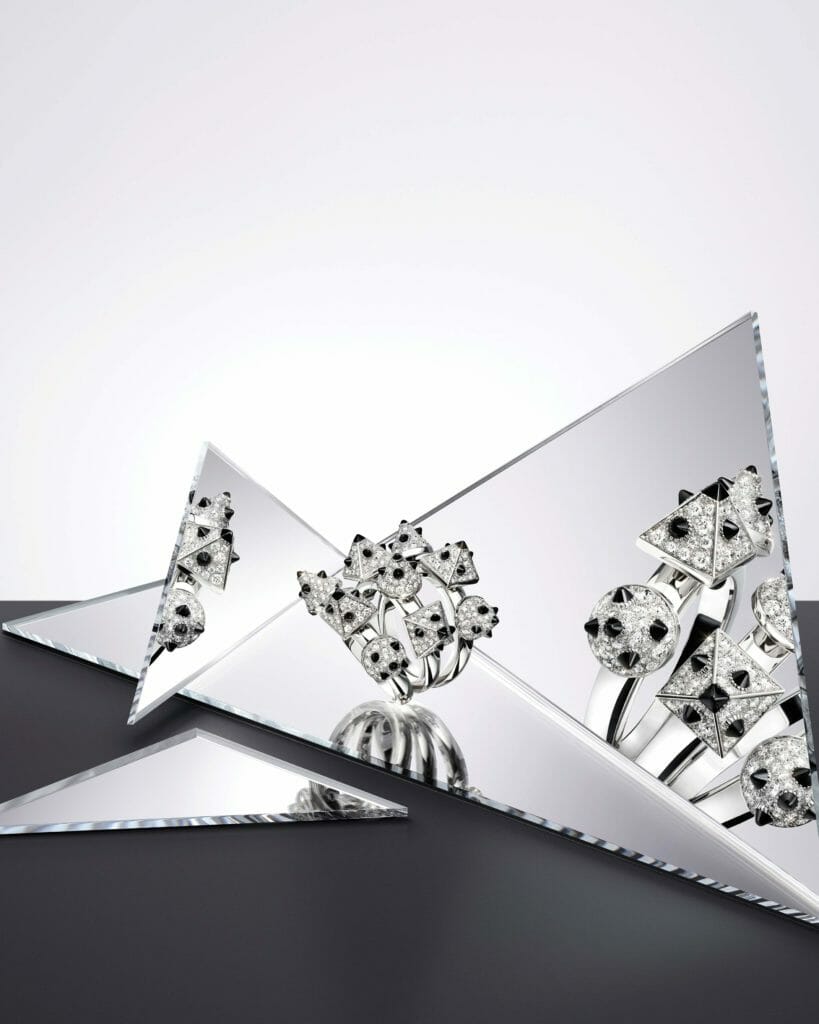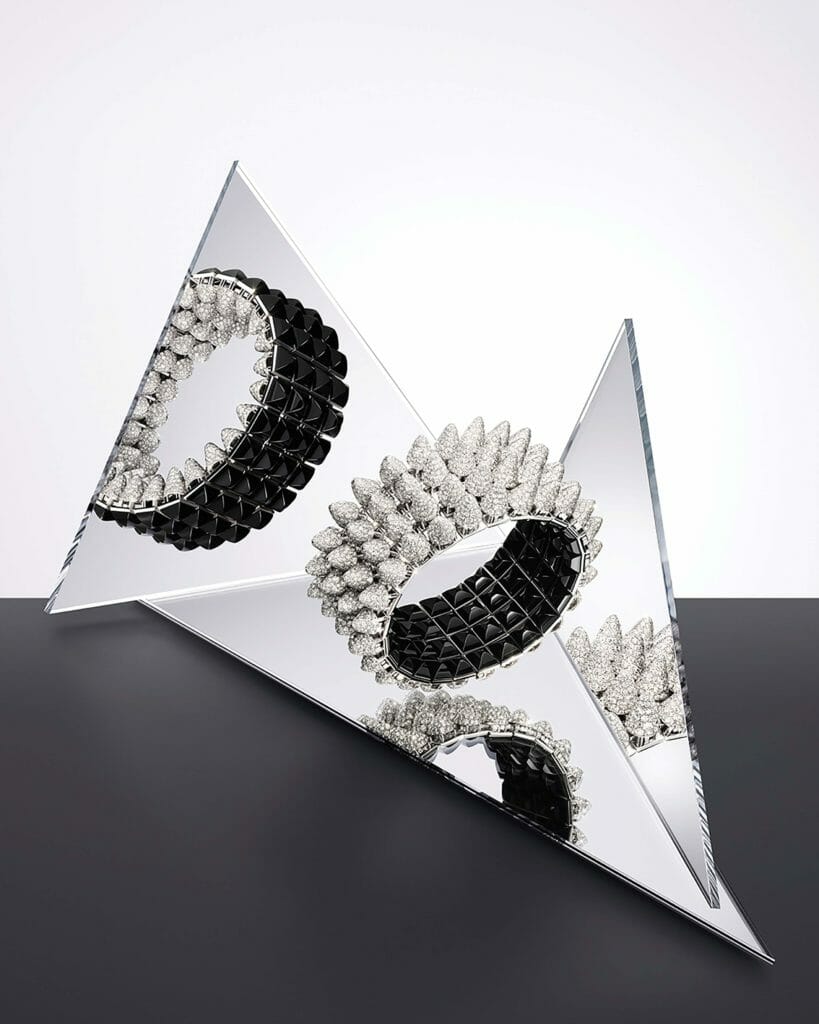 Special Figure
Quite appropriately, the campaign for this new collection – with its non-conformist aesthetics and edgy vibe – is quite special. In fact, Cartier has appointed its long-time friend, actress Lily Collins, as the ambassador of the new Clash [Un]limited jewellery collection. Free-spirited and authentically herself, Collins embodies the creative duality of this exclusive capsule collection, along with the French neoclassicism of the Double C de Cartier bag.
"When it came to expressing the duality of the Clash [Un]limited jewellery, Lily Collins was the obvious choice," elaborates Arnaud Carrez, Cartier's International Marketing and Communications Director. "Unique and committed, Lily Collins embodies a new generation of artists who dare to reveal their different sides, sometimes classic and elegant, sometimes creative, sometimes even extravagant. In summary, people who do not limit themselves."
Furthermore, Collins also has an undeniable sense of extravagant elegance, perfectly demonstrated with her role in Emily in Paris, for which she received her second Golden Globes nomination. In addition to being recognised internationally as an actress and producer, Collins is actively involved with different non-profit organisations, such as the GO Campaign, which raises funds to help orphans and vulnerable children both in the United States and throughout the world. She is the ambassador of their annual charity gala.
"For me, being part of the Cartier family means joining a community of unique nonconformists who show great strength of character," explains Collins. "Cartier is Paris, it's this certain idea of elegance and French refinement which the Clash [Un]limited jewellery and the Double C bag embody with classic extravagance."
It certainly seems that Lily Collins' curious and multifaceted nature echoes Cartier's ambition to collaborate with individuals dedicated to deep commitments. Energetic, uniquely herself and unified by the same spirit that embodies the collection's values, Lily Collins undoubtedly represents the creative duality of the Clash [Un]limited collection.