Nothing from a high jewellery parure lends high drama like a necklace. Whether it's a classic style or an innovative form, these creations will rock more than your world
BVLGARI THE PONCHO This new form launched at Bvlgari as recently as 2018, transforming a necklace from bold to bodacious. Such elaborate wearable art takes between 1,200 and 1,500 hours of work by a lone artisan, assisted by a team of casters and gem-cutters. This Magnifica creation gracefully ensconces its owner in the embrace of warm pink gold and 64 amethyst beads, 61 cabochon-cut rubellites, 35 cabochon-cut tourmalines, 54 turquoise beads, and 80 round brilliant-cut diamonds and pavé-set diamonds. Resting on the collarbones and fully covering the shoulders, the poncho is not just a necklace but a veritable statement.
PIAGET THE PRINCESS Think feminine, dreamy and timeless on a length that is universally considered the most flattering (18 inches), and you have the princess necklace. It rests midway between the collarbones and the cleavage, and complements both high and plunging necklines. The Piaget Extraordinary Lights collection is inspired by various types of light sources, and this Blissful Lights white gold and diamond necklace evokes the golden glow of floating lanterns as they ascend towards the heavens. Setting it ablaze is an ultra-rare 10.12-carat fancy intense radiant-cut yellow diamond that can be unclipped and fitted onto a special ring mounting – the mechanism for which took experts over a year to conceive and develop, then a further 280 hours to produce.
CARTIER THE TORSADE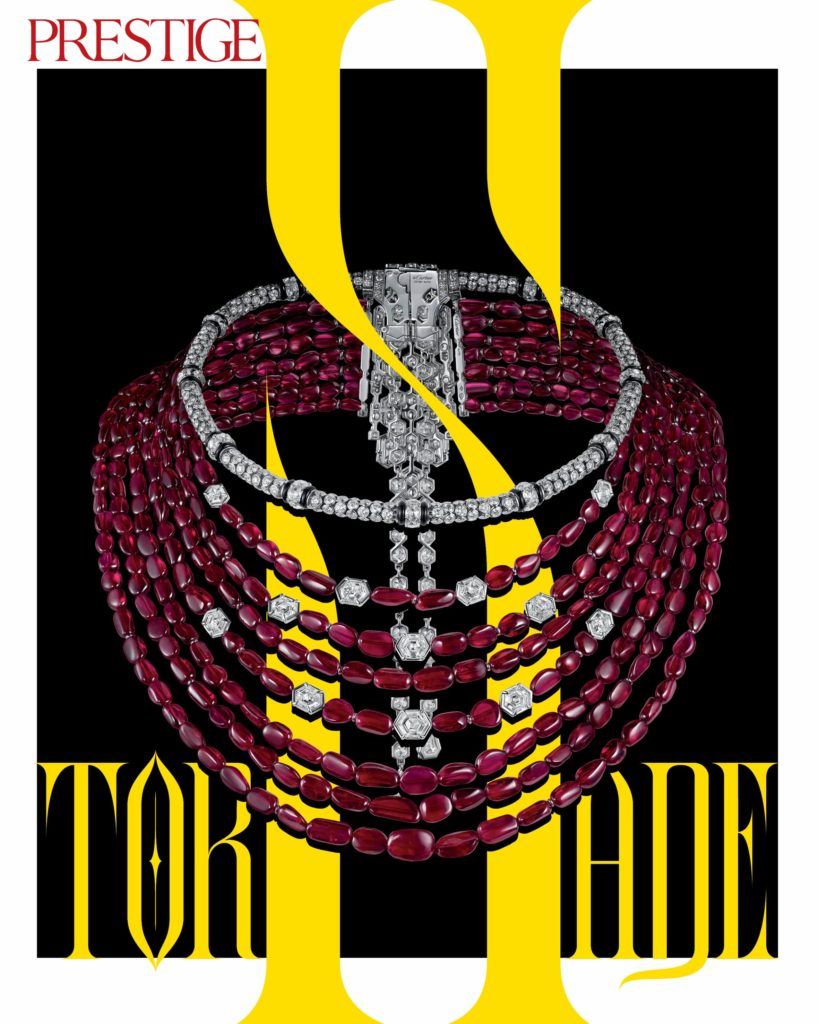 It takes a big personality (with a long and graceful neck) to carry off a style as chunky and showy as the torsade, which is the French word for a twist. The necklace is made by assembling many strands of pearls or beads and securing them, twisted or cascading, in place with clasps. This short, multi-strand style also applies to bracelets. For this Cartier High Jewellery creation, a white gold, diamond and onyx collar holds up torsade of ruby pebbles accented with intermittently spaced diamonds. The main challenges of creating torsade are ensuring colour and quality uniformity of hundreds of stones, and contrasting them with other gems for visual impact – a feat clearly shown here by the French maison.
CHANEL THE SAUTOIR The French word for a very long necklace that commonly features multiple strands, the sautoir is a style that became popular during the Art Deco era. Usually made of beads, pearls or gem-embellished chains, sautoirs can be worn in different ways – coiled several times around the wrist or neck, and even as a belt. Many would associate it with the house of Chanel, which is famously known for its elegant pearl sautoirs. This yellow and white gold Gran Canale Volute Croisière necklace from Chanel Fine Jewellery's Escale à Venise collection is inspired by the striped mooring poles of Venice's gondolas. It features red spinels and diamonds that are mounted to create a twisted effect, similar to the ropes that anchor the gondolas.
LOUIS VUITTON THE TASSEL Associated with flapper glamour, dance and freedom of movement, the tassel necklace is usually a long necklace with one or more tassels at the tip that hang freely. From the Louis Vuitton Bravery collection comes this scintillating monochromatic creation – named L'Élan Vital to express the brand founder's fearlessness and resolve that carried him on his journey from Jura to Paris, where he became a lauded trunk-maker. Taking the form of the ropes that were used to lift luggage, this white gold necklace is studded with 2,000 brilliant-cut and six LV Monogram Star-cut diamonds totalling 31.5 carats.
HARRY WINSTON THE COLLAR Contemporary collar, or collier (in French), necklaces rest directly above or on the collarbones, and sit flushed against the skin – much like a shirt collar, and usually measure between 12 and 16 inches. A magnificent example is the Harry Winston Endless Love white gold necklace. Its design is adapted from an archival 1964 Winston design, which features the cluster setting that creates the illusion of diamonds grazing the collarbones. This 2021 update is a more delicate version, and flaunts a total of 48 carats of diamonds and rubies in the maison's signature twist motif, which represents the intertwining of two souls.
VAN CLEEF & ARPELS THE PENDANT Uncomplicated and versatile, this is the most common necklace style. It is different from the lavalier in that pendant necklaces feature a single centrepiece gemstone or motif that hangs off a chain, ribbon or cord. So how do high jewellers maintain its simple form while imbuing it with beauty and brilliance? As Van Cleef & Arpels demonstrates with this Sous les Étoiles Boreales masterpiece, it is through the selection of the finest stones, and in this case, a swimming pool-blue tourmaline accented with emeralds, green tourmalines, aquamarines and diamonds. Inspired by the spectacular Aurora Borealis, this pendant is detachable and transformable into an earring too.
GRAFF THE RIVIÈRE Named for how it flows around the neck like a shimmering river of gems, the rivière is a short, vintage style that ranges from 14 to 16 inches. The defining trait is the gradation in the size of the stones, which are always similar in shape but start with the largest at the front and end with the smallest at the nape of the neck. Diamonds are overwhelmingly featured for this style, as they create the most scintillation. In fact, the rivière exploded in popularity following the discovery of the Kimberley Mine that increased the world's supply of diamonds. Channelling Old World refinement is this Graff necklace showcasing exquisite pear-shaped yellow and white diamonds weighing 57.34 carats.
CHOPARD THE OPERA Measuring anywhere between 26 and 36 inches, opera necklaces are named as such because women used to attend operas and formal events wearing long strands of pearls. The word "opera" is also traditionally used to refer to the longest stockings or gloves. It is a single chain that can be looped several times to create different looks, or layered with necklaces of other lengths. Exuding an aristocratic air is this Chopard Red Carpet Collection 2021 necklace parading double halos of resplendent yellow diamonds: a long opera strand, and a shorter one that illuminates the décolletage with a 30.68-carat fancy vivid yellow diamond.
ART DIRECTION BY AARON LEE