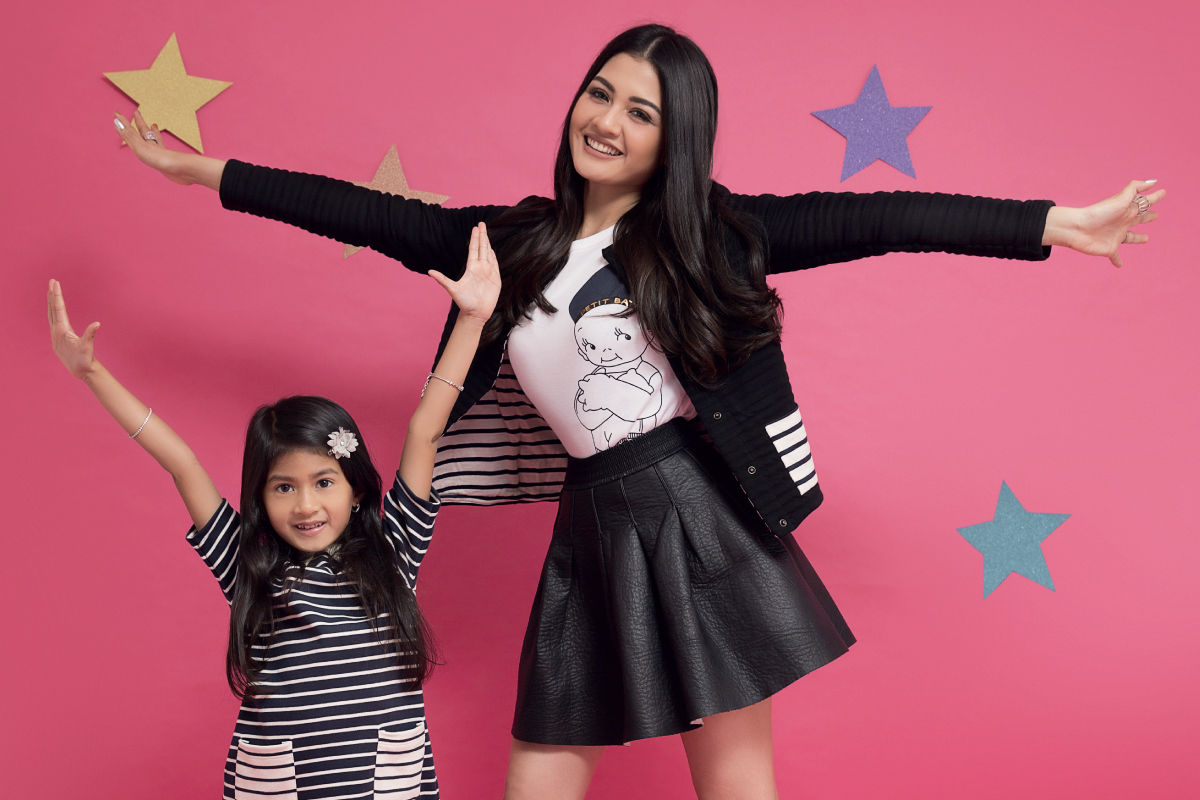 This is going to be fun," smiles model Renata Kusmanto while watching her little boy, River Syech Albar. She has also brought along her
youngest, five-month-old Clover Satine Albar. When she steps onto the set, Renata is instantly hooked by the playful nautical concept behind Petit Bateau's Marinière collection. Renata and her two children enjoy their moment together in front of the camera. They're wearing matching outfits: distinctive white and blue striped t-shirts.
"I like to dress my kids in a simple yet fashionable style," says Renata. "These clothes have a classy and vibe, which is exactly what I'm looking for. The strong point is the comfortable materials. I have known this brand for a couple of years. My mother-in-law gave it to me as a present when River was born."
Joining the photo shoot next is two-year-old Amansa Satria Wardhana, son of Azima Rajasa Wardhana. Indeed, the cheerful Mansa brings a lively mood to the set. Donning a striped tank top, he looks as bright as the orange backdrop behind him. "I originally dressed Mansa in the newborns collection," says Azima. "Now he's getting older and more active, I like to give him a sporty look, like shorts, t-shirt and sneakers. The funny thing is, we always accidentally end up wearing matching outfits."
Best friends Selly Wilson and Erlya Bimantara are among other Petit Bateau loyal customers who join the photo shoot that day. Selly'sdaughter, six-year-old Gwennive Lucretia Wilson, is also best friends with Erlya's sons, eight-year-old Armien Arthur Bimantara and six-year-old Dasran Altair Bimantara. During the shoot, the trio can't stop laughing and encouraging each other.
When they starts posing with their mothers, Gwen and Selly is like a powerful duo. Gwen is pulling the stripy girl's nautical dress which features a Peter Pan collar and look as stunning as her mother. "I like dressing Gwen with girly outfits. We rarely use matching outfits but we more like to colour coordinating," says Selly. "Gwen's favourite outfits are from the nightwear and underwear collections. She's been wearing them since she was a baby." There is a similar story for Erlya, who dons a high-neck sweater in smoking blue. "Khaki pants and t-shirts are my to-go outfits for the boys," she says. The fabric is so soft and comfortable to wear. I always dress my boys in similar outfits so they look like twins."
Coming later to the set are Julie Taslim, wife of actor Joe Taslim, and her three children – Mika Veli, Hiero Joe and Kaara Ofelia. Julie admires the Marinière collection, which comes in new cuts and shapes for the season. Round collars and polka dots have been added for a playful touch of femininity for the girls and bold colours for the boys. "I love the stripes. They look so cute," says Julie. Describing her family life as a simple one that involves hangingout at the mall and going to the movies, Julie says matching outfits are essential when she is dressing her children. "My favourite is when their outfits are matched as a whole colour and style coordination, but the most important thing is that they have to be comfortable," she says.
Closing the photo shoot are Amelia Handoko and her five-year-old, Emilie Faith Handoko, who's a match made in heaven in their black and blue striped dresses. "As Emilie gets older she is beginning to choose her own clothes, and she likes to look girly and colourful," says Amelie. "It's great to have these cute, cosy and easy to mix-and-match collections. The children's clothes are highly comfortable, while the adult collection is beautifully designed – and very French."