Forget the champagne-fuelled parties, movie-star meetings and front-row fashion-show seats. The highlight of the past decade of my Vogue China association was meeting a guy who kicks a bag of wind about for a living.
Or used to. David Beckham had just retired when he was the guest at a Vogue China dinner, seated next to his designer wife, Victoria, and surrounded by the most stylish and glamorous fashionistas in China. And me, afforded a place by dint of being the husband of Editor-in-Chief Angelica Cheung.
After an hour or so of graciously gripping and grinning for snaps, Dave was more than willing to talk football, sharing anecdotes about his life at two of the biggest clubs in the world, Real Madrid and Manchester United. As a football fan, I was enthralled.
Little did I expect that sharing drinks and dinner with the former England captain would be part of living the Vogue China life. More predictably, I've encountered a host of influential figures in the fashion industry, including fellow Yorkshireman Christopher Bailey, the man who reinvigorated Burberry, Dolce & Gabbana (still not sure which is which), Stella McCartney, Giorgio Armani, Donatella Versace, Jason Wu, Paul Smith, the Dior designer Maria Grazia Chiuri and many more.
I've also been mistaken for a famous designer. At the Vogue China launch party in Beijing, more than 12 years ago, a Chinese guest sidled up to me and demanded an autograph. Me? Famous already after only one issue?
"I have always loved your work, Mr Gaultier, please do me the great honour of signing your autograph. Everyone in China is honoured that you came all the way from Paris for the party."
Now this bloke, who clearly wasn't that au fait with fashion, was totally convinced that I was Jean-Paul Gaultier, the fashion maverick known for designing Madonna's more outré costumes and renowned for having a wickedly irreverent sense of humour.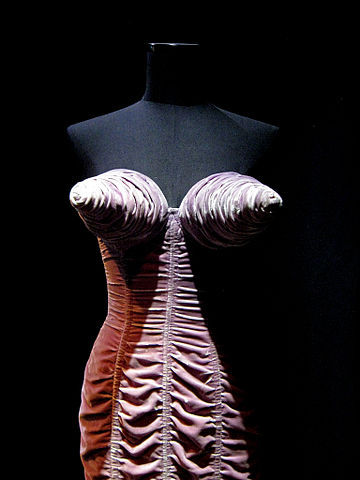 I like to think I have that in common with him and was, on the night in question, wearing a striped T-shirt not dissimilar to M. Gaultier's trademark Breton-inspired number. And we are, it pains me to admit, of the same generation, with hair that's not quite as luxuriant as it once was and leaning more towards old-timer grey then youthful blond.
Given the enthusiasm and insistence of the waiting autograph-seeker, it was going to be difficult to convince him I was not Gaultier. I may even have uttered a few words of French – mon plaisir, monsieur – as I signed with my best impression of a designer-style flourish and beamed beatifically.
That party was the most glamorous China had seen at the time – with international supermodels mingling with guests at an exclusive Beijing villa – but relatively modest compared to contemporary Vogue China events. The line-up of stars for the recent Vogue Film China launch was more extensive, and stellar, than the Shanghai Film Festival itself. Zhang Ziyi, Zhou Xun, Chen Kun and Liu Wen were among the more than 30 actors, singers, models and film directors; anybody who's anybody in the China entertainment business wants to be associated with Vogue China.
I've met most of the major names over the years. On one occasion, movie star Zhou Xun visited our home and gave an impromptu acting masterclass for our daughter, Hayley, transforming into a swashbuckling pirate, with a dishcloth serving as a bandana and a kitchen broom as a sword. Another time, Zhang Ziyi attended one of our home drinks parties – she was accompanied by her poodle – and sent my pals gooey-eyed and weak-kneed when she deigned to shake their hands on arrival and give them a hug upon saying goodbye.
I'm still waiting to meet Jean-Paul, though. The closest I've come so far was to sit in the front row of one of his wackier Paris haute couture shows, featuring transvestite models dressed in Louis XIV-style gowns, sashaying saucily down the runway to the sounds of "In the Navy" and "YMCA" by that gloriously campy band The Village People.
It was great fun, and I had to use all my willpower to refrain from stepping up onto the runway at the end of the show to take a bow and sign autographs…