James Bond, the world's foremost fictional spy and the poster-boy of old-school cool, has impeccable taste when it comes to tailored suits, fancy automobiles and—as it turns out—fine timepieces. Both in his literary and cinematic incarnations, Agent 007 has always (well, almost—Ian Fleming only started noting Bond's watch in his second novel, "Live and Let Die") had an eye-catching piece on his wrist.
From GoldenEye to Spectre
Since 1995, Bond has always appeared on the silver screen wearing an OMEGA watch—a Seamaster, to be exact, which is quite fitting since the (in)famous MI6 agent is also a naval officer who holds the rank of Commander in the Royal Naval Reserve. In 1995's "GoldenEye" which saw Pierce Brosnan's debut as Bond, the master spy wore a Seamaster Quartz Professional Diver 300M which comes with a built-in laser. Then in "Tomorrow Never Dies" which came out in 1997, he wore the automatic chronometer version of the famous OMEGA Seamaster Diver 300M, modified to hold a detachable remote detonator.
Bond would continue to wear modified Seamaster's in Brosnan's final two Bond movies. In "The World is Not Enough" he wore another Seamaster Diver 300M equipped with LED lights and a mini grappling hook, while in "Die Another Day" Bond's trusty Seamaster came with a detonator pin and a laser.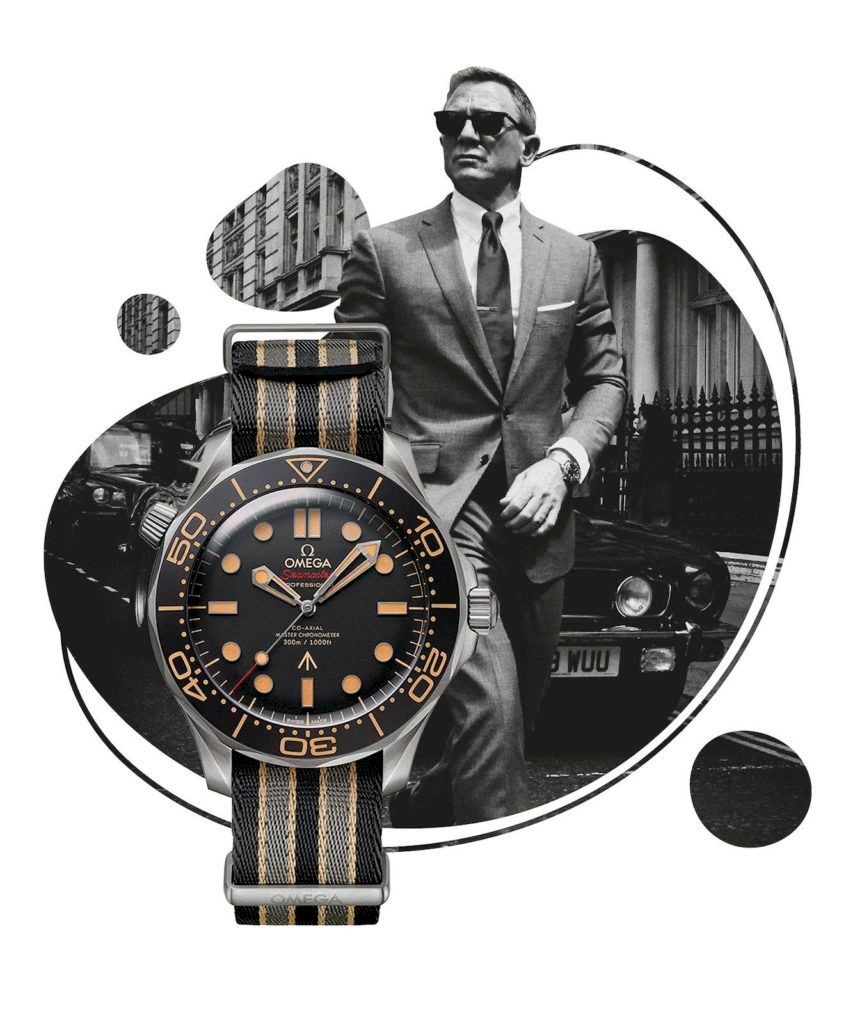 Then in 2006, Daniel Craig took on the role of Bond as the movie series took on a grittier, more realistic tone. If anything, this allowed the Seamasters to really stand out on their own. For his debut in "Casino Royale" Craig's Bond wore a rubber-strapped, black-faced Seamaster Planet Ocean 600M Co-Axial Chronometer and then switched to the character's trusty (but slightly updated) Seamaster Diver 300M. The latter even became a topic of conversation between Bond and Vesper Lynd (played elegantly by Eva Green) when the two first met.
For 2008's "Quantum of Solace," Bond opted for an OMEGA Seamaster Planet Ocean 600M with a classic black dial. The same model then appeared in some of the most action-packed scenes in 2012's "Skyfall," which also saw Bond wearing a dressier Seamaster Aqua Terra. This Aqua Terra, in turn, returned in 2015's "Spectre" along with 007's first OMEGA watch—a Seamaster 300—with a NATO strap.
Two more for No Time to Die
Ever since the first on-set pictures of the next James Bond movie started circulating on the world wide web, watch enthusiasts from all over the globe started speculating about the new OMEGA pieces to be featured. Now that the trailer and release date of "No Time to Die" has been officially announced, OMEGA has also revealed the watch Bond wears in his new adventure: the Seamaster Diver 300M 007 Edition.
First and foremost, this new Seamaster was designed with direct input from Daniel Craig himself. "When working with OMEGA, we decided that a lightweight watch would be key for a military man like 007," he says. "I also suggested some vintage touches and colours to give the watch a unique edge. The final piece looks incredible."
The Seamaster Diver 300M 007 Edition comes in a 42mm Grade 2 Titanium case. The use of titanium ensures that the watch is strong but incredibly light, while special new doming of the sapphire-crystal glass created a slightly slimmer profile compared to the standard Seamaster Diver 300M model.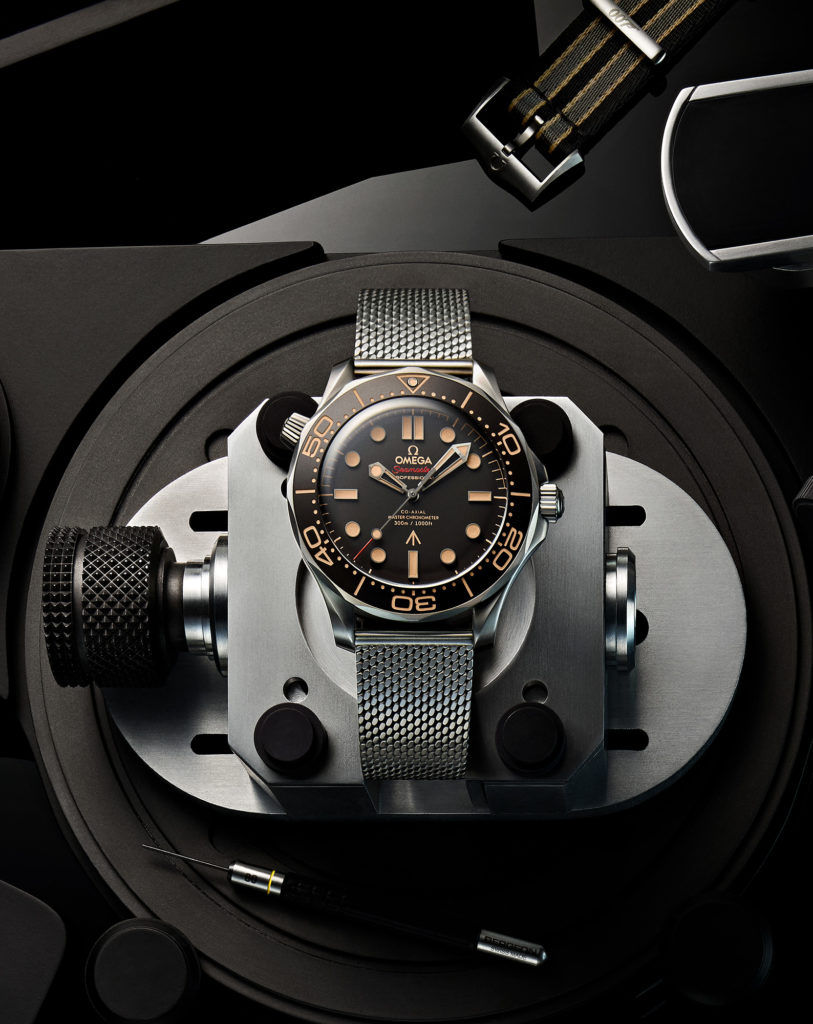 Moving to the back, you'll see a series of numbers which follow the format used on genuine military-issue watches. Interestingly, the inscriptions are kept in perfect alignment thanks to the NAIAD LOCK caseback. As for the numbers themselves, the 0552 is a naval code-number, 923 7697 is the number for a divers' watch and the letter A indicated the use of a screw-in crown. The last two numbers, meanwhile, refer to the James Bond franchise: the 007 is quite obvious while 62 refers to the year of the very first James Bond film.
As for the dial, OMEGA has opted to use an aluminium dial with a colour scheme to emulate the look of vintage watches. Underneath the dial is an impressive OMEGA Co-Axial Master Chronometer Calibre 8806 movement. And lastly, the watch is worn on Bond's wrist—or yours, when the watch becomes available in February—by way of a striped NATO strap or a titanium mesh bracelet.
It's also interesting to note that while OMEGA also released a unique Seamaster model for "Spectre," that model was limited to only 7,007 pieces. The new Seamaster Diver 300M 007 Edition, however, will be placed in OMEGA's iconic current collection by early next year. Whether you're a die-hard James Bond fan or if you're drawn to military-themed pieces with vintage touches, this is definitely a solid option that warrants a look or two.