Combining painstaking craftsmanship and decorative skills, the métiers d'art timepiece occupies a pinnacle of high horology
For most people, the worth of a watch lies in its accuracy and reliability, the fact that it will continue to tell time, with minimal adjustment, week after week, month after month and year after year. The paradigm for such a timepiece might be a Rolex, an Omega or perhaps a Grand Seiko, all three brands widely regarded as yardsticks of fine watchmaking through their reputations for time-keeping precision, robustness and quality.
Along with the likes of Breitling, IWC and Zenith, stalwarts of the luxury market such as these will probably manufacture their own movements, which can sometimes incorporate highly technical complications like dual-time zones, chronographs and perpetual calendars. They also tend to boast lengthy heritages, even though none of these attributes will automatically raise any of these brands to the most rarefied realms of watchmaking, which are generally known as "high horology". It's at these elevated altitudes where technical mastery intersects with time-honoured craftsmanship and artistry, as evidenced in intricate techniques such as guilloché on dials, perlage on movement bridges and the painstaking finishing of even the tiniest component – all done by hand and often by a single individual.
At a higher level still, the ultimate echelons of watchmaking encompass what's collectively known as métiers d'art, a body of decorative techniques closely related – if not identical – to those employed in haute jouaillerie, which have been perfected down the generations by an elite corps of master craftsmen. These crafts, which sometimes reach back two or three centuries, include gem-setting, engraving, hand-painting, enamelling, damascening (the inlaying of different metals) and even marquetry. As several of these techniques will often be combined on timepieces considerably smaller than 40mm in diameter, the end results can not only be breathtaking, but also considered genuine works of art in miniature.
By its very nature, a métiers d'art timepiece can take a couple of months or more to create and volumes are highly limited – runs of fewer than 10 pieces are commonplace, particularly for the annual watch releases commemorating the Lunar New Year, which are often restricted to just eight. As they're invariably made from precious metals such as gold and platinum, are frequently studded with jewels and perhaps feature a complex mechanism like a tourbillon, a minute repeater or an astronomical clock, their prices are often expressed as "on request" – which, of course, means "astronomical".
Among the best-known purveyors of métiers d'art watches are long-established names such as Patek Philippe, Vacheron Constantin, Jaquez Droz, Blancpain, Chopard and Jaeger-LeCoultre, along with the Parisian luxury houses Van Clef & Arpels, Hermès and Louis Vuitton. These days, however, even "affordable luxury" brands are trying their hands: only a couple of months ago, Oris, whose watches usually retail in the HK$10,000-$30,000 bracket, dropped a 72-piece limited edition with a hand-painted cloisonné enamel dial – and a price tag some 10 times higher than usual. So far from being a dying tradition in this electronic age of screens, smartwatches and NFTs, the métiers d'art watch is very much alive and ticking.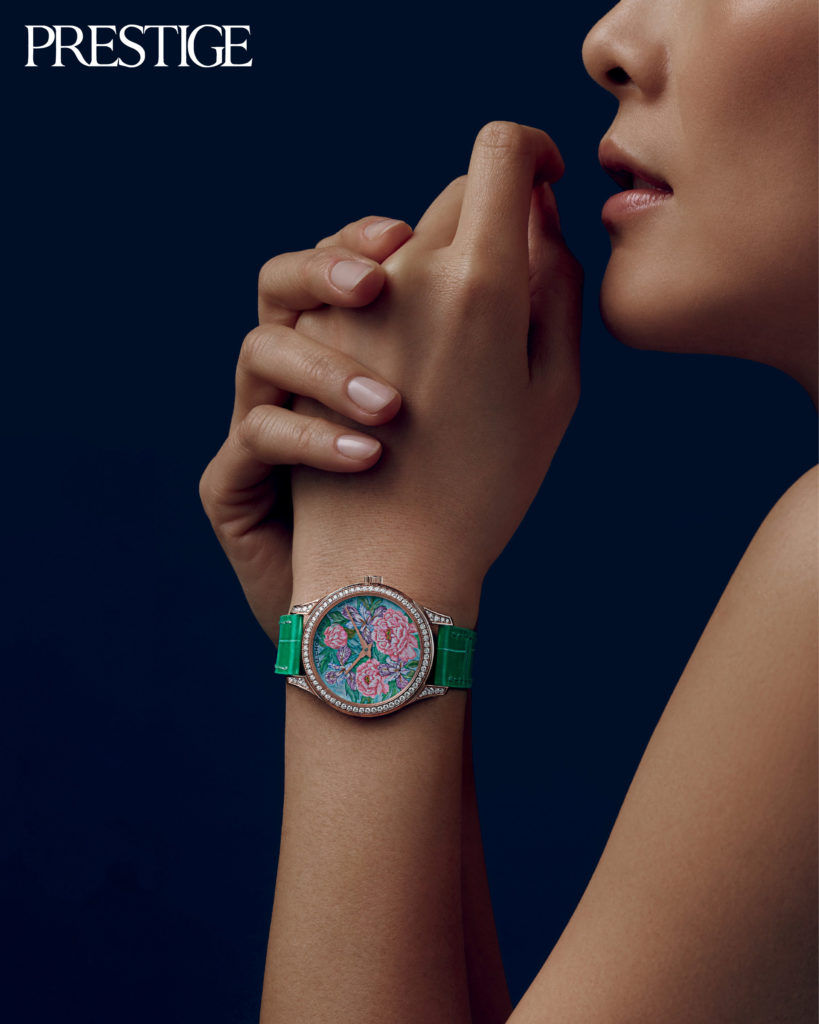 CHOPARD L.U.C ESPRIT DE FLEURIER PEONY
Presided over by siblings Karl-Friedrich and Caroline Scheufele, whose parents acquired the company in the 1960s, the independent Genevan watch and jewellery house of Chopard has built an enviable reputation for its métiers d'art timepieces, of which this L.U.C Esprit de Fleurier Peony is a fine example.
In a limited numbered edition of eight pieces, the 35mm "ethical" rose-gold watch features a grand feu-enamelled representation of a peony – Caroline's favourite flower – on its dial, as well as a two-tone rose-gold L.U.C 96.23-L double-barrel automatic calibre, with 22k gold micro-rotor and floral-engraved bridges. It's presented on a green alligator leather strap, which perfectly complements the hand-painted foliage on the dial. PATEK PHILIPPE GOLDEN ELLIPSE ROMAN FRESCO
Patek Philippe's pair of Golden Ellipse wristwatches in white-gold cases, whose 39.5 x 34.5mm proportions conform to the golden section, feature grand feu miniature dial paintings on enamel that recall the works on frescoes in a Roman villa from the first century BCE. Using a palette of 12 to 16 base colours applied with a small brush, the artist created delightful pastoral tableaux, which were then layered with transparent enamel before being fired. The watches are powered by the ultra-thin, self-winding Calibre 240, which drives white-gold hour and minute hands. Brown alligator straps with white-gold buckles complete
the ensemble. JAEGER-LECOULTRE REVERSO TRIBUTE ENAMEL HIDDEN TREASURES
Last year marked the 90th year of the reversible watch that's become a Jaeger -LeCoultre signature, and the house marked that milestone with clutch of limited-editions. Among them is a trio of timepieces, each celebrating the work of a giant of modern art, namely View of Lake Leman by Gustave Courbet, Sunset at Montmajour by Vincent Van Gogh and Gustav Klimt's Portrait of a Lady, with a miniature grand feu-enamel reproduction on the reverse side. All three watches, which come in limited editions of 10 pieces, feature rectangular 45.6 x 27.4 white-gold cases and grand feu guilloché dials, are powered by the manually wound Calibre 822/2 and are presented on black alligator-leather straps. JAQUET DROZ PETIT HEURE MINUTE CHINESE NEW YEAR OF THE TIGER (LEFT)
Marking the beginning of the current Year of the Tiger, Jaquet Droz unveiled three unique pairs of watches created by the brand's Atelier d'Art, each of which offers a different representation of the animal's character; they also serve as homages to a company tradition of creating duo watches, which dates back more than 200 years. The six watches, in 43mm or 41mm sizes, depict an engraved appliqué tiger, in pink or white gold, in a range of poses and settings, on coloured grand feu dials variously of white or red gold, onyx and opal, and with offset appliqué hours and minutes dials at 12 o'clock. Two feature diamond-set cases and all are powered by the brand's 2653.Si automatic calibre with matching gold oscillating weight and silicon balance spring, as well as being presented on alligator straps.
VACHERON CONSTANTIN LES CABINOTIERS GRANDE COMPLICATION BACCHUS (RIGHT)
In a limited edition of a single piece, Vacheron Constantin displays its technical prowess with a hand-wound 2755 GC16 movement that powers hours, minutes and small seconds, a tourbillon, minute-repeater, perpetual calendar, power-reserve indicator, equation of time, sunrise and sunset times, and alarm torque indication – and that's just on the front dial. The rear dial displays a sky chart, age and phases of the moon, sidereal hours and minutes, and the seasons and zodiac signs. Its pink-gold case – 47mm in diameter and a massive 19.1mm thick – is elaborately engraved on the sides, lugs and bezel, and exquisitely set with 113 rubies that represent bunches of grapes on the vine. Champagne opaline dials are featured front and back, with a burgundy-coloured rotating disk at the rear depicting the celestial vault as seen from the Northern Hemisphere. HERMÈS ARCEAU WILD SINGAPORE
The flora and fauna of the city state of Singapore serve as the inspiration for this recent 24-piece numbered limited edition in Hermès' Arceau collection. Framed within a 41mm case of white-gold, the dial replicates the Hermès scarf of the same name by British artist Alice Shirley, using miniature brush painting on a gold base, which is then fired in a kiln before minuscule gold threads are applied to the surface. The look is completed by an abyss-blue alligator strap. Power is provided by the self-winding H1837 movement, with intricately decorated mainplate, bridges and oscillating weight, which beats at 4Hz for a 50-hour reserve