Peter Draw wants to spread love around the world through a post-post modern art movement we're embarking on together with his caricature called Ai. As seen on the Singapore artist's highly curated Instagram account, Ai has ventured to manifold cities, carefully illustrated into images taken by Peter's partner photographers. For this edition, we'll be focusing on Tokyo, as captured and told by British travel photographer James Weber, better known as One Lost Traveller.
James Weber counts Japanese culture and urban landscapes as his muses. He also confesses to have "exceptionally poor navigation skills", which opportunely, has allowed him to explore some of the more unique areas that cities and towns have to offer to be photographed.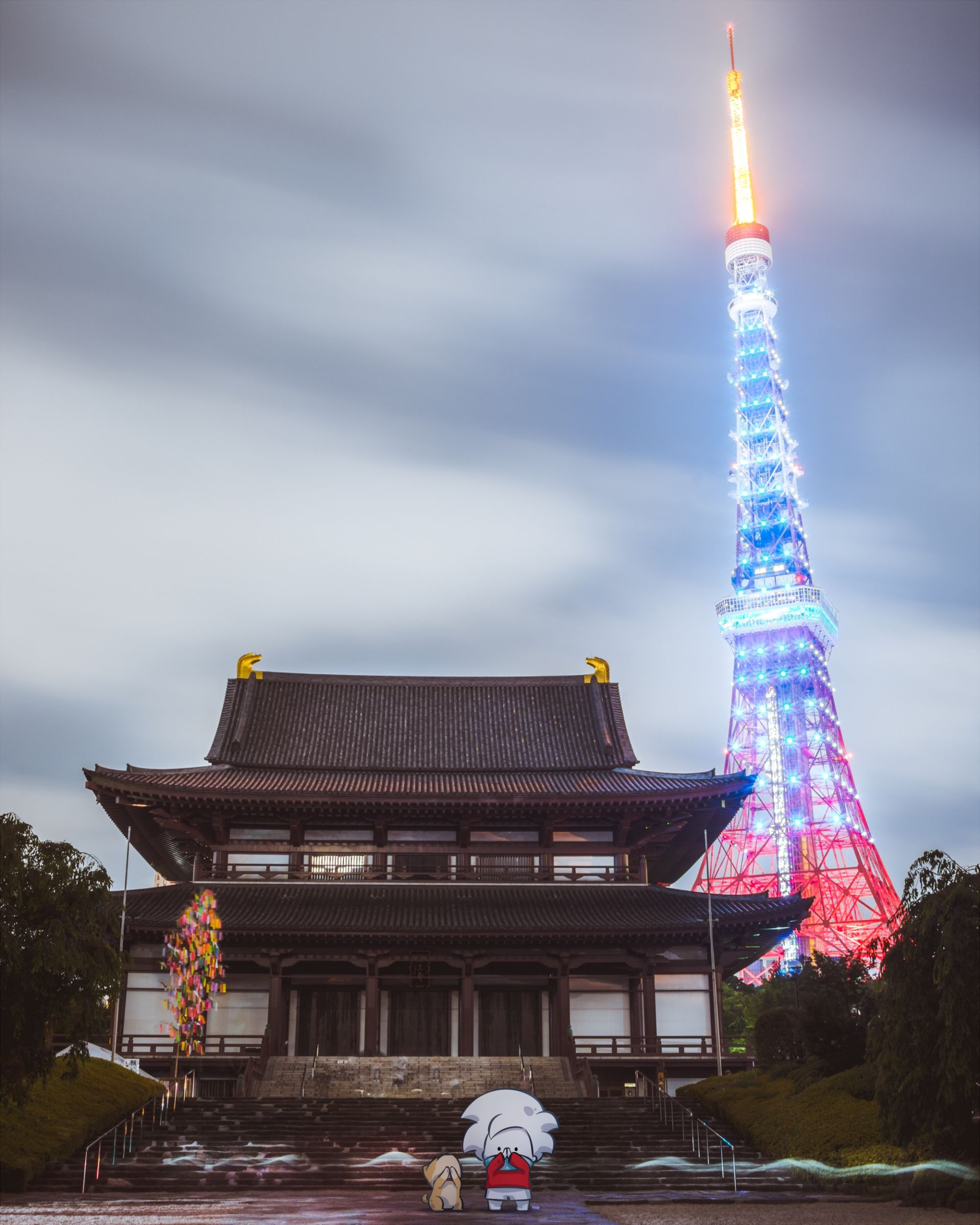 Tell us a remarkable encounter that happened within the area you captured.
I remember walking to Zojoji temple at night as it was something I wanted to see myself. As I walked through the grounds, I was guided only by the faint light of Tokyo Tower illuminated behind the temple; that contrast of the present shining light on the past. I must've missed some sort of event that just took place as there were people scattered amongst the shadows collecting candles and other items, the sound of quiet voices added to the lonely atmosphere. As I set my tripod up and started taking some long exposures, the people were using their phones as torches to light up where they were walking. As I continued taking photos, some were walking up the stairs to the temple and back down. With their phones, it made them look like spirits, the light trails lighting up wherever they went. It's a moment I certainly won't forget.
What do you love most about Tokyo?
A lot of people say that Tokyo is where the past meets the present. I actually believe that Tokyo is where the past and the present coexist together side by side. I think that this photo shows that perfectly, Zojoji temple and Tokyo Tower standing side by side together. The grounds around Zojoji temple are incredible beautiful and so quiet too! You'd be surprised to think you're still in Tokyo when visiting Zojoji temple.
And your least favourite bit?
As a traveller, I try not to find fault with the places I visit or say what I don't like about an area; after all, I am just a visitor passing by without judgement. Having said that, I think it's important for anyone who visits to be respectful of the area they are in. List some must-dos in Tokyo.
Tokyo has so much to do! If you're visiting for a short while or a long stay, each day will be packed with things to see. Of course, paying a visit to Zojoji temple is a must, especially at night time. Shibuya is famous for its chaotic, scramble crossing so going to the observatory deck at Magnet by 109 Shibuya is a good idea. Odaiba Island is a short train ride away and it's known for its vast video games and arcades. Seeing the sun set over Tokyo will be something not to be missed — Roppongi Hills gives a good view, the same with Tokyo Tower and Tokyo Skytree, whichever takes your fancy. And one last place to visit: Sensoji temple — a market street leads it way up to the main temple and is lined with all sorts of delicious foods and drinks and gifts to buy.