1. Shangri-La, Harbin, China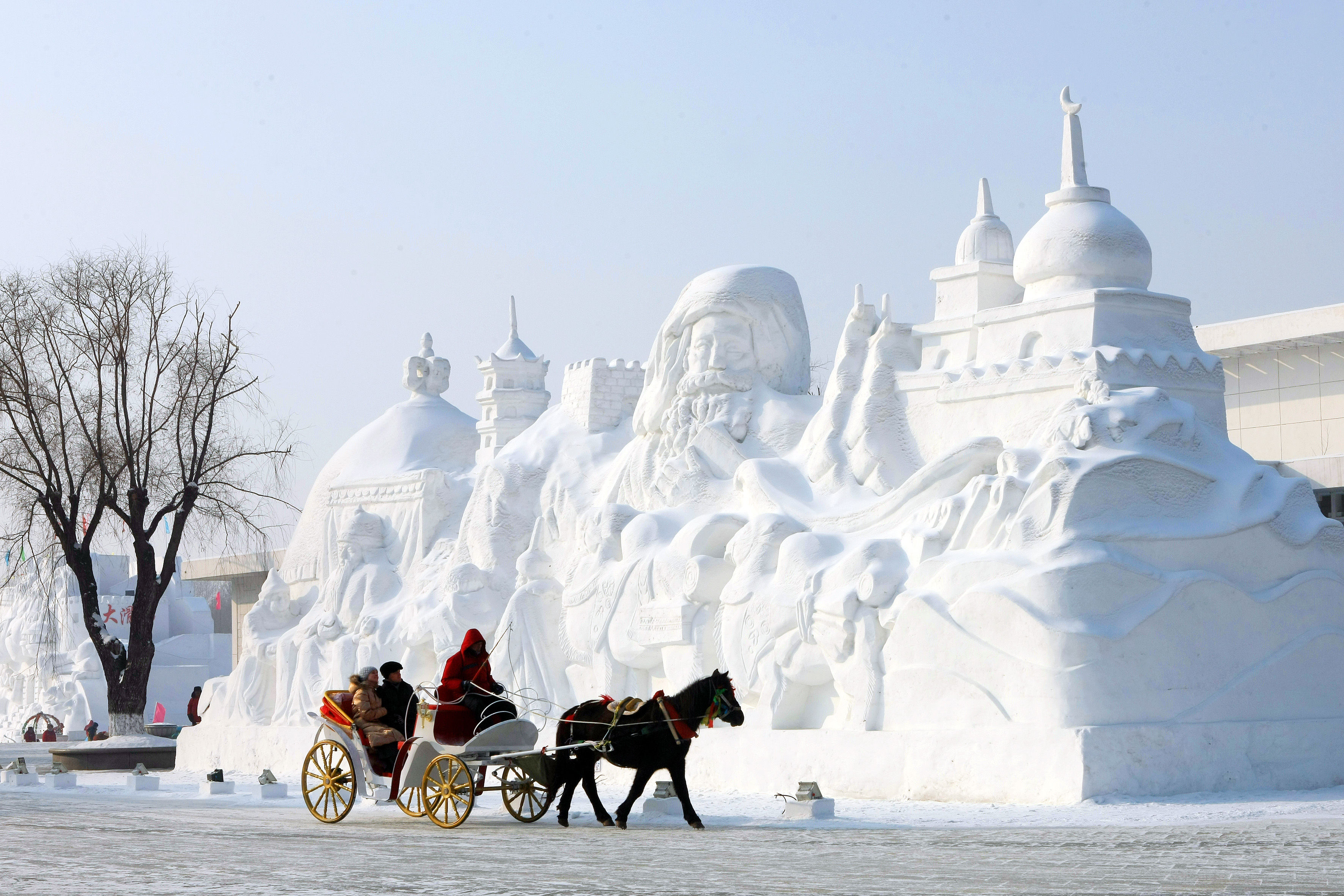 Lodge in Shangri-La Hotel, Harbin and have a winter-filled Chinese New Year. Watch the city transform into a land of ice sculptures, built for games and even as bars or restaurants. Indulge in a warm hotpot dinner at the hotel's Ice Palace restaurant or sip on your choice of hot beverages and alcoholic drinks as you lay on ice sofas and bar stools all hand-sculptured with ice blocks by local artisans. A 10-minute car ride away, the Ice and Snow World as well as the International Snow Sculpture Expo are worth a visit. Both places feature dazzling ice shows and ice-related activities.
2. Hurawalhi Island Resort, Maldives Spend an intimate Chinese New Year under the sun, sea and stars on a grown-up only private island, Hurawalhi Island Resort. Located in Maldives, with 90 villas and a range of dining choices, guests can enjoy the festive season away from our bustling cosmopolitan. On February 14, try your hands at handline fishing and enjoy your own catch the next day, where you can dine on the beach or in the Canneli Restaurant. Prepared by the hotel during this season are also 'boxes of harmony' with traditional and delicious Chinese dishes such as poon choi (chinese casserole), niangao (glutinous rice cake) and jiaozi (chinse dumplings) hand-picked to welcome a prosperous new year with you.
3. Baba Beach Club, Hua Hin, Thailand If all that partying during Christmas wasn't enough, here is a suitable locale for you to party at while ushering in the Lunar New Year. Set on the gulf of Thailand, Hua Hin, sits a luxury hotel for music lovers. The Baba Beach Club takes pride in playing thumping beats throughout the day which may be heard from some guestrooms as well as public areas surrounding the property. Its Hua Hin sprawl offers 18 exclusive hotel suites, 10 three-bedroom villas and one five-bedroom villa. Book one of its special Chinese New Year luxury hotel packages and stay at the five-bedroom villa, adorned with a balcony and private infinity edge pool. You can also enjoy a Chinese New Year Eve reunion dinner arranged by the hotel for you and your loved ones.
4. The Murray, Hong Kong Newly opened property The Murray Building, transformed and restored by award-winning architectural firm Foster + Partners, was formerly used for governmental offices and is now a contemporary hotel with elements of traditional design. The Murray, Hong Kong offers 336 accommodation spaces, each decorated with rare stones, leather and tasteful textiles. Rooms are further adorned with windows that greet you in the morning with a generous amount of sunlight. Pamper yourself in the city that never sleeps as you wallow in spa suites and contemporary urban pools this Chinese New Year.
5. Vana Belle Resorts, Koh Samui, Thailand This Lunar New Year, choose to nest in quiet Koh Samui, an island off the east coast of Thailand. The enchanting resort Vana Belle is offering one of the more relaxing Chinese New Year luxury hotel packages out there. Book before February 13 and stay anytime within the month to enjoy spa credits. Active ones can visit nearby islands Koh Tao and Koh Nang Yuan, or Angthong Marine Park for snorkelling and simply basking in the sun. But who needs to go to the beach when each of Vana Belle's 80 accommodation spaces feature a private pool and spacious veranda.
6. Sheraton Grand Macao Sheraton Grand Macao celebrates Chinese New Year by bringing fine cuisine to your table. The property presents a staggering 4,001 guest rooms, so you can book for your entire extended family or heck, the entire village. There are three restaurants to boot, serving either Asian delicacies or Italian staples. The traditionally inclined can gather around a hotpot at Xin, a buzzing Asian seafood eatery, for a special 'Auspicious Hotpot Buffet'. There's also the 'Fortune Poon Choi' to try. Those looking for something unconventional can indulge in curious Chinese-Italian dishes at Bene, the hotel's Italian trattoria-style restaurant. Must-try on the menu is the cappellacci stuffed with abalone in arabbiata sauce.
7. Mandarin Oriental, Hong Kong To celebrate Chinese New Year, boy has Mandarin Oriental, Hong Kong prepared a special itinerary for you. On the first and second day of the first lunar month, guests can anticipate an appearance from the God of Wealth as he shares auspicious red packets around the hotel. Souvenirs such as engraved chopsticks and painted fans are also available. Make sure to reserve a table at either Pierre restaurant for French fare or Man Wah for Canto flavours. Both restaurants afford a bird's-eye view of the stunning fireworks display over Victoria Harbour as the city welcomes the new year.
SEE ALSO: 3 quirkiest new cocktail menus in Singapore
8. Alila Anji, Zheqiang, China Alila Anji, a resort hugged by the mountainous landscape of Zheqiang, collaborated with fashion house Shanghai Tang for one of the most fashion-forward Chinese New Year luxury hotel packages this year. The two-night experience amusingly begins by checking in at the Shanghai Tang boutique in Xintiandi Plaza, Shanghai. Well, we guess you could pick out an auspicious Chinese New Year outfit while waiting to board a helicopter. Yes, once you're done shopping, a helicopter will transport you to the resort on a 50-minute whirlwind ride, further topped by a glass of Duval-Leroy champagne in hand. Once your reach the verdant property, pamper yourself with brunch at the Shanghai Tang Tea Lounge, then a hot stone massage before ending the night wallowing in comfortable silk pyjamas exclusively made by Shanghai Tang.