With the highly anticipated nuptials of Prince Harry and Meghan Markle just around the corner, it is the perfect time to pay a visit to their home base, London. Karen Tee discovers the myriad ways to live like a king (or queen) in this buzzy capital city. Impossibly slim model-types clad in sleek cocktail sheaths clink champagne flutes with men in smart dinner jackets. Tulip-shaped art nouveau lamps cast a perfect warm glow on the beautiful crowd at this quirky English-meets- elegant French-inspired brasserie at 5 Hertford Street, an exclusive members' club which is arguably the epicentre of social activity among London's cognoscenti. It is clear everybody here is a somebody.
As waiters bustle about us, ceremoniously shaving whole Perigord truffles over butter- tossed pasta, some of these gorgeous creatures stop by to say hi before flitting on. I am here at the invitation of the talented — and extremely well-connected — exotic skin handbag designer Ethan Koh.
Eclectic, vibrant and thrumming with the energy only a city that has wholeheartedly embraced its melting-pot culture can, London is many things to many people. It is also a global hangout for the most elite of society — those who are blue-blooded by birth or marriage. And with all eyes on London as the immensely likeable Prince Harry weds former actress Meghan Markle this month, I have journeyed to Britain's capital city to explore its appeal among the noble-born. "What's fun about London is, you never know who you might meet when you are out," says Koh. He is too polite to reveal more, but a close associate later tells me he has dined with the Princesses Eugenie and Beatrice at this club, which has a strict no-photography policy to protect its elite members' privacy. (The duo and their mother, Sarah, Duchess of York, are fans of Koh's bespoke bags and have been spotted with his creations on multiple occasions.) No wonder even Prince William is known to patronise this secretive joint.
Live Like a Royal
London, as it turns out, is not just a stomping ground for aristocratic Brits but for royalty from around the world too. In particular, the posh neighbourhood of Knightsbridge, where luxury department store Harrods is located, doubles as a promenade for the well-heeled from the Middle East. In summer, my limousine driver tells me, many cafes such as L'Opera of Brompton become a congregating point for the ultra-high-net-worth crowd, including Qatari royalty. For something a little more low-key, find respite at Mandarin Oriental Hyde Park's newly renovated Mandarin Bar, a cosy space perfect for a cosy tete-a-tete away from prying eyes. Cocktails such as Silver Birch and Rose Champagne, inspired by the ora and botanicals at Hyde Park, are deceptively easy to drink so pair them with excellent gourmet bar bites like tuna poke tacos or steak tartare nigiri.
This luxury hotel's royal connection runs deep. Queen Elizabeth learnt to dance at its grand ballroom and more recently, it was the venue for the gala dinner before the marriage of William and Catherine, the Duke and Duchess of Cambridge. Hence, it is appropriate that decorated chef Heston Blumenthal's two Michelin-starred restaurant Dinner, which draws on historic British gastronomy, is located here. In fact, dishes such as Frumenty (grilled octopus in smoked sea broth) and Rice & Flesh (saffron, calf tail and red wine) were derived from medieval recipes authored by the master cooks of King Richard II, so you can say with confidence you've feasted like a king.
I stay a couple nights at 11 Cadogan Gardens, a charming boutique hotel converted from four townhouses, which is conveniently around the corner from stylish Sloane Square and its exclusive designer boutiques. Part of the Small Luxury Hotels of the World group, this property is still owned by the aristocratic Cadogan family, which explains why I feel like a coddled guest in an English manor during my stay. I love its quirky nooks and corners, such as a mirrored reading room and breakfast room decorated with antique books and portraits of Victorian nobility — a fitting tribute to the property's historic reputation as a destination for travelling dignitaries. Those with a taste for old-school English extravagance may consider the Velasquez Suite, a space lavished with velvet draperies and a dramatic four-post bed.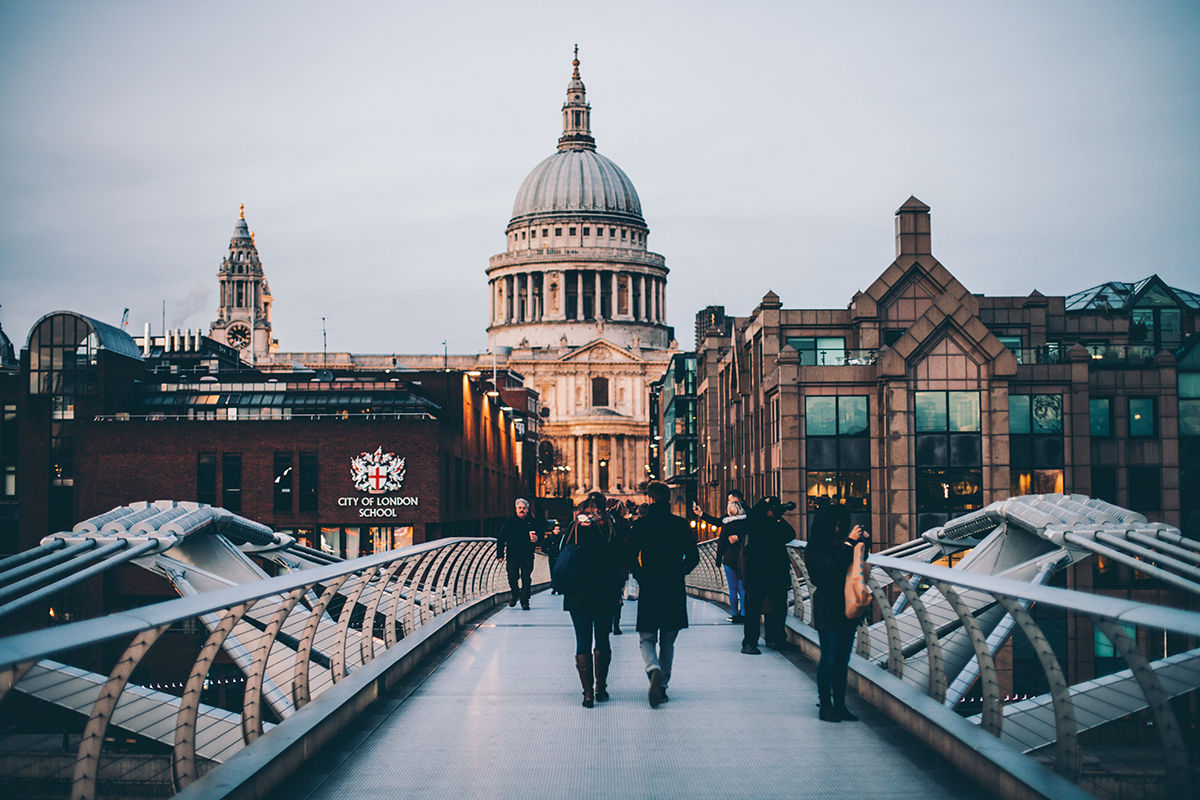 Take It All In
Buckingham Palace, Westminster Abbey and Kensington Palace — there are royal landmarks aplenty. Even though visiting them may seem too mainstream for the sophisticated traveller, I would still recommend doing so at least once just to gain a sense of the scale of influence the first family has had over London through the centuries. I book a private royal-themed tour by Lightfoot Travel to view these sights without having to elbow my way through the tourist throngs and to get an opportunity to grill my guide.
My guide Marco doesn't disappoint, dropping lesser-known bon mots you can't nd in gossipy tabloids. As we drive along St James's Street, he tells me this is traditionally the shopping street for the royal family due to its proximity to Buckingham Palace. It is lined with unique ateliers such as the Lock & Co Hatters; John Lobb, bespoke shoemaker to Prince Charles and William; and Berry Bros & Rudd, wine supplier to the royal family. Pro-tip: The discreet Dukes London, as its name implies, was a popular hotel among this class of aristocracy, is just around the corner from all this shopping action. For cultural nourishment, London has no shortage of exceptional museums and galleries to peruse. But even with such high expectations, I stumble upon a queenly surprise at the Victoria and Albert Museum (V&A) when I wander into an antechamber that houses seven floor-to-ceiling designs painted by Raphael Sanzio, the Italian Renaissance great. Known as "cartoons" (they were painted to serve as blueprints for tapestries to be hung in the Vatican's Sistine Chapel), these were acquired by King Charles I in 1623. In 1865, Queen Victoria loaned the collection to the V&A, where they have hung ever since. While they are widely counted among the most important works of art of this era, the gallery is relatively uncrowded compared to the blockbuster exhibitions in this massive museum. I take my time here, basking in the splendour of Raphael's masterpieces and imagine how they would have looked like hanging in a royal palace a few centuries ago.
Also visit: Away from it All
When it is time to rest those tired feet and banish remaining signs of jet lag, make an appointment at The Dorchester Spa at the historic Dorchester Hotel, where both Queen Elizabeth and Prince Philip held their pre-wedding celebrations. Its signature warm oil massage, which incorporates heated stones to deeply relax tense muscles, is utterly indulgent. By the time the therapist turns me around for a skilful face and scalp massage, I am lulled into a blissful state of zen. No wonder it is one of the city's most well- patronised spas.
Further Afield
To escape the city, do so in style, like how the royals used to with a country retreat to the exclusive Monkey Island Estate, in the historic village of Bray-on-a dressage schoolmaster for advanced riders.
There are also two polo fields on the grounds where the annual Audi Polo Challenge, in which both William and Harry compete, is held. This, by the way, was where Meghan Markle made her first society appearance last year. I learn this is also the summer training grounds for Brunei's Thames, about an hour's drive from London. This 800-year-old estate reopens in June following a loving restoration. Its storied history reveals it was a popular leisure destination for monarchs and aristocrats. Through the ages, Queen Victoria, her son Edward VII and his queen Alexandra and even Princess Margaret have spent time here. Today, guests who stay at the Muse Bray Cottages will also be privy to a right royal perk — access to The Fat Duck, one of two three-Michelin-starred restaurants in the village without having to make a booking, months in advance.
Coworth Park; 11 Cadogan gardens are owned by the aristocratic Cadogan family.
From Bray, it is a short 20-minute commute to Ascot, home to the annual Royal Ascot races, and prestigious polo clubs such as the Guards Polo Club. Equestrian sessions might just be the most blue-blooded recreational activity, so of course, I go in search of some horse riding. I discover the equestrian centre at Coworth Park, which stables about 30 steeds including experienced hunters and polo team, of which the country's Prince Abdul Mateen is part of.
As I ride around the sprawling 240-acre estate on Precocious, a gentle thoroughbred that's appeared on TV series Peaky Blinders, taking in the first blooms of spring, I realise what it is that makes London so special. Not because one might just spot a royal around the corner but because the city can make you feel like one. A Peek Into Meghan's Little Black Book
As royal wedding fever snowballs, here's what we know about the proprietors who are making the big day as picture-perfect as possible.
Wedding Invitations
The invitations were printed by Barnard & Westwood, a bespoke London printer and bookbinder that has held a royal warrant since 1943. The family-owned company has printed invitations for the royal family since the 1980s, including those for Prince William and Catherine Middleton's nuptials.
Wedding Cake
In a break from the British tradition of serving fruitcake at a wedding, chef Claire Ptak, the owner of Violet Cakes bakery in Hackney, East London, will create a lemon elder ower cake covered in buttercream and fresh owers. The California-born Ptak was featured on Markle's now-defunct blog.
Flowers
Self-taught florist Philippa Craddock, who owns a flower shop in London's Selfridges department store, takes on the honour of decorating the St George's Chapel at Windsor Castle, where the wedding takes place. White garden roses, peonies and foxgloves as well as beech, birch and hornbeam branches, sourced from the royally owned Crown Estate and Windsor Great Park where possible, will be used.