2021 might be the last time we can enjoy a luxurious villa in Bali at the price of a hotel room. In this case, just below IDR 5 million or less than USD 350.
1. The Ritz-Carlton Bali, Nusa Dua
Rate: IDR 4.856.940, Pool Pavilion Villa Set amidst the dramatic cliffs and pristine beaches of southern Bali, The Ritz-Carlton made a grand return to the idyllic island as a unique, luxurious and locally-inspired resort back in 2015. Located in Sawangan, Nusa Dua, The Ritz-Carlton, Bali is set on 12.7 hectares of expansive and beautifully manicured beach-front and cliff-top land. With 279 suites, including 34 cliff top and ocean view villas, the luxury resort offers a dramatic location along the sweeping coastline of Nusa Dua's southern tip.
Jl. Raya Nusa Dua Selatan Lot 3, Nusa Dua; ritzcarlton.com
2. Jumana Bali Ungasan Resort, Nusa Dua
Rate: IDR4.809.395, Garden View Villa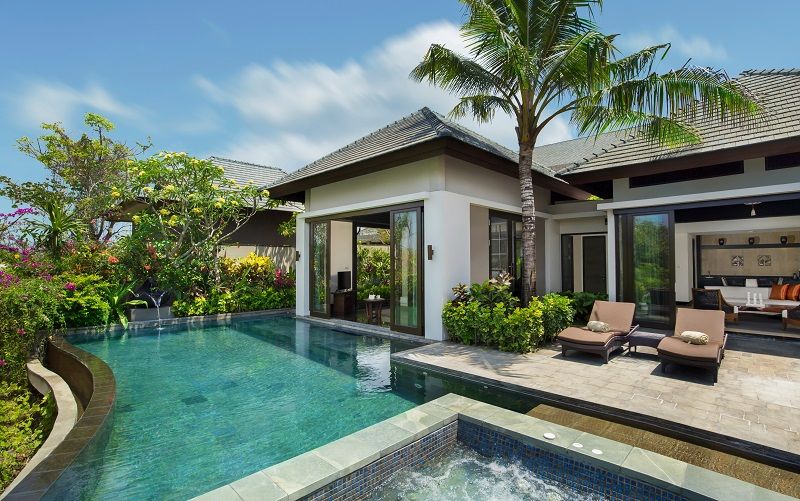 Jumana Bali Ungasan Resort (formerly Banyan Tree Ungasan) sits 70 meters above Melasti Beach on the southern tip of Bali. With its pure white beaches, blue waters, and stunning views of the Indian Ocean, the resort still comes with 71 villas and its well-known Ju-Ma-Na Restaurant & Bar, which offers the perfect vantage point for admiring the aforementioned Indian Ocean.
Jl. Melasti, Banjar Kelod, Ungasan; jumanabali.com
3. Ayana Resort Bali, Jimbaran
Rate: IDR4.334.828, Ocean View Pool Villa Located on 90 hectares of cliff-top land perched above Jimbaran Bay, just 10km from the airport, Ayana Resort and Spa offers 78 spacious private pool villas in Bali that features luxurious linens, indigenous artworks, separate living areas and enormous marble bathrooms. You can start your day with Ayana's signature floating brunch, and cherish a soul-balancing massage, or lazy days with no disturbances. One of the highlights from the resort is arguably its Presidential Villa, which has been chosen for filming the acclaimed show, America's Next Top Model.
Jl. Karang Mas Sejahtera; Jimbaran; ayana.com
4. Tandjung Sari, Sanur
Rate: IDR3.825.000, Village Bungalow Established back in the 1962, Tandjung Sari is an ageless beauty. Shaded by huge trees and quietly sheltering treasures at every turn, this charming hotel on Sanur beach remains serene, discreet and elegantly modest. Set amid walled gardens, the 29 bungalows are placed very discretely around the premises. Interestingly, the resort began as the private home of its founder, Wija Wawo-Runtu, before turning into a hotel which eventually became known around the world as the seminal boutique hotel of tropical Asia, welcoming guests like Ingrid Bergman, David Bowie, Mick Jagger, Ringo Starr, Yoko Ono, and Annie Lennox.
Jl. Danau Tamblingan 41, Sanur; tandjungsarihotel.com
5. The Laguna, Nusa Dua
Rate: Rp3.793.350, One Bedroom Villa From its panoramic views of the Indian Ocean to its Balinese hospitality, The Laguna offers a memorable experience. The iconic beach resort features 287 rooms, spacious suites and private villas with spectacular views of crystal blue lagoon pools and tropical Balinese gardens. More importantly, in perfect harmony with lush tropical gardens and a pristine beach, the resort boasts seven lagoon pools, an idyllic sanctuary with sun, shade and serenity and enthralling magical crystal clear waters.
Kawasan Pariwisata Nusa Dua Lot N2, Nusa Dua; marriott.com
6. Plataran Menjangan, Buleleng
Rate: IDR 3.630.000, Forest Villa Plataran Menjangan Resort & Spa offers an escape to nature at its most beautifully raw and untouched state, in a tranquil hideaway located within the protected sanctuary of West Bali National Park. You can experience the epitome of luxury, privacy and comfort in the traditional Joglo villas of this unique eco-retreat, at one with nature in the midst of the forest or right by the ocean.
Taman Nasional Bali Barat, Buleleng; plataran.com
7. The Samaya Ubud
Rate: IDR 2.997.500, Hillside Villa Hidden in the hills of Sayan village of Ubud, the cultural center of Bali, The Samaya Ubud is the ideal sanctuary for those who seek for the balance of mind, body, and soul. One cannot help but feel at peace within the comfort of modern luxury while still enjoying the classic Balinese touches at every corner. Its Hillside Villa is situated in the upper level of the resort or close to the Ayung River. It offers a private lap pool surrounded by lush tropical gardens and a spacious outdoor living area.
Banjar Baung, Desa Sayan, Ubud; thesamayabali.com
8. Bisma Eight, Ubud
Rate: IDR 2.975.200, Single Bedroom Villa With roots in both artisan heritage and the craft of modern luxury, Bisma Eight redefines what it means to stay in Ubud. Nestled within the natural and cultural heart of central Bali, the 12 villas feature modern luxury juxtaposed with intimate Balinese tradition. Framed around a courtyard of natural gardens and quiet ponds, each villa comes with an open-air living space with one or two bedrooms, shaded garden, and a private pool.
Jl. Bisma, Ubud; bisma-eight.com
9. Nirjhara, Tabanan
Rate: IDR 2.972.068, Canopy Suite Located in the region of Tanah Lot, home to Bali's most iconic temple, Nirjhara is a luxury resort offering tailored comfort in the midst of a lush jungle. Its Canopy Suite, which offers unobstructed views of the surrounding rice fields, is perched amidst coconut trees in a lush tropical garden and comes with a private rooftop deck overlooking boundless rice paddies.
Jl. Nirjhara, Banjar Kedungu, Tabanan; nirjhara.com
10. The Santai Umalas
Rate: IDR 2.503.810, Two Bedroom Pool Villa Nestled in a quiet neighbourhood close to picturesque rice fields and local temples, The Santai Umalas is an exclusive retreat. With 11 villas, The Santai Umalas gives treasured guests a truly individual Balinese experience. For one, its luxurious 350sqm Two-Bedroom Villas are perfect for friends or families with young children. The best part is, you can be as private or as public as you like.
Jl. Bumbak 88A, Banjar Anyar Kelod, Kerobokan; thesantai.com
11. Hilton Bali Resort, Nusa Dua
Rate: IDR 2.184.050, Pool Villa Situated atop a 40m cliff, Hilton Bali Resort brings breathtaking views and magnificent space to the Nusa Dua beach enclave on Bali's southern peninsula. On the other hand, its 19 private pool villas — designed by Australia's Grounds Kent Architecture — is situated in an exclusive and luxurious two-hectare compound with a dedicated entrance, offering complete tranquillity and privacy.
Jl. Raya Nusa Dua Selatan, Nusa Dua; hilton.com
12. The Menjangan, Buleleng
Rate: IDR 2.002.140, Beach Villa Tucked away in a true haven of tranquillity, The Menjangan is a peaceful nature retreat located in the heart of the unspoiled West Bali National Park on the island's stunning north west coast. The resort is casual and quiet, with a strong emphasis on restoring calm and simplicity to stressed minds and bodies. In short, it offers you the chance to get close to nature and relax in exquisite surroundings.
Taman Nasional Bali Barat, Buleleng; themenjangan.com
13. The Bale, Nusa Dua
Rate: Rp1.756.755, Single Pavilion The Balé Nusa Dua is a serene, luxurious couples retreat where you can truly relax and reconnect with your loved one. With its 29 immaculately designed modernist pavilions, each of the villa comes with a tranquil private garden and pool. Uniquely, its "no children" policy makes the resort ideal for honeymooners and newlyweds.
Jl. Raya Nusa Dua Selatan, Nusa Dua; thebale.com
14. Alaya Dedaun Kuta
Rate: IDR 1.550.000, Pool Villa Alaya Dedaun Kuta brings affordable luxury and understated Indonesian elegance to Bali's favourite beachside playground. Designed to embrace the spirit of a traditional village, the property features a collection of just 12 private villas in a concept attuned to the attributes of outdoor living. With its motto "Kuta's Little Secret," each villa is a tropical retreat secluded within a native garden compound featuring a generous sized swimming pool and ample space to unwind.
Jl. Raya Legian, Kuta; alayahotels.com
15. Fivelements Retreat, Mambal
Rate: IDR 1.539.000, Riverfront Suites Nestled on the banks of the Ayung River, Fivelements Retreat Bali is an award-winning eco-conscious wellness retreat deeply rooted in the ancient traditions of Bali, making it a peaceful sanctuary to embrace authentic Balinese healing, plant-based cuisine and sacred arts. Soak away in one of its 20 villas as you gaze over the flowing river and nature, bringing mind, body and spirit in unison.
Banjar Baturning, Mambal, Abiansemal; fivelementsbali.com
*Rates from each property's website, which includes tax, are valid from April 6-7, 2021
This story first appeared in DestinAsian Indonesia