Shangri-La Hotel, Jakarta presents a culinary journey that is appetizing to your soul without having to leave home. Explore various enjoyments that will please your senses from sweet to savoury and we will bring you a variety of cuisines that will arouse your palate devoid of having to doubt the taste buds with our guaranteed quality and services.
A myriad of exciting selections await you from specially curated Ramadan menus to all-time favourites at SATOO and JIA to newly created/curated menus to cater to all taste buds:
Shangri-La Hotel, Jakarta has prepared Iftar treats for individuals or families (3-4 persons). See all the packages:

1. Individual package starts from from IDR 100,000+. You will be able to enjoy Ayam Panggang Madu (Kurma, Ayam Panggang Madu, Lalapan Sayur Segar, Nasi Putih, Sambal, Dadar Gulung) and other menus that will fulfil your palate.
2. Family Iftar Package (serve 3 to 4 persons). There are eight menu creations that will make your fast-breaking experience enjoyable with a selection of Indonesian and Eastern specialties. This package starts from IDR 450,000+.
3. Hampers Package. A wide selection of beautifully packaged hampers such Mubarak, a goodie bag with two Eid Al-Fitr cookie boxes are available at IDR148,000+ and Sukhran which comprises three Eid Al-Fitr cookie boxes, which are available at IDR 238,000 +; These wonderful hampers include all-time favourite Nastar, Kastengel and Chocolate Chip cookies for all to enjoy. SATOO Deli is also offering a 20% early bird discount for orders placed from 20 April to 10 May 2020. Collection or deliveries are available from 23 April to 25 May 2020.
SATOO
Gastronomic delights from Asia and beyond, it is all about culinary exploration with a variety of flavours. You will be filled with a choice of pleasures of our sandwiches, Western, and various refreshing beverages. The food menu starting from IDR 55,000+ and beverages start from IDR 10,000+
JIA
Serves a line-up of delectable dim sum, sumptuous roasted fare and much-loved Chinese classics. The restaurant blends classic Chinese cuisine with stylish presentation, giving each dish a little twist, yet respecting the original recipe. These delicacy creations start from IDR 52,000+. JIA is a perfect pleasure for exploring your palate.
VALUE MENU
There are three variants of a complete menu that is also economical and good value. This package includes rice, side dishes selections such as fish or chicken and beef depending on your taste, which comes with vegetables and cake as a dessert. Entrust us with the choice of savoury and delightful palates. These package is only IDR 50,000+ and can be ordered from 10:00 a.m. until 5:00 p.m.
CAKE
No more time getting worries and busy to prepare the sweet treats in a delicious series of cake that will appetite your palate in every bite. All Shangri-La products are handmade fresh from premium ingredients. You will be spoilt with many choices of freshly baked cakes and ready to be delivered to your table. Cake creations start from IDR 330,000+
CHOCOLATE
Be pampered at home surrounded by loved ones while enjoying a bite of fine chocolate. Make your time more precious and filled them with laughter and sweets memories. Shangri-La Hotel's chocolate series comes in many kinds of flavour and fillings, you can choose based on your preferences only for IDR 50,000+
FROZEN FOOD
For even greater convenience, a selection of our best-selling dishes will be available in frozen, ready-to-heat versions right to your doorstep. Starting from delicious Beef Rendang from Minang and pasta dishes that be readily enjoyed whenever you wish. Starts from IDR 120,000+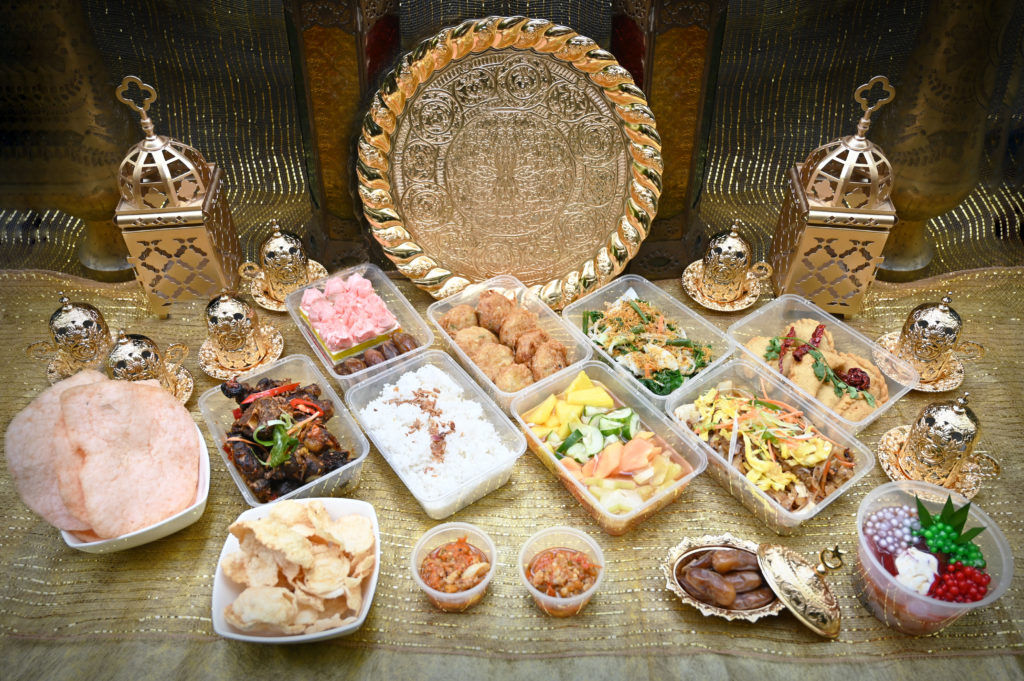 Ordering is made easier with all menus available through Shangrila's Linktree or WhatsApp to +62 878-7566-6264. Just tap away and wait for the feast to arrive at your doorstep instead of busying yourselves in your kitchens.
For more information and to make reservations, guests may call (62 21) 2922 9999, send an email to fbreservation.slj@shangri-la.com or access the website at https://www.shangri-la.com/jakarta/.