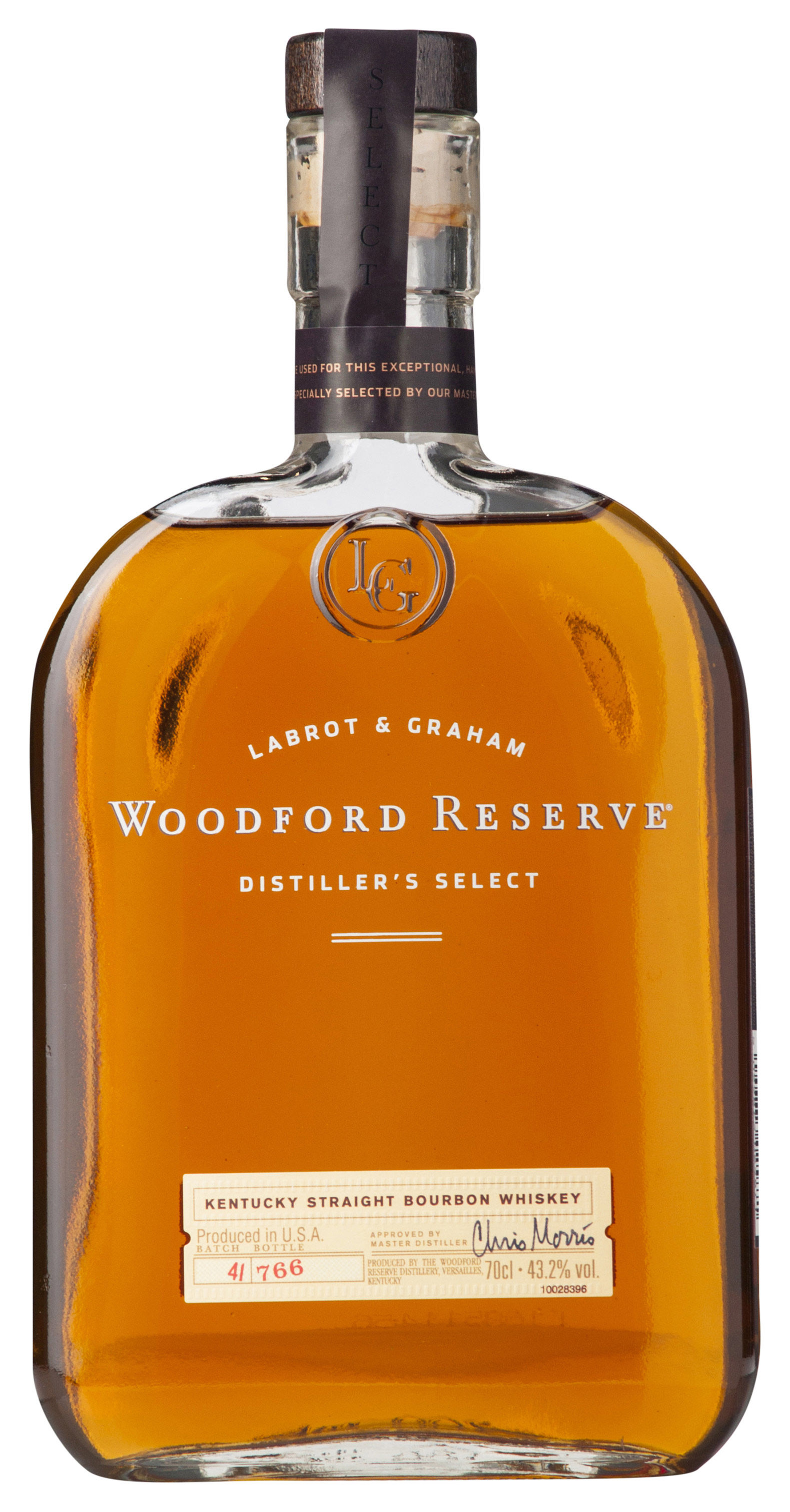 In 2007, September was declared America's National Bourbon Heritage Month, but it was in April 2008 when Ray Radford, then all of 60-something and with no imminent retirement plans, told me the secret of his happiness.
"Basically, I woke up one morning and I said, 'I'm bored to death,'" he explained. "I was working in marketing for a big media company and I then worked for an advertising agency's marketing firm. I'd reached a point where I was very successful at what I was doing but hated every minute of it. I was bored, so I leapt into the abyss, much to the dismay of my wife. I've [now] been actively working with Maker's Mark for 17 years and I've never been bored a day of my life since."
That was my introduction to the Kentucky bourbon Maker's Mark, with its sweetness from red winter wheat and corn tempered by a heady 45-percent-alcohol, 90-proof kick. Radford's tipple brings extra joy in a cocktail: an Old Fashioned is the best example, the bourbon coupled with Angostura bitters and club soda, and garnished with a maraschino cherry or a twist of orange; and a Manhattan, with sweet vermouth and a maraschino cherry.
Maker's Mark came out in 1958, though it wasn't until 1980, when The Wall Street Journal ran a front-page piece on the spirit, that the phones rang off the hook. The ensuing pop-culture references included mentions in the films Juno and Elizabethtown, and appearances in Sam Raimi's Spider-Man movies; Dr Gregory House (via television thespian Hugh Laurie in TV series House) has a bottle on his coffee table.
Nine years on, and with my birthday coming up, I'm considering what I'll be drinking. The natural option for me is bourbon (if I'm not drinking wine), but my elixir of choice has shifted towards Labrot & Graham Woodford Reserve, a brand introduced to the market in 1996. How did that happen? Tastes change, of course, and while I like the layering of flavours in Maker's Mark, particularly the caramel and vanilla combo, Woodford Reserve also offers this, but with a little extra spice on the finish; the distiller also warns against adding too much water so as to alleviate the nuttier elements. The move from Maker's Mark to Woodford Reserve is delicately hair-splitting yet shrewdly instructive. Essentially, bourbon is an American whiskey, named after Bourbon County in Kentucky and produced since the 1800s. All bourbons are typically 70 percent corn with the remainder being malted barley and either wheat or rye. Maker's Mark is unusual in that it is one of the few American whiskeys to be spelled in the Scottish form, "whisky" (as opposed to the "whiskey" adopted by Labrot & Graham), in honour of its Scottish heritage. Kentucky is famous for its bourbons, though the spirit can also be found in Illinois, Indiana, Tennessee, Pennsylvania and Virginia. Most recently, in 2016, it even appeared in Utah – Alpine, from Park City, though this one isn't squarely a bourbon, with its fruit and spice flavourings.
The heart of bourbon is a mixture put through a sour-mash fermentation – an unfortunate term that makes the resultant product sound like it would be sour-tasting – in which the yeast from previous fermentations is added to a new mixture to maintain a consistent flavour and quality, and then distilled to produce a clean spirit. Its subsequent placement and ageing in charred oak barrels imparts colour – the darker the colour, the older the bourbon.
The portion of the grain and water left over from the previous distillation to start the next batch fermenting is much the same process that bakers use when making sourdough bread. This helps to assure continuity in whiskey style, batch to batch, stabilising the fermentation and providing the yeast with an ideal medium in which to operate. It also brings additional flavour to the whiskey.
"We think the process results in a tangible difference in taste and makes for a more consistent product," says the current CEO of Maker's Mark, Bill Samuels, Jr, in his book Maker's Mark: My Autobiography (co-written with Jim Lindsey in 2000). "All of the corn and wheat is selected from hand-picked farms that have the same sort of limestone soil content as our spring water. People often ask me if winter wheat makes such a difference and why other distilleries don't copy us. Well, I suspect the answer is that it's not very easy. Wheat does not extend itself to mass production." That, and the fact that every bottle takes between five years and eight months to six years before getting put into bottles, and that each individual batch of bourbon is only 19 barrels. "None of the other bourbon makers do that," Ray Radford assures me. "We're the only one. Today, we still can't bottle more whisky than the lady who runs the printing press. When we run out of labels, we just stop! It is a testament to inefficiency, or inefficiency gone crazy."
Maker's Mark is a wheated bourbon (similar to the likes of Old Fitzgerald, Larceny and Rebel Yell), whereas Woodford Reserve is a traditional mash bill bourbon (other examples are Elijah Craig, Eagle Rare and Wild Turkey). In a 200-year-plus history of distilling activity, the Woodford Reserve Distillery site – outside Frankfort in the little town of Versailles in Woodford County – has changed hands (and names) several times. Current owner Brown-Forman Corporation acquired the property in 1993, renaming it after the county in which it is located.
Additionally, Brown-Forman makes both Jack Daniel's and Woodford Reserve, which is interesting since many mistake Jack Daniel's for a bourbon when it's actually Tennessee whiskey. While the former gets a lot of attention because it's one of the best-selling spirits in America, Woodford Reserve is the crown jewel in that portfolio, if nothing else because it's made in a mixture of pot stills (produced at Woodford Reserve Distillery) and column stills (from the Brown-Forman Cooperage in Shively, Kentucky), each bottle bearing a unique batch and bottle number.
Eventually, the "mash bill" of ingredients comprises 72 percent corn (from nearby Shelby County in Kentucky), 18 percent rye and 10 percent malt; that 18 percent rye is high and helps distinguish its slightly spicy character – a fact that I didn't know until I researched it – and each bottle has, to be exact, 212 individual flavours to savour. All this gives master blender Chris Morris an immense amount of control over the resources he has to align, and two other facts are also critical. "The five sources of bourbon flavour have still not changed – grain, water, fermentation, distillation and maturation – but the way they have been applied has," he says. "For instance, they used to grind grain with a stone grist mill as opposed to a modern hammer mill. And also, our barrels are uniquely crafted according to flavour-focused standards at the Brown-Forman Cooperage. It's the only spirits company in the world that makes barrels for its own brands. The Woodford Reserve barrel is made from nine-month open-air-dried wood that is toasted prior to the charring process. This softens the barrel's tannic acid profile and gives it a buttery, creamy vanilla note."
Ah, so that's where the rubber meets the road. The taste of that buttery, creamy vanilla, along with some rye flavour that keeps it earthy. Do I try the other new brands like Woodford Reserve Rye or Woodford Reserve Double Oaked, or do I stay with the older standard of Maker's Mark, where the red winter wheat pulls a fast one when you're in the mood? I've never even been to Kentucky, but there's a lot of bourbon out there – 13 large distilleries are now owned by eight companies, producing 99 percent of whiskey made in the US; small-batch whiskeys, distilled in limited quantities like Maker's Mark and Woodford Reserve, and usually made in Kentucky, are particularly prized.
Maker's Mark makes its presence felt when you're looking for more subtle expressions, but the trick to the rye in Woodford Reserve is how it ups your ante when you're in the mood for a more piquant bite. The prevailing standard is balance, and the latter does it for me. Whatever the case, folklore maintains that bourbon is "heart medicine", implying that moderate consumption has a positive effect on the cardiovascular system. Really now, how much more persuasion do I need?