One person's trash is another one's treasure. In this case, Soapan Santun takes what you are literally going to throw down the drain and turns it into cleansers that are gentle yet effective.
If you're unfamiliar with the brand, it's time to get acquainted. Soapan Santun is a local brand that endeavours to help Malaysians to cut down on waste. To achieve that, the brand collects used cooking oil that might have found its way down the drain — which could potentially cause fatbergs that can clog drains, resulting in disaster.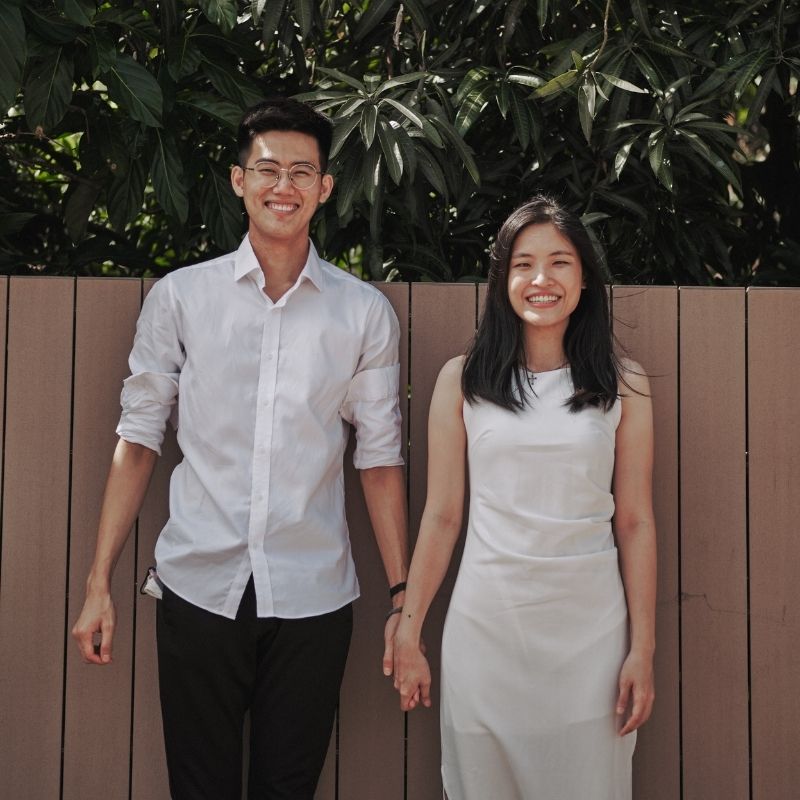 So what can you do with used cooking oil? Soapan Santun welcomes your used oil, and they turn it into kitchen cleaning soaps and even ones that can be used to create kitchen cleansing soap. At the height of the pandemic, co-founders Anna Lee Xin Ning and Louis Koh first set out to create gentle soaps that don't irritate sensitive skin. But Soapan Santun truly found its impetus after Anna's mother presented her with a problem they have at home: used cooking oils that are stacking up at home, with no disposal solution in sight.
That's when Anna took it upon herself to repurpose them, and after a month-long curing process, the soap was a huge success. Her father — who suffers from agonising blisters whenever his hands come into contact with commercial soaps — marvelled at how the Multipurpose Soap did not aggravate his skin and encouraged her to get more people to give the soap a try.
Soapan Santun: Our review
Ahead of the interview, I bought a few items off their website to get an idea of how these soaps perform. As someone who's looking to cut down their plastic waste, it's safe to say that the Multipurpose Soap is becoming a staple in my own kitchen. The setup may be different — you need a soap dish — but once you've overcome that hurdle, there's truly no going back. The soap cut through tough grease just as effectively as common dishwashing soap you'd find in the market.
However, bathroom staples are not as easily replaced. I've become accustomed to showering oils that leave the skin feeling silky to the touch, and my current go-to is yet to be replaced for years. But to give them a fair shot, I went for the Argan & Jojoba Oil skincare soap, the Himalayan Salt body exfoliating scrub and the Oats & Calendula dandruff shampoo.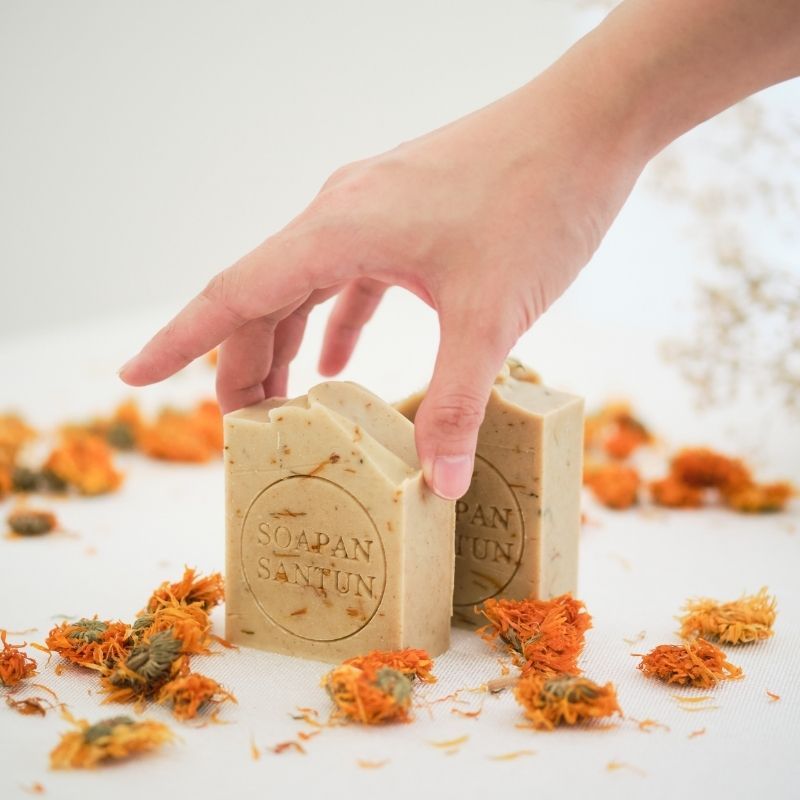 The only one that found its place in my shower is the scrub. It leaves the skin feeling super smooth and hydrated, and it's so incredibly convenient not having to scoop a dollop of scrub from a plastic tub. As for the other two options, I'll keep them to use on my travels.
But the hunt for sustainable face and body care doesn't end there, and Soapan Santun is only getting started. Read our conversation with Soapan Santun's co-founder Anna to learn all about what they stand for.
Aside from the success of the Multipurpose Soap, what else drove you into creating Soapan Santun?
I struggled with an itchy scalp and would scratch incessantly. So I tried herbal shampoos, but they did not foam and cost me an arm and a leg. Having already switched all bottled body wash to handmade soaps, I was struck by a strong urge to switch the rest of the bottled products in my bathroom for solid bars that ultimately disintegrate safely in the shower at the end of their use.
So I thought, why not make my own shampoo bars? That was how Soapan Santun's best-selling shampoo bar came to be. I studied and learned how to make my own pH-balanced shampoo bars. Unlike traditional soap bars, shampoo bars are made with mild and gentle surfactants that are derived naturally from coconuts. Other things that went in the shampoo bars are plant powders, clays, nourishing plant oils and butter, and essential oils.
Ever since I started using the shampoo bars I made myself, I stopped having an itchy scalp, and the idea of finally eliminating bottled shampoo from my bathroom was a liberating one!
What is it about your soap formula that helps with eczema?
To have a better understanding of how things work, let's begin by understanding the wonderful process of soap making:
Soap can be made with three simple ingredients: oil, water, and sodium hydroxide a.k.a caustic soda or lye. When oils are combined with the lye solution (sodium hydroxide mixed with water), saponification takes place and the chemical reaction changes the lye so that it's no longer present, leaving us with soap as the end result.
We can tweak the recipe by superfatting the soap (which means leaving some free-flowing oils that do not turn into soap) so those oils can moisturize our hands instead of leaving our hands dry, and that was what I did for my dad.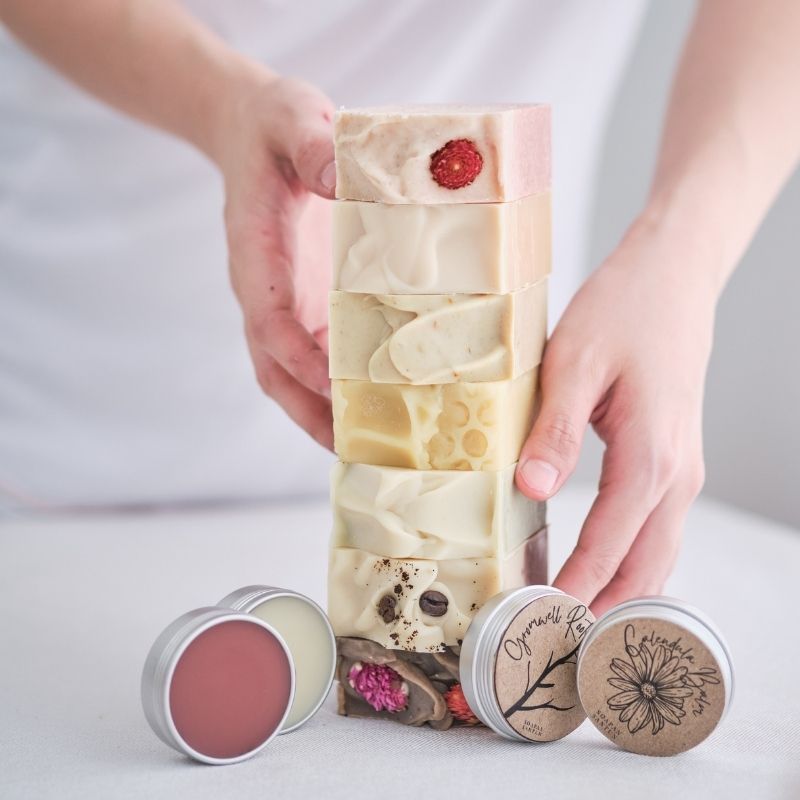 In your opinion, what is holding consumers back from making the switch?
Some customers expressed the inconvenience that comes with using soaps — they have nowhere to put the soaps. They found their soaps to be in constant contact with water, hence turning them mushy very quickly. We often encourage them to reuse their supermarket garlic bags and hang the soaps up to dry. Alternatively, they can also purchase a soap net. 
Others think that a soap made from used cooking oil is unhygienic and smelly. To help them understand soaps better, we film the process of us making the soaps, as well as using the soaps to do all sorts of cleaning, showing them that the soap can do more than just one job, such as washing the dishes, removing stains from clothes, wiping oily stovetops, washing the floor — some even use it to wash fruits and vegetables!
As for shampoo bars, the idea of rubbing a shampoo bar on one's head in the shower may seem strange to some, but that isn't often the case when they actually got used to it.
Currently, what are your efforts to reach the mass market?
We just started a new TikTok account this year and are surprised to find that many are still unaware of handmade soaps and solid shampoo bars. The account is created mainly to raise awareness about plastic pollution, combat myths, and share tips, and our struggles as small business owners, as well as the fun times we had running this business. That is currently our effort to reach the mass market.
This year, we plan to make videos teaching the masses how to make their own Multipurpose Soap from home, so hopefully, more people would opt for a more natural and sustainable way of cleaning, and maybe even realize that a bar of soap can clean just as well, maybe even better than store-bought ones.
Do you have any plans for product expansion on the horizon?
We are always researching and developing new products but things have been moving quite slowly because this process takes time and can be very costly. We hope to roll out a subscription plan in the future as well as add more variety of body soaps and shampoo bars, but we prefer to take things at our pace because we do not wish to rush this process. There have been increasing requests for conditioner bars to go along with our shampoo bars, so we are also looking into introducing conditioner bars in the future.
Made in Malaysia is a series by Prestige Malaysia that showcases homegrown talents across various sectors. Through interviews, we strive to highlight the work put in by these individuals while supporting their craft.
Featured and hero images credit: Soapan Santun