Malaysian makeup artist Adam de Cruz on his exciting career working with international celebrities
Adam de Cruz has been out in the beauty world for decades now. From Sarawak to London, the Malaysian makeup artist has been leaving his mark on runways, fashion spreads, and magazine covers.
A self-taught artist, he forged his path into this artistry out of sheer passion for the line of work. In the earlier days, his interest led him to assist makeup artists on various occasions, from breakfast shows to music videos. After each serendipitous experience, de Cruz found himself to be more and more at home within the industry.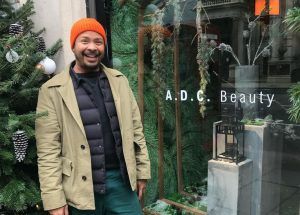 Having an early start in his career has given him the chance to explore other avenues of entrepreneurship. Now, he has established a beauty brand, ADC Beauty. Although it may only have one product at the moment, the item is already such a hit within the beauty community, receiving nods from esteemed editors from all over the world. As a true believer in "less is more", de Cruz's goal with ADC Beauty is to pare down your skincare routine through effective skincare.
It is not a coincidence that he set up his own skincare line. As a Malaysian makeup artist with a focus on skin, it goes without saying that a solid skincare regimen is the way to flawless skin — which in turn makes for the perfect canvas for his work. Plus, when you're a working makeup artist, space is scarce, and every single item in your kit must be effective.
Growing up in Malaysia, this beauty maestro harnesses the natural beautifying powers of mangosteen and the healing properties of Gotu kola (otherwise known as Centella Asiatica). From there, he crafted the ADC01 High-Performance Moisturiser, which features a formula that is packed with benefits for the skin.
View this post on Instagram
As a brand founder, he is looking forward to expanding the ADC Beauty range. As we wait for what is to come for the brand, read on to discover his first-hand experience working with some of the most high-profile individuals in the entertainment world, from Rosamund Pike to Cindy Crawford.
Malaysian makeup artist Adam de Cruz speaks to PrestigeOnline Malaysia about his artistry, and what it's like working with huge global personalities.
Hi Adam, tell us about yourself.
I'm Adam de Cruz, I am a self-taught makeup artist, and I am from Malaysia. My dad is from Singapore, and my mother is from Johor. I spent my childhood in Kuching but was sent to school in the UK when I was 15. 
I have been in the makeup artistry industry for about 20 years. Before venturing off on my own, I have been on show circuits with Val Garland (L'Oréal Paris's current Global Makeup Director) and Pat McGrath. 
As I continue my artistry journey, I also run my very own skincare brand called ADC Beauty. I launched it in 2019 at Harvey Nichols in the UK, and now we are available at Dover Street Parfums Market in Paris.
What have been some of your career highlights?
Working on legendary shows with Val Garland and Pat McGrath definitely tops the list. I have also toured with Alicia Keys, as well as headed the makeup team for The X Factor UK. 
Aside from these, I have also worked with my supermodel heroes Naomi Campbell, Erin O'Connor, and Cindy Crawford. Most recently, I worked with Oscar-winner Ariana DeBose.
You have done the beauty looks of many celebrities. How much creative control do you get when working with A-list stars?
Well, this depends. Generally speaking, if they are well-established, they already have a look that defines them. If they are newer to the scene, then there is room to mould them into their new 'looks' that will later become the blueprint of their ongoing persona.
You also do runway makeup. In your opinion, what are the pros and cons between this and red carpet looks?
With red carpet events, you never know where the light source is coming from. Typically it will come from several flash bulbs, from all sorts of different cameras, from all different directions — so that presents somewhat of a challenge. With backstage makeup, I know how the space is going to be lit, so the makeup in this instance can be more controlled and designed. 
What is your makeup philosophy when working with celebrities?
My number one belief is to always treat them like people. You got to know how to read the room! I always make sure to listen to what they want. Then there is also the need for discretion, which goes without saying. They have to be able to trust you. You will hear all sorts of things when working with people of this calibre, so it is really important to be able to keep hush-hush about what goes on behind the scenes. 
My main philosophy is that when I have done the makeup, and she walks into the room, people have to say "wow, you look gorgeous." If the crowd instead says "wow, your makeup looks gorgeous," then I would consider that a failure. The individual comes first, and you have got to make them look stunning. The makeup cannot 'wear' them.
What are some of the must-haves in your makeup kit?
The first one I can think of is of course the ADC01 High-Performance Moisturiser. This gives you an amazing glow under makeup and makes the foundation glide on seamlessly. 
However, aside from my own creation, I simply must have Laura Mercier's Secret Camouflage — I don't do anything without it! I also think that the Anastasia Beverly Hills concealer is just amazing. I also have the ever-faithful Laura Mercier Pressed Translucent Powder. For the eyes, I always gear towards the MAC Eye Kohl in Smolder. The texture feels like butter, and I like to use it blended out for the base of a smokey eye look.
Which celebrities are on your wish list?
I would be most excited to do makeup for Julianne Moore, Jennifer Lopez, Harry Styles, Hunter Schafer, Michelle Obama — and of course, Yuna! 
Finally, what has been some of the greatest career advice you have received?
Always be 15 minutes early, and make sure you read the call sheet before leaving home. You have to be clean, and your kit has to be absolutely immaculate! This one may sound minuscule, but trust me: do not wear perfume on your wrists when heading for a makeup job — some people may hate it. 
All images: Adam de Cruz/Instagram