 When tea-drinking was discovered five millennia ago, no one could have predicted the sort of impact it would have on the world. Appreciated worldwide for its multitude of flavourings and various restorative properties, tea is more than just a drink: it's a medium for contemplation, and a ritual of enjoyment. The Tranquility Collection, the latest from Royal Selangor, is dedicated to celebrating the art of the world's oldest beverage, seeking to enhance its sublime pleasures by immersing drinkers in the world of delicately flavoured high altitude teas, montane forests, and moisture-heavy cloud banks. The collection's gracefully curvilinear forms are etched with delicately sculpted reliefs of rugged peaks and precipitous cliffs, inspired by the imposing yet elusively inviting mountains of the Far East that have long been silent muses for poets, scholars, and artists. The distinct oriental motifs of the collection conjures up a sort of ancient, romantic nostalgia, espousing the serene pleasure of savouring tea.
SEE ALSO: Sip In Style With These Customisable Emoji Flasks From Royal Selangor
The Cloud Teapot of the collection possesses a voluptuous profile that invokes the reminiscence of both mountains and clouds, the sculpted panels of scenery on its sides being complemented and offset by its elegantly curved brass handle and its lid finial in wood and pewter. The delicate porcelain Cloud Teacups are made in an unusual yet elegant cloud-shaped form, this cloud motif also employing itself in the curvaceous Cloud Tray crafted from satin finish pewter and bamboo. These elements make up the Cloud Tea Set, an all-rounded tea service of handsome proportions.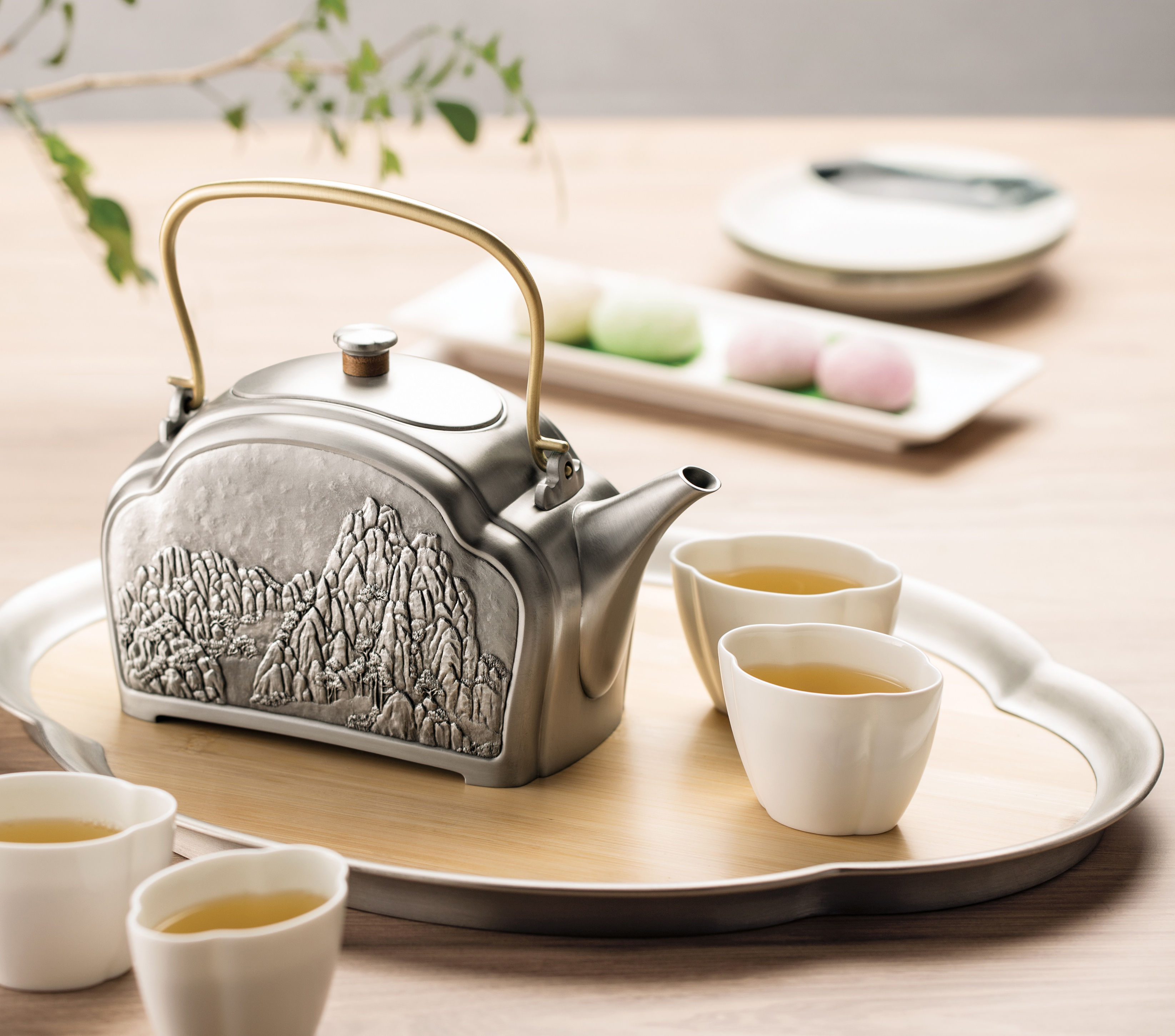 The Cloud Tea Caddies, which come in two different sizes that can be chosen according to your liking, feature rugged mountain terrains and cloud-shaped cartouches on its sides, and its precision-fitted inner lid helps to keep any detrimental air and moisture at bay. The Cloud Lidded Tea Bowl, used for the infusion of tea leaves, is comprised of a porcelain bowl, a cover with a pewter finial, and a cloud-shaped pewter saucer with a sculpted roundel. Meanwhile, the Cloud Tea Pitcher, created from satin finish pewter and bamboo, is meant to hold freshly brewed tea liquor in order to prevent an infusion that is longer than ideal. Other items in the collection also include a Cloud Tea Scoop, simply yet beautifully sculpted from pewter with mountain crags decorating its exterior, and a Peach and Monkey Tea Pet made from pewter and unglazed Yixing clay, a common novelty for tea lovers. The Tranquility Collection is available at Royal Selangor's retail stores and authorised dealers, and also online at royalselangor.com