The birth of the branded residence concept was first inaugurated with the opening of the Sherry-Netherland hotel in Manhattan back in 1927. Today there are over 400 branded residences across the globe, from Boston to Phuket. A majority are hotel branded and Marriott, whose brands include St Regis, The Ritz-Carlton and W is leading in the category. With an extraordinary growth of 170% over the last decade, branded residences have become synonymous with the well-heeled crowd, luring investors and jet-setters alike who seek exclusivity and privacy.
According to Knight Frank, the concept of branded residence is typically a hotel-led development with integrated or linked residences. The property benefits from the hotel brand's standard of quality, management and luxury services offered. Owners are provided the comfort and permanence of home but with the full benefits and luxury of a five-star hotel.
We speak to Micah Tamthai, Vice President, Real Estate for Minor International who opened the brand new Anantara Desaru Coast Residences in 2020 to shed more light on the concept of branded residences.
How has the current global pandemic affected the demand for branded residences? Is there a shift in consumer behavior and demand?
There are three trends that we observe that we think are likely to stay:
o The pandemic has underscored the importance of nature and space, 'social distancing', and wellness/well-being.
o More people, especially city dwellers, have also discovered the possibilities of working or running their business from virtually anywhere.
o Border restrictions see travellers increasingly taking up the opportunity to explore domestic destinations. These not only include the ever-popular resort and beachfront destinations, but also those that are more 'off-the-beaten-path'.
The trend toward purchasing second homes reflects these shifting norms. According to Knight Frank's Global Buyer Survey 2020 – undertaken in June 2020 across 44 countries, more than 26 percent of respondents said they were more likely to buy a second home as a result of the pandemic.
As a second home, branded residences – those that are managed by a global hospitality brand and come with hotel or resort facilities and services – offer exceptional benefits. For city dwellers, it offers an opportunity to perhaps live and work closer to nature, and achieve better work life balance. For families, it is a safe, holiday-ready multigenerational space to share with loved ones. For investors, the appeal lies in the potential short-term (rental) and long-term (resale) returns. In branded residences, both returns are augmented. Resort (esp. 5 star) amenities carry a premium on rental rates and sale value. They leverage the developer's and operator's combined expertise to offer better assurance in terms of quality and service standards, including those governing the safety and well-being of residents amidst a global pandemic.
Price premiums are driven primarily by location. Is there a difference in terms of investment value when it comes to branded residences based in the city and resort?
City branded residences may command higher rental demand or occupancy, but resort branded residences typically command higher rental rates or sale value. This is due in large part to larger unit size, amenities such as private pool, garden and/or outdoor space, and sought-after (e.g. beach, ocean, mountain) view or access in resort destinations. The concept of branded residences especially out of the city is still a new concept in Malaysia. As this is Minor International's first real estate investment in Malaysia under the Anantara brand, what are you most excited about this project?
Despite having only recently launched, Anantara Desaru Coast Residences has already received some industry accolades: last year we were awarded Best Luxury Landed Development and Best Landed Development (Malaysia) by PropertyGuru Asia Property Awards (Malaysia). This is Minor's the first real estate industry recognition outside of Thailand, and we are proud to have been recognised amongst the best in Malaysia. Our location is unique amongst other developments in the area: our product truly offers a one-of-a-kind opportunity to own a luxurious villa in Desaru Coast that comes complete with direct beach access and panoramic ocean views. Together with our JV partner Themed Attractions Resorts & Hotels, we are proud to be a first-mover in the destination. Desaru Coast presents an exciting destination with so much potential, due to its proximity to both Singapore and Kuala Lumpur, its 17km of pristine beachfront and good transport infrastructure. Currently the destination offers several 5 star resorts, championship golf courses managed by The Els Club, one of the world's biggest waterparks and various shopping and dining options.
As Malaysia is still an emerging market, what are the opportunities for branded residences to grow?
The branded luxury residence sector is growing around the world, especially in Asia Pacific. According to a March 2020 report by C9 Hotelworks on the sector, Asia now has a third of the world's branded residences. While Thailand, Vietnam and the Philippines lead Asia Pacific's luxury branded residence development, it is just beginning to gain traction in Malaysia – according to the report, of the 12 branded residences that were under construction in Asia Pacific in 2019, only three are located in Malaysia, so there is still a huge opportunity for this sector to grow, not just in terms of supply, but also in terms of raising awareness of branded residences as a product of choice amongst prospective home owners and investors.
Who are the target audience of investors who will be drawn to invest in Anantara Desaru Coast Residences?
As a branded residence, Anantara Desaru Coast Residences would be as attractive to buyers who are looking for a personal holiday home as it would be to real estate investors. Savills, in its 2019 Branded Residences Report, estimates that the average premium for branded residences over a non-branded product starts at 35% – rising to as much as 70% in emerging destinations.
We are also targeting those who wish to keep the residence for personal use enjoy a multi-generational holiday home, which comes complete with a private pool, outdoor space, ocean views, direct beach access and 5 star resort amenities through Anantara Desaru Coast Resort & Villas, to share with family and friends. Investors who enjoy an opportunity to generate short-term returns through a rental program that is fully managed by the 5 star resort, and long-term returns through villa capital appreciation will not miss this opportunity. Whether or not they are in the rental pool, all our residences are fully managed, serviced and maintained 24/7 by a dedicated residence team, which would appeal to those looking for hassle-free home ownership, especially in the post-pandemic era.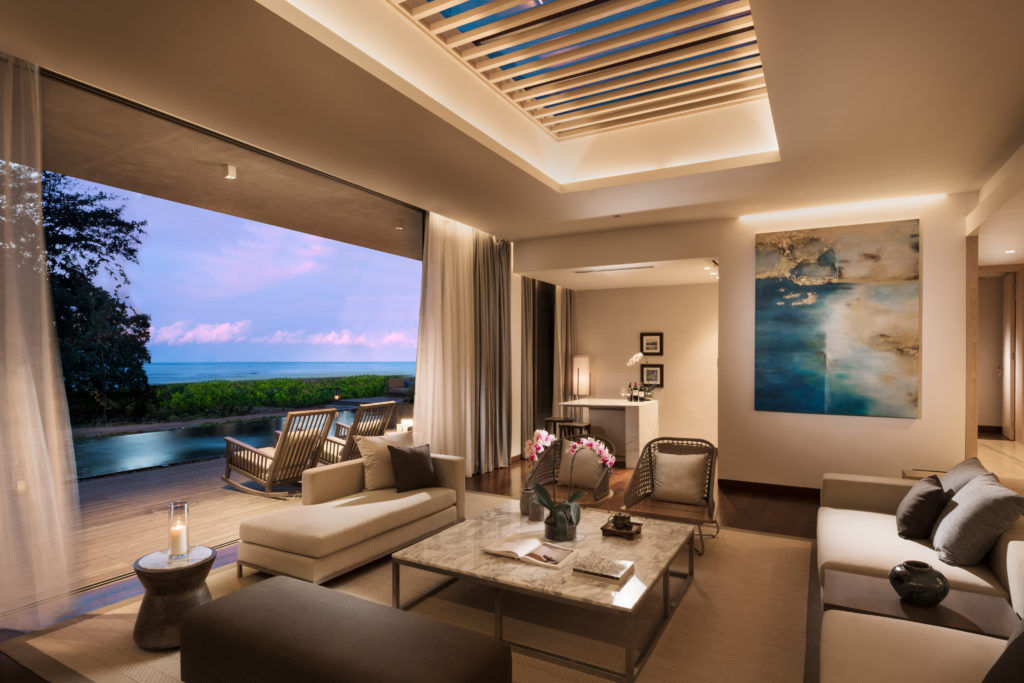 What are some of the short-term and long-term returns investors stand to gain from investing in the residences?
Anantara Desaru Coast Residences presents an attractive investment opportunity to generate both short-term rental income and long-term capital gains. With a full complement of 5* resort services and facilities, the residences give investors an opportunity to generate short-term returns through a resort-managed rental program: Due to the uniqueness and limited supply of the product in the destination, in spite of the pandemic, the residences have enjoyed a very high rental and occupancy rate, especially during weekends and public holidays
Investors will also benefit from long-term capital gains arising from being a first-mover in this pioneering destination: With private and public investments in existing and upcoming infrastructure, Desaru Coast is a destination that will continue to develop in the years to come, adding to the existing selection of internationally renowned branded hotels and resorts, two championship golf courses, one of the world's largest waterparks, and a variety of shopping and dining venues. Backed by Minor International's and Anantara's combined expertise and experience, our development offers assurance in terms of quality and service standards, allowing owners to further leverage a strong history of capital appreciation in Malaysia, in addition to the premium afforded by its beach/oceanfront location.
How will branded residences evolve in the future?
The assurance of a trusted, global hospitality brand is the core of the branded residence offering, so the post-pandemic era offers an opportunity for branded residences to leverage this and position themselves as an investment property of choice. The trend and demand for branded residences will only continue to gain traction in the future due to the service level, the convenience, and the security aspects associated with this product. We see this in particular within the upper middle-class segment in Malaysia, Thailand and many other markets in Asia. From an investment perspective, besides being able to enjoy all of the above as an owner while living/staying in-property, in the long run, the resale value of a branded residence will only increase. Hence, we feel more developers will engage in developing more branded residences in prime locations both in the city and in resort destinations in the future.
There will be a trend towards more "boutique" type of branded residential experience vs. a "big box" experience. Owners and guests are increasingly looking for more bespoke experience during their stay, so luxury branded residences with a limited number of units which offers personalized, tailored service could be something we see more in the future.
Branded residences will grow in importance as drivers of tourism development. Hotels and resorts already play a part in this, but we are now also seeing that when branded residential projects come into the destination as well, it helps to further strengthen the position of the destination because you will see people traveling there not just for short term vacation, but for longer term stays too. This all helps with the overall sustainable development of the destination, from an economic perspective.