Johanne Siy is supposed to be an accountant but luckily for us enthusiastic eaters, she set her degree aside, went to culinary school in the States, learned to shoot and dress meat in Sweden, and took over Lolla restaurant in Singapore during the pandemic. We have breakfast with Asia's Best Female Chef 2023. "I THINK PEOPLE GOT WIND that the food was tasty," Johanne Siy says with characteristic modesty. We're at the popular Tiong Bahru hawker center in Singapore feasting on braised pig trotters, lo bok go, a million dumplings, and Malay-inspired rojak… but we're talking about the modern, malleably European fare of dishes like grilled carabinero, prawn jus and potato bread she serves at her own hotspot, Lolla.
Siy joined the restaurant less than three years ago, but she immediately made diners sit up and take note. Now, she's been named the Best Female Chef in Asia for 2023 by the academy voters of Asia's 50 Best Restaurants Awards, and will receive her prize at the ceremony to be held on March 28 in Singapore. Born and raised in Dagupan, three hours north of Manila, Siy didn't start her professional life in the kitchen. When she went to UP (the University of the Philippines in Manila), she followed her parents' practical advice and did a double major in business management and accountancy." I took the board exam and I am actually a licensed accountant back home!" she laughs, sitting at the counter facing Lolla's open kitchen. "It's not really for everyone."
Siy never had to see if it was for her. Instead she landed a corporate job in Singapore right out of university. But she quickly figured out that what she really wanted was to cook professionally and that the office job was the means to an end. She saved up, enrolled in the Culinary Institute of America in Hyde Park, New York. After stints including Café Boulud and Le Bernardin, she went back to Singapore and made a beeline for Restaurant André, André Chiang's legendary fine diner. "I didn't even look anywhere else," she says, confirming that she knew exactly what sort of training she was keen to acquire. She stayed four years until André closed in 2018. After that, she decided that Europe was missing from her resume so she explored Nordic cuisine, doing turns foraging for Noma and working two seasons at Faviken that she called "even more extreme" than Noma, sourcing produce in difficult conditions. She remembers that animals were "shot, dressed and aged" right on the hunting estate. She also got her hands dirty at Relae's Farm of Ideas. "I realized how back-breaking that labor is. I could never be a farmer, it's just so difficult," she says about her time there, but "Scandic countries to me were a revelation," she says. "They force you to think outside the box."
Siy also did some baking in Copenhagen and ever-practical, initially planned to open a bakery when she returned to Singapore because it would take less investment to start up. But after the pandemic hit, she was introduced to Lolla, which at the time had just two members of staff left on the payroll. She stepped in to help, assuming the gig would be temporary, even trying to recruit some big-name chefs around town to take over full time. "I was just going to help out for a while, I didn't sign a contract." Instead she drew on her extensive experience and added a few touches inspired by her home in the Philippines. She relaunched the menu and built a new team. "I could not sit by and not do anything," she tells me, displaying her innate sense of purpose and professionalism. Looking around the restaurant, she points out that there is no hidden prep area, so everything happens in front of the diners, meaning she needs to run a tight ship.
Taking over an existing restaurant was tough. "I didn't know what I could touch." But her confidence grew and her personality shined through. She now defines Lolla's food as modern European with some Scandinavian "because I have a bit of background from there," French "because that's my foundation" and, "more importantly, I bring a bit of my heritage." Witness one of the hits of the current tasting menu, crab relleno stuffed back into a crab shell with aligue (crab tomalley) sauce and kaffir lime.
"That's something exciting that differentiates us," she says, "from every other modern European restaurant."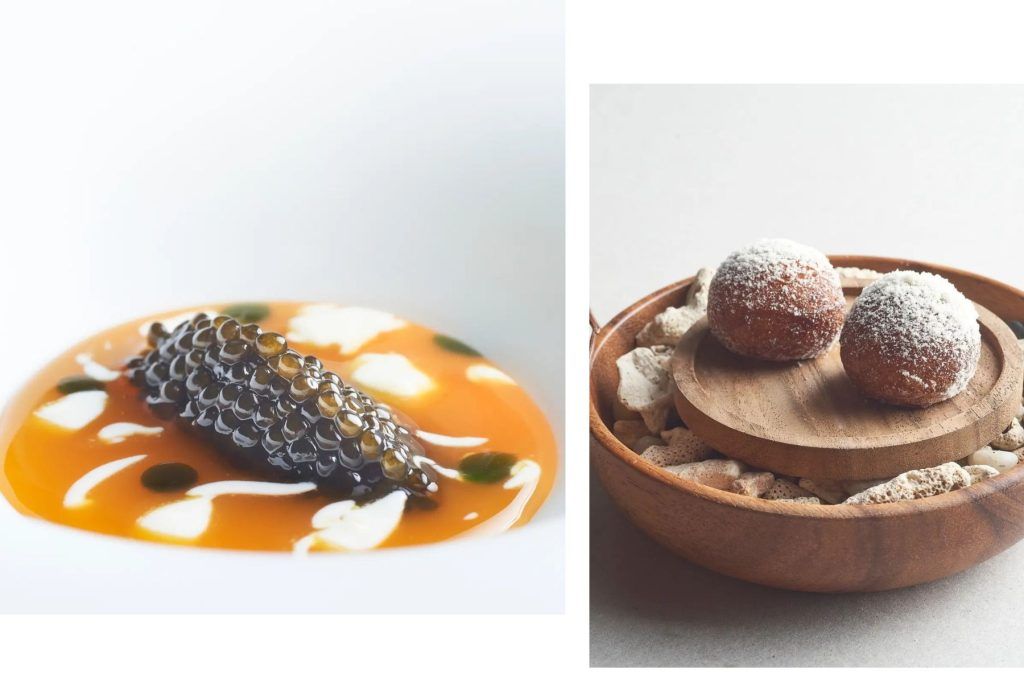 My personal favorites on a recent Lolla menu were the caviar, sturgeon and egg yolk sauce – generally I find caviar gratuitous but this divine dish almost works like a soup – and the Jerusalem artichoke, hay ice cream, sesame oil, certainly not your traditional "dessert."
When 50 Best announced that Johanne Siy had been picked as Best Female Chef in Asia 2023, she was stunned. "We don't even have a PR budget," she laughs. "I was not expecting it all, we were just cooking."
Of course, bookings have more than doubled since the announcement, so now things are really cooking.
The tasting menu at Lolla is S$238++; a la carte options are available during weekday lunches.