Many luxury hotels in Singapore are swapping stiff fine-dining setups for more casual-chic concepts. That's not to say standards have been brought down a notch. These new hotel restaurants prove that you can wine, dine and unwind with a selection of haute cuisine prepared with fuss-free flair.
1. Tablescape at Grand Park City Hall Hidden inside the new Grand Park City Hall hotel is modern European restaurant Tablescape. While the cuisine characteristically summons hoity-toity tasting menus and petite portions, the great mod-European flavours at Tablescape are presented without compromising on delivering a satisfyingly full meal. This is all thanks to head chef Robert Chan, poached from sister restaurant The Carvery at Park Hotel Alexandra.
Chan says, "I wanted to strip back the fine dining experience to showcase what's most important — the food… no pretension or fluff, just great classic flavours executed really well." There are the classic relishes with subtle upgrades, including the steak tartare mixed with poached egg; veal sweetbread in a velvety pea soup; and salmon gravlax that is house-cured topped with a quenelle of cream cheese ice cream. The signature main dish is a wicked pairing of lobster and fish — prosciutto ham-wrapped monkfish and Maine lobster on risotto. And it's not just plain risotto, mind you. Chef Chan opts to stick the short-grain rice in Armagnac brandy-lashed lobster bisque for a robust dish. But the icing on the cake is the restaurant's trolley service of freshly baked breads, all made in-house, with a towering golden pyramid of butter served at the beginning of each meal. The true reward materialises during the final course: An Insta-worthy assortment of desserts, all beautifully arranged on a quaint silver trolley to be parked dangerously close to your table. Go for the raspberry lychee and almond cake, piped to perfection, emerging like a bouquet of edible roses.
2. The Cliff at Sofitel Singapore Sentosa Resort & Spa Perched atop a cliff amid lush surroundings, ilLido at The Cliff at Sofitel Singapore Sentosa Resort & Spa has long been one of the most sophisticated hotel restaurants for special celebrations. Now The Cliff, bidding addio to the ilLido Group after a two-year partnership, provides a more traditional and fun selection of Italian classics, forgoing stuffy white table linens and strait-laced dress codes.
It is now open for lunch too, where guests can exploit the midday breeze streaming in from the South China Sea. The brilliantly blue sea view is given an orange tinge as each meal is recommended to begin with an Aperol Spritz in hand. While chef de cuisine Simone Fraternali lingers from ilLido days, The Cliff looks to shake up its drinks pickings by hiring a new bartender. There's also Italian ops manager and sommelier Valentina Benedetti to make sure wine selection gives Italian family-owned vineries a chance.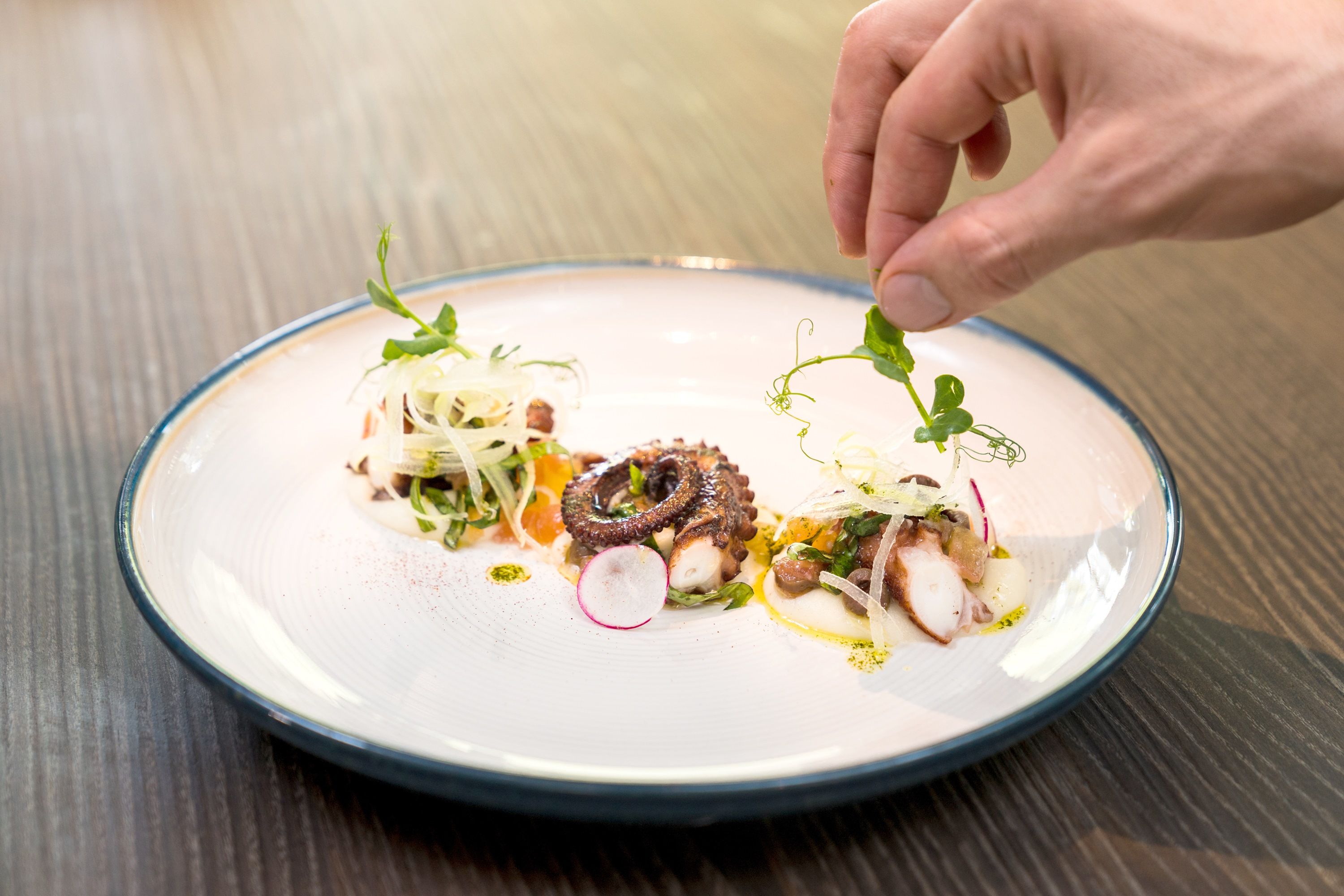 As for the food, chef Fraternali's antipasto of grilled octopus is a must-order. Braised first, then charred, the creature's texture is divine. Another crowd-pleaser would be the newly introduced pizzas — utilising dough balls that undergo proofing for 48 hours then topped with all sorts of classic combinations, such as a top-notch medley of balsamic Kurobuta pork jowl, Scamorza cheese, caramelised onions and mushrooms.
Most ingredients are air-flown from Italy, from the flour used to make the pizza doughs to tomatoes from Vesuvius, which either share a plate with some burrata cheese or get chucked into a bowl of Cioppino stew-soup.
3. Verde Kitchen at Hilton Singapore This inconspicuous nook at level two of Hilton Singapore sure packs a wholesome punch. Chef Vijayakant Shanmugam prepares healthy dishes (think gluten-free, dairy-free, vegetarian, and raw food options) with an ecological thrust. At Verde Kitchen, you won't find plumped chickens or exotic extravagances; fish come from sustainable sources, while most vegetables and meats are organic.
However, down-to-earth does not mean down-at-heel. The farm-to-fabulous concept sees grilled Cyprus-origin cheese tossed with superfoods such as bulgur, chickpea and rocket salad, the healthy-hearty mix finally drizzled with roasted walnut dressing. And if you love seafood, the MSC-certified Glacier 51 Tooth Fish comes dressed in a green crusted coat of organic basil for a toothsome bite. There's also a power perennial take on Malay-style chicken curry rice. Shanmugam makes sure his suppliers provide free-range chickens bred without antibiotics and growth hormones for this dish. So expect a slightly chewier quality as you dig in with a side of brown rice and organic okra no less.
Chef Shanmugam and his team has been pretty serious about advocating for a sustainable food system, evident by the hotel's Vertical Garden which produces about 120kg of vegetables and herbs for Verde every month.