Azran Osman-Rani on transcending the mental trials of the Ironman 70.3 race in Desaru
Azran Osman-Rani requires no introduction. As a key player in the mental health services in Malaysia, Azran is known across the region as the industrious co-founder of Naluri, an author, and a serious triathlete.
Soon, he is set to return to the races, and more specifically, the Ironman 70.3 race in Desaru. After two years of postponement, you can bet that this avid triathlete is raring to go. However, his outing to Desaru will not only see him arriving as an Ironman competitor.
He's also sharing his tale of triumph over adversity at the inaugural Bonfire Legends at One&Only Desaru Coast on the 22 July 2022. Under the stars and on the shores of the pristine beach, Azran is set to host a fireside conversation with guests on defying the odds. The event is a curated series of exclusive evenings that introduces guests to new perspectives from visionaries across different fields.
For those not in the know, Azran had a dreadful accident while in training for the Ironman Langkawi back in 2018, where he sustained head injuries and multiple limb fractures. While many would have been rendered incapacitated after such tragedy, Azran, through sheer strength of will and determination, recovered in just six months and completed the race in under six hours.
Fast forward to four years, he's setting his sights on the upcoming Ironman race. While the pandemic has put a damper on many of our plans — Azran's included — he's not throwing in the towel. Instead, this CEO-slash-author is going at it with fresh eyes, especially now that he's racing in a new age group. Although he's ageing up into this new class, Azran is equipped with the psychological tools that the younger ones may not have up their sleeves.
Read on to discover the cognitive tools he employs for the race — as well as other aspects of his life.
In an exclusive interview with PrestigeOnline Malaysia, Azran Osman-Rani shares his preparation for Ironman 70.3 race in Desaru, and what guests at One&Only Desaru Coast's inaugural Bonfire Legends can expect from his session
How has the preparation for Ironman 70.3 race gone so far? What's the goal this time?
Well, nowhere near as intense or structured as previous races, because this has been a much busier year workwise. We're doing a fundraising round [at Naluri], and it has been quite exhausting physically and emotionally. That means less time for training. 
If I looked back at my 2016 to 2019 seasons, I would train up to 12-14 hours a week. Now, I'm only at six, maybe eight hours a week.
This is the first time the course of the race is going to be held in Desaru. Unlike some of my triathlete friends who've already driven down there and recceed the course and tried the bike course, and the run course, I have never seen it before — so it's my first time. I don't have a lot of specific expectations, but obviously, I just want to complete it. 
This year, I'm racing in a new age group: the 50-54 age group, so that's quite exciting. It means I get to compete with new people. At 51, I'm not as young as some of the 50-year-olds (obviously, no races last year). But it will still be fun to join a new age group.
What do you find rewarding in the Ironman races?
One part, of course, is just the mental resilience to kind of keep going and not give up. The second part, what makes triathlon a unique sport is that it is three different disciplines, and three very different technical challenges.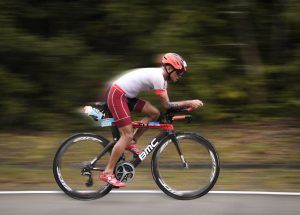 Most people rarely are good at all three, unless you're a professional. Someone might be strong early on, but then you'd have an opportunity to catch up to them later on. I like that, but it's incredibly, mentally challenging to be able to juggle different disciplines, all in one race, as your body fatigues, as your mind gets tired. 
You had a horrific experience in 2018. Now that you're back on the proverbial horse, do you find yourself taking extra precautions?
I'm thankful that I'm okay with cycling and running. The big mental thing for me after the accident was to be able to get back on the bike and not have that fear that a car is going to come from behind and take me out again. It's been four years, and most of the time, I cycle with groups, or if I did want to cycle on my own, I go to Ijok and Kuala Selangor, and Kampung Kuantan.
If there was a long-term effect, it would be because I broke my left shoulder, leaving my left hand weaker than my right. So when I swim in the open sea, I need to always micro-adjust every stroke. If you're off by even one degree, you could end up swimming an extra 50 metres. That's time and energy wasted.
Preparing for Ironman must be a gruelling process. How do you find the balance between prep and work?
For most people, six to eight hours a week sounds a lot. For me, I'm only doing 50% of what I used to. As an entrepreneur, you've got to get out there and start trying to win business in Indonesia, Singapore, and Thailand, so that makes it harder, as I'm travelling more.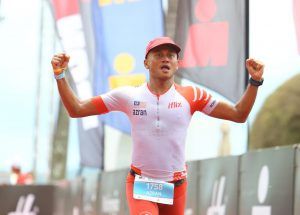 All your training plans have to be adjusted. For example, I have to try to find a hotel with a pool, but I can't bring my bike, so it means that I can only do swimming and running when I'm travelling. That means when I'm in KL, I've got to spend more time on the bike. I've had to make a lot of these adjustments to balance international travel and triathlon training.
Has the lockdown affected your preparation in any way?
2020 was weird. I remember we were not even allowed to run within the parking lot of our apartment complex. The guards would chase me, and tell me that I must go back in. I ended up running around my dining table in my living room and it was quite miserable. Of course, there was no swimming, which was tough because rebuilding that was hard. But that's life.
As a proponent of mental health, what do you practice (besides fitness) to maintain your mental resilience?
It's important to understand that, on one hand, people think about depression and anxiety and stress. But that's actually a spectrum. On the other side, it is the focus, optimism, curiosity, and resilience. 
Focus is a mental muscle, just like your physical muscles. So if you want to focus more, train your focus. For the most part, it follows visual focus — because our eyes are actually an extension of the brain. So can you even, for example, look at one spot for five minutes? After one minute, most of us are already trying to look all over the place, because many things are happening around us. A lot of people talk about mindfulness exercises, and that's great. However, what works better for me is the deliberate focus, doing one thing at a time. 
During the Covid-19 pandemic, I've picked up a couple of things: one is jigsaw puzzles, and it's interesting. After 20 to 30 minutes, you started to get fatigued, and then you won't be able to find a place for a piece. But the next morning, after a good night's sleep, you can solve it easily. When you are unfocused, you just cannot see clearly, and when you're focused, somehow things fit. The second thing I picked up was painting by numbers. Here, I've some acrylic paint so that I can just quickly take a break. Those small little things that we do, help us to get into the zone, and that helps with mental focus.
At the darkest point of your life, how do you muster the courage and strength to get out of the funk?
This is a big part of what we do at Naluri, and that's also what I'll be talking about at the Bonfire at One&Only Desaru Coast. Resilience is a very vague word. One of the things we came up with is the acronym THINK; T is for taking control; H is that hopeful outlook or that optimistic view; I is about informed actions, meaning how do I respond intentionally, rather than react impulsively; N is how do you nurture yourself, and there's a second N, which is nurturing your support network; and K is knowing your goals and your direction.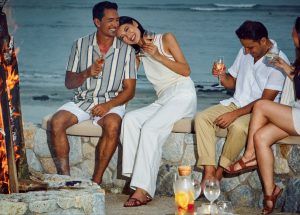 But that second N, nurturing your network is very important because, for a lot of us by ourselves, it's really hard to pick ourselves back up. We all need help, but most of us, don't think about who is in our support network. You want to find people who give you the space to just vent or share what you're feeling, and they affirm and validate. But most of us are not deliberate about identifying these people. Secondly, if you do know who these people are, are you proactively nurturing those relationships? When was the last time you check in with them? Sometimes we neglect people who are very close and important to us because we're only spending time with people who just happen to grab our attention, whether it's at work or home. We're not deliberate. We have to keep them informed, see them, maybe it's once a month or once a quarter so that when you are distressed, they're there for you.
In preparation, one must be pushing themselves to achieve more and more. At what point do you know, personally, that you should take a breather?
I keep an eye out for these six things. Fatigue, sleep, appetite changes, mood, physical symptoms, such as fever, and mental engagement. While most of us know naturally how to self-regulate, it is when these six elements intensify that it's a sign that we need to scale back. 
In triathlon training, there's a difference between the progression that I add on because if I try to do too much too soon, I become fatigued, and faster. For triathletes, knowing how much load you put on your body is important. Sleep is usually the number one indicator. When we sleep, there are these glial cells in our brain, whose job is like a gardener to prune away depressive and anxious thoughts. If you get enough sleep, you wake up in the morning clearheaded.
On the flip side, how do you reward yourself once you've achieved a personal goal?
Getting a new bike for Desaru, was me spoiling myself. A new pair of running shoes are nice too, or really nice dinners.
As an athlete, do you have a guilty pleasure? If so, what is it?
Ice cream, cookies and cream, definitely! Now I mostly indulge in vegan brands, like Kind Kones, for example. I'm almost good at virtually eliminating dairy. 
What's your advice for anyone who wants to kickstart their fitness journey?
The number one thing is consistency. Ideally, six days a week, if not seven. Now that might seem intimidating, but check this out: getting started doesn't mean you need to put on equipment and clothes and run for 30 minutes. Even if you say "I'm going to spend 10 minutes walking in the shopping mall," that counts. 
However, there will be days when you're just on your desk the whole day. At times like this, what you need is something called a pre-planned one-minute backup workout. Remember, the streak is most important. If you think workouts need to be 30 to 60 minutes and sweating and you missed it because we're all busy, then you get good at missing workouts. 
In my case, there's a basketball hoop out there — so that's like my fallback. Make it completely easy to cross off your list. Then, you're more likely to do it the next day because there's momentum.
You like to surround yourself with people who are willing to share their knowledge. How do you suggest one keep that sense of curiosity?
The more curious you are, the more you realise, you actually don't know a lot. So networks are really important for me. There are two types of networks. 
One is people that you build deep relationships. In my case, I have a personal board of directors. We meet eight times a year, and there's an agenda, there's a timekeeper. We just share what we're going through, and we don't tell each other what to do, but you just learn. You'll realise people are tackling challenges similar to my challenges, but they're going at it in slightly different ways, so what can I take up from it?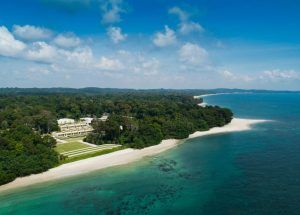 I think I would not underestimate the power of superficial connections, too. These are people that you might meet once. Even the triathlon community, where you've got people still in university to 60, 70-year-old guys who've been racing for 30 years. Even if you connect with them superficially, you're getting new data points. I can still learn from a 19-year-old in university, because they look at things differently, but you need to be able to put yourself out there. So the depth of relationships is important, but breath is equally as important.
What do you look to achieve at the Bonfire Legends?
I want to share my story of bouncing back from that accident because I think it connects with a lot of people. We actually all go through these feelings of doubt and insecurity, right? Number one, I want people to know that we're not alone. Even someone like me goes through it. Secondly, I want people to know that you won't find answers to those questions that keep playing in their heads over and over again, and that's okay. But let's focus instead on what am I going to do today? When you're taking the smallest steps — no matter how small — you are moving ahead from your status quo. However, if you don't, you're constantly gonna feel overwhelmed.
A special package is available for the race weekend at One&Only Desaru Coast with daily room rates starting at RM3,031 inclusive of one complimentary daily activity per guest, breakfast for two adults and an invitation to the Bonfire Legends event on 22 July 2022. 
This exciting opportunity to meet one of Malaysia's most celebrated speakers will only be available for guests staying at One&Only Desaru Coast. For more information, or to make a reservation, please call +607 878 3400 or email reservations@oneandonlydesarucoast.com
Featured and hero images credit: Azran Osman-Rani