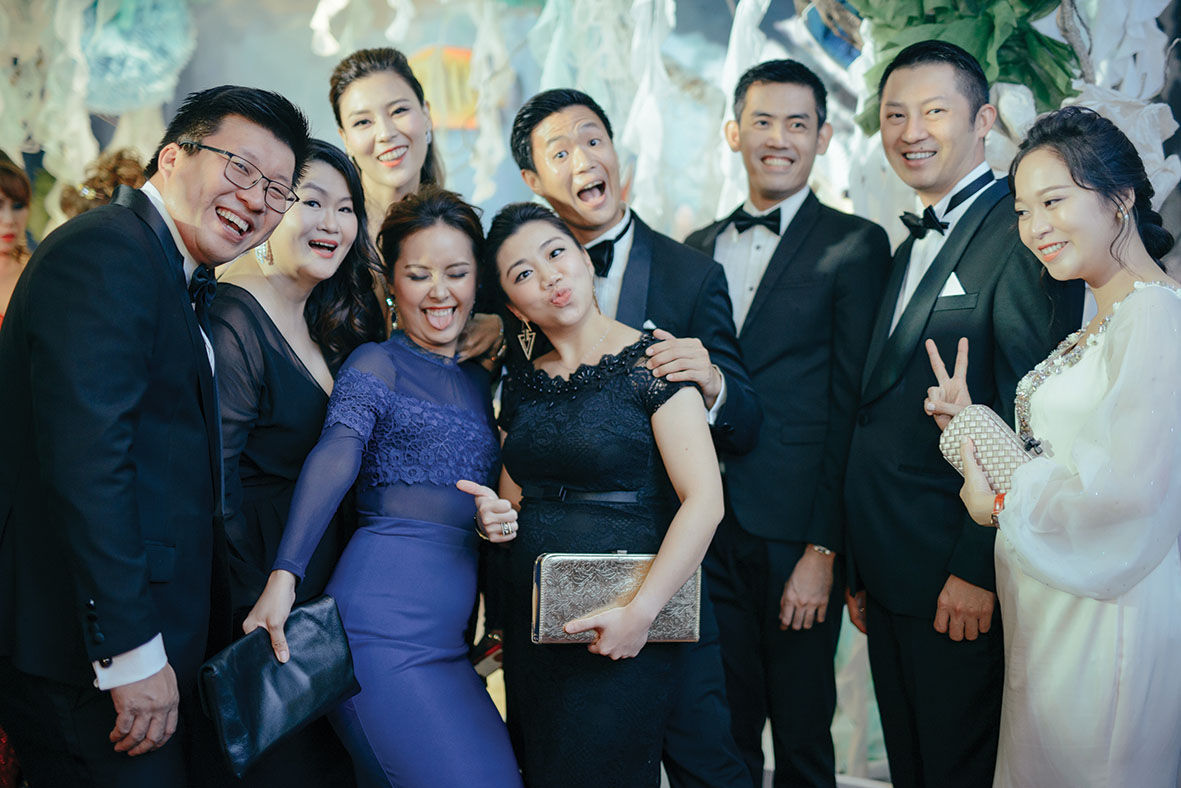 You're all set
Thank you for your subscription.
Each year, the elite crowd attending the Prestige Malaysia KK Ball grows steadily, indicating that the annual soirée is well received by members of high society who call "the Land below the Wind" home. This year, the much-anticipated event was held for the second time at the enchanting Shangri-La's Rasa Ria Resort & Spa in Pantai Dalit, located 30km away from the bustling Kota Kinabalu city.
With The Ocean Blue
Once the crowd slowly filled up, the doors to the ballroom were opened. The guests were in awe of the elaborative hall as it was imaginatively decorated according to the "Under the Sea" theme. Jellyfish and corals were decked out on all corners of the ballroom and hanging delicately from the ceiling, while the blue and purple lighting brought out the illusion of being submerged under the deep blue water. But all eyes were on the ocean-inspired aquarium photo-op, with guests seizing the opportunity to take selfies and group shots. The whole setting was impressive, not to mention the grand table centrepieces placed on each table. Scrumptious meals prepared by Executive Chef Philip Birmingham were scheduled to be served in between acts. The evening started off in a whimsical fashion where a solo harpist sets a musical backdrop for contemporary dancers. Then came an intriguing anti-gravitational performance by a brave performer moving acrobatically in mid-air. After enjoying the 5-course dinner, guests made their way to the dance floor for an after-party with spinning and dancing continuing well into the early hours.
A Collaborative Success
Notably, the success of Prestige Malaysia KK Ball is possible thanks to the supportive partners such as Alhambra Petroleum, Mercedes-Benz, Hublot, Shangri-La's Rasa Ria Resort & Spa, Hennessy X.O and Lancôme. An elegant Mercedes-Benz E200 Avantgarde was parked at the entrance of the Grand Ballroom of the resort to greet the prestigious guests. As well as the rich and silky smooth X.O cognac, in which each guest was clearly indulging in throughout the night, there was also a showcase of luxurious Hublot watches, all displayed in rows. In addition to that, a presentation of the exquisite jewellery platform Jewellery Asia 2017 exhibition was set in the cocktail lounge.