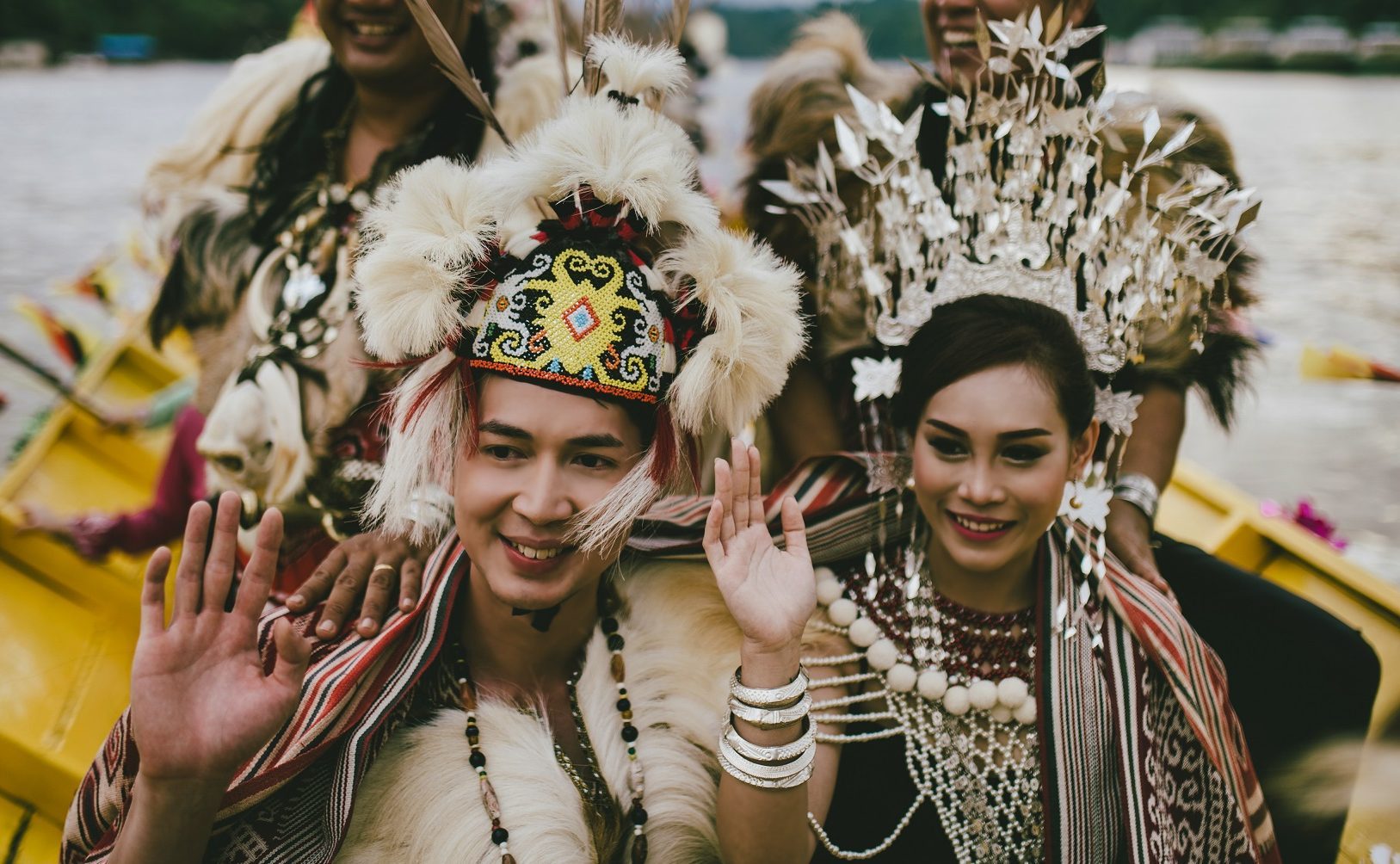 Kuchingites have plenty to be proud of. For starters, they take their early breakfast ritual very seriously, in a typical local-style coffee shop. Even celebrity chef Anthony Bourdain can't get enough of their famous Sarawak laksa. Upon landing in Cat City, my Uber driver immediately hands over a list of food places to visit. But Kuching's food mecca will have to wait, as I was there to join in the wedding celebration of Amanda Sura Nanta Linggi and Jonathan Inggit Jacques. Although the couple had never officially met each other before 2014 in Kuala Lumpur, their romance was written in the stars as it turned out that their families were well acquainted and they shared plenty of mutual friends. Not long after their relationship blossomed from friends to courtship, the couple were faced with the challenge of a long-distance relationship for a year and a half when Jonathan was posted to South Korea for work. Upon returning to Malaysia in June 2016, Jonathan asked for Amanda's hand in marriage. They sealed their union with an engagement on 27 August 2016 in Kuching followed by a wedding ceremony on 29 June 2017. Church blessing ceremony
The celebrations kicked off with a morning church blessing ceremony at one of Kuching's most distinctive venues, ChinaHouse at The Old Courthouse. The couple wanted an intimate and personal gathering for their church blessing and opted to have the ceremony in the presence of close friends and family members. The altar stage was decorated in two-toned drapery complete with fresh blooms and scented candles to reflect the rustic garden theme. The radiant bride wore a vintage off-shoulder trumpet dress in Chantilly lace from ThatWhiteDress and a Swarovski-dotted veil from Designer Bridal Room rimmed with a bunch of fresh baby's breath, while the groom added a twist of fun to his navy blue suit with a pineapple-printed dark blue bow tie. Ed Sheeran's Tenerife Sea was the song of choice for the bride's momentous walk down the aisle with her father Datuk Alexander Nanta Linggi. To commemorate the special occasion, guests were provided with blush-coloured helium balloons to release outdoors, reminiscent of the couple's New Year's Eve 2015 trip to Busan, South Korea. Evening formal reception
Close to 1,000 friends and family from near and far attended the evening reception held at the Imperial Hotel, including VIP guests such as Chief Minister of Sarawak Datuk Amar Abang Johari Abang Openg and wife Datin Amar Juma'ani Tuanku Bujang; the bride's grandfather Tan Sri Datuk Amar Dr Leonard Linggi Jugah; Minister of Tourism, Arts, Culture, Youth and Sports of Sarawak, Datuk Haji Abdul Karim Rahman Hamzah; Deputy Chief Minister of Sarawak, Datuk Amar Douglas Uggah Embas; and Deputy Chief Minister of Sarawak, Tan Sri Datuk Amar Dr James Jemut Masing. Guests were treated to a nine-course Chinese dinner and performances by a troupe of cultural Sarawakian dancers.
As the eldest daughter of the Deputy Minister of Rural and Regional Development, Datuk Alexander Nanta Linggi, and great granddaughter of the late Tun Jugah Barieng, Amanda decided to honour her heritage and tradition by making her first appearance of the night hand-in-hand with Jonathan in traditional Iban wear. Her traditional wedding finery is based on the bridal attire from the Iban region of Balleh, Kapit. The dujung marik (beads dress) is provenance of her paternal side where her aunt Melia Linggi derived a modern interpretation of an heirloom piece. Instead of antique carnelians and ancient glass beads, it is strung with glass pearls of the same traditional colour tone, hemmed with heavy brass frog bells. Red, silver, gold and black are traditionally used in the traditional attire. An embellished kain burik (black skirt decorated with cowrie shells) complements the beads dress along with a silver sugu tinggi (head dress) and a customised tanguk (beads collar). An antique rawai (corset), strands of marik igi peria (necklace), a set of tumpa (bracelets), two pairs of buah pauh (containers for carrying betel nuts) all made of silver, completing the ensemble. The bride also changed into a custom Lynda Rahim gown with 3D flowers and embellished sleeves.
Jonathan's regalia consists of a hand woven silk sirat (loincloth) and an animal-skin gaggong (warrior vest which in the past was used as an armour), silver simpai (armlets), a buckled lampit (belt) of which hangs a ceremonial sword and beaded kabu (the beak of a hornbill – an embellishment of the sword). The ensemble is topped off with an antique beads necklace and a ketapu silung (woven and partly beaded ceremonial hat with hornbill, pheasant feathers and goatshair). Kapit traditional ceremony
The Iban culture showcase was extended to the final Kapit traditional ceremony where the couple who were elaborately decked in ceremonial finery embarked on a beautifully decorated longboat. They were accompanied by 21 Kelab Gagung Sarawak members who were dressed in full warrior costumes as well as traditional musicians tasked to sound the gongs throughout the trip. The sound of the gongs is meant to drown out any noise from omen birds which is a taboo in the Iban wedding ceremony. The couple's arrival at Fort Sylvia was received by nine Kelab Gagung Sarawak members led by chairman Jabang Juntan as well as other VIPs. The blessing of the marriage and "bebiau" ceremony took place at an open stage set up next to Fort Sylvia.