From her modelling days to working with big names like filmmaker Wong Kar-Wai in Hong Kong, Danielle Peita Graham talks about her journey in rebranding herself as an all-round culinary entrepreneur.
Danielle exudes an air of confidence so effortless that some might feel intimidation in approaching her. With her commanding presence, she navigates our photoshoot dressed in elegant FENDI with ease and little direction.
Before our interview began and our initial introductions were done, I knew we were in the presence of a food savant. One can't help but notice Danielle's apparent love for food as she fawns over her bowl of take-away Thai glass noodles, casually chatting away on how much she loves spicy Thai food, having spent some time in Thailand for work and travel.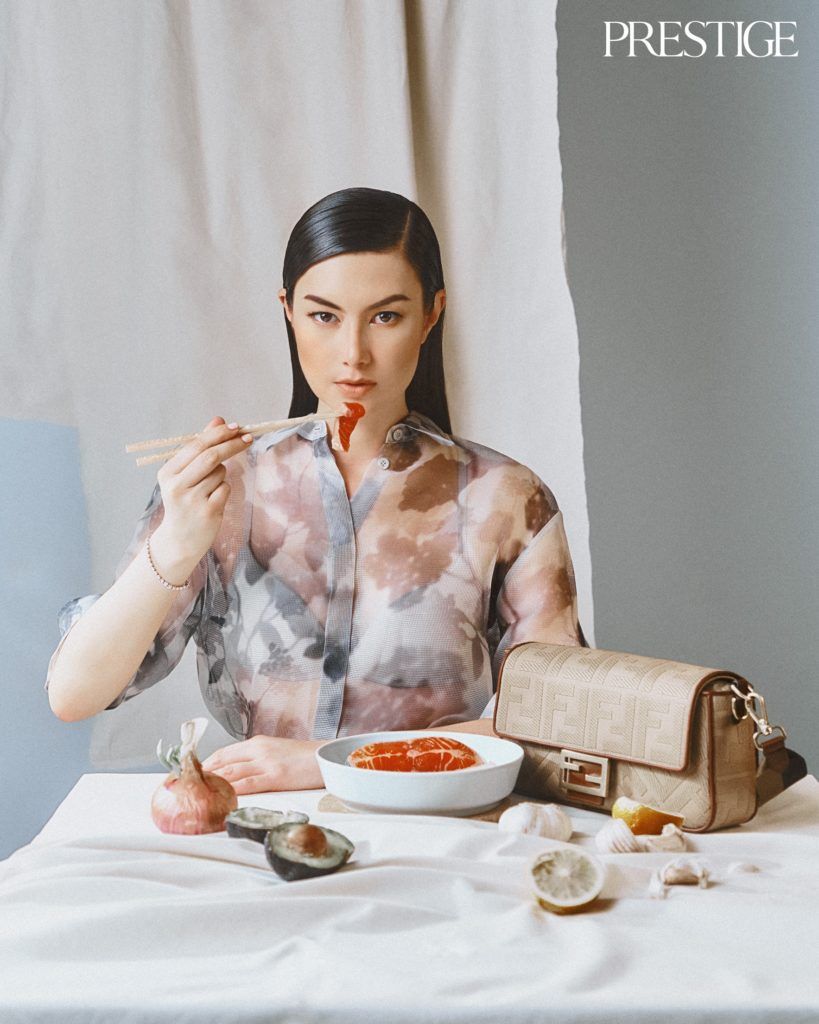 Born in Kuala Lumpur, to a Malaysian-Chinese mother and an Irish father, Danielle was raised in Australia before she returned to Asia – Hong Kong in particular – to make her mark as a successful model who adorned numerous magazine covers. Perhaps her most recognisable stint would be her Olay advertisements. Others also remember her as Nurse Danielle in the Nicholas Tse and Stephen Fung starrer 2002, as well as the Wong Kar-Wai directed DJ Shadow music video, Six Days.
Danielle recounts her childhood memories growing up with her parents who played a big part in nurturing her passion to what it is today. "I was exposed to cooking at a very young age. I grew up in the kitchen helping both my parents after school. My dad taught me to make mashed potatoes when I was eight years old and my mum; her famous fried rice," says Danielle with a smile.
Her childhood nostalgia has made her a firm believer in always making home-cooked meals for her family in Malaysia. To ensure that they get the right balance of nutrients in their bodies, Dannielle has taken charge to ensure they always eat healthily. "It is really important to me. The food we eat really sets the tone for who we are," says Danielle.
This resolve of hers has managed to instil interest and remarkable culinary skills in both of her young children; Ben, who is 11 years old, and Sophia, who is nine. It is a feat of extraordinary measure in this day and age, especially when kids are harder to pry away from the many screens that they are exposed to and Danielle agrees wholeheartedly.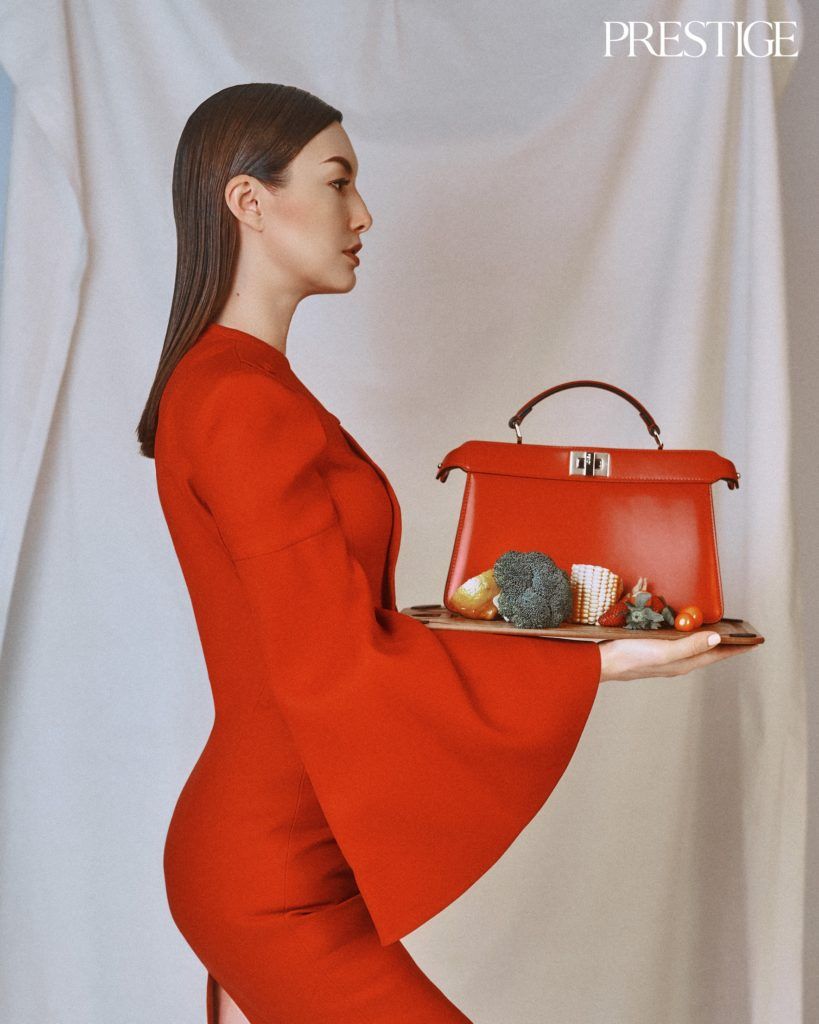 "It is a life skill knowing how to cook! It's survival! I'm thankful that both my children have taken a keen interest in cooking," she says. Ben's speciality is cooking steaks, while Sophia has recently "graduated" from using a kid's knife to an adult one, and this, says Danielle, brings her great motherly pride.
Rebranding herself from a model to a chef was not as difficult as she thought. Danielle says that the shift was surprisingly natural for her. Having accumulated recipes she developed since 18 years of age when she was living alone in her apartment in Hong Kong, as well as recipes handed down by her family, she finally took the leap of faith and self-published her first cookbook, On The Table At Home, in 2016.
"Being a mum during the pandemic is also like being the teacher, referee and chef. As a woman there are so many roles that we constantly need to play."
Danielle Graham
Featuring home-cooked yet restaurant-worthy recipes that make up the perfect amalgamation of East meets West, the project had been a dream of hers since she was a teenager. "I wanted to share my recipes in hopes that it will inspire others to cook, and share their love with their friends and family. To me, food is love. There is just no better way to show it."
Since its debut, the cookbook has been a continuous success. There have been multiple requests to restock the shelves especially at the Kinokuniya bookstore at Suria KLCC, Malaysia as well as in Singapore, so naturally we had to ask the obvious; is there another cookbook in the works? "You know what? A lot of people have been asking me this. I do have a lot of new recipes written, so it's definitely on the cards," says Danielle.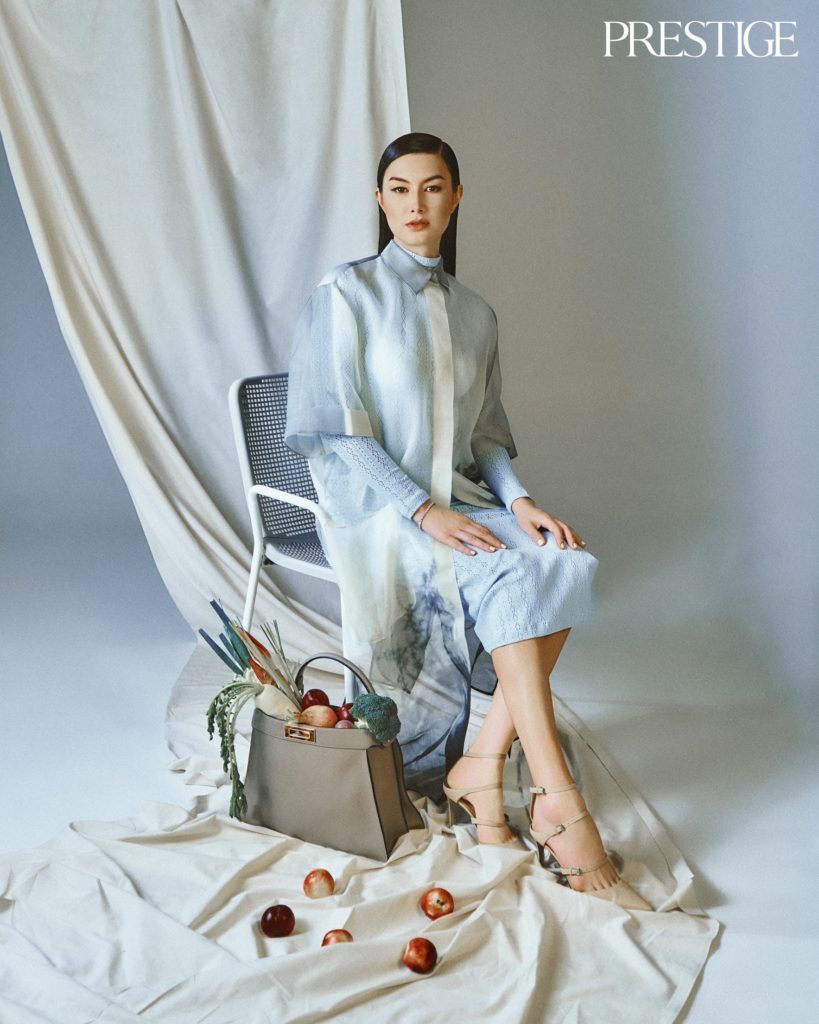 To further establish her role as a culinary maven, Danielle also had the unquenchable desire to introduce her very own kitchenware line. With a group of partners to support her vision, the aptly named 'Danielle' essential kitchenware line was launched in 2019 on her 40th birthday in Hong Kong. However, starting this new venture wasn't easy.
There was a lot of back and forth in perfecting the line which has now grown to include a wide range of quality German-steel knives, cookware, cutting boards, and also a special-edition parent- and-child knife set for family home-cooking moments.
"It was of utmost importance that the kitchenware line was authentic as possible. My name is on it and I use them too," says Danielle. With more products launching soon on her website and in stores, Danielle's ultimate goal is to make lives easier while making cooking more enjoyable at home.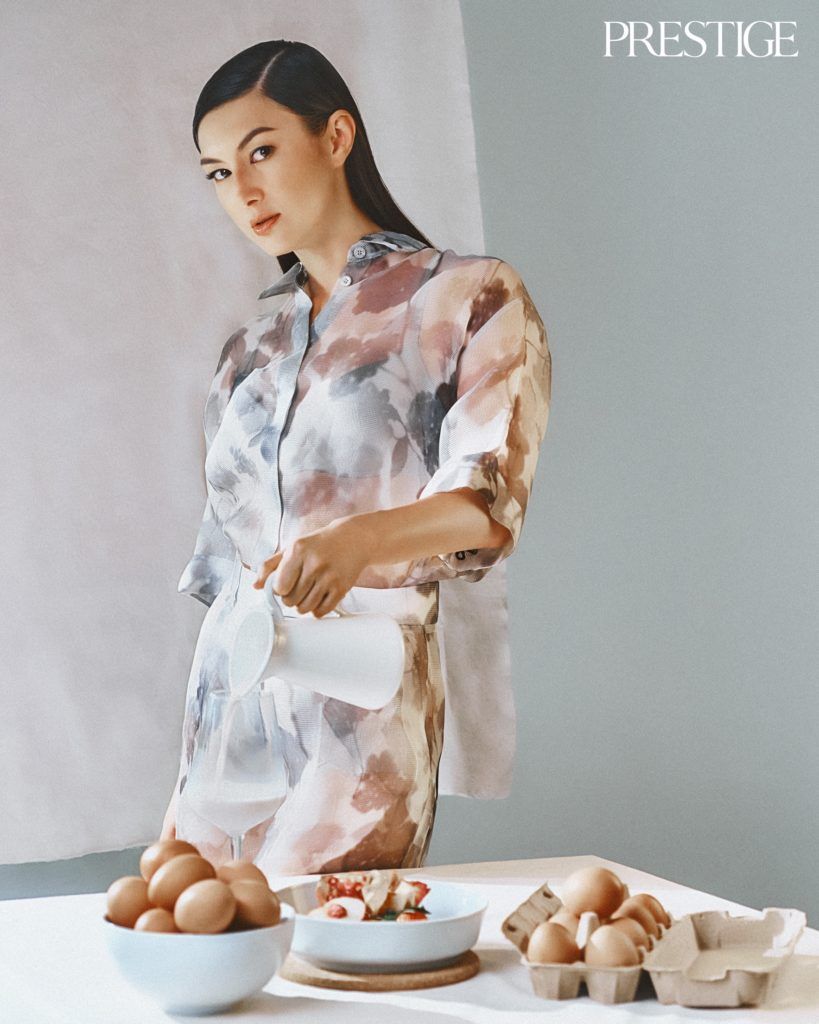 With the ongoing pandemic affecting everyone in different ways, Danielle shares that she finds juggling being a mother and managing her burgeoning culinary career a constant work in progress.
"I'm naturally quite an energetic person and I like the challenge to keep myself busy, but I do find it hard at times since there is only one of me! But I try my best," says Danielle.
"I love to support the local talent. I think it's very important to buy from our farmers and fishermen especially during these times."
Danielle Graham
"Being a mum during the pandemic is also like being the teacher, referee and chef. As a woman there are so many different roles that we constantly need to play."
One of the ways Danielle managed her time as well as her children's during the lockdown was by keeping busy with her On the Table at Home delivery initiative which started during the first Movement Control Order in March 2020 and is still ongoing. The idea sparked when one of her girlfriends, Datin Dian Lee, suggested that she should do it as a business. Having her kids help to chop vegetables and assist with the logistics proved to be fruitful not just for her family, but also for her local customers as well as those from Singapore, United States and Europe who ordered Danielle's home-cooked food to be delivered to their families in Kuala Lumpur.
"It felt really rewarding. The act was so sweet and heartfelt, that is why I constantly say that food is love. It's a great way of showing love and spoiling your loved ones."
With no plans to slow down anytime soon, Danielle now has her sights set on launching a YouTube channel featuring her recipes. For now, she finds it crucial that she is able to help local businesses despite not being able to go to her usual markets during the lockdown. "I love to support the local talent. I think it's very important to buy from our farmers and fishermen especially during these times," says Danielle. The joy she finds when she scores a fresh produce is indescribable. She tells me that she's such a regular at the market that everyone knows her and she enjoys special discounts. She even has her own "fish guy" and "chicken lady" whom she constantly communicates for updates on fresh produce. "You know, I have them all on speed dial," adds Danielle with a laugh.
Interview: Naseem Randhawa
Stylist: Nigel Lee
Photographer: Mickey Wong @ New Storyboards Photography
Makeup artist: Cat Yong
Hair stylist: Ckay Liow
---
This story was first published Prestige Malaysia's February 2021 issue. To read the latest issue, pick up a copy from the nearest newsstand or subscribe on Magzter.