Looking for things to do in KL and PJ in March 2023? Look no further than the Prestige Planner! From a Tim Burton exhibition to a Shakespeare play, there are plenty of events to keep you entertained. Check out our list of must-see events and mark your calendars now.
American filmmaker Tim Burton himself is going to be coming to Kuala Lumpur to unveil his highly anticipated 'World of Tim Burton' exhibition, at the end of March. If you are a fan of his films or just appreciate the macabre, you won't want to miss this exhibit. In addition to this, there are other cultural events happening around the city. Shakespeare Demystified: Macbeth is a must-see show for any theatre lover or aspiring thespians. The play will be performed at the Kuala Lumpur Performing Arts Centre and is a great opportunity to see Shakespeare's work brought to life.
For those interested in music, Malaysian vocal powerhouse Dayang Nurfaizah and the Malaysian Philharmonic Orchestra will be coming together for a night of melodious wonder. This concert is sure to be a treat for the ears and a great night out.
Make sure to add these events to your calendar and enjoy all the culture KL and PJ have to offer in March 2023.
All the unmissable things to do in KL and PJ for March 2023
The World of Tim Burton Malaysia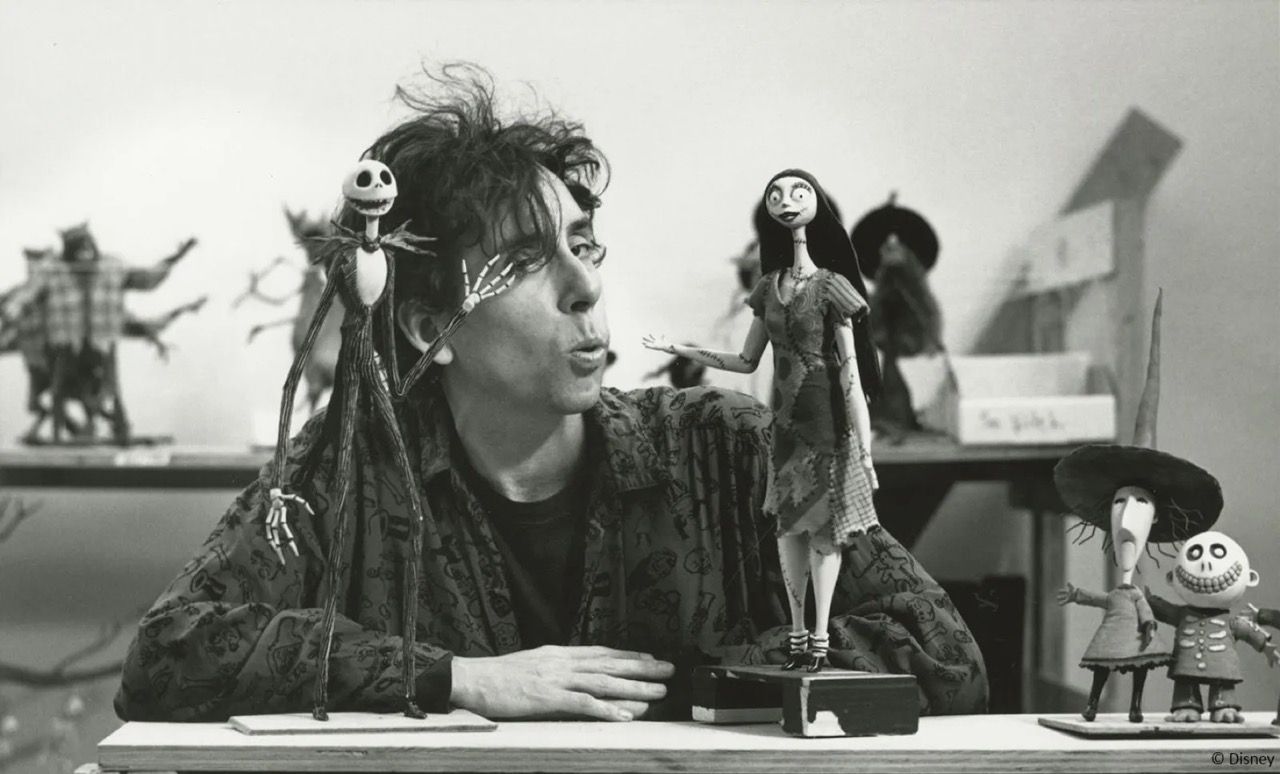 Burton fans—immerse in the world of Tim Burton at Pavilion Bukit Jalil this month. Easily one of the best things to do in KL for March 2023, the exhibition boasts 150 never-before-seen works showcased on top of the 540 pieces that have always been in the MoMA exhibition tour. Over in New York, it had premiered with over 800,000 visitors, making it the third most-attended exhibition in MoMA's history.
The man himself will be in attendance at the opening, so you have a chance of meeting this artist and filmmaker in the flesh! However, this experience is limited to 100 VIP ticket holders. For RM1,500, the package includes The Art of Tim Burton book, a book signing opportunity, a season pass which allows you unlimited entry to the exhibition, and special edition merchandise.
Exhibition ticket prices range from RM48 to RM88. Book your tickets here.
When: 21 March to 30 July 2023
Where: Pavilion Bukit Jalil
Wanted: Shades of Life: Episode 3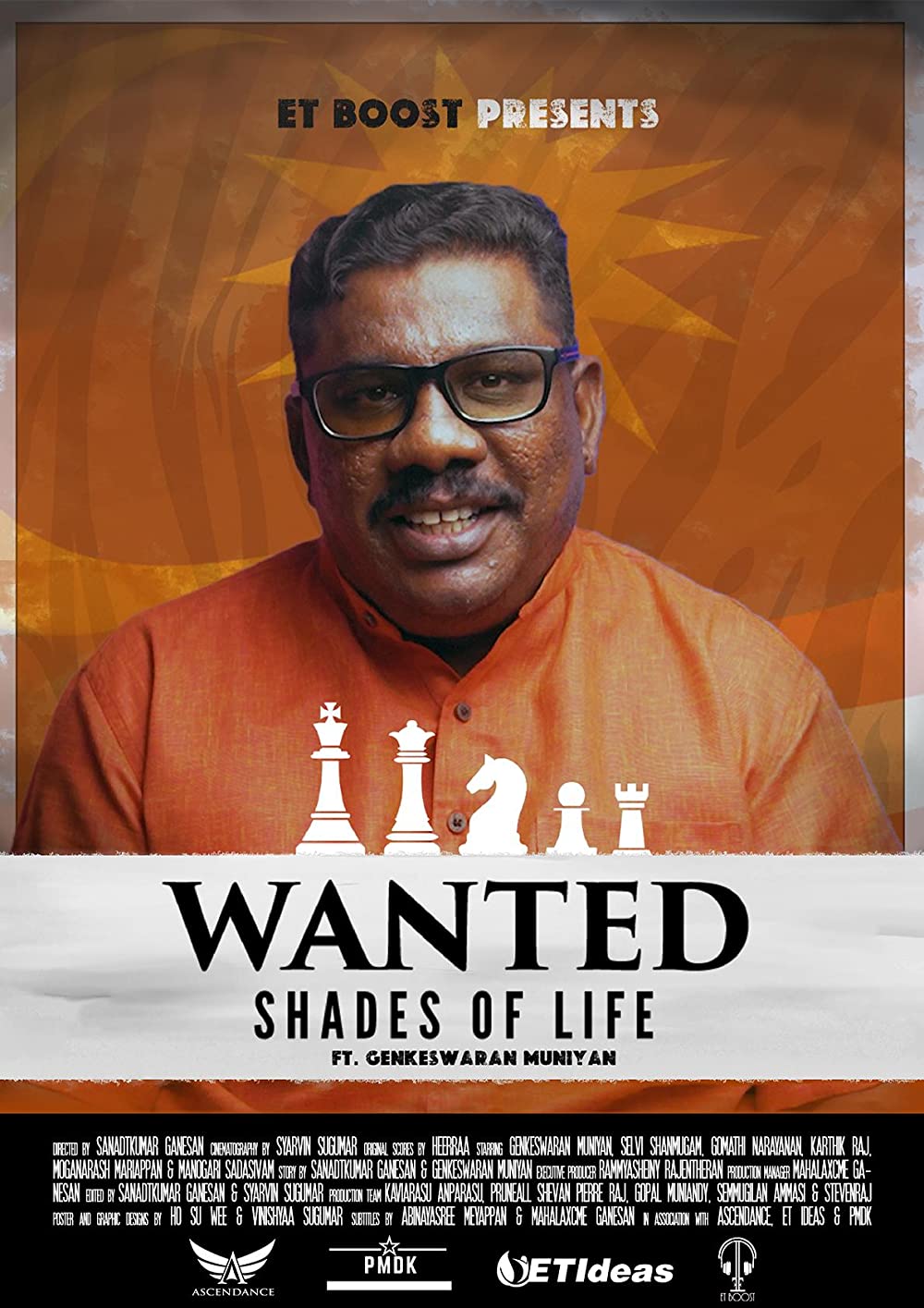 This is a tale of evolution. Wanted: Shades of Life is a multi-award-winning documentary that follows the story of Genkeswaran Muniyan, who once led a life of misconduct. Now, he is lauded as a national chess hero, winning the bronze medal in the 2012 SEA Games.
Directed by Sanadtkumar Ganesan, with an original score by Prestige's own 40 Under 40 alum Heerraa Ravindran, this masterpiece on one man's journey of redemption has brought home several international accolades, such as Best Inspirational Film at the Los Angeles Film Awards and Best Documentary at FilmCon Awards. The documentary has also been featured at the New York International Film Awards, and the Stockholm City Film Festival. All this is to say that this is going to be a showcase you won't want to miss.
Ticket price is RM75. Book your tickets here.
When: 26 March 2023
Where: PJPAC
"Shakespeare Demystified: Macbeth"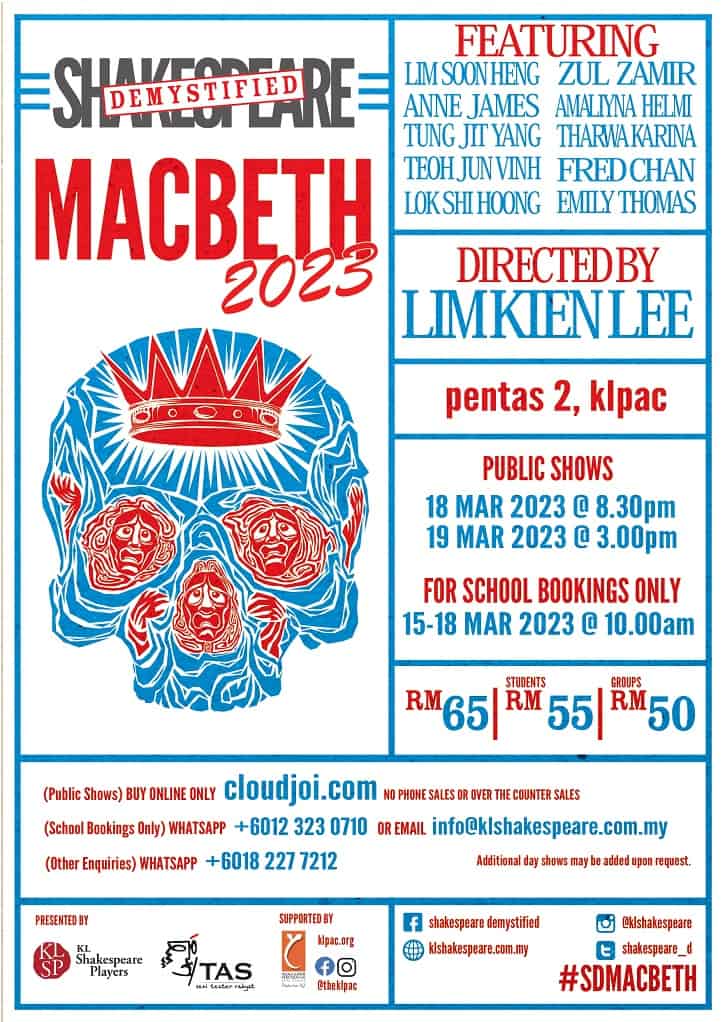 If Shakespearean texts intimidate you, then it's time to check out the "Shakespeare Demystified" series. This time around, the folks at klpac are going to be decoding Macbeth, a tale of a Scottish general tempted to commit treachery by three witches and his power-hungry wife.
Macbeth is one of the four great tragedies to be written by this world-renowned dramatist, and it includes elements such as murderous plots, black magic, and political intrigue while bringing to light the pitfalls of power. Audience members are invited to join the discussion during the Q&A session.
Ticket prices range from RM50 to RM65. Book your tickets here.
When: 15 to 19 March 2023
Where: Pentas 2, klpac
"A Notional History"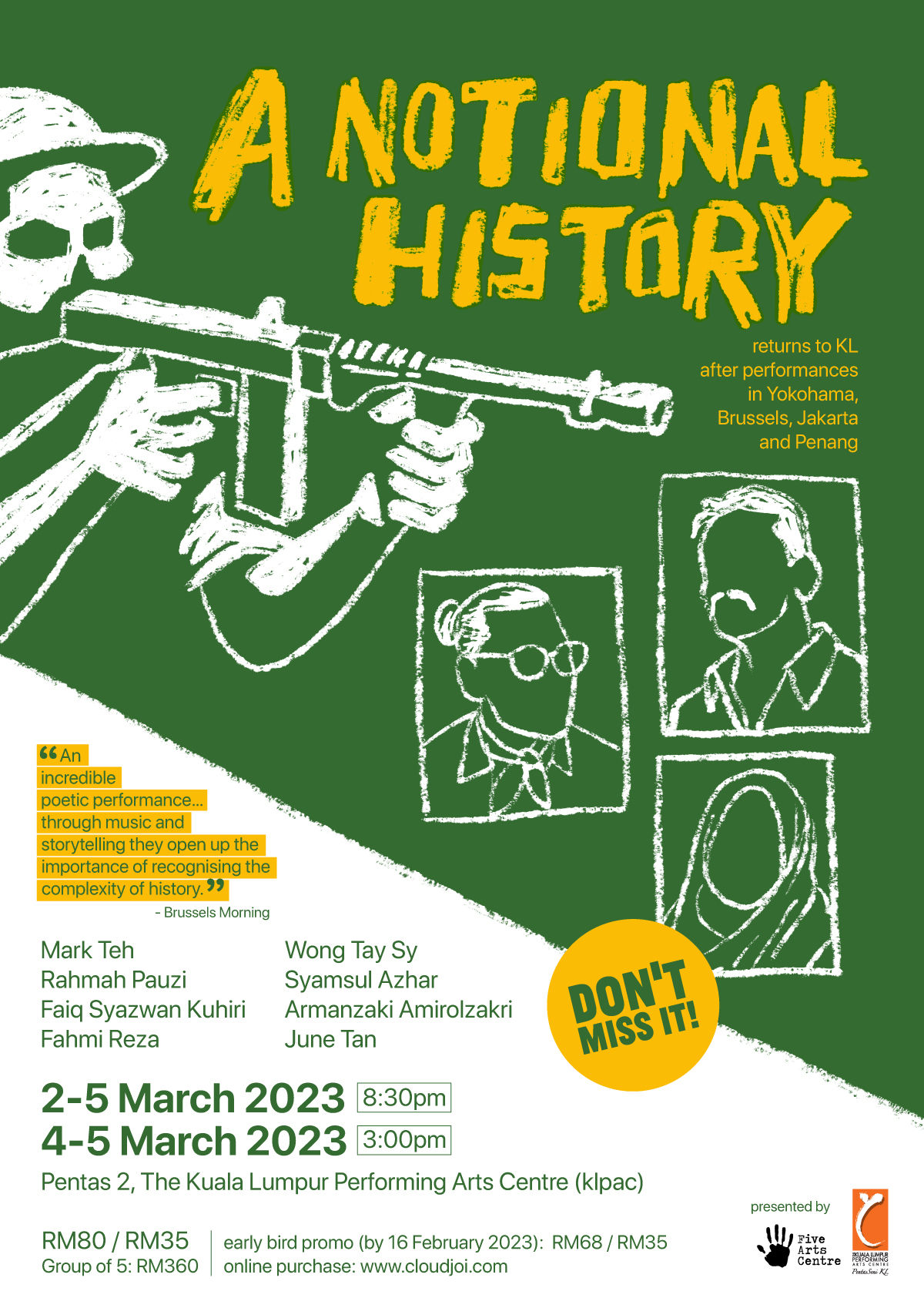 In "A Notional History," three individuals – a performer, a journalist, and an activist – take a closer look into school textbooks, inherited memories, and video interviews of exiled revolutionaries to unearth erasures, exclusions, and questions surrounding the Malayan Emergency. Through their investigation, they explore possible histories for a different Malaysia, considering personal, national, and notional perspectives.
Ticket prices range from RM35 to RM80. Book your tickets here.
When: 2 to 5 March 2023
Where: Pentas 2, klpac
Dayang Nurfaizah & MPO: Belagu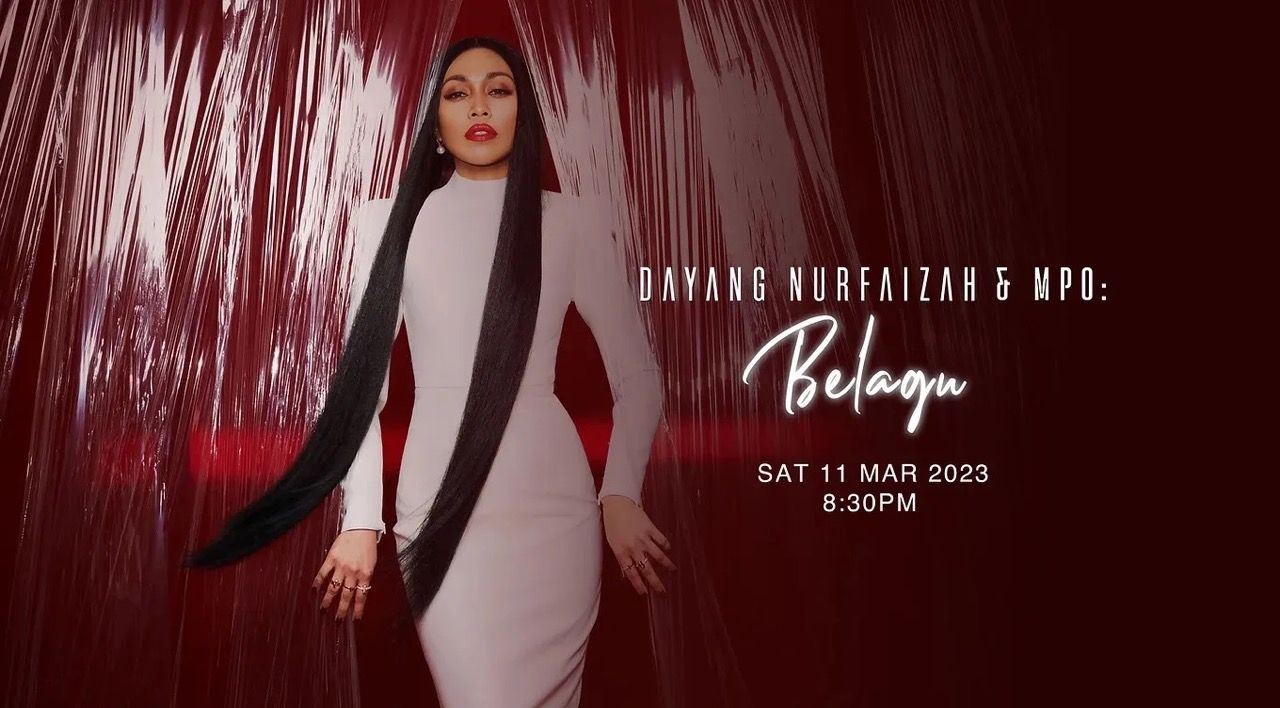 The undisputed Malaysian R&B royalty that is Dayang Nurfaizah is returning to the grand stage to delight the audience this year. This time around, she's set to hold a one-night show at Malaysian Philharmonic Orchestra. Expect classic hits from her award-winning album Belagu and even the soon-to-be-released album, Belagu II.
Ticket prices range from RM255 to RM650. At the moment, tickets are sold out.
When: 11 March 2023
Where: Malaysian Philharmonic Orchestra
Hero and featured images credit: The World of Tim Burton