Every once in a while, you come across a piece of nostalgia that caresses your heart unlike anything you've ever seen or felt, and we were on the verge of sentimentality when we discovered this charming new outfit that's taking gifting to a different level by digging into the past.
Enter Unbox by Huff and Puff, a crazy venture birthed during the MCO by an events and branding solutions company that was finding it difficult to stay afloat during the pandemic. According to the founders of Unbox, Cecilia Chong and Jeffery Su, the idea was born out of passion, opportunity and a dream to be able to push the boundaries of the crazy ideas they've had for a long time.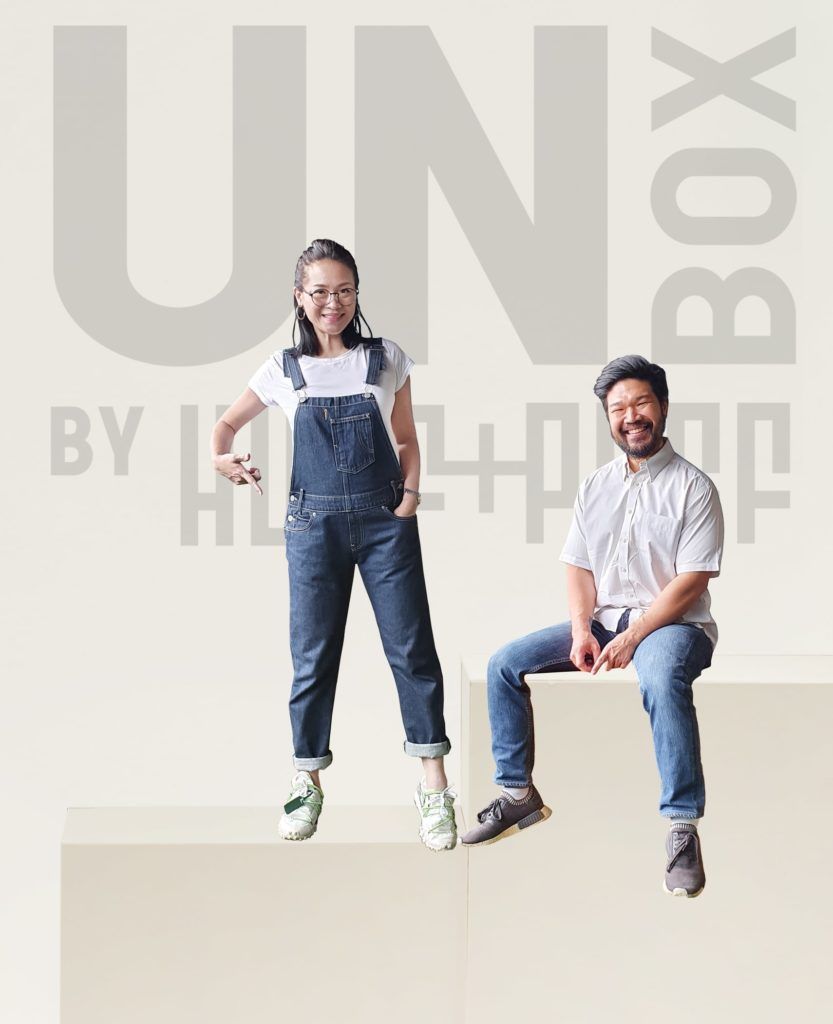 "Behind Unbox, is Huff and Puff, a team of professionals from the events and marketing industry and the idea of creating the expansion was inspired by our clients. With MCO, many of the events we were working on had to be cancelled or postponed. With limited platform for brands to stay connected with their clients, we received a lot of requests to custom curate gift sets to be delivered to their clients' homes," explains Cecilia.
It was not a difficult feat for the team because over the years, personalised door-gifts was a big part of the events under their belt. "Curating gifts is something we enjoy doing and couple that with the constant thirst to push boundaries and challenge ourselves, we now have Unbox in our portfolio. We offer our very own uniquely designed quality gifts by festive seasons with a vision to support local artisans and share their stories alongside ours," explains Jeffery.
This CNY season, Unbox collaborated with six brands that are not only steadfast to their DNA but gave Unbox plenty of room to express their creativity. "We did a thorough research before narrowing down to these partners we approached as we looked into their brand identity, story and most importantly their pride in delivering excellent quality, says Cecilia.
For one of their gift boxes, they wanted to offer the best of Malaysia by bringing together renowned bakeries from different cities around Malaysia. "In this set, we have almond slice by Ban Heang from Penang, a hard-to-find traditional Teochew soft candy by Ching Han Guan from Ipoh, lucky tangerines by Kwong Wah Ais Kacang from Petaling Jaya and pineapple tarts by Wise Chef from Malacca," she adds on.
According to the founders, this MCO baby is here to stay. The team has been constantly shifting parameters in terms of offering something completely new and leaving a lasting impression on those receiving it. "One of the important elements we try to incorporate into our curations is reusability. On top of that, we create personalisation options to make the gifts extra special," Cecelia points out.
If you're looking for unique, personalised gifts; this is it. Keep your eyes peeled on their Instagram page for seasonal offerings. Meanwhile, here's everything you need to know about their Chinese New Year collection for 2021 which by the way is all about celebrating heritage and our love food.
BENG CHAI HONG, which means "little confectionaries alley", brings together delicious treats from Penang, Ipoh, Petaling Jaya and Malacca in hand-drawn carriers holding four mini old-school biscuit tins. The design takes a leaf from old school shopfronts replete with nostalgic signboards, mosaic tiles and window frames. The tins are reusable for foodstuff and Unbox also suggests for the carriers to be used for picnics or takeaways.
SPIN FOR LUCK is packed with 50 pieces of BBQ treats from Oloiya and it has 10 different flavours to choose from. When you can't decide which one to have, let the Wheel of Fortune decide for you. This gift is made specially for Bak Kwa lovers, and we just love the wooden briefcase it comes in and we can think of many ways to repurpose this charming carrier.
TREASURE CABINET is the perfect gift to impress (and nourish) your in laws, grandparents and even bosses. Functioning like a mini herbal shop, it holds individually packed soups – collagen booster, liver detox, hydrating & skin booster and energy booster – containing top-notch ingredients and a double boil soup pot. All this goodness is encased within a mini wooden cabinet you'd find from your childhood, and it also makes for a wonderful showcase piece in your favourite space.
To place your order, visit the Unbox by Huff and Puff website here.
---
Made in Malaysia is a series by Prestige Malaysia that showcases homegrown talents across various sectors. Through interviews, we strive to highlight the work put in by these individuals while supporting their craft.