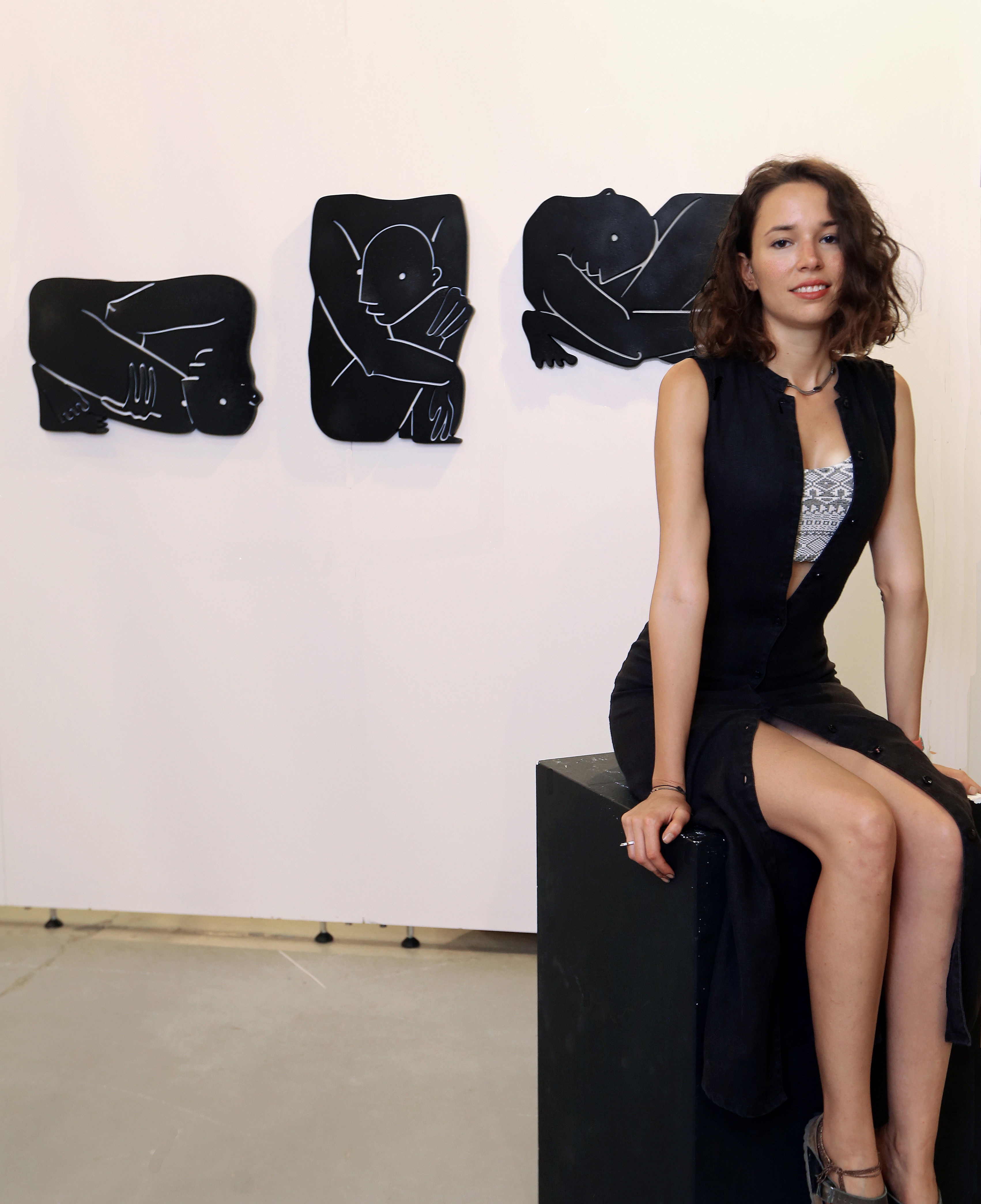 "When it's a time of tension, creativity is at its highest," says Kamiar Maleki, director of the Contemporary Istanbul art fair, of Turkey's explosive art scene. No longer known simply for carpets, mosques and mythology, Istanbul is becoming a hub for mega collectors and museums. Despite the tumultuous political situation in the country following the failed coup attempt on president Recep Tayyip Erdogan, art aficionados from across the globe descended on Istanbul in September for the fair, which coincided with the Istanbul Biennial and a flurry of openings.
Unlike typical venues on the international art fair carousel, Contemporary Istanbul has a refreshingly daring selection of emerging local artists, several of whom tackle heady political themes. "I find it's always exciting to discover young talent," says Maleki, a collector himself. "These artists love the new age, technology, conceptual art and video art."
Here are five Turkish artists to watch, including established names that are re-entering the spotlight.
Begüm Yamanlar
On a warm September evening, collectors brave a steep cobblestone staircase leading to a dark, unmarked alley in a wealthy enclave of Istanbul. The narrow passageway opens up to Turkish collector Selman Bilal's sleek glass-and-steel home perched above the Bosporus, designed by famed architect Han Tümertekin.
The collector is holding a cocktail party in celebration of young Turkish artist Begüm Yamanlar. Known for her moody video installations, Yamanlar creates haunting scenes of imaginary lands using a palimpsest of photographs of various landscapes. The highlight of the evening is Bilal's recent acquisition of Yamanlar's work Damage (2017). Projected onto one side of his living room, the piece begins with an image of a decaying wall pierced with a hole. "Then slowly, you hardly recognise it, but the wall transforms into a wound on skin," says Yamanlar, who cut her arm to create the piece.
"I was using a bodily sensation as a metaphor for the vanishing memory of a city," she explains. Her voice wavers and it's clear the wound reflects an emotional one. "There is a constant rapid change in Istanbul. It's too much. Not just in terms of technological progress but also the political climate and architecture, which are related."
Asked if she's referring to structures such as Erdogan's controversial mega mosque – criticised as a vanity project and monument to his Muslim-conservative party – she nods pensively before saying, "I'm worried about our future." Erdag Aksel
Renowned Turkish conceptual artist Erdag Aksel has shown at the Venice Bienniale, Tate Modern and other prestigious institutions, but he now keeps a deliberately low profile, steering clear of the commercial art world. This year, however, curator Hasan Bülent Kahraman managed to borrow one of Aksel's works from a collector for an outdoor sculpture exhibition in a park beside the fair. The tongue-in-cheek piece, Whoredom II (2005), is an elegant elongated bronze sculpture of a twisted pillar with a curved slab of bronze that appears to have slipped off.
The artist created the piece in response to the fact that nobody was buying his controversial, political works at the time. "It was about this idea of being able to make beautiful sculptures if I wanted to … essentially to prostitute myself. I was actually telling people I was prostituting myself but they loved it. Everything sold and I ended up buying my studio as a result," he says with a chuckle.
While known for tackling weighty themes such as militarism and Turkey's history and identity, he has always maintained a sense of humour. He first made a name for himself on his return to Turkey in the '80s after living in the US, where he'd studied. Distrustful of his rising fame, he made a playful installation of what it means to be a star in the art world, highlighting the fragility of the idea of immortality through art.
At the more serious end of the spectrum of his oeuvre are pieces like Crescent Disabled (2015), a sculpture of glass crutches hanging from crescents, a timely work he gave to a gallerist friend to show at the fair: "I'm not just talking about physical disabilities here, I'm talking about political disabilities and ethical ones," he muses. Meltem Şahin
Meltem Şahin is part of a wave of young artists pushing the boundaries of new media. She has experimented with vector drawings, three-dimensional printing and augmented reality.
At first glance, her latest work on display at Contemporary Istanbul looks like static wood sculptures of crouching nude figures, tame pieces befitting a commercial art fair. Yet once viewed through the lens of an iPad using an augmented reality app, the figures come to life. They suddenly begin rotating quickly in a cyclic motion but remained in cramped positions as if trapped.
"[The work] is like entering Turkish people's houses and seeing what's going on inside their head: they aren't happy, they are numb and stuck. It's a vicious circle," says Şahin. "Our prime minster and government are horrifying but people aren't taking action because everyone is scared. Being scared has become normalised."
The 28 year-old artist admits that speaking out about political issues using art in Turkey is a risk today. "They are putting everyone in jail, especially academicians. There is no logic, but someone has to take action otherwise we will all be like this," she says, gesturing at her work. Ramazan Can
"When he shares his story, it leaves you speechless," says Ferhat Yeter, founder of Istanbul gallery Anna Laudel Contemporary. He is talking about Ramazan Can, from the nomadic Yörük tribe of Demirci in western Turkey.
Can's early works were installations composed of animal bones, wood and steel that explore shamanism and ancient tribal beliefs such as protecting against nazar (evil eye). In recent years, the government has created settlement programmes aimed at inducing the Yörük tribe to put down permanent roots. As tourism, modern agriculture and commerce have grown, the group's nomadic traditions are disappearing and buildings are replacing their former tented dwellings.
"Our village life is now lost. It's been taken over by modern culture," laments Can. To capture this, at the fair he shows a forlorn looking carpet from his former home trapped within a pillar of concrete. He also chopped up fragments of the carpets, which were made by his mother, aunt and grandmother, and place them inside a series of concrete cubes forming a large floor installation. The concrete has been chipped away to expose the soft frayed edges of the fabrics.
Among his most poignant works is a plinth embedded with a large dark hand-woven tent. "That used to be my home," he says. "It's sad, as our whole culture is being lost and ruined." Canan
One of Turkey's most provocative women artists, Canan (who only uses her first name) has taken over Arter, a prominent contemporary art space in Istanbul, and filled it with delicate embroidery installations, giant fabric sculptures of mythical creatures, primitive rock formations and eccentric video installations. Among the recent works is Women Bathing in Moonlight (2017), a video showing howling women, including the artist, who disrobe and enter the ocean. It's an homage to an Armenian-Lebanese woman called Marta who used to bathe nude on an island near Istanbul in the '80s despite controversy, but eventually committed suicide.
"Belief systems are imposed on us and our bodies by family, society, religion and the government … Marta was brave enough
to embrace herself, but after a while she couldn't take it because of society," says Canan. "[That kind of judgment] may even be worse in Turkey today."
Another piece, There Is So Much Evil Out There (2017), is a replica of a mental asylum room with walls and a bed enveloped in the artist's handwriting declaring her passion for a lover. "It's about how we suppress and censor feelings, thinking we will be judged or looked at as outsiders," says Canan. The work refers to Foucault's panopticon theory of a watchtower in the centre of a circular prison.
"Even if there's no man in the tower to control the people, they think there might be a man there so they control themselves. We think there are eyes observing us so we self-censor," she says, referring to the power of government and society over individuals.