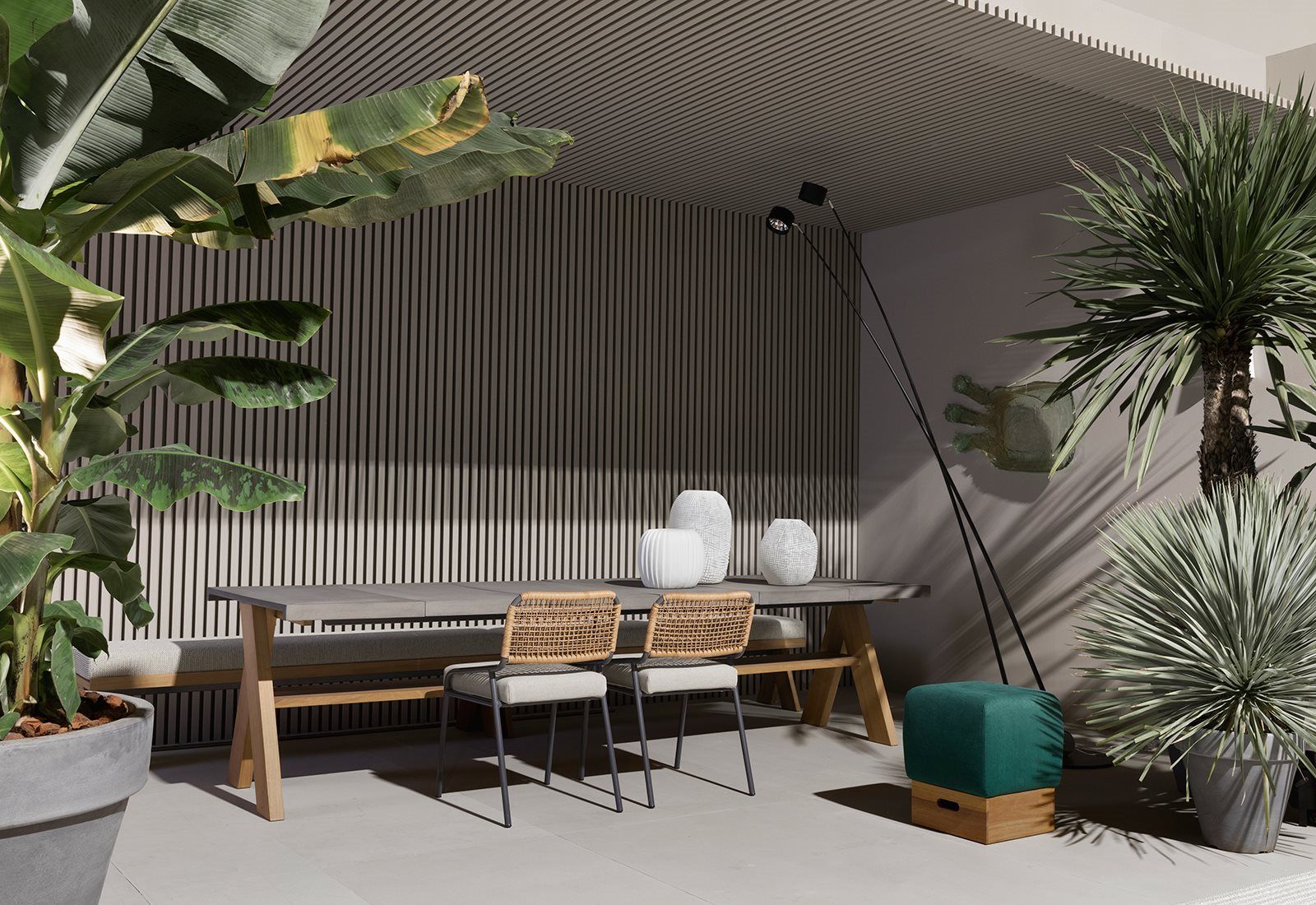 Versatility is the inspiration of Art Director Andrea Parisio's newest collection for Italian furniture label Meridiani. Aptly named Blend, it blurs the boundary between indoors and outdoors — this not only encourages a new way of dressing up a space but also challenges the notions of indoor- and outdoor-living. The result: Weather-resistant furniture backed by material research, which look and feel right at home both indoors and out.
Part of the line-up is the Tai chair, a stylish seat that you probably assume was made for being under the sun. But not quite. The chair, which features cushions with removable covers, sports a stylish yet sturdy frame in varnished aluminium. Available in rope or natural saddle leather for its woven back, it brings the warmth of the outdoors into the home.
Blend also features the Joi range, which includes a bench, a low table and dining table. What's distinctive about each piece: A wood frame that emanates a very Scandinavian aesthetic. The dining table, like the low table, is adorned with a concrete top, while the bench offers a cushy seat that comes with a removable cover. Made from either bleached iroko wood or lacquer (matte or glossy), this versatile trio exude a stylish minimalist vibe to go well with other furniture in any room of the house.
SEE ALSO: 4 Chic Introductions from Meridiani

Another piece in the collection is the Zoe armchair, which has a look and feel similar to the Tai. Pair it with the Match Pouf ottoman and immediately the space radiates a sense of comfort and cheer that you'll love to return home to.
Completing the Blend range is the Cone low table. Designed with a fibre-reinforced concrete frame and an iroko wood top, this side table will find a hotspot within a multitude of home decor themes.
What's not to love about furniture that is this flexible?
MARQUIS Q SQUARE
16 Tai Seng Street
Tel: 6383 0119
Email: qsquare@marquis.com.sg
Website: marquis.com.sg
Facebook: Marquis Furniture Gallery
Instagram: @marquissingapore
This article is brought to you by Meridiani, available exclusively at Marquis Q Square.