Stephen Ng and Chang Siok Eng enjoy going to art exhibitions together with their two young children. It was during an overseas posting in Taipei that they started buying from local art galleries, and expanded on their collection by buying at auctions after moving to Hong Kong. Stephen Ng, who is CEO of China International Capital Corporation (Singapore) Pte Ltd, says, "Taipei's art scene is less daunting for beginners as it is not as commercial (therefore speculative) compared to Hong Kong and Singapore." Stephen Ng and Chang Siok En own a collection focused on Asian art, although they are also inspired by Western artists such as Marc Chagall and Joan Miro. They are also admirers of early Chinese contemporary art collectors such as Uli Sigg, a Swiss businessman and diplomat. They only acquire an artwork when both of them agree to the purchase.
SEE ALSO: Hubert le Gall sculpts stories into his functional art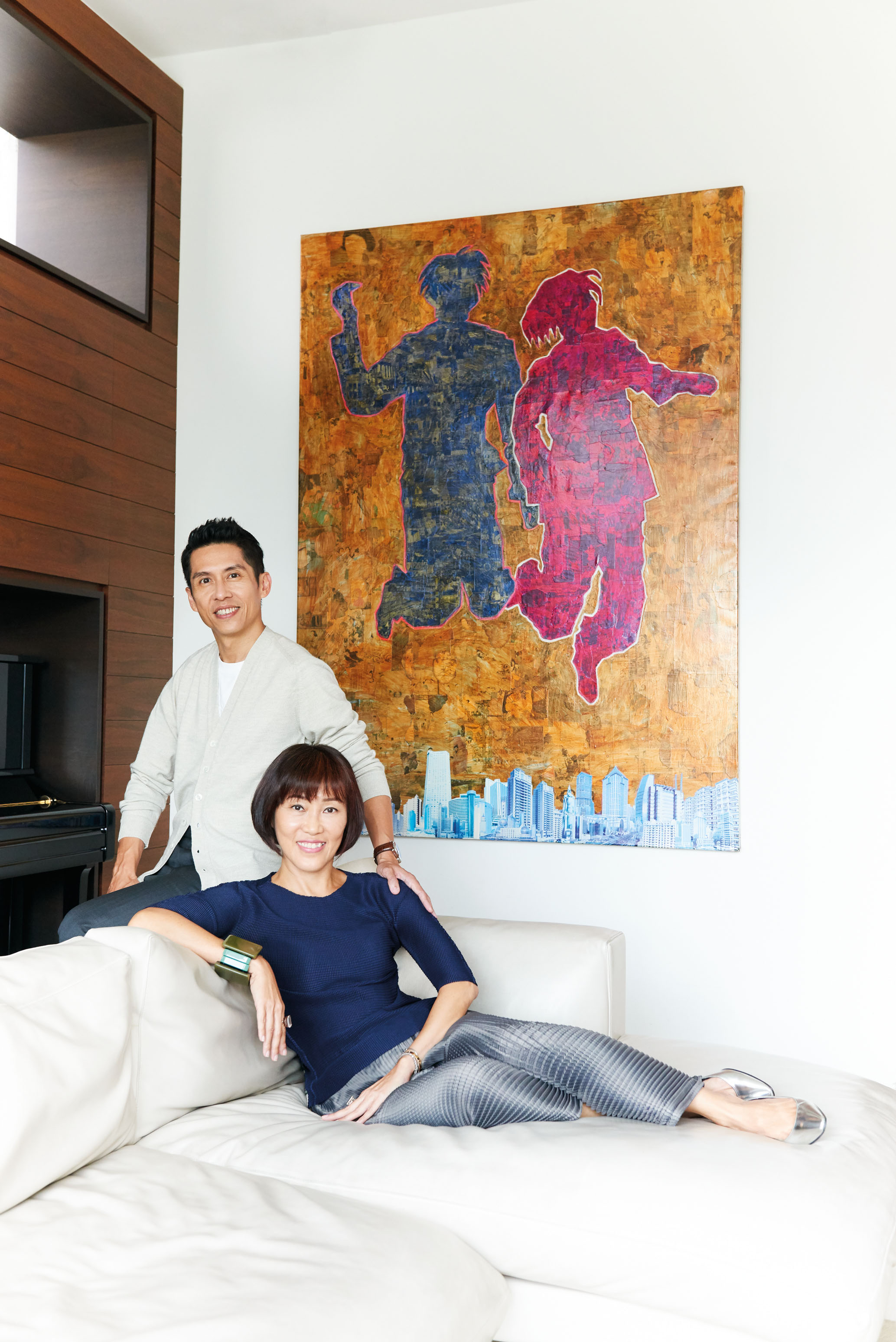 What advice would you give to someone who wants to start an art collection?
Stephen Ng (SN): Visit as many art fairs, galleries and museums as possible. Speak to artists and curators to find out what's trending. Don't rush into buying. Take time to know what you like and can afford. Beginners' tastes can be fickle and change quickly, so establish a base for your preferences. Like food, there is such a thing as an acquired taste in art, and even that taste can evolve over time.
Do you see art as an investment? What are the returns like?
SN: An artwork has to be something we love since we will be looking at it all the time. If there's a good return, it is an added bonus. Wherever we stay, we will always have our own furniture and art collection; it makes us feel at home. So the real "returns" are from the comfort and familiarity that the artworks give us. The other "return" is developing our children's appreciation for the arts. OK, they don't have a choice since we hang pieces in their bedrooms.
How has your art appreciation developed through the years?
Chang Siok Eng (CSE): I used to like figurative art that is non-abstract and conceptual. As a docent at the Singapore Art Museum, I meet curators and sometimes talk to artists. Besides such insights, I have to read up [so I can guide accurately] on my own. All this has helped me appreciate and understand the ideas and commentaries behind the conceptual pieces, which are not always aesthetically pleasing to the eye.
What do you think of the art scene in Singapore?
CSE: I think it is vibrant and there is so much to do, with lots of free events and talks. Social media also helps. It was not as accessible in the past where art seems to be only for the affluent.
What do you think younger collectors can do for the Singapore art scene? What do you think is lacking?
CSE: They can share their experience in collecting as well as contacts with other young art collectors and those starting out through regular meet-up sessions. This can be done through collaboration between government-aided art institutions and private ones for sustainability. Collecting can be daunting for newcomers who have questions such as price, investment value, and others. Curators, gallery owners, art critics, art educators, artists and veteran collectors can share tips and provide answers.
SEE ALSO: THE NEW ART PATRONS: Ann Mui Ling (3OF4)