The symbiosis between technology and art has birthed a new trend that is evident in many homes today. In line with this new lifestyle, Samsung has aptly launched The Frame in 2017 with over one million units sold — redefining the television while transforming displays into stunning works of art in a living space. Today, the 2021 Frame is better than ever.
In the age of individualism and personalisation, The Frame fits into the urban lifestyle almost seamlessly, as it serves more than just its pragmatic features — the TV doubles as art and inspiration to varying everyday needs.
The Frame is more than just a TV. It is a piece of framed art that you can easily incorporate into the interiors of your home thanks to the customisable frame colours and a range of curated art available on the Samsung Art Store. Homeowners also have the option to secure The Frame on the wall or place it at any desired nook with the studio stand — creating a whole new masterpiece vibe that matches your personality and room. This gallery-like experience is also enhanced with a growing library of over 1,400 pieces of artwork from world-renowned institutions that you can choose from. Curate your very own personal art collection from world-class galleries to accentuate the mood and feel of your home — from classical art to modern marvels and breathtaking photography.
Design Matters
Samsung has also made enhancements to its repertoire of TV to reflect the changing interests and tastes of consumers. The new Frame boasts a slim design, hugging the wall at only 24.9mm — similar to the depth of a standard picture frame.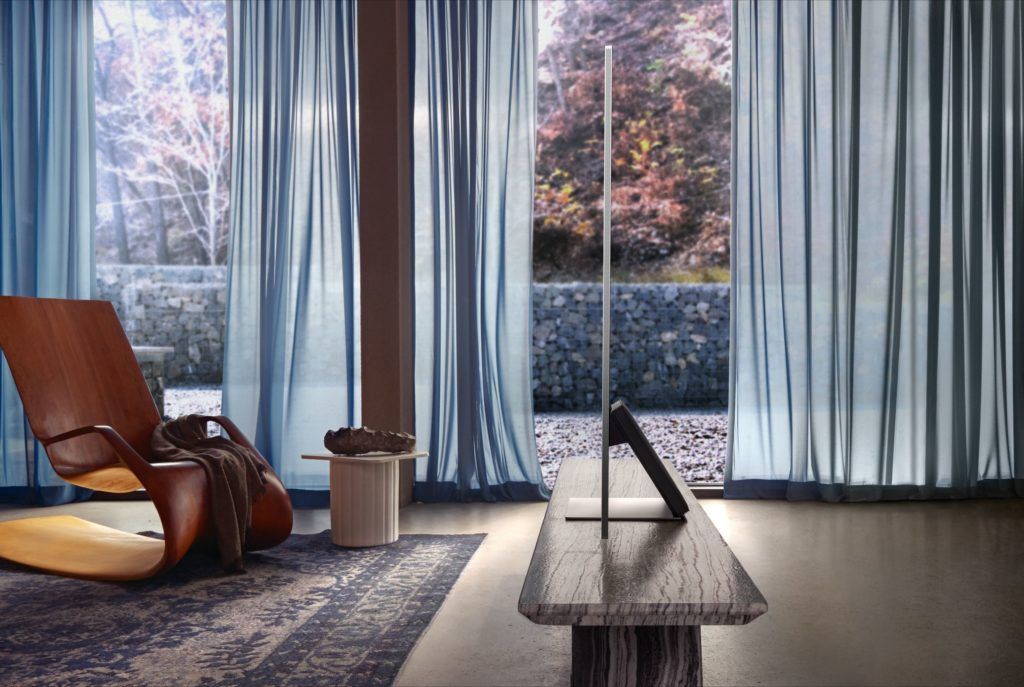 The Frame ranges in size from 32 inches to 75 inches, allowing you to best fit the TV into the living space, be it an office studio or an expansive penthouse. The smaller 32- and 43-inch sizes can also be displayed vertically, especially useful if you're looking for something for a creative studio or commercial spaces. At home, there are also vertical art pieces available in the Art Store for homeowners to enjoy the vertical screen as well. Adjustable stands are also available and works with the 55-, 65- and 75-inch sizes.
Design-conscious buyers can match the interior design with customisable bezels available in the Modern Type comprising White, Teak and Brown. There is also the new Beveled Type bezel design, that is available for 55- and 65- inch sizes, that offers an elegant 45-degree angled inner edge bezel and comes in White as well as in unique Brick Red.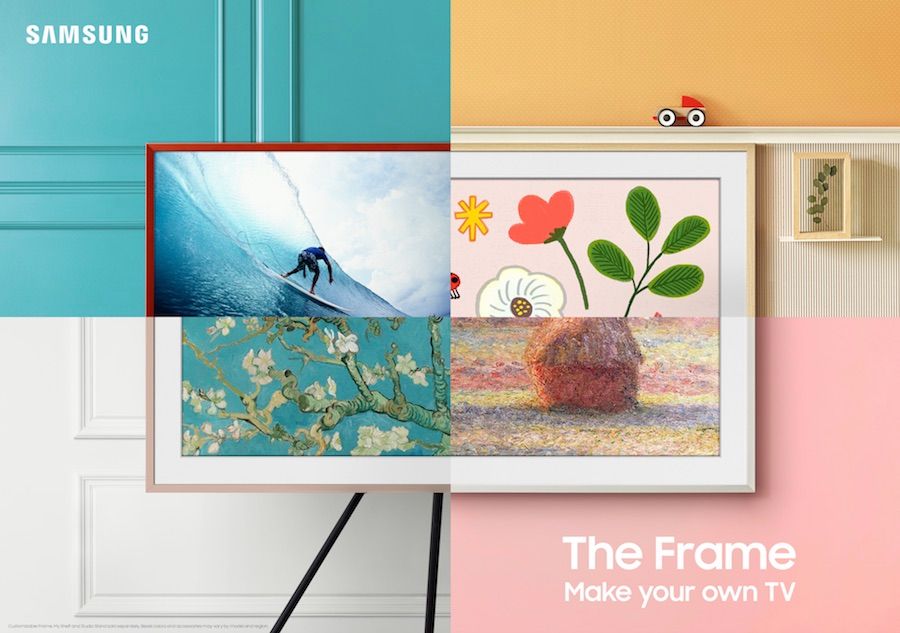 When The Frame is off, it automatically goes into Art Mode where the screen displays beautiful works of art of your choice. Enhance the atmosphere of any space the TV is placed with the improved Art Mode featuring a new home screen that houses collections of artworks and essential art information. As you browse, you also get to learn about the art pieces and enrich yourself with art history and cultural references from the comfort of home.
A paid subscription to Samsung's Art Store also allows access to all 1,400 (and growing) pieces of art, which consist of a myriad of paintings, photographs, and other types of art from Art Store gallery partners including the Museo del Prado, The Albertina, Saatchi Art, Artspace, Sedition, Magnum Photos, and LUMAS — with more galleries expected to join in the future, so you can expand your art collection with continuously updated galleries in the Art Store. There is also a new notification service to keep you updated on the latest from the Art Store. You can also show your own photographs and artwork on the display — adding an extra personal touch with The Frame. Or use the My Collection function to display photos of most-loved moments of family and friends; something to play during family reunions, birthdays and meaningful occasions.
Cutting Edge
The 2021 Frame also fashions the QLED Technology with Quantum Dots for a billion shades of colour to improve your viewing experience. It also has Quantum Processor 4K resolution that intelligently optimises picture and sound to provide a truly breathtaking viewing experience, as well as the company's Dual LED comprising dedicated warm and cool LED backlight structure to offer enhanced contrast. To create a 360-degree experience, The Frame also comes with SpaceFit Sound to auto-optimise the sound within the space, and the Multi View function for you to multi-task on the screen. The Multi View function is also great for multi-users, allowing work and play to take place at the same time. Other smart features include Mobile Mirroring where you can easily connect the TV to your mobile device, and Tap View where you can simply tap to connect.
With sustainability being the buzzword in today's context, Samsung is answering the call with its eco-packaging that goes beyond recycling to upcycling. This sustainable solution upcycles up to 200,000 tons of corrugated boxes each year. By minimising text and graphic imagery on the eco-packaging, the oil-based ink from colour printing that's commonly used on TV boxes is eliminated, helping to further reduce waste.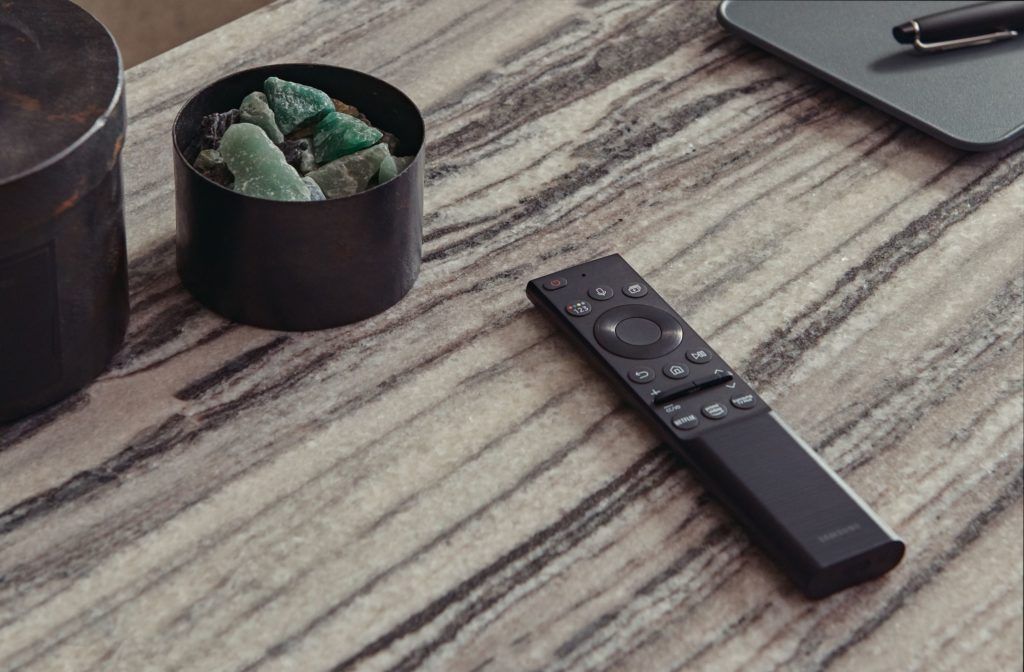 The brand goes one step further by producing a remote control that is made from recyclable plastic and charged by indoor lighting. This solar remote control helps to reduce waste from a projected 99 million AAA batteries over seven years — a conscious way to make technology sustainable for a better future.
Visit Samsung's website to find out more.