The skincare brand Foreo has a reputation: luxe, cutting-edge, and yes, expensive. Its most popular product is the Luna, an electronic facial cleansing device. From that success, Foreo ventured into creating mini versions of the Luna, along with new devices like the UFO Professional Skincare Infusion, and products that include the Activated Face Mask range.
Where does the Swedish powerhouse go from there? A device that delivers micro doses of electric current for facial toning. And make it pink with bear ears. Foreo has released two versions of this; Bear and Bear Mini (RM920).
We have to be honest here. V-shaped faces a beauty standard, let alone beauty standards in general? Not here for it.
We like, nay love, skincare as self-care and beyond. More importantly, it should be fun.
Our idea of fun would apparently consist of spending a few extra minutes to include a Microcurrent device into our nightly skincare routine. If you're already wondering, you'll feel the current slightly, but it doesn't hurt.
With consistent use, the product did work for us — slightly tighter skin around the cheeks, less of a double-chin, and a small lift around the eye area.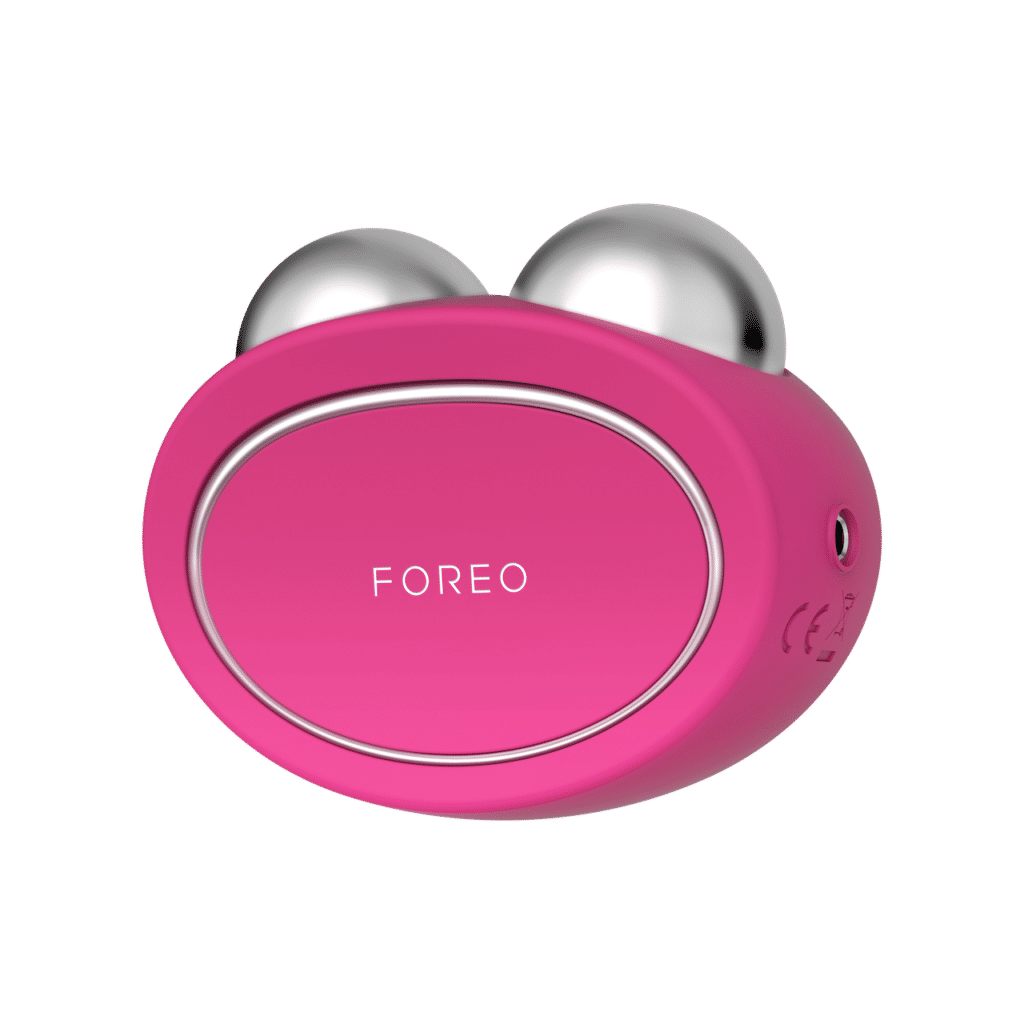 Why microcurrent?
Safe and pain-free, microcurrent emits low-voltage electrical currents that mirror your body's own electrical currents. These currents are stimulated on a cellular level deep inside the skin. Bear's design sports two microcurrent spheres to deliver tiny doses of current, breaking down skin cells so they grow back stronger.
What it does
Bear 'feels like a facial and tones like a workout'. Tiny, adjustable levels of current are stimulated, while Foreo's signature T-sonic pulsations relax facial muscles to smoothen fine lines and wrinkles. It also features an anti-shock system that Foreo says guarantees maximum safety and comfort.
Using the device tightens and firms the skin for a more contoured face, associating the benefits with anti-ageing concerns like loss of elasticity and less of that youthful 'bounce'.
How to use it
Just as you would with most other skincare devices, it's best to use it over a thick layer of product. Foreo recommends pairing Bear with its conductive gel-based Serum Serum Serum.
First, you'll need to charge your Foreo Bear for about an hour. While you wait, download the Foreo For You App on your phone, and when the device is good to go, connect it to the app via bluetooth.
The four-minute routine 'Total Facial Knockout' is on the app for you and Bear to follow along. The video features a model who begins by applying the Foreo Serum Serum Serum onto her face and neck. Then, she demonstrates how to use the device along your cheekbones, forehead, neck, and jawline — light strokes upward, always. We did this routine every night for about a month. Foreo plans to upload four more routines onto the app.
Bear Mini, on the other hand, is slightly different. This smart device has milder microcurrents than its big sister, and aims for areas such as under the eyes, eyebrows, and smile lines. As of now, only the 'Cardio Cardio' routine is available for the Mini.
Foreo Bear and Bear Mini are available online and in-store at Sephora.
(All images: Foreo)