Malaysian actress and entrepreneur Neelofa married Islamic preacher Harris Ismail in a lavish ceremony. The bride wore a stunning, one-of-a-kind wedding dress designed by Alia Bastamam, showcasing crystals and generous lace.
"Personally, it was sentimental for me as Neelofa has always been a great supporter of my work and we've known each other since the day I founded the Alia Bastamam label with my partners," shares Alia.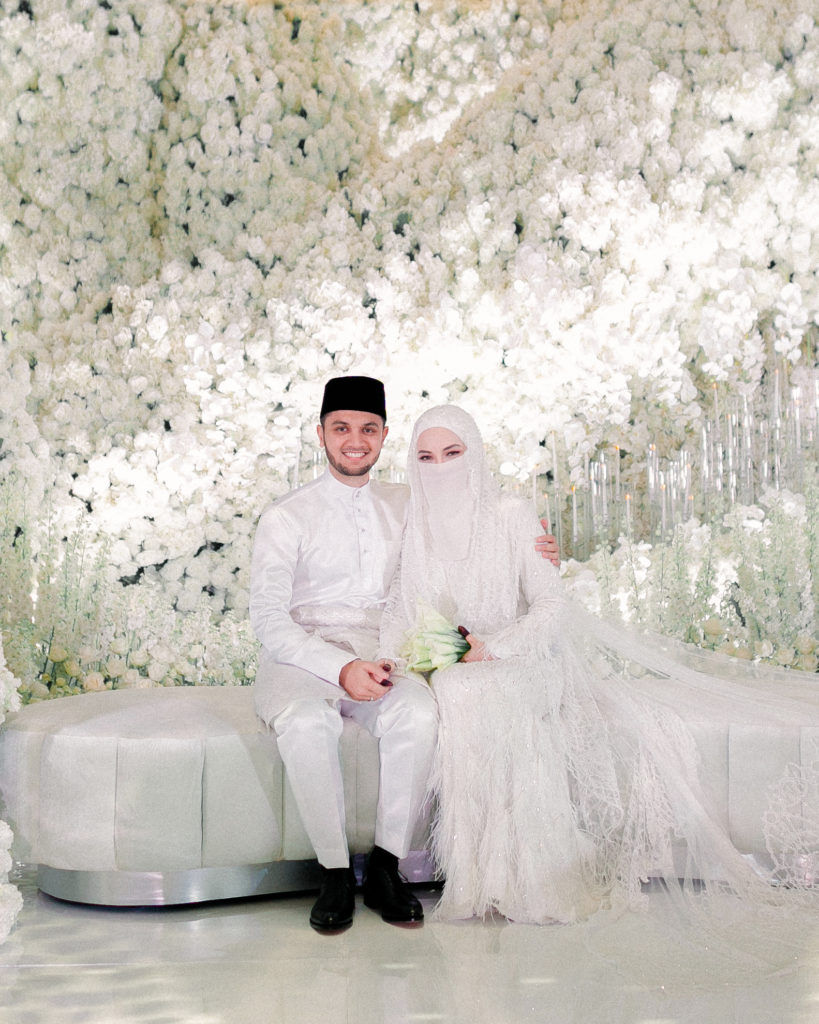 The designer tells us that Neelofa already had a clear vision of her ideal dress: a fully embellished ensemble with layers of lace. Alia says that she insisted on nothing over the top, yet outstanding nonetheless with refined detailing of hand embellishments and ostrich feather accents.
"The inspiration for the silhouette was an ethereal goddess, a train that flows down from the shoulders, and an Arabian-style hooded veil," Alia revealed.
Since Neelofa began wearing the niqab, her wedding had to have a more modest silhouette — nothing figure-hugging or that would show any skin. Alia credits Neelofa's knowledge in fashion for knowing what looks good on her to complement her current style. Of course, it was also important that the dress was true to Alia Bastamam's aesthetic.
"Needless to say, the design and creation process went smoothly," she recalls.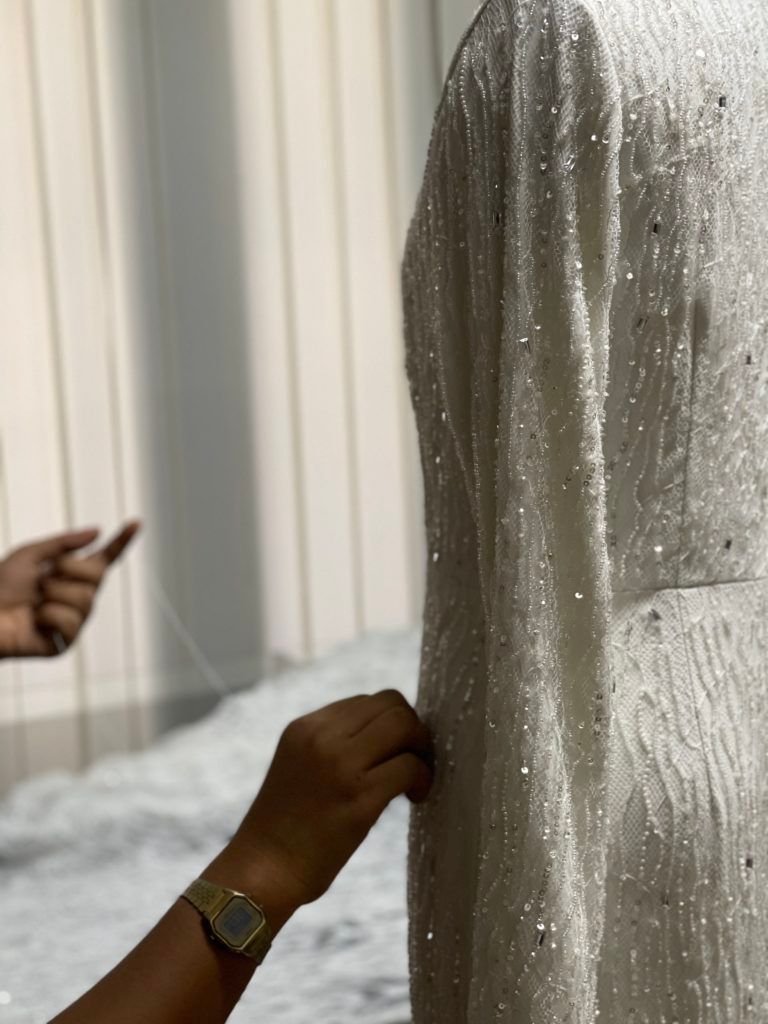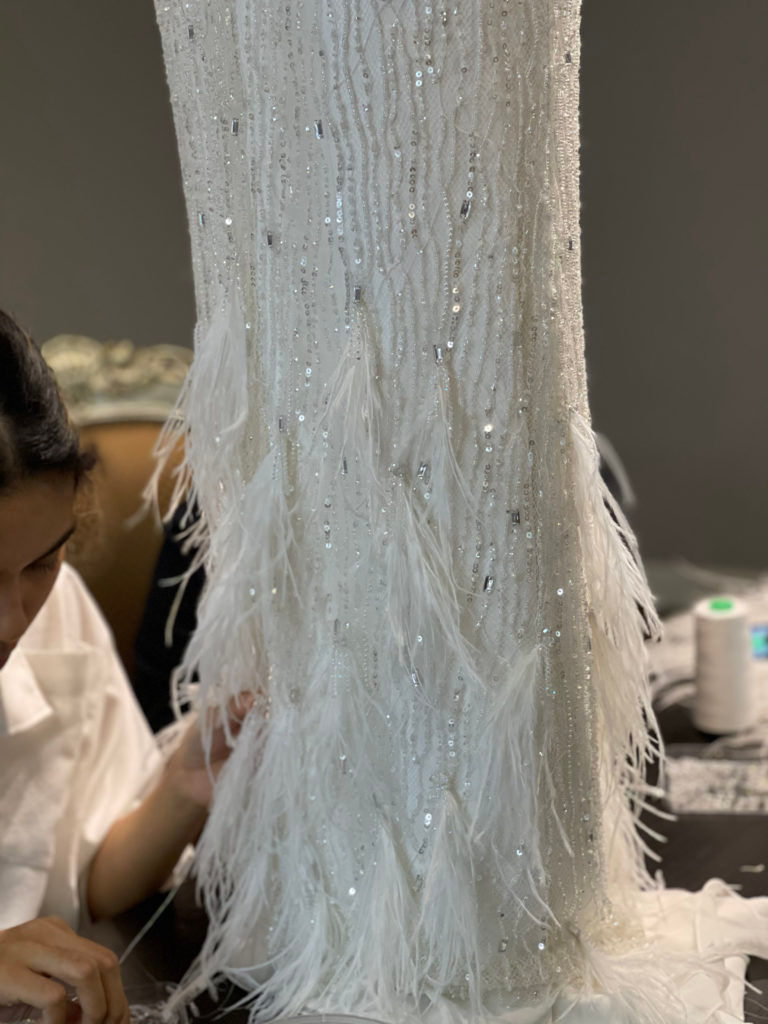 The dress eventually combined three different designs of French lace that totalled 8 meters. Alia shares: "It was key for the lace designs to remain contemporary, so instead of floral designs, we used modern patterns you could say are almost architectural."
500 pieces of Swarovski crystals were individually placed onto the gown, along with tassels, a fringe with crystals, and even ostrich feathers.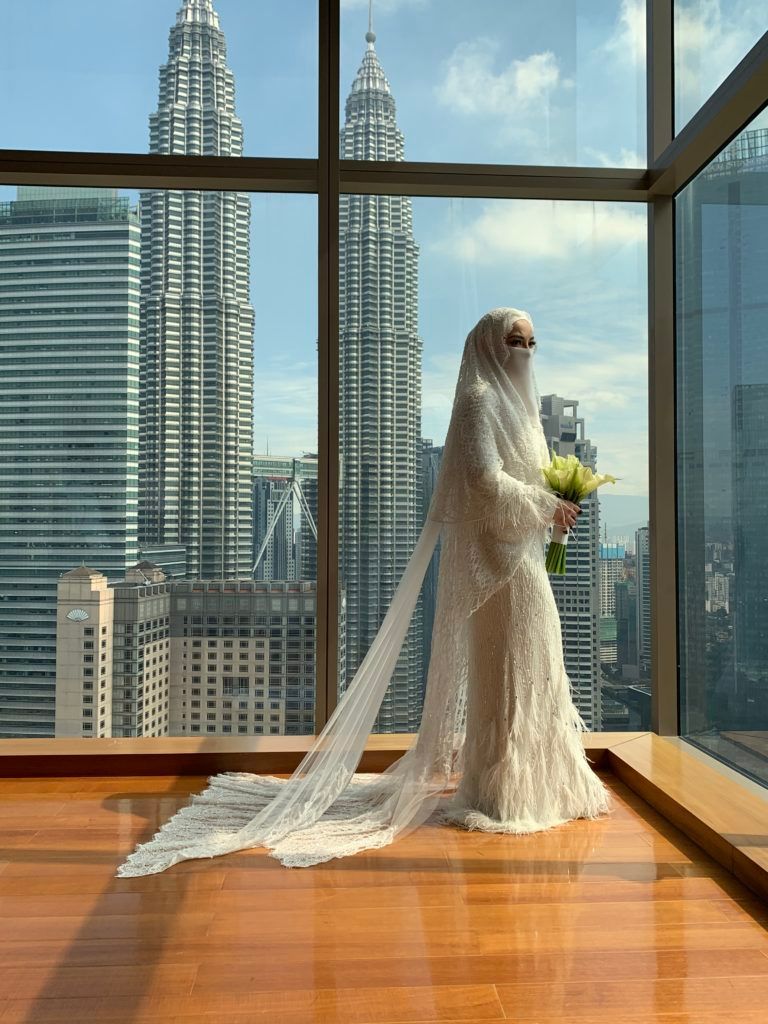 "The making of the dress was an exciting and challenging experience for me and my design team. From my first meeting with Neelofa, we had three weeks to complete the dress for her big day. It would usually take at least four to six weeks to complete a dress of that high workmanship and refinery, but my team proved their expertise through the days and nights to complete the dress on top of fittings, alterations and tweaks. I am immensely proud of my design team in delivering such fine work in the final product."
Neelofa and Alia Bastamam have also collaborated on the ALIA B. X Naelofar collection for the Raya 2021 season. Shop the collection here.
(All images: Alia Bastamam)
---
Signup to our weekly newsletter for latest news and interviews!