Carven Ong, renowned Malaysian fashion designer, is known for his innovative couture designs.
As a trailblazer in the fashion industry, he's known to take risks and challenge himself to produce one-of-a-kind bespoke pieces that are art forms as much as outfits.
This Chinese New Year, Ong rose to the challenge once again with his new "Opera Meets Fashion" collection, which was recently launched at Intermark Mall, Kuala Lumpur. It only took him three weeks to design, print, and style a limited edition range of bespoke dresses and outfits perfect for the Lunar New Year celebrations.
Ong told Prestige Malaysia, "I was first introduced to Chinese Opera when growing up in the small town of Taiping, Ipoh. The Opera would come to town and I would be amazed by the outfits and makeup that the artists wore. Although I couldn't always understand the storyline of the Opera, it didn't matter as I was transfixed by their detailed costumes and the memories remain until today. I was particularly fascinated by the embroidery work which took months or even years to complete."
It was with these memories that sparked the inspiration for Ong's new Chinese New Year collection. Pressed for time, Ong could not include embroidery in his Chinese New Year collection, so he opted for a more modern take while including details of the Chinese Opera. He used digital silk printing to imprint his designs, which have elements such as the iconic Opera faces, reminiscent of traditional Chinese Opera costumes.
Every piece is unique and can be appreciated on its own. While some are more traditional for Chinese New Year with red themes, others are more casual and modern with additional touches like belts and boleros.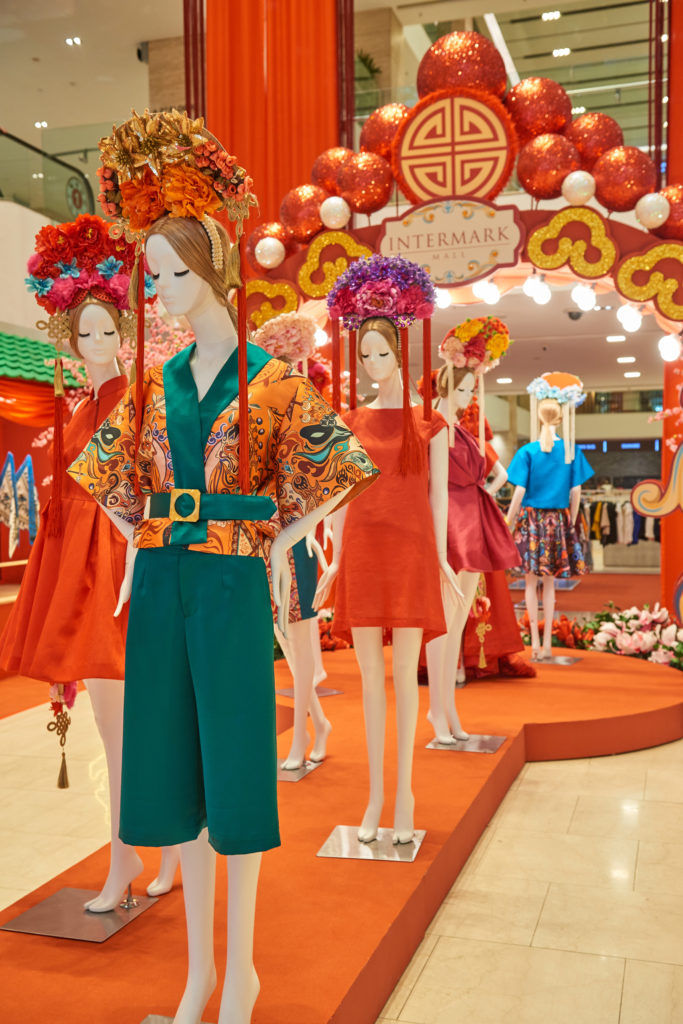 The colours in each garment also holds significance. Ong said, "Colours are usually used in Chinese Opera to represent the status of each character. For example, gold is used for Kings, pastels like pink and purple for Princesses, and red for Warriors."
The silk fabric used for the outfits is comfortable yet maintains its structure so that the wearer can move easily with the intricate elements visible. Each dress is one-of-a-kind, making it an exclusive design that you won't see anyone else wearing. If one of the designs has already been booked, Ong suggests that others can still custom-order it but it will take some time to manufacture.
The collection recently debuted alongside Intermark Mall's Chinese Opera Gallery where visitors to the mall can also view a collection of intricate and traditional costumes.
Besides this limited edition collection, there is also a pop-up with Carven Ong's ready-to-wear Chinese New Year collection. These pieces are also festive and modern which can also be worn year-round.
Have a look at Carven Ong's striking Chinese New Year "Opera Meets Fashion" collection:
If you're interested to order from Carven Ong's "Opera Meets Fashion" couture collection, please call 012-2098636 or get in touch on the Instagram page.

All images by Intermark Mall.