If you weren't in awe of Jacquemus' Spring/Summer 2021 runway show and its golden wheat fields, do you even have feelings?
Actually, it's the other way around: the fashion show was in a wheat field. Or a lush forest, in the case of Ermenegildo Zegna. And what a difference that change of scenery made, away from the inner workings of the fashion machine that have been the subject of many a digital fashion show this month.
They gave us a sense of wonder.
You won't exactly find that in the mise en scène of a photoshoot (see: Hermes, Rick Owens), or its resulting lookbook of models against a white backdrop (Gucci, Chanel). In a statement for his recent show, Alessandro Michele mused, "What happens to fashion, and its seductive ability, when the truth goes back to being just a moment of the false?" Well, the same thing that happens when a magician reveals his tricks; the magic is lost.
Thankfully, Dior and Valentino chose to keep us bewitched.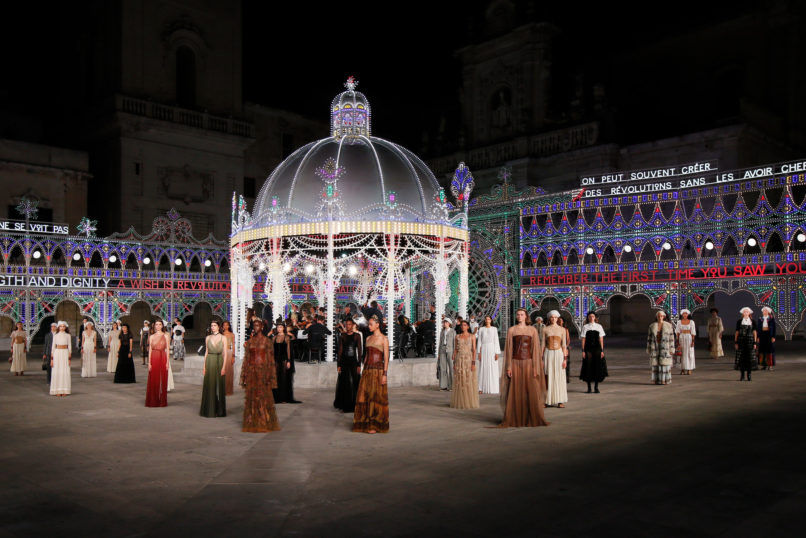 Dior did that with its Cruise 2021 show, which by definition is meant to inspire wanderlust. And now we have it — for Puglia, Italy, where the Maison brought its teams and models to stage its show. The coastal region is where artistic director Maria Grazia Chiuri spent the summers of her youth. She knows Puglia as intimately as it was involved with her latest collection.
The emphasis was on the region's craftsmanship: local artisans made the tombolo lace embroidery seen on Chiuri's bucolic frocks, which were woven at the women-run textiles workshops of Le Costantine Foundation.
And then there was the show itself at the Piazza del Duomo in Lecce. Puglia put up a performance through a troupe of tarantella dancers and a local orchestra playing traditional Italian compositions. But the most impressive display was the luminarie — towering arches of rainbow lights in patterns not unlike those of the Dior Book Tote.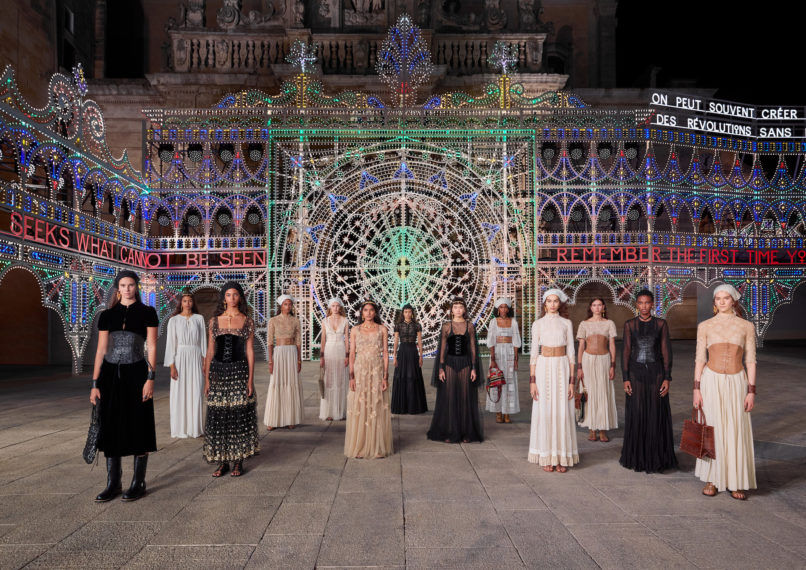 These intricate light structures took Puglian artisans all of 12 days to assemble, and many months more to make. They resembled the inside of a kaleidoscope, but more fondly called to mind the light shows of Christmas. Yes, that holiday of joy and generosity, of gathering with friends and family. All these things are impossible to imagine experiencing this year, but Dior let us have that dream for a while.
A dream was the very basis of Valentino's Fall/Winter 2021 haute couture show, "Of Grace and Light". While Dior brought us to Puglia, Valentino took us out of this world altogether and into the imaginarium of artistic director Pierpaolo Piccioli.
He envisioned 15 gowns, all white, that floated impossibly up to 12 feet in height. He envisioned models suspended in mid-air with towering tiered-trains, or models in mid-flight on a swing, their sweeping sleeves looking much like wings. And, in the darkness, he envisioned these dresses as canvases, illuminated by scenes of flora and fauna.
All of this was realised in Rome's Cinecittà Studios by Piccioli, his team, and fashion photographer Nick Knight, who filmed the show's livestream. Valentino muse FKA Twigs filled the room with vocals as haunting as the show, while the words of Italian director Pier Paolo Pasolini were spelt out in light: "We don't want to live without dreams."
That's something many designers, reckoning with reality, seemed to have forgotten this season. And for good reason: they're trying to be practical in a pandemic. So, they offered clothes. Valentino's Piccioli, with his impossible couture creations, offered fashion. "There was this sense of limitation," said the designer about our times. "Couture is for dreams."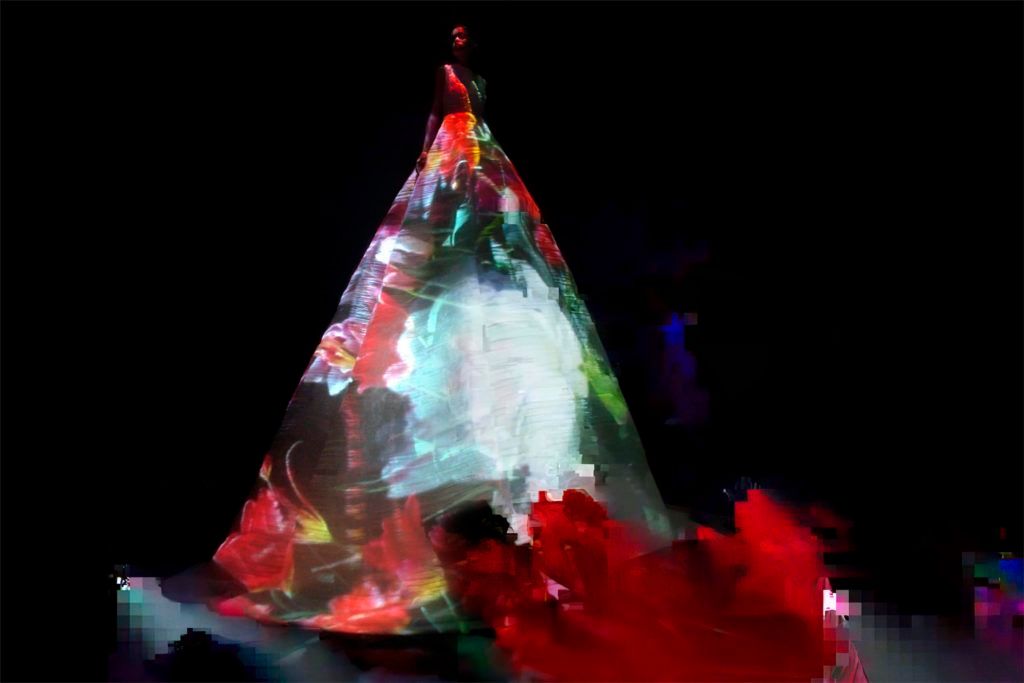 In his show, we saw echoes of them: there was Kate Moss, a ghostly hologram at Alexander McQueen's show so many moons ago, and Fragonard's "The Swing", a Rococo painting that captured the frivolity of life, always moments away from disaster.
Well, disaster is here. We don't need boxes that remind us of the homes that we are confined to. We don't need clothes when we have nowhere to go to. Now is the time for dreams, whether in the form of golden fields, or twinkling lights, or voluminous dresses. Fashion, in the business of selling fantasies, must not forget that.
Main image credit: Nick Knight, courtesy of Valentino
This article first appeared on Lifestyle Asia Singapore.