With Ramadhan and Hari Raya 2022 just around the corner, we're off to the races to secure the perfect Eid wear to celebrate the occasion. After two years of celebrating Eid in the midst of a pandemic, only the best looks for Raya 2022 will do.
So what's on-trend for this Hari Raya, sartorially speaking? Timeless and traditional silhouettes arrive with glamorous elegance, and clean pleats make their entrance at many fashion labels. More and more brands are offering separates so that you can mix and match and make it your own.
Here, we've listed down all the best designer Raya 2022 collections to shop for this year. Bookmark this link as we'll be updating the article with more Raya launches to covet.

Our favourite looks for Raya 2022 from Malaysian designer labels:
Nurita Harith
This Raya 2022, Nurita Harith returns with a ready-to-wear collection under the designer's nh by Nurita Harith line. Elegantly feminine, each piece showcases the designer's unique touch of draping. The selection arrives in an array of pastel hues and jewel tones and is suitable for both casual events and evening functions. With a total of 58 looks this year from the brand, there will be something to suit your heart's desire.
Tom Abang Saufi
This year, Sarawakian designer Dato' Tom Abang Saufi takes inspiration from Malaysian ethnic motifs and imprints the designs for both men and women. Designed in a post-MCO (movement control order) time, each creation is fused with the spirit of joy and freedom, as well as artistically drawn visuals of Borneo's flora and fauna. For the ultimate comfort, this TAS line focuses on the designer's signature loose silhouettes, kaftans and baju kurung in multiple colours, with men's shirts that match perfectly with the womenswear.
Larney
It does appear that pleats are going to be this year's trend, as far as Raya looks go. At Larney, the brand has created an exquisite Aidilfitri collection fronted by Fyza Kadir and Whulandary Herman. This year, the brand reimagines its celebrated pieces in a new light, staying true to its glamorous aesthetics while elevating traditional garments. From rich satin silk to comfortable cotton, get your Raya fashion fix from Larney
Shop here.
Maslea
For sheer, timeless elegance, we turn your attention to Maslea. In recent weeks, this home-grown label unveiled its Aidilfitri collection, Jendela Waktu 2022, showcasing well-preserved classics in 33 versatile pieces. While the collection has a glamorous air about it, the brand does not forsake comfort, complete with functional pockets and a longer waist tie for its wearers to experience the best of both form and function. With pieces that transcend time, you'll be wearing these well after the Raya festivities!
Mimpikita
For this year's Raya release, this contemporary label showcases its collection with a campaign honouring the spirit of sisterhood called Tentang Kita. As we are all expecting a full-swing Raya celebration, the brand injects that sense of colourful festivity into this collection. No Raya bash is complete without decadent kuihs, and Mimpikita has taken the liberty to transpose these exclusive prints to bring out the playful essence of Raya delicacies. For mothers and daughters out there, this line features matching sets for you ladies to match on the day.
Shop the collection online here, or visit Mimpikita's flagship store in Bangsar or Mimpikita's pop-up store in Isetan KLCC.
Poplook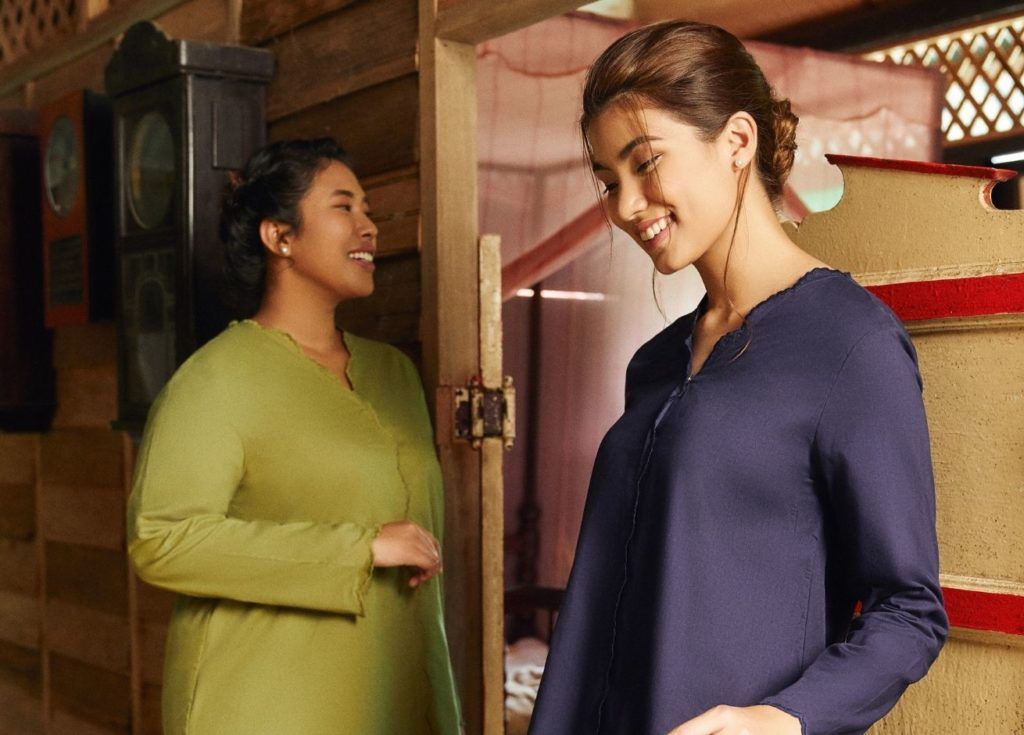 In a trilogy of designs, Poplook releases various collections to celebrate the different trendy styles that are currently taking over the zeitgeist. The first official release, Gemalai, is a nod to old school charm. Second, comes Nusantara, a collection that's all about head-turning shine and sparkle. The final chapter, Palma, takes inspiration from the possibility of travelling again. No matter which collection you opt to dip your toe in, every item makes for a chic and easy choice of garment. Similar to Mimpikita, Poplook also went the extra mile to allow you to match your mine-me.
Shop the collection online here, or visit Poplook's physical store at SOGO Mall, Setia City Mall, KL East Mall, AEON Shah Alam Mall, IOI City Mall, and The Curve Mall.
Petit Moi
Petit Moi has your entire family covered. Made with versatility in mind, these Raya garments will have you breezing through the day in total comfort. The brand's campaign "Eid, with love" takes us on a Raya feast under the sun and in the open air. For those who value style and comfort, the label has long been a proponent of those qualities. Materials are thoughtfully sourced to ensure you stay cool the entire occasion. Smocked pieces have become a staple design at Petit Moi, and it is making another entry through its Raya 2022 collection.
Shop the collection online here.
Tangsi Tujuh
Championing Nusantara aesthetics, Tangsi Tujuh arrives this Raya with their Eid collection, SEIMBANG. Created in collaboration with local artist Perempuanmelawanart, the pieces emphasise Malaysian batik richness and the delicacy of our embroidery. Made from scratch, the designers utilise various material for the ultimate tactile experience. From voile, viscose, lawn to silk blend, each pieces are made with extreme care.
Shop the collection online here.
Khoon Hooi
Celebrating her Peranakan culture, Datin Lee dreamed up this collection of festive clothing — only with a contemporary twist! Short and long kebabs make appearances here, designed intricately to emphasise its opulent edge. Skirts feature some of her favourite prints: polka dot, stripes and florals. As a cherry on top, these pieces are adorned with embellished brooches for an elegant finish.
Shop the collection here.
Hani Mokhta
Created for the modern woman, Hani Mokhta arrives this festive season with Feel The Joy, a Raya collection that's filled with timeless and versatile pieces that are also fashion-forward. Whether you're a maximalist or the opposite, this range will tickle your fancy. The collection houses five looks where each design is made to bring comfort and style together. With embroidered statement collars, scallops and cut-out details, Hani Mokhta's designs are definitely en vogue.
Shop the collection here.
Hanya
The brand recently took our breath away with their innovative virtual animated fashion show, and now, even more so with the release of their Raya collection. Hanya approaches this year's creations with one thought: "She was once…". From there, the brand has crafted 15 billowing and romantic pieces that celebrates mothers as individuals. From lace puff sleeves to asymmetrical tops, the collection teeters on the playful side, giving you the permission to get a little playful during the festive celebration.
Shop the collection here.
Fern Batik
Want to step into the crowd looking like Raya royalty? Then check out local Batik house Fern Batik. This Raya, the brand releases the Batik Flora series, a collection specifically made for Eid celebrations. Here, the materials are manipulated to create an array of unique silhouettes that are synonymous with the brand's resort style. Whether you're hosting or attending a lavish function, glide through the crowd with your soon-to-be favourites.
Shop the collection here.
INNAI RED
Require more structure to your Raya wardrobe? Then look no further than INNAI RED's 2022 Raya offerings. With just a glance, two words describe the collection: regal and opulence. The collection, dubbed Majestic Raya, is dominated with rich fabrics with delicate details to result in a decadent get-up. From jacquards to brocades, the collection will have you donning these classics well into the future.
Shop the collection here.
Melinda Looi
This Raya 2022, designer Melinda Looi gives us a peep into her world, Planet Mel. Extraterrestrial and whacky, this collection is for those who seek to subvert traditional expectations on this very traditional celebration. Colours collide in a vibrant and youthful palettes, inspired by soft and romantic themes. Capes, palazzo pants and button up tops take centre stage in this range, imbuing a sense of freedom for its wearers.
Shop the collection here.
Kree
Fun and feminine, Kree's Raya creations is named Cahya Raya. Comprising of traditional kurung Pahangs and kebayas, the collection also includes more fashion-forward pieces like peplum kebayas and wraps to offset the more ethnic silhouettes. Perfect for wowing your friends and family, Kree's Raya selection will make you the belle of the (Eid) ball.
Shop the collection here.
Featured and hero image credit: Hanya