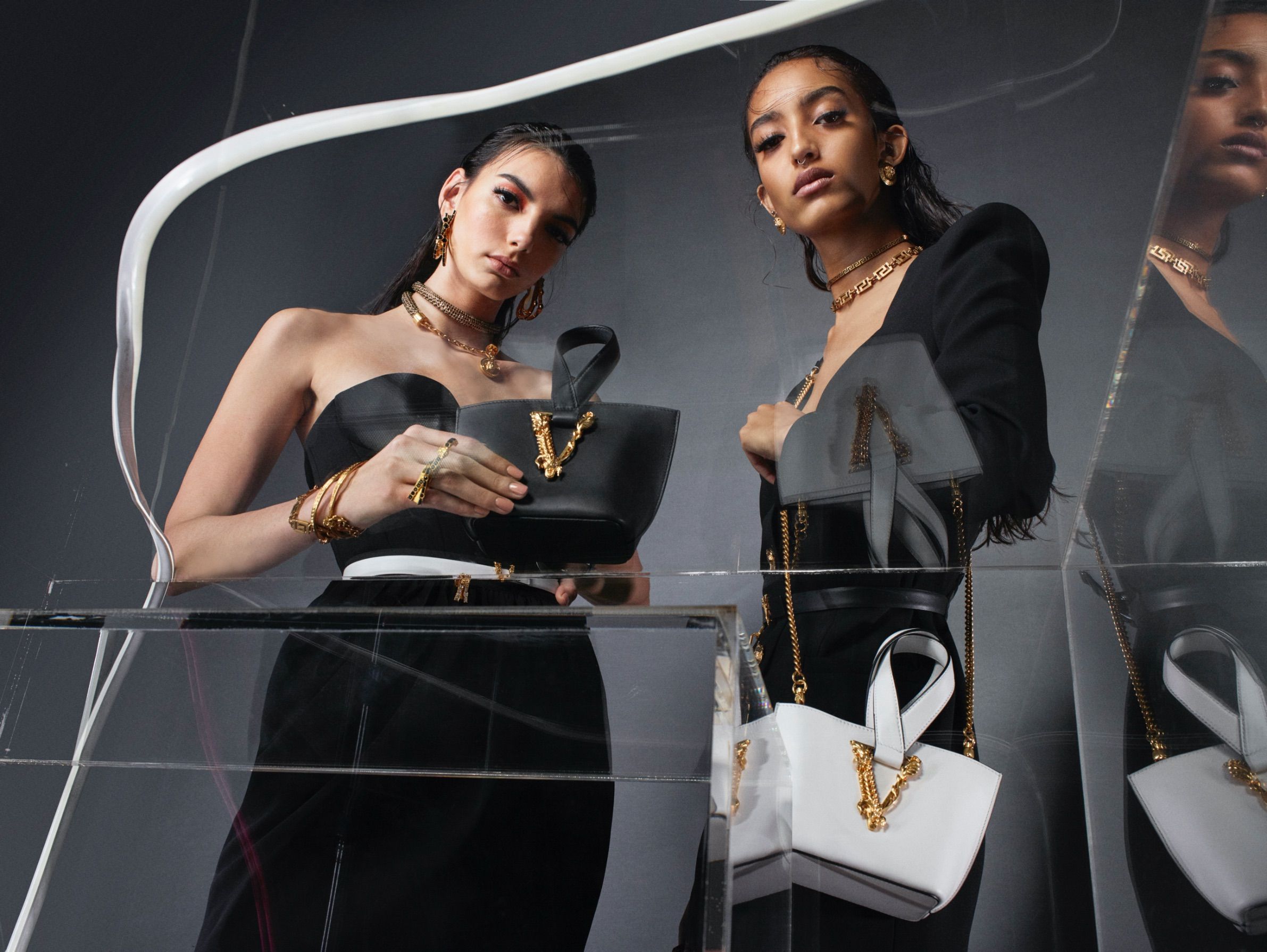 Bag it: The prettiest luxury handbags from Spring to Fall 2020
Whether you're top-to-toe designer or love a luxe addition here and there, a good bag is a wardrobe essential. They're the most splurge-worthy of designer goods, made skilfully to meet the highest standards of quality. Crafted around designs courtesy of the most talented names in fashion, and you have yourself a bag to stand the test of time, and style. Swoon over these luxury designer handbags of 2020:
I / IX
Versace Virtus takes its name from the Roman deity who symbolises strength, courage and character -- just the way we'd describe its gold Barocco V. The bag comes in variations that include a tote, top handle, belt, shoulder, or evening - in colours as camel and white, to more bold shades of coral red and fuchsia.
II / IX
The Coach Rambler Crossbody 16 is a tribute to its 1967's varsity stripes design. Crafted from glove tanned leather, this is one of those bags that snugly fit inside and outside in its exterior pockets than you'd give it credit for just by looking at its modest size.
III / IX
The Hermès Chaîne d'Ancre Bag Barénia is so chic yet simple. It comes with a removable blue silk pouch that leaves an oversized chain link design stitched together. At the base of the bag is a line that reads "an invitation to leave a print in the sand".
IV / IX
Gucci's most popular handbag line, GG Marmont, returns with a pre-fall launch in a delightful colour palette. Marmont 2.0 comes in three sizes in the shoulder-flap variation, two camera sized ones, and two in the top-handle design. More shades include mono-colour baby pink, pastel yellow, light blue, and water green.
V / IX
The Chanel Mini Flap Bag comes in leather, tweed, and our favourite: embroidery. Sporting Chanel's classic chain metal strap, the bag is decked with sequins and glass pearls in grey, silver, and pink.
VI / IX
Loewe Balloon Bag is a true classic in the making, stealing the show at Loewe's Spring/Summer 2020 runway show. The bag is crafted from two kinds of leather that full-bodied which allows the cut to remain unlined. There's the small, medium and large designs, available in several neutral shades.
VII / IX
Louis Vuitton's latest bucket bag, aka Néo Noé, was first designed in 1932 following a request from a Champagne producer for a sturdy yet stylish bag to transport bottles of bubbly. Fast forward to a 2020 spin on the Louis Vuitton Néo Noé in Monogram Empreiente, with a drawstring closure and gold hardware.
VIII / IX
The Pocket Bag is a new signature shape for Burberry, after making its debut on the Spring/Summer 2020 runway. This design found its inspiration from the Burberry archives and was then stamped with a large logo graphic. It's made from premium canvas and topstitched leather.
IX / IX
Moschino's Matador Shoulder Bag brings art to life. Available in Electric Blue and Fuschia, the calfskin carry comes with a double-function chain strap, calfskin shoulder pads, a zip and small patch pocket.
Diandra Soliano is the Associate Editor of Prestige Online Malaysia. In between morning coffees, long lunches (business, of course), and meeting deadlines over sundown cocktails in the city, you can find her at the yoga studio - or at least she hopes.