To be the belle of the ball, you have to have the dress, and these Malaysian designers are the ones to go to if you're on the hunt for the perfect wedding dress.
Let's face it. Preparing for your big day can be incredibly stressful. From designing a guest list to settling on a theme to choosing a prime location, a future bride has a lot on her plate. Perhaps the most daunting of all is the task of getting the perfect wedding dress — even more so if you've never even tried one on.
Now, what should one consider when it comes to finding the bridal gown? First, you can start by determining the theme of your wedding. After that, you can narrow down the style you want to go for. For this, head over to Pinterest to pull images and create your very own mood board. It can even give the designer an idea of how you visualise your dress.
Otherwise, peruse the portfolio of these designers to see if you like their signature styles. It's also to your advantage to see how they tailor dresses for women of different shapes and sizes. That way, you can get a feel of their work before heading to the bridal ateliers.
These are the best Malaysian wedding dress designers to book for your nuptials:
Davis Paul Lister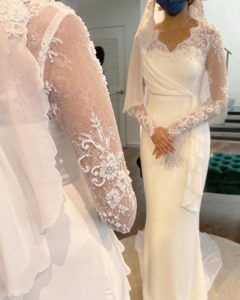 Davis Paul Lister has dressed some of the best-dressed brides in town. From ruches to embellishments, he is the one to go to for more delicate handiwork. The couturier also makes wedding shoes, should you find yourself searching for a specific pair.
By appointment only. The showroom is located in Bangsar and closes on Sundays.
Shanell Harun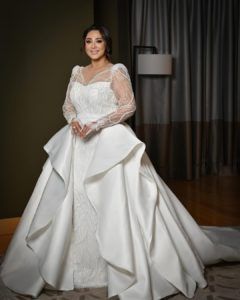 Over at Shanell Harun's atelier, this designer creates wedding dress designs that are fit for royalty. From luxurious songket to gowns that glimmer like gossamer, you can see the range this designer has by visiting their Instagram account here.
By appointment only. The showroom is located in Shah Alam and closes on Sundays.
Alia Bastamam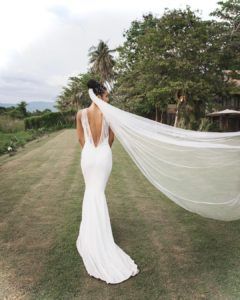 Renowned bridal atelier Alia Bastamam needs no introduction. Her made-to-measure wedding gowns have been very much coveted by brides-to-be. If you seek graceful and ultra-feminine silhouettes, book your slot with her ASAP.
For custom orders, contact Alia Bastamam at contact@aliabastamam.com, or visit the website here.
Teh Firdaus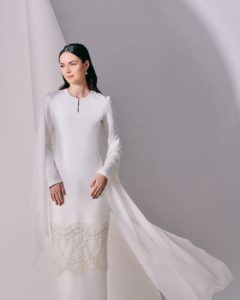 For an overall effortless design, turn your attention to Teh Firdaus. While he has stunning options over on the ready-to-wear side, you can trust this adept designer with your wedding dress ideas. After all, he's even designed for celebrities such as Mira Filzah.
For custom orders, contact Teh Firdaus at contact.tehfirdaus@gmail.com, or visit the website here. Showroom is located in Seri Kembangan.
Rizman Ruzaini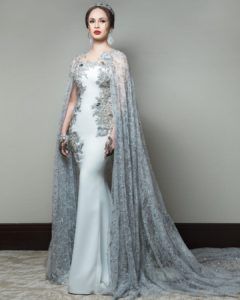 Can't get enough of intricate designs? If more is more for you, check out the works of Rizman Ruzaini. He's dressed many local celebrities, such as Nurida Suraya, Emma Maembong, and Amyra Rosli.
By appointment only. Visit the website here.
Rico Rinaldi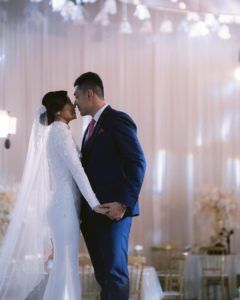 An elevated traditional wedding dress. If these are the words you use to describe the dress you hope to wear on your big day, it's time to book an appointment with Rico Rinaldi. While many of his designs are of the baju kurung silhouette, he can pull off a classic dress as well.
By appointment only. Visit the website here.
Fuzana Mokhtaza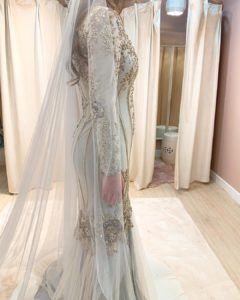 While Fuzana Mokhtaza's ready-to-wear designs are classic in nature, her bridal wear can be a maximalist's dream come true. From delicate layers that make for gentle volume to floral and pearl embellishments, make a call to this dressmaker to secure your lavish dress.
By appointment only. Visit the website here.
Zaimi Zulkafli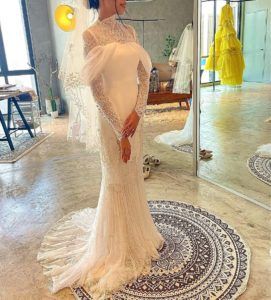 Over at Zaimi Zulkafli's atelier, it's decadent designs galore. No matter what your plans are, book an appointment with the designer and bring your ideal dress to life. Whether you plan on donning a full brocade look, or even a wispy full lace piece, Zaimi will be the right tailor to create your perfect wedding dress.
For custom orders, contact Zaimi Zulkafli at zaimizulkaflibespoke@gmail.com, or visit the website here.
Featured and hero images credit:Unsplash