Since the 1940s, Van Cleef & Arpels has celebrated the enchanting beauty of fairies through phenomenal pieces that capture the grace of the female form.
The maison's distinctive artistic sensibility and propensity to masterfully create intricate works of art on a miniature scale stands out through delicate jewellery inspired by the dainty imaginary race. An angel of nature, the fairy is regarded as a symbol of hope born in the same era as the ballerina, another Van Cleef & Arpels icon that encapsulates feminine charm.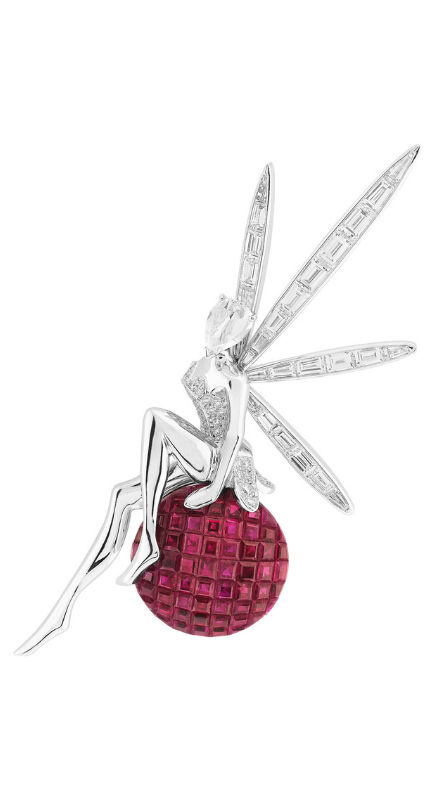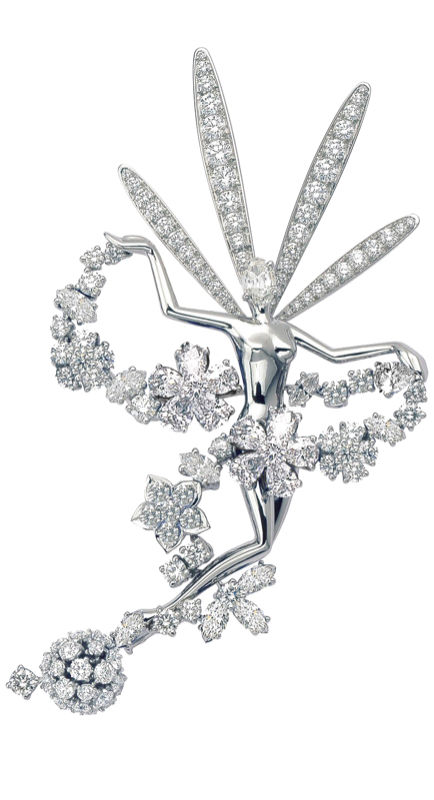 Through a wealth of high jewellery savoir- faire and inspired vision, Van Cleef & Arpels suffuses its airy creations with life-like lightness, movement and ethereal allure. The delicacy and playful spirit of these mythical characters gain expressive depth at the hands of the skilled craftsmen at 22 Place Vendôme. The refined elegance of fairy faces is represented by rose-cut diamonds as glittering diamonds saturate winged silhouettes, and precious stones accentuate magic wands. Such artistry has given way to storied creations like the Spirit of Beauty fairy clip from 1941. A combination of platinum, rubies, emeralds and diamonds gives life to this iconic piece, rendering the graceful lady in mid-flight.
Another notable series pays homage to the Shakespearean tale of enchantment and love as the impish fairies come to life in the 2003 Midsummer Night's Dream collection. The playwright's picture of fairyland has long inspired the jewellery maker's view of the magical kingdom, defining fairies as slender and sensual beings with wings of extreme fragility. The epitome of delicate charm, their graceful forms defy the laws of nature with captivating ease.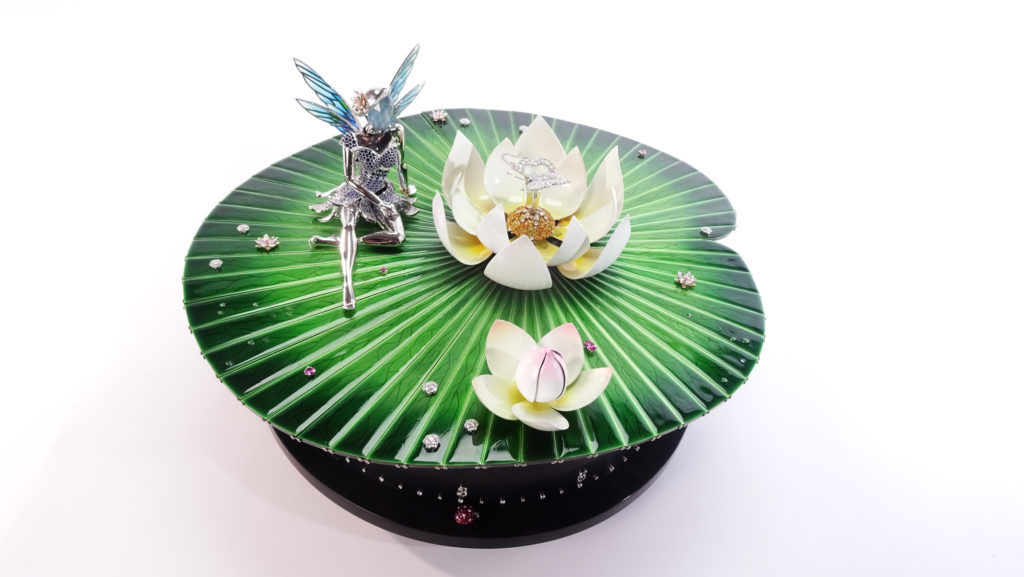 In 2014, the maison offered a sparkling take of one of Charles Perrault's fairy tales, Peau d'Âne, in a stunning high jewellery collection. The Lilac Fairy from the narrative steps forth into reality, taking mesmerising shape as an entity of elaborate detail. Delicately set with diamonds, pink and purple spinels, and sapphires, the fairy's flowing gown boasts volume and movement.
Beyond jewellery, these magical figures go on to make an appearance in Van Cleef & Arpels' cherished watchmaking universe. Filled with lightness and motion, the Charms Extraordinaire Fée Rose de Nuit portrays a fairy in white gold and diamonds, appreciating a blossom of sculpted mother-of- pearl. Another collection, Poetic Complications, resonates the delicacy and femininity embodied by fairies, as seen in the Lady Arpels Féerie and Féerie Rouge timepieces. A starry wand and glimmering wings signal the passing of each moment. More recently, at the Salon International de la Haute Horlogerie (SIHH) 2017, Van Cleef & Arpels proudly unveiled its first Extraordinary Object: The Automate Fée Ondine. The valuable treasure features a highly complex mechanism which tells time while miraculously bringing to life a bejewelled tableau of a fairy waking from sleep. The maison's imagination, creativity and dedication to traditional crafts convene in this Extraordinary Object, which unfolds a beguiling narrative that conveys the genuine poetry of motion and fantasy through nature.
lthough blessed by the fairies, Van Cleef & Arpels continues to look to dream worlds as a perpetual muse, welcoming other colourful beings from mythology and ancient lore. Sea nymphs, unicorns and phoenixes elicit wonder and amazement while leaving an indelible mark on the celebrated maison's rich heritage. Together, these stunningly surreal constructs serve as a tribute to the richesse and endless magic of the imagination – pure magic, that Van Cleef & Arpels continues to pursue to keep us spellbound.
(All images: Van Cleef & Arpels)
This story first appeared in Prestige Malaysia's January 2021 issue. To read our January 2021 issue, pick up a copy from the nearest newsstand or subscribe on Magzter.