Stemming the brand-focus tide, Chopard paddles against the norm by sliding open its doors and spotlighting its talented artisans.
At Chopard, it seems transparency is a much-vaunted virtue. A maison displaying no hesitance when it comes to matters concerning the environment and people's welfare, since July 2018, Chopard has been using solely ethical gold in its supply chain. The precious metal imbued into every Chopard timepiece, such as the Alpine Eagle, can be traced to its origins: artisanal mines partaking in the Swiss Better Gold Association, Fairmined and Fairtrade schemes, as well as adhering to the Responsible Jewellery Council's Chain of Custody standard.
It simply means the process unearthing this lustrous, dense element creates as little environmental impact as possible, while ensuring these miners are fairly remunerated while working under a safe condition. With growing concerns surrounding sustainability, Chopard is holding firm and showing us a level of transparency rarely found anywhere.
To further the narrative, Chopard invites us – metaphorically speaking – into its facilities to meet the artisans who have been with the maison for a long time and bought into Chopard's noble ethos to bring us timepieces that speak more than luxury and quality.
Thanks to these artisans who are experts in their respective sphere, Chopard can lay claim to the coveted status of being vertically integrated. It can execute a timepiece in its entirety in-house, beginning at its foundry and all the way to the haute horlogerie workbench, bolstered with a stringent level of quality control achievable by vertical integration.
Paulo has been manning Chopard's gold foundry since 2001, at the basement of Chopard's Geneva manufacturing facilities. Paulo's route to alchemy was accidental, nonetheless, he takes immeasurable pride in his work. Here behind closed doors and away from prying eyes, Paulo smelts Chopard's gold and synthesises all the alloys. In fact, all the gold used by Chopard is smelted in-house.
Operating the vacuum furnace heated by an induction coil, Paulo deposits the material in the centre of the crucible before heating it to 1,000°C. To make an 8kg ingot of 5N gold, Paulo mixes 6kg pure gold and 2kg alloy made of 1.5kg copper, in order to obtain a vibrant red hue. For yellower gold, Paulo reduces the amount of copper and applies more silver, while for white gold, he uses palladium.
Once molten, Paulo pours the mixture into a mould to reap an ingot, which is then immersed in cold water to crystallise it and obtain the desired 160 Vickers hardness. Paulo proceeds to press the ingot through a roller mill to obtain a bar with 210 Vickers hardness. The ends of the bars with remaining folds are re-used and re-melted. When the bar is finally perfect, it goes to the workshops for stamping and the material will then be used to make certain jewellery parts and watch case bands. Trimmings are re-melted, as part of a recycling circle.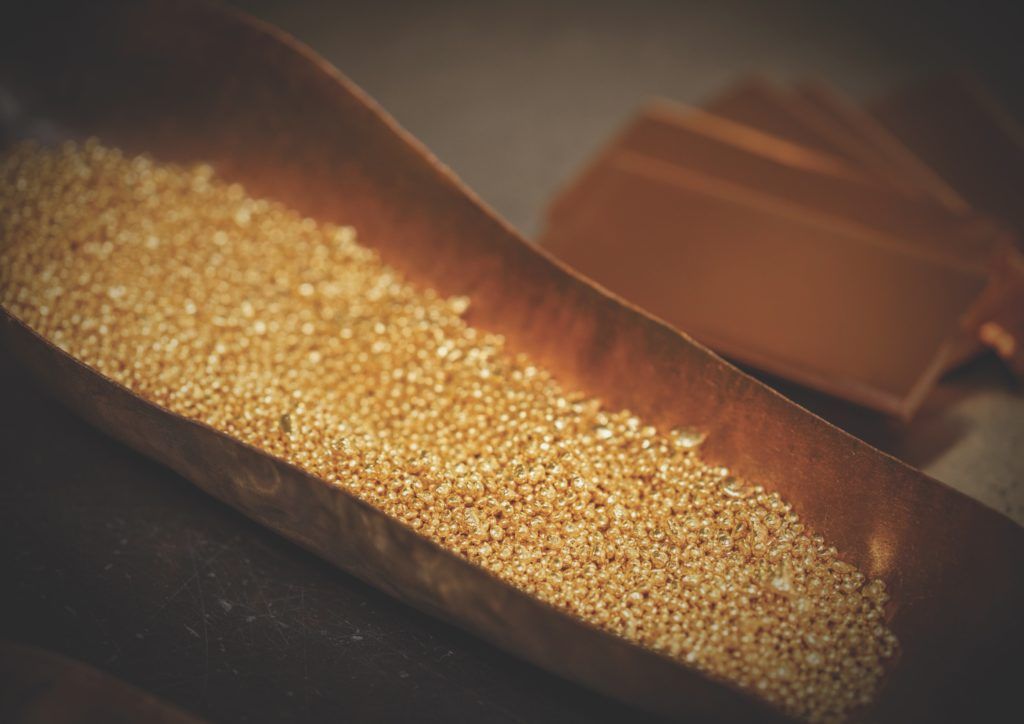 Between seven and eight ingots are produced at Chopard's foundry every day. Each bar is numbered and sampled for certification purposes at the Precious Metals Control office.
"Some people see me as an alchemist because I transform precious metals, while ensuring that Chopard gold is 100% ethical. The fact that I can claim that people out there are wearing a watch or a piece of jewellery made from my gold makes me feel that in some way, I help to make their dreams come true" says Paulo.
Chopard is known for both men's and women's watches. Collections such as Happy Sport call for expertise in gem-setting. Whether these precious stones are festooned securely on the bezel or pirouetting inside the case, they require time-honed techniques to perfect and before they are ready, they have to pass through the watchful eyes of gem-setter Carlos.
Carlos has mastered the many ways of settings. The prong setting is where the gem is clamped between several precious metal rods; the bezel setting entails the gem held by a metal belt; stones are mounted in such a way in the invisible setting that the metal can't be seen. In watchmaking, pavé, channel and snow settings – which are less liable to retain micro-particles – are used instead.
Furthermore, Chopard invented the magical setting which truly unlocks all the potential. The maison is also updating the dropped setting, involving successive rounded borders, cut directly from the metal with gravers and bent back over the gems. This form of setting requires great mastery, since too much material conceals the stone, while not enough enables it to escape.
"It's only thanks to experience that I am able to deal with each one without breaking or damaging it. It's a daily challenge, and you can never pretend to know how to do everything. But thanks to our passion, we create beauty," says Carlos.
The recipient of the Aiguille d'Or at the 2017 Grand Prix d'Horlogerie de Genève, the L.U.C Full Strike is Chopard's first minute repeater, bearing a number of innovations. Producing a crystalline, melodious sound, the L.U.C Full Strike deviates from the standard mechanism whereby resonance is produced by the hammers striking metal gongs. The L.U.C Full Strike is fitted with sapphire gongs, machined together with the glass protecting the movement, in a single block of sapphire.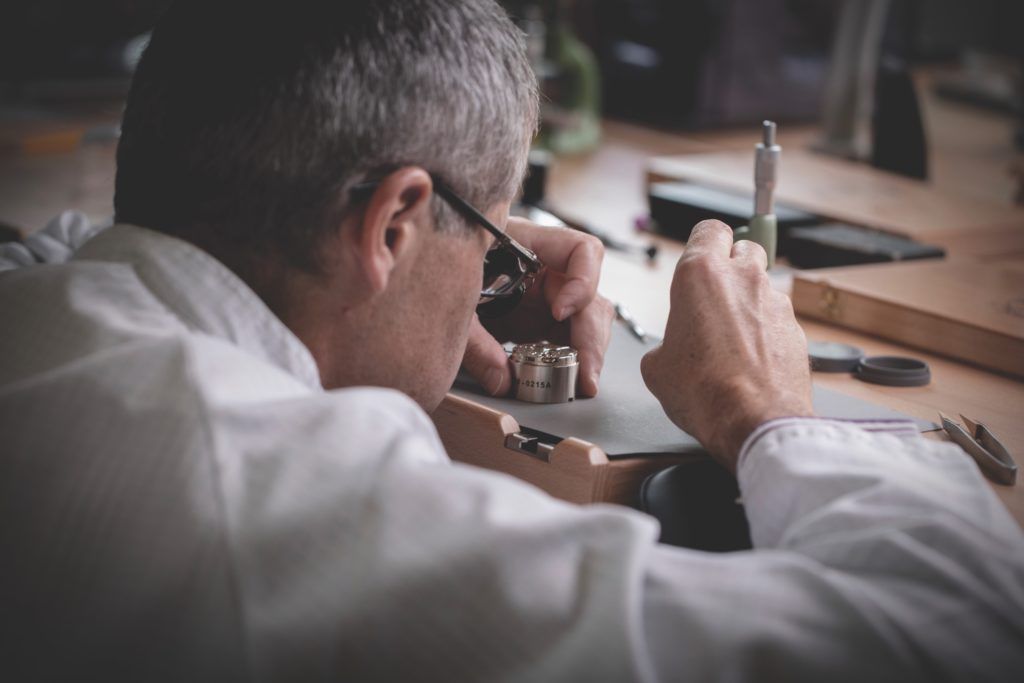 The sound amplified by this component is diffused in all directions, at its purest, without encountering joins between materials which could be detrimental to acoustics. This idea was gestated in the technical development departments located in Geneva and Fleurier. The mechanism took over two and a half years in research and development.
The L.U.C Full Strike has two barrels: one for the minute repeater function and another for timekeeping. To ease the winding action, both barrels are wound using only the crown. To activate the chiming function, Chopard removed the activation lever because co-president Karl- Friedrich Scheufele deemed it unattractive, in favour of a push button built into the crown.
Such complexity resulted in the birth of the L.U.C 08.01-L calibre. Consuming 17,000 developmental hours, the movement comprises 533 components and requires 160 hours to assemble. Five patents were filed by Chopard. It takes 20 years of training for a watchmaker to be sufficiently skilled to put together this grand complication. Even then, it commands one month of attention to fabricate.
Christophe, who has been with Chopard since 1998, is one of three experienced watchmakers capable of this feat.
"Horology has always been a real vocation for me and my greatest ambition was to work on pieces like Chopard's minute repeater watch. It takes at least 10 years of experience for a gifted artisan to be able to craft a complex movement like this. Assembling this mechanism made of hundreds of components is hard work that takes time and perseverance. It is only achievable by human hands," says Christophe.
"The biggest difficulty is assembling the crystals bearing the gongs. They are very delicate to fit in place. While these are timepieces that merely appear to indicate hours, minutes and seconds, the connoisseurs who acquire them know that the movement that makes time audible is in fact extremely complex."
The components in this watch are manufactured in Fleurier, but the movement is assembled in Geneva, in order to meet the essential condition for obtaining the famous Poinçon de Genève quality hallmark adorning the movement and case of the minute repeater.
"We presented this watch in 2016, exactly 20 years after the creation of Chopard Manufacture in Fleurier dedicated to L.U.C movements. We started on a modest scale by creating a first movement with a micro-rotor and a twin barrel. It took years before we embarked on the adventure of this minute repeater. A timepiece such as this must be earned through patient progress," says Scheufele who was instrumental in leading Chopard's return to the cradle of watchmaking.
This story first appeared in Prestige Malaysia's October 2020 issue.