Inspired by the infinite beauty of butterflies, Van Cleef and Arpels has paid tribute to the colourful winged creatures since 2001 with the Two Butterfly Collection. For the first time, these graceful butterflies are adorned with the intense blue of turquoise, enhanced by the warm glow of yellow gold and sparkling diamonds for exceptional contrast.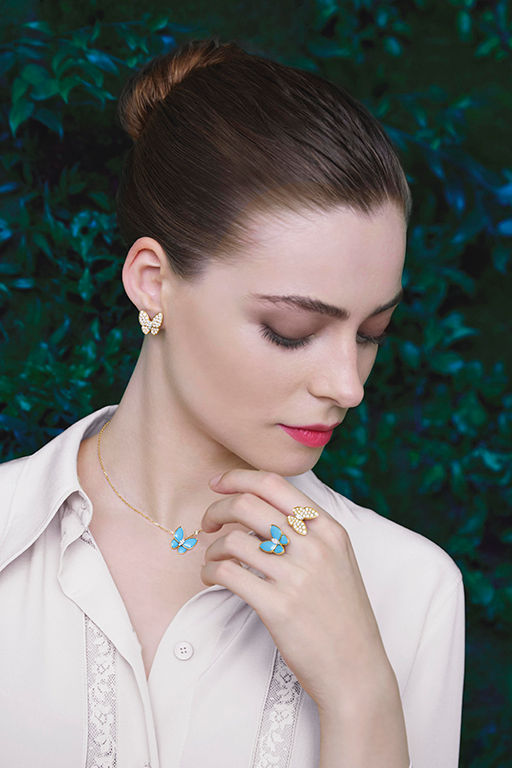 The new additions to the collection include a pendant, a Between the Finger ring and earrings, channelling the joy of spring through light-hearted pairings. The Between the Finger ring and earrings embrace an asymmetrical aesthetic executed with poise signature to Van Cleef and Arpels. Infused with energy and vivacity, the iconic open band of the ring weds two dancing butterflies in a gentle dance.
Meanwhile, the earrings play with bold contrasts as each side of the wearer's face is illuminated by stunning turquoise hues or shimmering diamonds that toy with the light. On the pendant, a butterfly takes flight, seemingly chasing a sparkling diamond. The tilted design of the pendant creates a sense of motion, enhanced by the motif's raised design.
Turquoise is a stone with a rich history, first prized by the Egyptian pharaohs and the Aztecs that set the azure stones into jewellery and religious artefacts. The sacred gem is thought to aid spiritual cleansing, ward off negative energy, and attract good fortune while calming the soul.
Van Cleef and Arpels' Two butterfly honours the storied gem through the meticulous selection of turquoise elements. Uniform blue stones match to create pieces that pair luminously together, reflecting glimpses of a clear blue spring sky in the flutter of wings.
The Van Cleef & Arpels' Two Butterfly collection also reflects the Maison's masterful expertise, from stone selection to the final polishing. The openwork backs of the new pieces allow light to filter through the diamonds, revealing their true radiance.
Three setting techniques feature across the different creations. A bead and prong setting appear alongside the pavé motifs, holding the butterfly's body, expressed as a marquise-cut diamond. Finally, a round diamond in a closed setting on the pendant adds a hint of sparkle to the artful creation.
Butterflies are a symbol of metamorphosis, rebirth, and transformation. Van Cleef & Arpels' Two Butterfly collection offers the wearer a meaningful reminder that change is a part of life. Yet, residing inside each of us is the unique strength to adapt and bravely take flight.
(All images: Van Cleef & Arpels)
---
This story was first published Prestige Malaysia's March 2022 issue. To read the latest issue, pick up a copy from the nearest newsstand or subscribe on Magzter.