Malaysia-Singapore VTL: How to navigate the Doctor2U App to pre-purchase a compulsory Covid-19 test
Effective from 29 November 2021, fully vaccinated travellers will be able to travel quarantine-free between Singapore and Malaysia via the Vaccinated Travel Lane (VTL) framework. Under the VTL, travellers remain subject to Covid-19 testing and further requirements determined by the receiving country.
The Ministry of Transport Malaysia requires those entering Malaysia from Singapore to register and pay for a Covid-19 RT-PCR test to be administered on arrival. Travellers may pre-purchase the Covid-19 test prior to departure to ensure a swift clearance process at KLIA or klia2.
How to Purchase a Covid-19 RT-PCR Test in Singapore, Pre-Departure to Malaysia
To get started, go to airport.doctor2u.my or download the Doctor2U App by BP Healthcare. Kindly also download the MySejahtera App and register your profile, which must be activated in Malaysia at all times.

In Doctor2U, click "Buy Now", select "Vaccinated Travel Lane" and indicate the arrival airport. Fill in flight details accurately beneath the "Information Details" heading.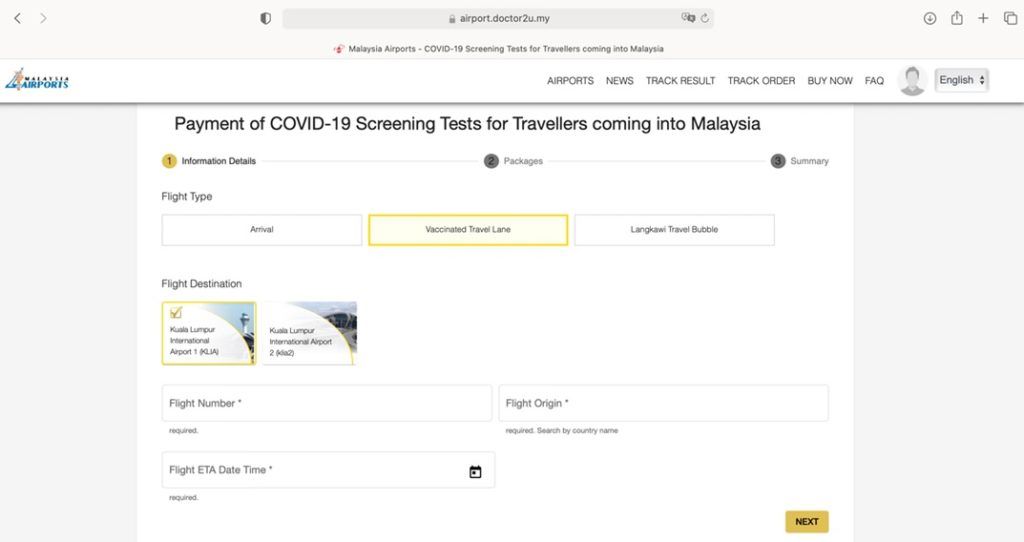 Select your preferred test package. The RT-qPCR Rapid Molecular Test is highly recommended, with results processing around 1 hour. During this time, the passenger must remain at the waiting lounge for their results.
Next, travellers should fill in the primary passenger details. The cost of the selected test will be indicated on this page.
| | | |
| --- | --- | --- |
| Test | Price (RM) – Malaysian | Price (RM) – Non-Malaysian |
| RT-PCR | 250 | 350 |
| RTK Antigen | 100 | 160 |
| Rapid RT-PCR | 370 | 470 |
Proceed to select your preferred payment method.

After payment has been made, the passenger will receive an E-Voucher with a QR code via email, WhatsApp and on the Doctor2U App. Now, you're ready to fly.
What to Expect, On Arrival in Malaysia
Upon arrival at KLIA or klia2, a BP Healthcare Customer Service Ambassador will guide the passenger to the Waiting lounge.
After the registration at the counter, passengers will proceed to a swabbing booth for the COVID-19 Swab Sampling.

a state-of-the-art on-site Covid-19 lab ensures quick test results.

After the sample is taken, the passenger will be led to the Designated zone to await pending Covid-19 test results. The turnaround time (TAT) for these results is dependent on the type of test purchased. The RT-qPCR Rapid Molecular Test generates results in roughly 1 hour, while the RT-PCR requires up to 3 hours.
The Covid-19 test result will be available for viewing via email or the Doctor2U App.
Upon receipt of the COVID-19 test result, passenger may proceed to the exit and scan a negative pcr QR code on MySejahtera.
The passenger may then proceed to the immigration counter for clearance.
The airport.doctor2u.my/faq portal addresses frequently asked questions, with links for further support. To make a group purchase, kindly email the request alongside passenger details to [email protected].
For other enquiries or if you encounter difficulties, please drop a message to Doctor2U's customer support line on WhatsApp to +6012-6155200 (8am – 8pm) or +6012-6388525 (8pm – 8am) or email [email protected]
Safe travels!