In line with Sakura Day on the 29th of April, as well as the onset of spring season, Nobu Kuala Lumpur is offering a special Japanese Sakura-inspired menu: The Beauty Unearthed by Nobu x Inch Lim.
Nobu Kuala Lumpur's Executive Chef, Philip Leong, has collaborated with internationally-renowned and award-winning landscape architect Inch Lim to create this synergistic menu that incorporates local ingredients with traditional Japanese flavours.
These two creative geniuses from vastly different backgrounds have put their respective passions and talents together to create this promotional menu that was inspired by the flavour, fragrance, and texture of the Japanese Sakura flower.
Alluding to 'hanami' style, which is the Japanese custom of viewing cherry blossoms in full bloom, the menu unearths a myriad of unique and complementary flavours and ingredients. Served as an osusume, meaning "recommendation" or "invitation" – it gives a whole new meaning to the term "pretty in pink" with Nobu's style a-la-carte dishes.
Chef Philip. said, "While not straying away from Japanese techniques and Nobu's signature 'style' using local and Japanese ingredients – including the Sakura flower itself – this menu is all about being a treat to the senses, much like the Sakura phenomenon is in Japan."
"Working with the legendary Inch Lim has invoked newfound inspiration in me – one that I will treasure throughout my career. When we were discussing the idea of coming up with a special menu to celebrate one of the biggest floral occurrences in the world, I was just mesmerised by his immense floral knowledge and simplicity in style, which is very similar to the minimalist approach we take here at Nobu with the preparation of our menu items. Naturally, the development of this menu was a very seamless yet thrilling process, with truly astounding results, which we are confident guests will love."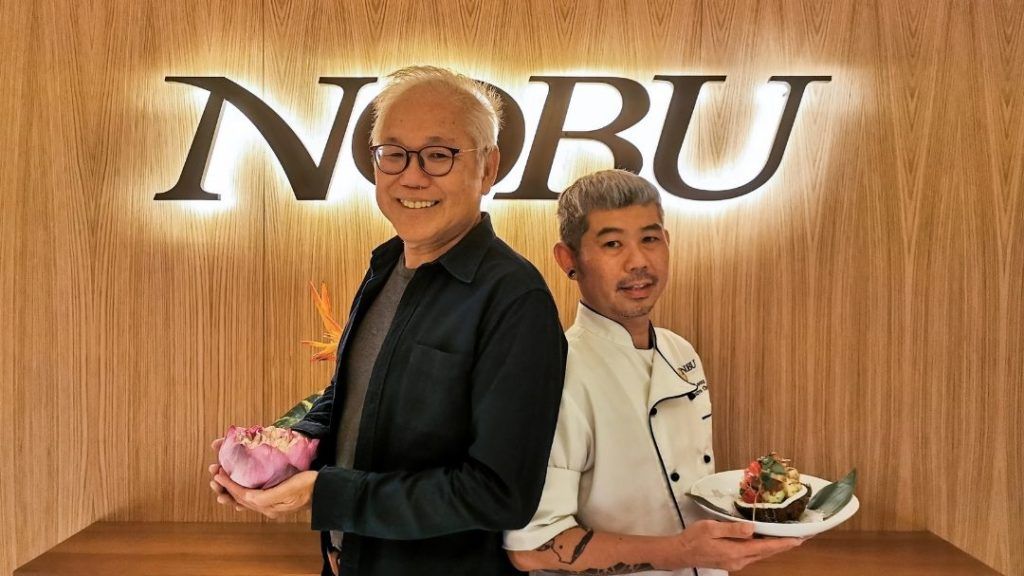 Inch Lim said, "There are times in an artist's career or vocation, where he or she experiences a truly defining moment or experience. For me, this has been one of them. While much of my work as a landscape architect involves designing gardens and landscapes, creating an edible work-of-art on a plate is something different altogether."
"Working on the creation of this menu together with Philip Leong was a personally fulfilling and rewarding journey for me. I have the utmost respect for him and his style, which has inspired me on so many levels. I hope guests at Nobu enjoy these dishes, as much as we have enjoyed the process of conceptualising and creating them while contributing to Nobu's global hallmark."
Here is what to expect from The Beauty Unearthed by Nobu x Inch Lim menu at Nobu Kuala Lumpur:
We began with Sakura-infused sushi curated by Nobu Kuala Lumpur's Head Sushi Chef, Masami Ouchi. These include Madai Sakura Sushi and Foie Gras on Sakura Monaka – where Foie Gras is marinated with Umezu (plum vinegar) and served on a Sakura-inspired Monaka.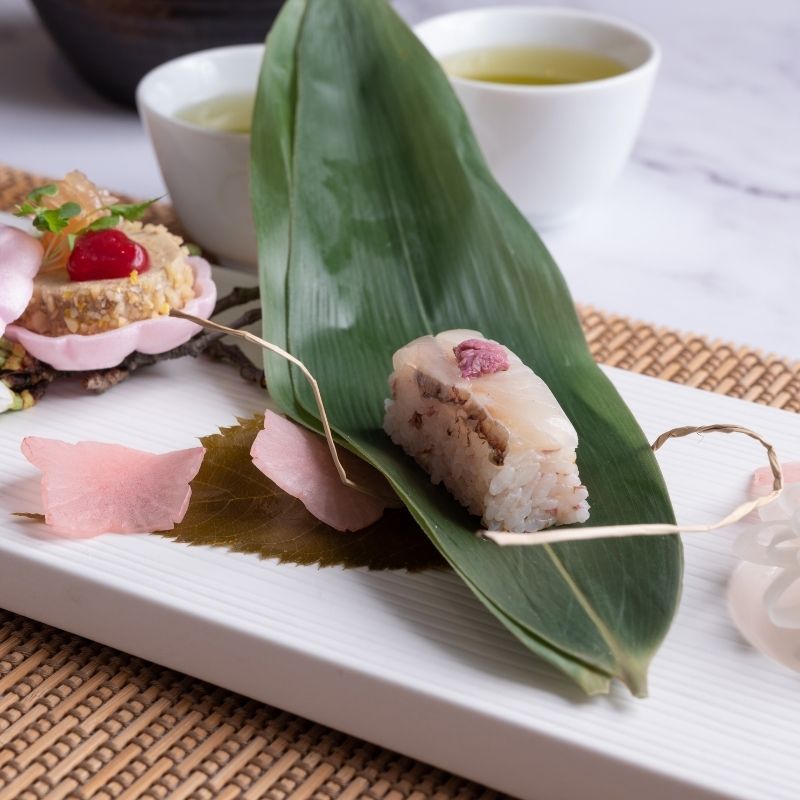 The Pen Shell Clam Sakura Ebi Oil and Mash Potato featured a Sakura and shrimp-infused oil that tantalizes the taste buds and whets the appetite.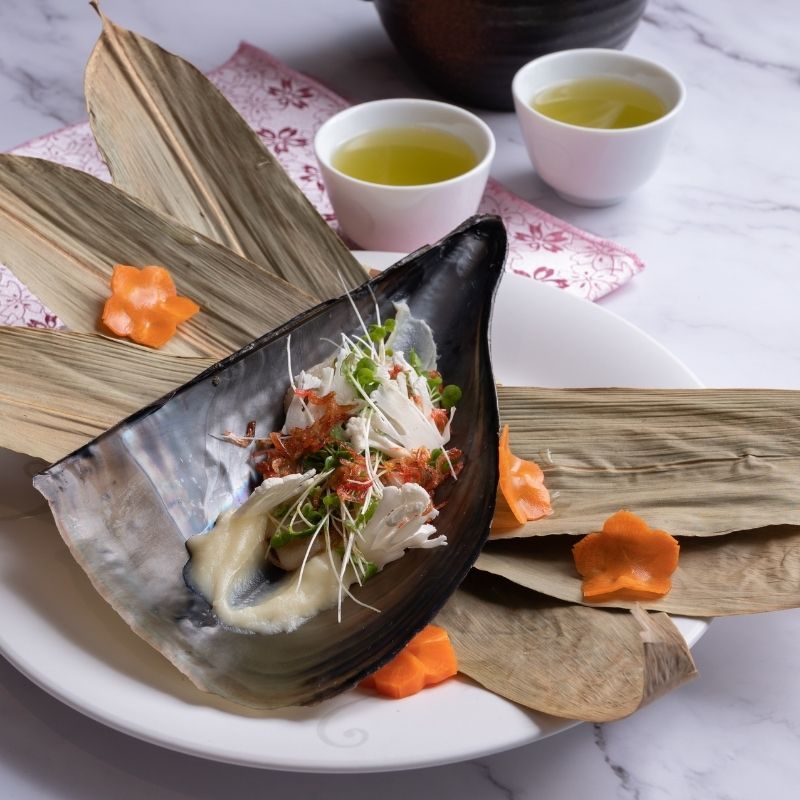 Next up was the Heart of Palm with Dry Miso, a moreish and crunchy dish that offers a combination of flavours that accentuates the earthy and natural sweetness from the ever-so-rare heart of palm. Reminiscent of a tangy salad, it was both light and satisfying.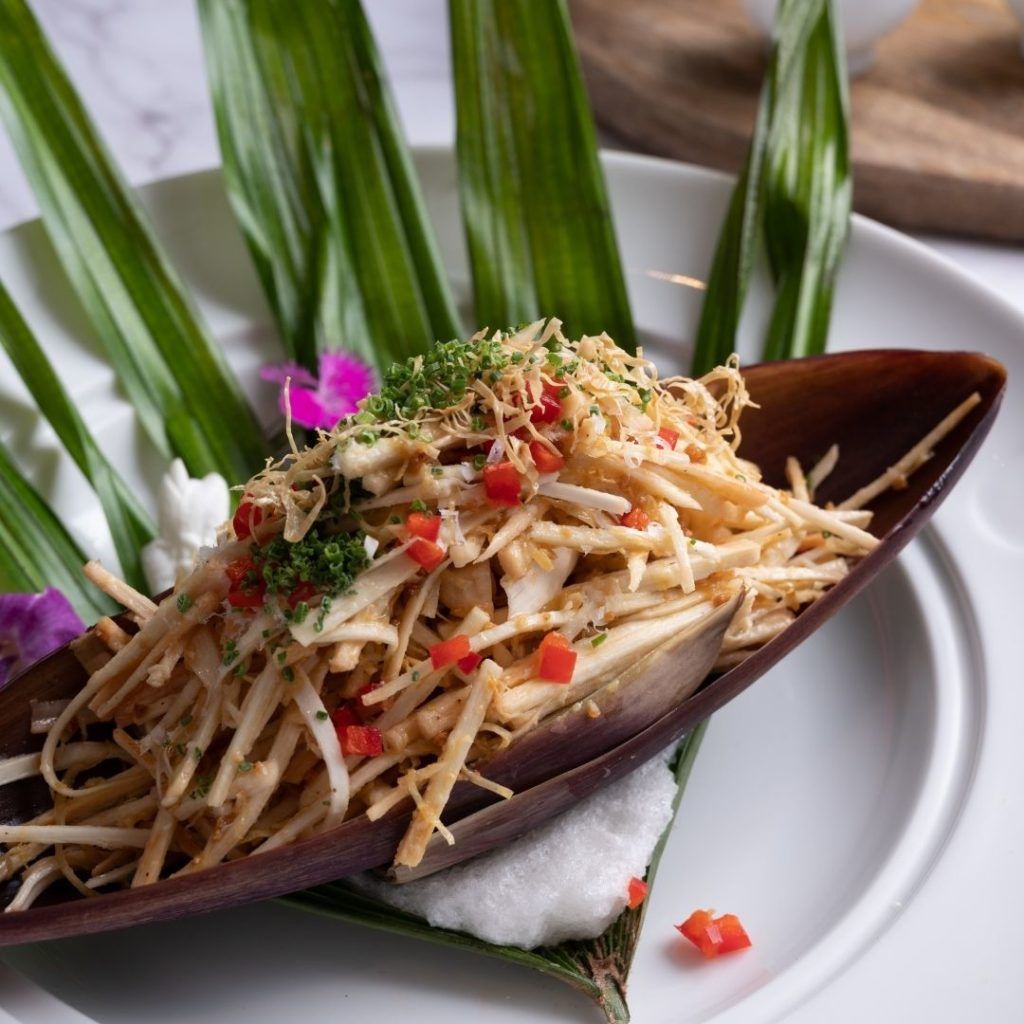 The Ceviche with Coconut Pearl was delightfully spongey with refreshing flavours and was beautifully presented.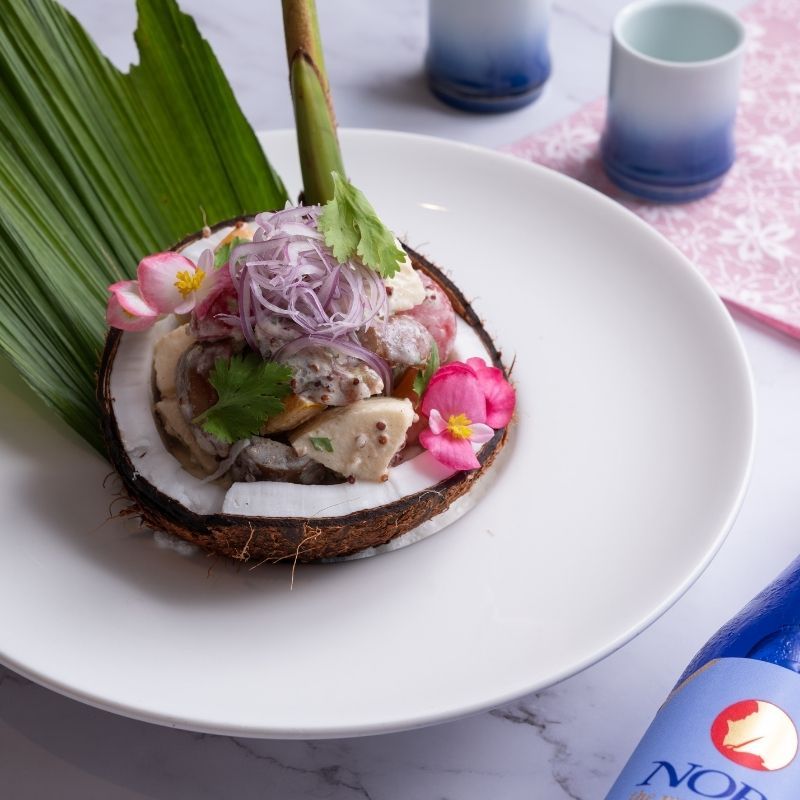 The Chilean Seabass with Sakura Sauce, slow-cooked and marinated with Sakura salt, was a treat for the eyes as well as the tastebuds due to the butterfly pea infusion. The slightly tart sakura taste perfectly complimented the freshness of the seabass, which was accompanied by a crispy Sakura leaf.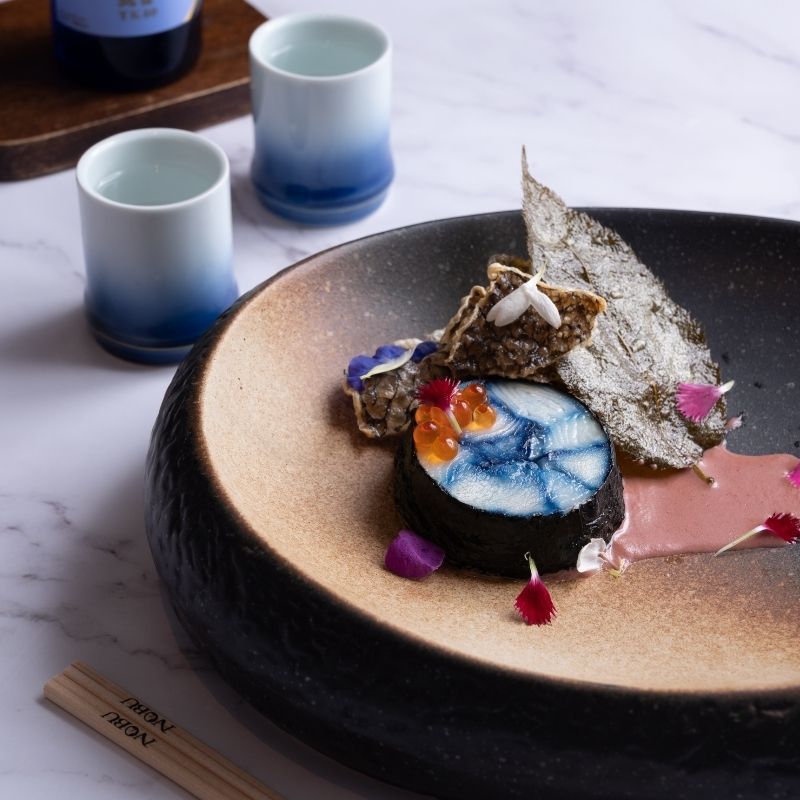 Nobu Kuala Lumpur never disappoints with its wagyu offerings, and this time was no exception. The Wagyu Sirloin with Butterfly Pea Goma Sauce was perfectly seasoned with the right amount of char, with the sauce bringing out the buttery taste.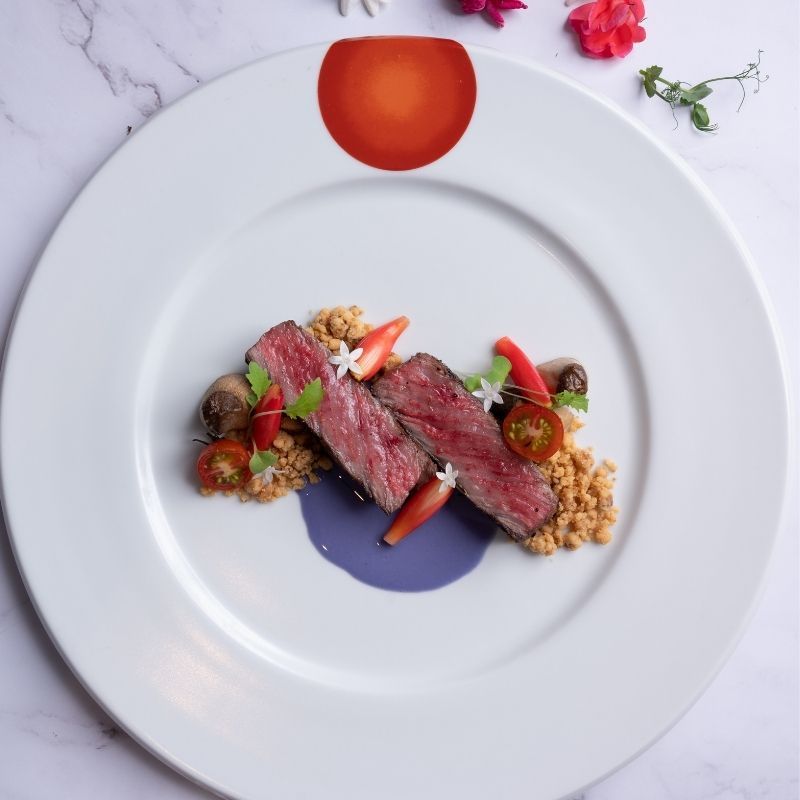 The first of two dessert offerings on this menu, the Strawberry Chocolate Bar with Sakura Tea Ice Cream was a light and sweet dessert that delivered the delicate flavours of the sakura from the ice cream.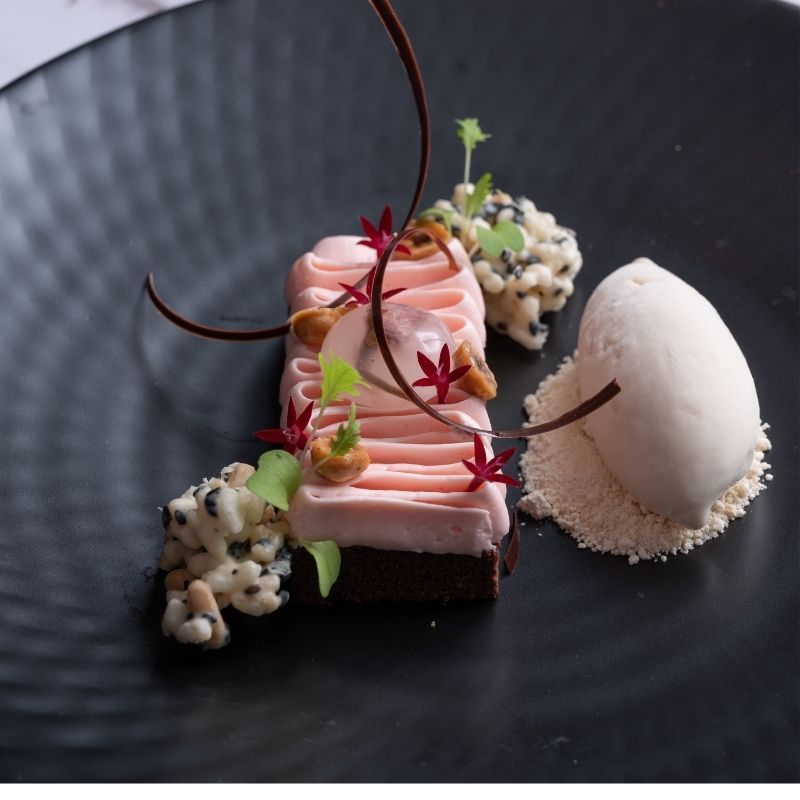 A more indulgent dessert, the Purple Potato Cheesecake with Yuzu Apple and Aloe Vera Compote cheesecake was creamy, rich, and earthy, pairing well with the tangy compote.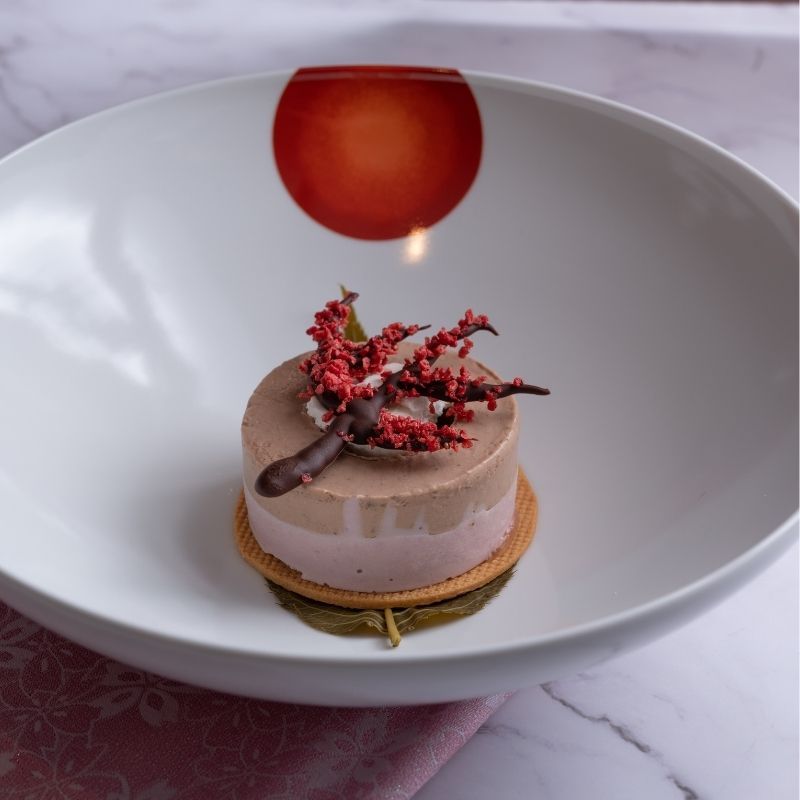 The Beauty Unearthed by Nobu x Inch Lim is available from 4th to 30th April 2022.
For enquiries and reservations, please call 03 – 2380 0028, Whatsapp 019 289 5085 or email nobuklreservations@noburestaurants.com.
All images by Nobu Kuala Lumpur.