Complete with throbbing neon lights, upbeat music and your own avatar, Bar-United is an interactive virtual chillaxing platform introduced by Chivas Regal Malaysia. It promises a life-like experience, bolstered by a variety of functions such as social networking, online shopping and delivery, rewards points, virtual bar hopping, as well as live-streaming events.
The platform is developed to foster the local F&B and entertainment industries by collaborating with local bars and talents to create a blend of experiences (staying true to Chivas' motto: blended is better) for the public. A number of acclaimed venues in Kuala Lumpur have signed up. They include 61 Monarchy, Astor Bar, Circa, Dissolved Solids, Happy Stan, Hyde, Saro, The Iron Fairies, Three x Co, and more will be added in near future.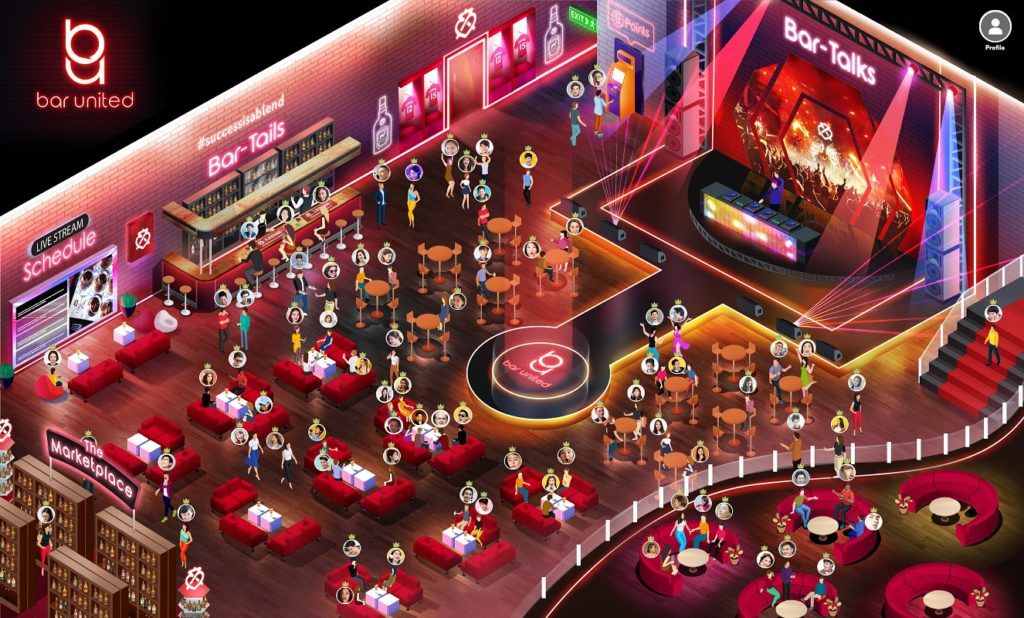 And just like a bar, you can host your friends or join other patrons, and chew the fat (via keyboards or webcams) or play games with them.
Through the platform, you may choose from your favourite bartenders whose select cocktails will be available for delivery right to your doorsteps (you could also, however, opt to pay first and redeem your drink at the bar in person) and payment is seamless. With every purchase, you earn reward points, which can be used to redeem drinks.
The platform is segregated into sections, each boasting unique features.
The Hangout Arena: Users will be able to join virtual tables of up to four people that feature video call and chat capabilities, as well as games for the group to enjoy. On top of that, users will be able to buy drinks for their friends at the table. If you are on your own or in a small group, feel free to join a table and make new friends. There is also an option to make the table private, which disables visibility of the table on the list, making it great for special occasions and celebrations.
Bar-Tails: Collaborating with some of Klang Valley's most popular bars, Bar-Tails enables users to order any drinks or even bar snacks from their favourite bars to be delivered to them immediately, or to be redeemed at the outlets themselves.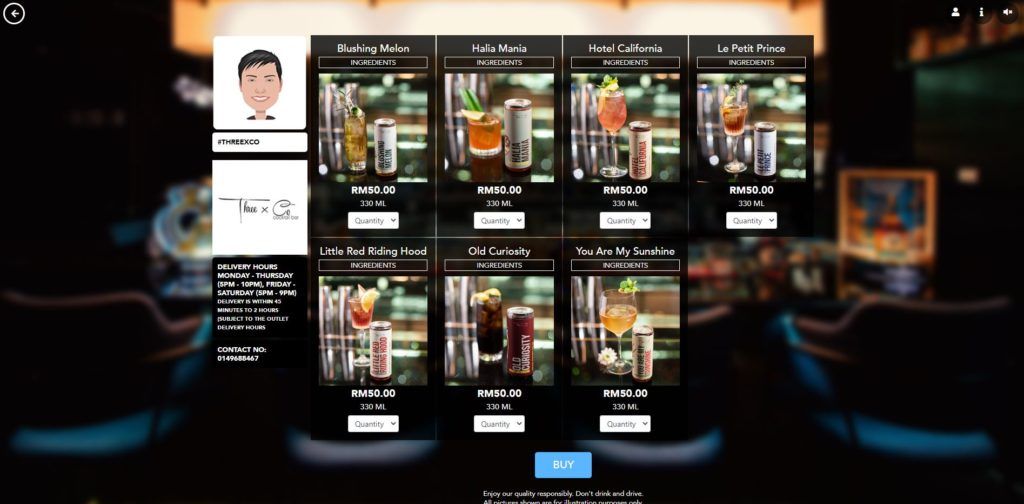 Bar-Talks: Featuring both local and international personalities from different industries, Bar-Talks enables users to tune in to special virtual guest shifts, talks and tastings on a regular basis. The first few Bar-Talks will feature bar owners such as Andrew Tan of 61 Monarchy and Hyde 53M, David Hans from Three X Co, and KC of Circa and Saro Lounge.
The Marketplace: Running low on supplies at home? Bar-United also features a Shopee store that enables users to purchase any products under Pernod Ricard Malaysia that can be purchased and delivered before your next virtual happy hour.
Bar-United Points: Collect points through frequent purchasing and unlocking achievements to redeem vouchers that can be used for Bar-United purchases as well as at the partner bars' actual outlets. These points can be redeemed and converted into vouchers via the Bar-United Points Redemption Kiosk seen at The Hangout Arena.
In the next phase, Bar-Live will feature DJ sets and acoustic performances, and users will be able to interact with the artists.
"We are always looking ahead and finding ways to not only excite our consumers and partners, but also build a sustainable model that can benefit and support all those involved for the long term. The industry faces an uphill challenge to get back to the norm, but united, we believe we can bounce back stronger," says Sébastien Mouquet, managing director of Pernod Ricard Malaysia & Thailand.
Sign up from August 13 at www.bar-united.com.my